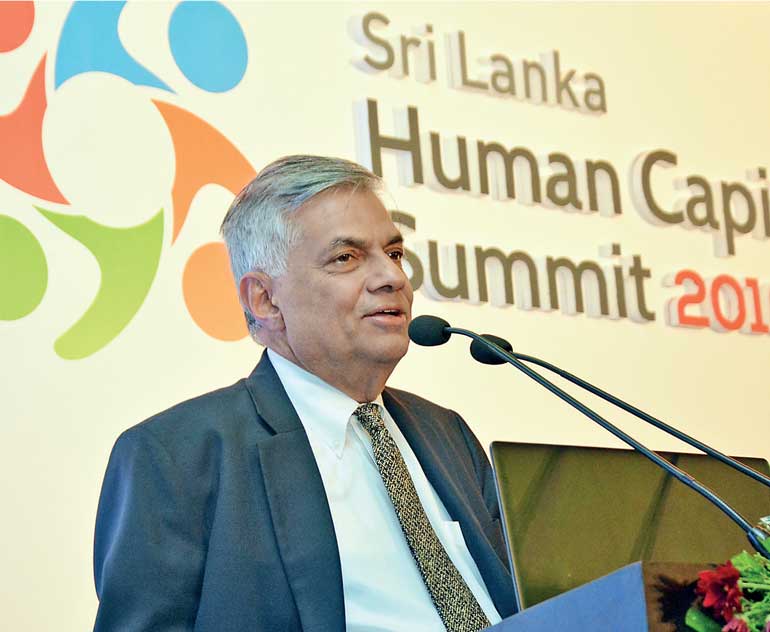 Prime Minister Ranil Wickremesinghe Pic by Upul Abayasekera
At the Human Capital Summit which was held last week, Prime Minister Ranil Wickremesinghe in his opening address perhaps gave the most rounded policy statement from the governing party in recent times. Goals of the present Government were essentially to
create a million jobs, revive the rural economy and revive the middle class, the PM said. The jobs should be attractive to youth, paying a minimum of $ 300 per month in wages, he said. With one million of our population working abroad, the first goal itself would attract them back to achieving the last two goals as side effects, I think, but, how to create jobs that pay $ 300 per month is the million dollar question.

Addressing the corporate leaders, the PM said "deal making as before will not work". You need to be competitive in an open economy which attracts foreign direct investments, he said. The only deal with the present Government is to be competitive and make the private sector jobs more attractive and for that we need a mindset change, said the PM.

The mindset change we need goes beyond the private sector, I would say. We need a change in the people's mindset as well. A change in the mindset of the Government (represented by politicians) or the mindset of the State (represented by state employees) too is needed, but a politician's mindset is a reflection of the mindset of the people. If the politicians are determined, public employees' mindset can be changed. So changing the mindset of people and the mindset of the private sector is key to Government's success.

Judging by the expertise of the participants at the summit, the focus was on changing the corporate mindset and addressing human resource management at an organisational level. Missing was a macro approach that addresses the mindset of the people or the social-cultural issues which so far have prevented a population with reasonable access to a basic education from being a source of human capital that adds value to the economy.

The Prime Minister referred to the 65% or so of the population with educational achievements below GCE (O/L) and an education system which consists of a "large number of petty kingdoms". However, the policy prescriptions to which he alluded were about more education or more skills development, reflecting the thinking that education as the starting point for mindset change. The sad truth is that education gets captured by vested interests and more often than not fails in its mission. For example, after 70 years of independence and free education, our education system still serves the interest of politicians, officials and the wealthy, leaving out the majority. In this column I wish to point to some fallacies in the policy prescriptions of the present Government and point to the need for more sensitivity to recent research and to local socio-cultural context.

The vocational-training trap

Two of the policy thrusts mentioned by the PM are to make students stay in school until age 18 or Grade 13 while introducing vocational training in Grade 12 and 13, and experimenting with the dual system in Germany. Both these proposals need a more nuanced approach, in my opinion.

In a review of vocational education in UK by commissioned by the government of UK, Alison Wolf (2011) found that vocational training in schools did more harm than good. In a foreword to her report, the Secretary of State for Education Michael Gove says:

"[Prof. Alison] starts by confronting us with some stark truths. Far too many 14-16 year olds are doing courses with little or no value because performance tables incentivise schools to offer these inadequate qualifications. As a result between a quarter and a third of young people between the ages of 16-19 are, right now, either doing nothing at all or pursuing courses which offer no route to higher levels of education or the prospect of meaningful employment. She is correct to say these young people are being deceived and that this is not just unacceptable but morally wrong. Professor Wolf argues that we need a wholesale realignment of incentives. Performance tables, funding systems and regulatory compliance are all pushing in the wrong direction against the better judgment of teachers and lecturers working in our schools and colleges. To take one particularly shocking example: the system actively discourages 16-19 year olds from catching up with their English and Maths so that each year 300,000 18 year olds start adult life without the equivalent of a Maths or English GCSE."

My experience as the Director General of the Tertiary and Vocational Education Commission (TVEC) more than a decade ago adds another dimension to Wolf's conclusion. During my site visits I came to understand the sense of status attached in our societies to academic pursuits over vocational pursuits. A vocational training lab with windows to the street, for example, was not favoured by vocational trainees because they did want to be seen in their overalls. Recent studies from Germany show that the dual system there too is losing its appeal among youth who are choosing more academic or ICT career paths. This is when the dual track there offers attractive pay while you learn and solid jobs afterwards. We have already introduced a Bachelor's in technology track in universities to produce graduates who will have a sense of superiority over their vocational counterparts. In this context, keeping youth engaged in education is a good idea, but that idea needs to be executed carefully taking into account the class or status driven aspirations of our youth.

English-Swabhasha divide – the elephant in the room

The ability to converse in English divides our society like no other, except in highly competitive areas like export oriented manufacturing or services and the cricket team, where performance overrides socio-cultural barriers. In other comfort zones, only social networks and advantage in English seem to matter. Take the example of a service you receive at a sales centre of a large company selling consumer goods. You are there to buy a simple household device like an iron. A white-collar customer support staff member in shirt, tie and pointy shoes is anxious to help you with his knowledge of English. You kindly decline the not-so-useful interventions, make your choice and proceed to the checkout counter. Three or four other 'white-collars' are involved in the process. The 'blue collar' one assigned to test the appliance asks you whether you are sure you need a 16 amp device and whether you have the required electrical outlet at home. You quickly realise the mistake and make an alternate purchase with the blue collar one's advice. Given enough of a confidence boost, I can see the blue-collar one running the show, displacing three to four white collars and improving productivity by several magnitudes. Unfortunately, social networks and perhaps language advantage seem to overly determine who is at the top and who follows orders in the corporate sector.

ICT for taking English to the masses

During a recent research project on role of universities in using ICT for public interest applications, we looked at ICT education in one top ICT academic program each in Cambodia, Sri Lanka, India, Thailand and South Korea. In Cambodia, a country recovering from a loss of human resource on a massive scale, the universities are still struggling to find their footing, trying to cope with increasing enrollments and few qualified teachers. The programs in South Korea at the other extreme are more outward oriented with a focus on competing with the best in the world. A parallel program in Sri Lanka or India is better endowed, but more inward looking than Thai or Korean counterparts. In Sri Lanka, India and Thailand, in particular, universities are attempting to link ICT application in Mobile technology, big data and other technologies to issues of public interest such as making education more accessible and addressing transportation issues, for example. In fact, it was heartening to note that about 10% or so ICT graduates in those countries may have an interest in being entrepreneurs with some of them being social entrepreneurs looking at ICT applications to solve social problems. Kagnarith Chea in Cambodia is a local university graduate who has returned from Fulbright funded Master's degree in linguistics from USA to start Edemy, a social enterprise worth watching. One of his products aims to use ICT to deliver a quality English education at an affordable price. Edemy's mission is also not to exclude anybody for their inability to pay. His business model is a kind one, but creates value for to the company. LIRNEasia, my organisation, if time permits, will soon hold a micro summit with these social entrepreneurs from the five countries. Stay tuned.