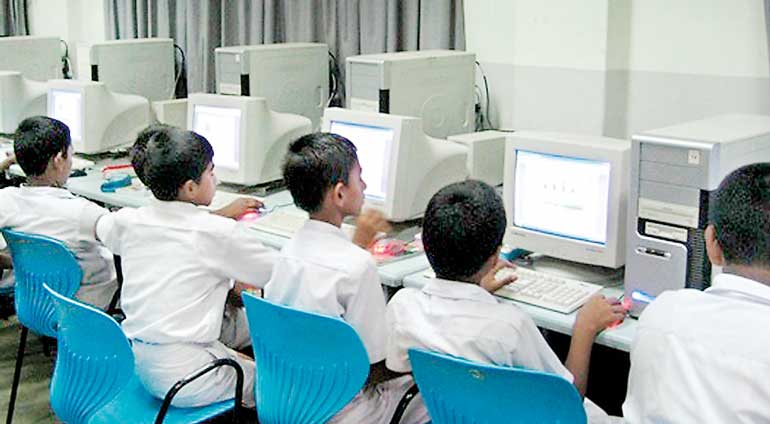 Unlike Europe, the majority of our children come from homes where technology at home is a pipe-dream
New studies point to practical approaches for Sri Lanka
ICT has offered much promise in efficiencies in delivery of quality education, but the results have been disappointing.

The latest OECD report titled Students, Computers and Learning: Making the Connection joins a host of other systematic reviews of ICT use in education that has emerged in the last few years. At this juncture when the new Government is looking for policy solutions in education including the possible introduction of tablets in schools, a review of these studies is opportune indeed.



Execution of ICT initiatives in the developing countries is problematic

In their review of impact of ICT in education in developing country contexts, Tolani-Brown et al. (2009) laments the lack of evaluation studies and notes that policymakers are driven by their intuition not evidence. Initiatives are launched with much fanfare and then forgotten.

The OLPC initiative launched in December of 2010 in Sri Lanka is a case in point. World Bank aid was used to provide 1,000 green and white Negroponte laptops to nine schools. Digital materials were tailor-made and loaded into the distributed laptops, but the initiative did not progress beyond project stage and an evaluation of the project was either not carried out at all or not made public.

Mahindodaya technology laboratories project is the latest initiative with nearly all 1,000 schools already equipped with computers and laboratory equipment. I recently attended an opening of one of those laboratories with 60+computers for a school with 300 children and a lethargic IT teacher in charge. The computers were already over one year old when the children finally got to pose pictures. The writing was on the wall and I left the place with a heavy heart.


Learning outcomes from developed countries are disappointing

The OECD report titled Students, Computers and Learning: Making the Connection finds that, despite the pervasiveness of Information and Communication Technologies (ICT) in their daily lives, these technologies have not yet been as widely adopted in formal education in developed countries. And where they are used in the classroom, their impact on student performance is mixed, at best.

The report is based on a survey of students who sat for the Program for International Student Assessment (PISA) in 2012. The study shows that results for reading and mathematics for children who sat the exam are not correlated with the state of technology investment in education in their schools.

In fact, children who reported above average use of technology show poorer results than even after correction for interfering socio-economic factors. As the report makes clear, investments to equip students with basic literacy and numeracy skills is all one may need to help them prepare for participation fully in the digitised societies of the 21st century.



Reason for lack of success

Professor Kentor Toyama of University of Michigan identifies three factors which make digital technologies difficult to implement in the classroom. First, digital technology requires a lot of skill and resources to use and maintain, and the world's poorest schools generally can't afford the required support on an ongoing basis.

Second, good pedagogy is difficult enough in itself, but when combined with the additional burden of incorporating computers, it is even more difficult. Teachers are already juggling with large class sizes, standardised curricula, examinations and miscellaneous administrative requirements. For them, computers in the classroom is just another imposition from higher bureaucracies.

Third and perhaps most significant, he argues, is the fact that digital devices tend to amplify students' natural inclinations for distraction. Students become addicted to sensory stimulation for its own sake and bypass deep thinking and learning. It's like giving them sweets before dinner. His conjectures make common-sense although the scientific studies to establish them are missing.


Four types of IT use in school education

For our work at LIRNEasia we found it useful to define four types of ICT uses in education (1) Teachers use outside of class (2) Teachers' use in the class (3) students' use in the classroom and (4) students' use outside the class.

In Finland where they are reputed to have one of the best education systems in the world, teachers use ICT outside of the class to prepare for class, for presentations in class but they don't encourage ICT use in the classroom, for lower grades lower than senior secondary in particular. In fact, in the Schoolnet survey conducted by the European Union in 2013, Finnish teachers reported the least usage of ICT from among teachers in other countries in Europe.


After school use of computers by students more productive?

Another phenomenon observed in Finland is the high use of computers and mobile phones by students on their own for school work outside the class. The EU Schoolnet survey also finds that students in Europe in fat use ICT for education at home more than in class.

We may find the same phenomenon among upper middle class families in Sri Lanka, where children come home to environments steeped in technology and use the technology for doing class projects, etc. quite naturally. However, unlike Europe, the majority of our children come from homes where technology at home is a pipe-dream.


Technologically-enriched after school experience for disadvantaged students

Sri Parakrambahu Vidyalaya on Muhandiram Mavatha in Colombo 5 is located in a spacious and picturesque property with much greenery and a natural pond to boot. Existing in the shadows of more popular national schools in Colombo, this type of school is the choice for children from neighbouring pockets of low-income housing in the area.

As characteristics of these schools, total enrolment of students is in the range of 300-400 and pass rates in public examinations is dismal. For example, in 2014, 22 students sat for the GCE (O/L) and only two succeeded with the requisite six passes that include math and the first language.

These schools have the infrastructure to serve these students better because they are truly neighbourhood schools. There are no school vans parked outside because all children live close enough for a casual stroll to the school. The ample spaces available in most of these schools can be upgraded to provide 6 a.m. to 6 p.m. safe and nurturing places for students. Some schools already have fully equipped but underused IT labs.

The concept of seamless schooling is already applied in schools in the Western Province where teachers in failing schools are asked to keep the schools open during the holidays to help their students prepare for exams. Extending the concept, facilities in these schools including the technology laboratories can be kept open for use from 6 a.m. to 6 p.m. on school days. The schools cannot do this alone. Providing seamless educational environment for under-privileged children provides an excellent avenue of CSR initiative by corporate entities in Colombo. After all, kids from these schools is their natural labour pool.