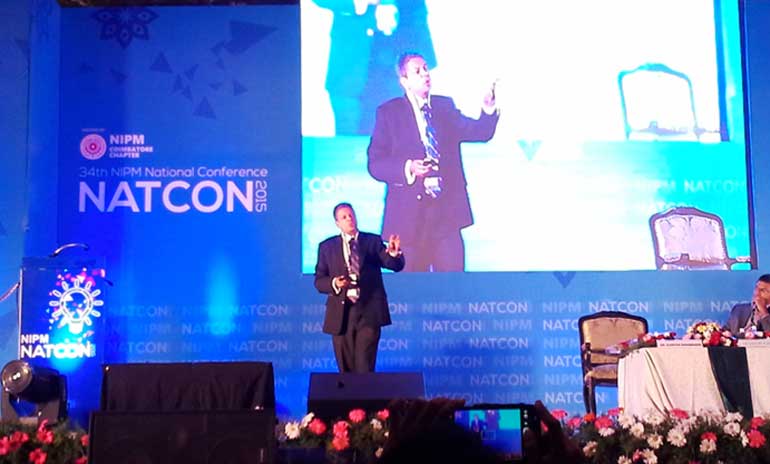 Addressing the Annual Conference (NATCON) of the National Institute of Personnel Management, India
My first visit to Tamil Nadu was a memorable one. I was one of the speakers at the Annual Conference of the National Institute of Personnel Management (NIPM), India.

I received much warmth from the people of Coimbatore. Representing the Institute of Personnel Management (IPM) Sri Lanka, the pioneering opportunity of being a Sri Lankan speaker at an NIPM event and keeping the Sri Lankan flag flying high was indeed significant. Today's column is all about the essence of what I experienced.


Overview



Headquartered in Kolkata, the National Institute of Personnel Management (NIPM) is a pan-India think tank of Human Resource managers drawn from diverse fields and industries. As one of the oldest professional bodies operating in this space for the past six decades, NIPM has been hugely successful in driving major policy changes and pushing reforms in labour welfare and industrial relations both in public and private. Today, NIPM is acknowledged as an industry watchdog for all aspects of HR development and human capital functioning.

The signature annual conclave of the National Institute of Personnel Management (NIPM), NATCON 2015 was conducted as a memorable event for HR executives looking to expand their knowledge and share their experiences.

The theme for the 34th NIPM National Conference was Winnovate HR for Business and People. It's meant to brainstorm industry best practices and benchmark recent ROI-driven approaches and applications to people management that have produced stunning results for businesses across the globe.


Winnvate HR for Business and People

The coining of the term 'winnovation' was quite an interesting one. In the technology-led, competition-intensified, global business economy, CEOs and the HR fraternity know that to survive their businesses must change, but aren't quite sure which people-centric practices still apply and which ones must be retooled to serve new business challenges.

The need for long-term focus was pronounced louder in the years following the financial crisis. Yet in the midst of so much change and complexity, even the most progressive companies can struggle to fully engage their employees, customers and business allies in ways that create mutual benefit.

They know that in the dynamic business environment, the symbiotic relationship between organisations and people must also shift in profound ways.


Economic volatility, the erosion of trust, the desire for sustainable lifestyles and the ability to instantly communicate across social networks have converged to create a new and exciting business environment that must be embraced in order to remain in the business itself.

It is widely accepted among business leaders that innovation is vital to both competitive advantage and long-term success and innovation is one of the three top challenges CEOs face today. The ability to innovate and sustain it for business growth and stability is the predictor of the future. Winnovation is every stakeholder's responsibility because, more than technology, it's human capital that's driving change all around us.

The most successful corporate innovation strategies are ones that predominantly focus on people and human capital rather than technology.

Human Resource is perfectly placed to develop and sustain the kind of cultural transformation required for achieving the above objectives, whether it is organisational design, objective-setting, the appraisal process or any other people process.

It is developing an approach that is right to the organisation's unique set of circumstances. Managing diversity in appreciating the diversity of thought and culture, consistently conveying correct signals about the new approach to every employee, reinforcing the importance of innovative practices and encouraging employees to share and develop ideas and also understanding unique skills, competencies and behaviours to succeed in the mission.

Among the subthemes involved were:
Preparedness of HR to synthesise changing customer expectations, business dynamics, disruptive technologies and people's aspirations
Innovative cultural foundation beyond cost arbitrage. Resultant processes in people identification, attraction, building, buying, borrowing or outsourcing
Skill building for future India
Role of HR in digitalised world and impact of social media
Evolving next generational leaders, reverse mentoring and unlearning
A deep dive into workplace dynamics and the state of changing work culture
The bottom-line emphasis - balancing cost control and value creation
Devil's Advocate, too much materialism at what cost
HR Analytics for business transformation.
These options will see HR survive and thrive as an indispensable value creator.
Evolving next generation leaders

I was invited to focus on this broad subtheme. Upon contemplation, I realised the need to emphasise the similarities and differences of millennials of South Asia and the west. Many have been discussed about millennials in multiple media. Since William Strauss and Neil Howe came up with the Generations Theory in early 1990s with their seminal book, people all over the world started paying attention to the existence of multiple generations in the workplace.

Millennials or Generation Y employees, born between 1980 and 1999, have differences in their perceptions, preferences and performance. They are much more tech savvy compared to their Generation X predecessors, having been exposed to rapid advancement in information and communication technology during the past decades. They are also for more flexible work arrangements. The rigid eight-hour work rule will make them bored and unproductive. They are also much more ecological conscious in going green. These triple aspects of tech savvy, work flexibility and green-consciousness act as key indicators with regard to their preferences towards work arrangements.

Millennials have a 'can-do' attitude about tasks at work and look for feedback about how they are doing frequently. Millennials want a variety of tasks and expect that they will accomplish every one of them. Positive and confident they are ready to take on the world.

They seek leadership and even structure from their older and managerial coworkers, but expect that you will draw out and respect their ideas. Millennials seek a challenge and do not want to experience boredom. Used to balancing many activities such as teams, friends, and philanthropic activities, millennials want flexibility in scheduling and a life away from work.

Millennials need to see where their career is going and they want to know exactly what they need to do to get there. Millennials await their next challenge – there better be a next challenge. Millennials are the most connected generation in history and will network right out of their current workplace if these needs are not met. Computer experts, millennials are connected all over the world by email, instant messages, text messages and the internet.

Whilst the classification of generations shed much light into how people of different ages behave differently, it highlighted its own limitations as well. One obvious factor among all these generations is that the very names are associated with events that took place in the west, and to a very high extent in the US. The degree of relevance and applicability to South Asia is questionable.


South Asia as a HR region

One fifth of the world population is housed in South Asia. Obviously, it is a humanly rich (HR) region. Yet, it is only second to Sub-Saharan Africa with regard to poverty. I see a paradox here. On one had we have brilliant brains. More than 70% of NASA scientists are from South Asia. On the other hand, we have the worst form of poverty. The co-existence of the best brains and worst poverty is an interesting phenomenon.

In extending the South Asian specialty to millennials, we see some clear differences. Whist the tech-savvy nature is universally consistent, the key difference emerges in the spheres of religion and culture. Recent research on millennials across the globe has highlighted such differences promptly. Attitude towards marriage, approach towards family and respect towards religions are some key differentiating factors among South Asian millennials.

On one side they are ardent fans of technology. On the other side, they are active upholders of tradition. I would coin the term 'tech-tradi tribe' to describe such distinct millennials in South Asia.

It reminds me what late Prof. Uditha Liyanage referred to as the mode-tradi consumer in Sri Lanka. We see many young Sri Lankans wearing a 'pirith nool' as well as a pair of Levis jeans in showcasing their association with modernity and tradition. In a globalised world, we get influenced or even dominated by a western thought process, overshadowing the indigenous realities. Multigenerational classification is one such example. The emerging leaders in South Asia representing the tech-tradi tribe will show the world their distinct difference.


Way forward

The treasures and travails of the tech-tradi tribe need to be further explored. They are already in our workplaces. They want to be lean, seen and green, in going, growing and glowing. The amount of enthusiastic responses I received in Coimbatore is ample proof that the 'tech-tradi tribe' is worth exploring further. As IPM and NIPM are both dealing with emerging leaders, collaborative research in South Asia is a clear possibility.