Sri Lanka's fashion, beauty and retail industries have evolved dynamically over time due to the rise of many thriving local businesses and brands. These industries aren't just soft spots and glamour zones in Sri Lanka's bustling business landscape, they require an immense amount of effort and play a key role in driving economic growth by contributing to the development of exports, trade and employment. These industries have also helped Sri Lanka to build a name for itself as a creative design and style hub. Whilst there are many men and women alike who have been movers and shakers in the spaces of fashion, beauty and retail, we'd like to shine a light on five women entrepreneurs who are at different stages of their careers and are building their own unique power brands whilst making valuable contributions to their respective industries.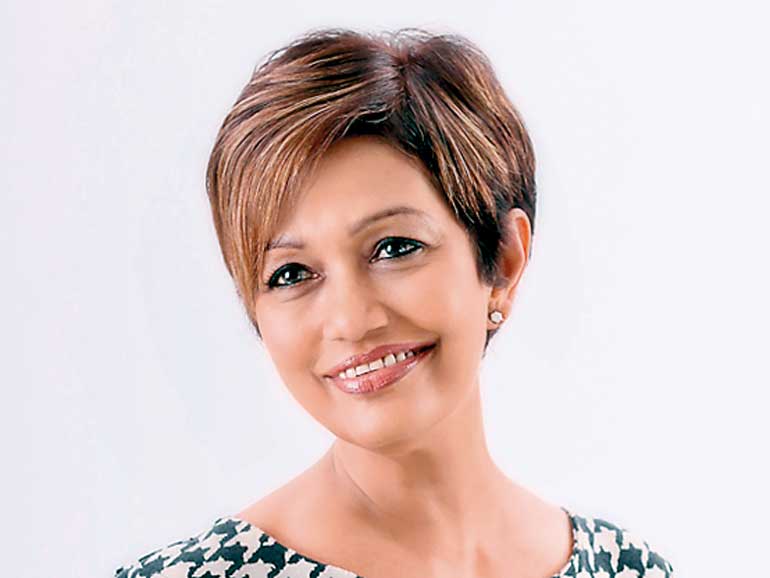 Ramani Fernando – Founder and Managing Director, Ramani Fernando Salons

The early days: Ramani Fernando has long been recognised as a pioneer and icon in the hair and beauty industry, but it took her a great deal of hard work, perseverance and resolve to build the successful business that she has today. Commenting on her early days in the industry and her journey of growth Ramani said, "Soon after I finished school, I started hairdressing as a hobby and attended a local training college. My real passion was fashion and design but there was a greater scope for hair and beauty at the time so I pursued that. I was fortunate enough to live in England with my husband Ranjit for a while and that was when I really learnt what hairdressing was. At the time, I thought I knew so much, but realised very quickly that I knew nothing. I got a job as a stylist's assistant at a prestigious salon called Gerard Martin – London Gold. At the start, I hardly worked with any clients, my main job was sweeping, shampooing, cleaning and making endless cups of tea and coffee. It was very hard work but I had the incredible opportunity of learning first-hand from the best talent in the industry." Ramani then went on to work as a junior stylist at a salon called Raymonds, steadily building up her confidence, knowledge and skill set.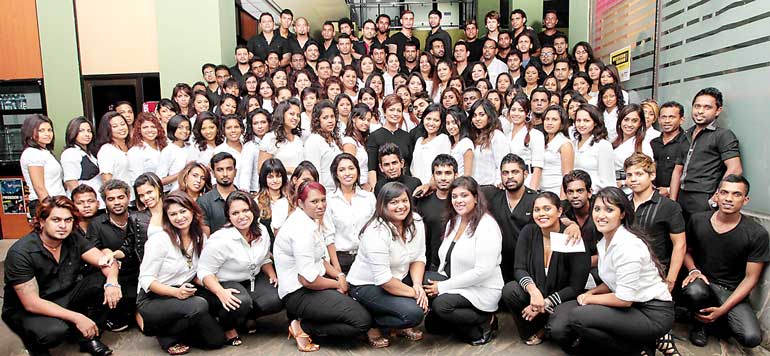 The Ramani Fernando Salons Team


Building a thriving business and celebrating 40 years in the industry: Having received valuable exposure abroad, Ramani came back to Sri Lanka and embarked on an entirely new adventure – she started her very own business from a little room in her home at Elibank Road. With only a chair, scissors, a towel, a dryer and a wash basin to work with, Ramani started giving a few of her friends haircuts and gradually more clients started seeking her out. At a time when setting hair in rollers was the trend, Ramani introduced chic cuts and blow-dries, which instantly became popular – the final result was stylish, sleek and took much less time. Commenting on this stage in her career she said, "Even then, Colombo was a very small place, so word of mouth really helped my business. At the beginning, I didn't really have any business experience or a business plan, I didn't know how to handle my pricing and used to charge Rs. 30 for a haircut, but I never had a problem with finding clients. I learnt with time and the business continued to thrive. As my client base grew, I needed to expand accordingly. I went from working alone, to gradually hiring more assistants and I eventually converted my garage at Elibank Road into a more structured salon with more equipment and a Mezzanine floor. Today after 40 years, the business has grown to include a chain of 12 salons, two franchise salons, two academies and I have a talented team of 170 people working with me."

Achievements and moments to remember: During her career, Ramani has won a string of awards including the 'Zonta Woman of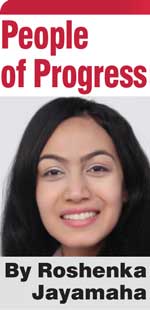 Achievement' award in the late 90s. She also received 'Woman Entrepreneur of the Year' awards from the Federation of Chambers of Commerce and Industry as well as several accolades from various other prestigious awarding bodies. She has also won countless local and international competitions. Commenting on her success, Ramani said, "In the early days of my business, I really enjoyed taking part in competitions and was delighted when I won an 'Outstanding Performance' award at the Asian Hair Styling & Make-up Competition in the 80s. Later I was invited to contribute as a judge on the panels of these competitions and this was a great honour as well. I believe that every day is an achievement in its own right. On a daily basis, we strive to continuously deliver customer satisfaction and ensure that our customers receive what they are promised. Our constant goal is to ensure that we do our very best at all times and that is what I tell my team to strive for each and every day."

Managing a dynamic team of stylists: Speaking fondly of her team, Ramani said, "We have people from all walks of life working at the salon and our team consists of a very talented group of individuals. I don't have an HR Manager, I handle all of the staff inquiries and problems myself and I like it that way. I keep my door open and invite my staff to talk to me whenever there's a problem or if they need advice. Managing a large team can be challenging, some people fall beautifully into place and others don't. A key area that I focus on is motivating my team, I want my team to be happy and driven, that's something which is very important to me."

A passion for dressing brides: One of the key aspects of her business, which Ramani has always had a flair and passion for, is dressing brides. Commenting on this she says, "I really love to dress brides and for me it's such a privilege to be a part of such an important milestone in their lives. I try my very best to ensure that each bride looks and feels radiant and wonderful on their wedding day and to make a bride happy on such a very special occasion is something that brings me immense joy and satisfaction. Now I'm gradually dressing second-generation brides, whose mothers I dressed decades ago. Additionally, many Sri Lankan expatriates like to come home for their weddings so I've had the privilege of dressing brides from all over the world."

Managing the work-life balance: Commenting on how she balances the demands of her personal and professional life, Ramani said, "I'm very disciplined and organised by nature so this helps me to manage all my various responsibilities. I also have the support of my husband and children, which is very important. Growing up, my children understood that I was a busy mom, but I was based at home so I could give them all the care and attention that they needed, whilst running my business. I have always been able to spend quality time with my family, even when my children were younger, I was always able to get involved with their various activities and really encourage and support them. Prioritisation and time management are essential and with good planning skills you can balance your work well. I also realised early on that you can accomplish and do quite a lot with the support of your family."

Future plans for growth: As Ramani looks ahead to the future her primary focus is on constantly upgrading the salon experience and ensuring the ongoing training and development of her team. Commenting on her plans for growth she said, "We recently opened up a new salon in Negombo, which caters to travellers as well as local residents. Our primary focus will be on ensuring that we continuously improve and keep up with the latest trends and developments in the industry. There's a lot of competition in Sri Lanka in the hair and beauty industry, but competition is healthy for everyone."

Advice for other entrepreneurs: Sharing some valuable advice for other entrepreneurs, Ramani said, "Not everything is about money. When you start a business, be patient, consistently go after your goals and don't expect to shoot to the top immediately. You have to slowly and gradually build your business. Without thinking too much about profits, simply do what you love and what you have a passion for and the money will follow. You should also never be tempted to think that you know it all. You have to constantly grow and evolve and never stop learning. Be open minded and remember to always take the advice that others give you to heart."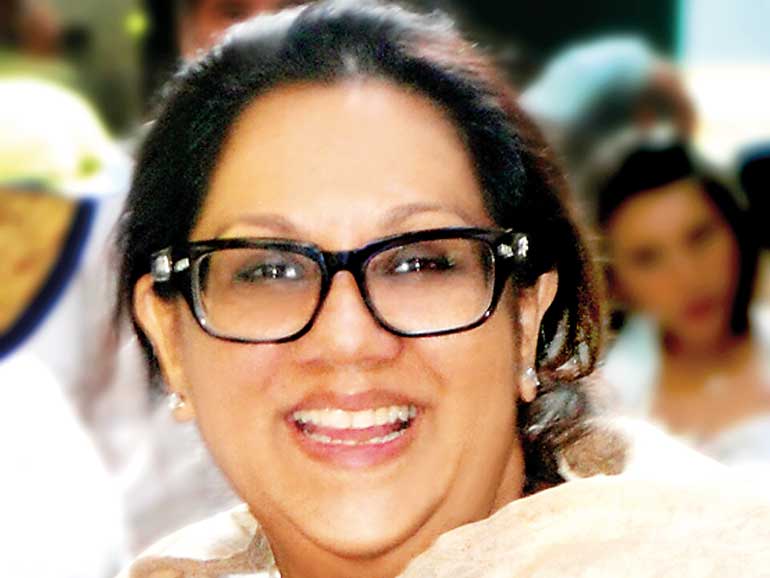 Niloufer Esufally Anverally – Managing Director of Cotton Collection

Back to the beginning: After beginning her career at a global bank, Niloufer left the security of a desk job and started dabbling with garments in 1989 and by 1991 she had opened her very first Cotton Collection store. At the time, she recollects how it was extremely difficult to find trendy garments in the local market-place and she set out on a mission to fill that void, initially for herself and thereafter for others. Commenting on the early days of the Cotton Collection brand, she said, "My business started at home, with me selling a few pieces of clothing out of boxes. My first customers were my friends and then by word of mouth, I found a few more customers and my business gradually grew. I then started supplying clothing on a wholesale basis to retail outlets. Customers had such a great need for chic and fashionable clothing in Sri Lanka at the time that whatever we put on the shelves would just sell out. Eventually, I opened by first store at Majestic City in 1991 and today we have a total of six stores including our flagship store on Dharmapala Mawatha."

The 25-year evolution of her brand: Niloufer has been recognised as the 'Most Outstanding Woman Entrepreneur (Medium)' in 2013/2014 by Women In Management and has received several accolades that recognise her entrepreneurial success. Commenting on how the Cotton Collection brand has evolved under her leadership, Niloufer said, "It's been 25 years since I started Cotton Collection and it's been great to see how the brand has grown from strength to strength. Alongside Cotton Collection, I started Leather Collection, purely out of a passion to provide customers with high quality leather shoes, bags and accessories. The Hidesign agency has continued to partner with me for the last 23 years and the brand's range of luxury leather products can be found exclusively at Leather Collection outlets. We celebrated the opening of the Cotton Collection flagship store in 2011 and we also launched our in-house brand COCO two years ago. COCO is designed for carefree and free-spirited young women who are passionate about life.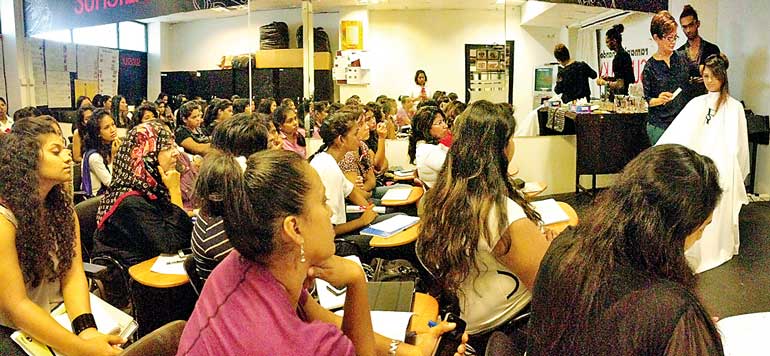 Ramani conducting a live demo at the Ramani Fernando Sunsilk Academy
We've also introduced several other brands to our portfolio; Raspberry is our in-house accessory brand, Faluda Lilly is our children's brand and Purple Narang is our island-wear brand, which has become immensely popular. It's been quite a remarkable journey so far and I've been very involved and hands-on the entire time. I take a personal interest in all aspects of the business, from selecting samples to creating optimal retail environments at each store. I'm also fortunate to have a great management team on board that has an innate understanding of the Cotton Collection brand and what I want to achieve. They understand my desire and vision to make Cotton Collection the most sought-after casual lifestyle store."

Staying up-to-date with the world's top fashion houses: Niloufer expressed her pride in Cotton Collection being up-to-date with the latest trends that are set by the world's leading fashion houses. Elaborating on this she said, "Fashion is a dynamic business and it requires a great deal of work. We follow all of the leading international fashion shows and track the styles, designs and trends that are emerging. It's very rewarding, because most of the time we are designing in perfect alignment with the latest global trends and that is a significant accomplishment for us."

Meeting the needs of local customers: Highlighting the design process she follows and how she alters her designs to meet the needs of local customers, Niloufer added, "Trend forecasting is an important part of our business but it's not enough for us to simply gauge and recreate global trends. We have to consider the latest trends in a local context and think carefully about the needs of local customers. After our team of designers comes up with a concept, we look carefully for designs and pieces that will suit our Sri Lankan customers and their lifestyles. We consider factors such as the climate and functionality to ensure that our collections are both practical and trendy. We select colours, silhouettes, details and fabrics that suit the brand and our customers and then we select the best pieces for the sampling process. Our entire team gets involved with selecting the final pieces for our collections and even our advertising agency comes on board to create complementary communication material and branding campaigns."

The importance of visual merchandising in retail: Commenting on why it is essential to pay constant attention to retail spaces, Niloufer said, "Visual merchandising is extremely important to me. The store ambiance and layout are critical to creating a pleasant and welcoming retail environment and our entire team tries to ensure that everything is beautifully presented. We clearly demarcate areas, so that customers can easily find specific types of clothing and can easily make their way throughout the store in search of bags, shoes and accessories. Everything has its place and that helps guide customers through the store and makes the shopping process extremely easy and hassle-free."

Balancing work and family: Commenting on how she has managed to build a successful business whilst managing the demands of being a mother and wife, Niloufer said, "I'm passionate about every aspect of my life, I love my kids and family, and I love my work. I see them both as priorities. I have to organise my time very well to ensure that I can balance both but there's also some sacrifice involved. I often give up most of my "me-time" to make sure that my family and business are taken care of, but it's totally worth it. When you love what you do, everything falls into place. I love taking care of my family and I love running my business, so nothing ever feels like a chore, I simply love every part of it."

Creating a customer-centric brand: Reiterating her commitment to creating a customer-centric brand, Niloufer said, "Our customers are at the heart of everything we do. We are constantly striving to give them the best quality of clothing and the best choice. We keep track of customer requests and expand in accordance with what our customers need and want. For instance, we received a great deal of requests for more plus size clothing options as many customers felt that there wasn't enough choice in the market. So, we decided to launch our own plus size store on Flower Road, which is completely dedicated to offering the highest quality of clothing and accessories, to suit body types that are up to size 16 and above. Size does not matter when it comes to style and at Cotton Collection, we believe that everyone should be able to find clothing that enables them to look and feel their very best. We also do our best to cater to the entire family, we have clothing lines for ladies, gents and children. We also stock products by Yolande, Avirate, amanté and Spa Ceylon to offer our customers a more complete and well-rounded shopping experience."

Gearing up for growth: Commenting on her plans for growth, Niloufer said, "We're going to focus strongly on expansion in the future and we have a growth target of 25% for the year ahead. Our entire team is celebrating our 25 years of success in the industry and we look forward to taking Cotton Collection to even greater heights in the future."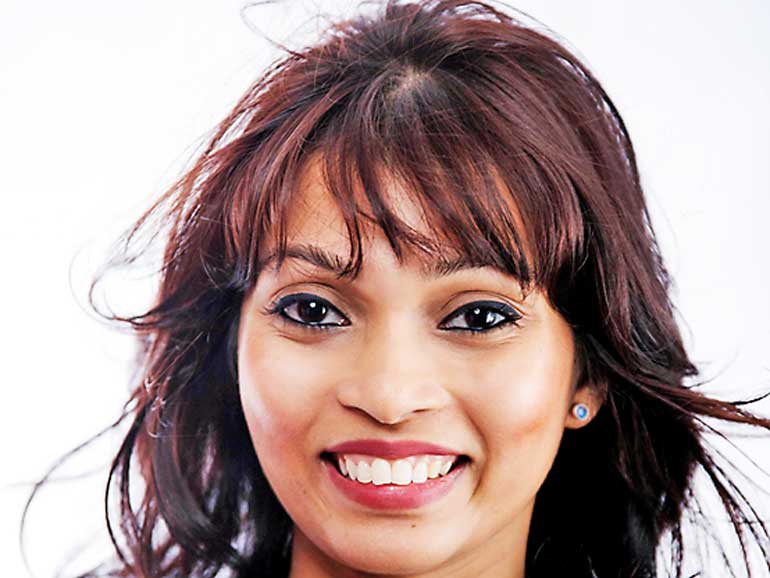 Rukshika Fernando Seneviratne – Co-Founder, Rum Punch

A love for the arts leads to a thriving career in fashion design: As a child Rukshika grew up in a family of entertainers, her father (renowned musician Chandimal Fernando) and her grandmother filled their home with music and the arts, and she developed a love for drawing at an early age. Recognising her passion for sketching outfits, her parents wholeheartedly encouraged Rukshika to pursue a career in fashion design. At the age of 16, she signed up for her Higher National Diploma at the Academy of Design and following her annual showcase, was selected to join a leading apparel manufacturing company. Commenting on the start of her career she stated, "I started my career at MAS Holdings with the hope of gaining at least two years of work experience and that gradually turned into eight years. I then took study leave to complete my Bachelor of Arts degree in Fashion and Design at AOD and it was during this time that I created the Rum Punch brand for my graduation show. Afterwards I just felt that the time was right to take Rum Punch to the local market-place. I handle the fashion and design aspects of the brand and my husband Binara manages the marketing, branding and financial management of the business."

Tapping into the potential of a niche: Rukshika's love for swimwear led to her establishing Rum Punch as a trendy, chic and fashionable resortwear brand. Commenting on her journey to date she said, "I was not sure how a niche fashion category like resortwear would be received in a conservative market like Sri Lanka, so I started by launching a very small collection which I designed from my studio at home. The response was overwhelming and the entire collection sold out in just five days. Now, just one year after the brand was launched we released our fourth collection. On a regular basis, we release a total of three collections each year– our Spring and Summer collections are released in April and June/July respectively and our Fall/Winter collection is released in December."

Challenges faced by small-scale designer brands: Highlighting the key challenges that up-and-coming designers are likely to face Rukshika stated, "It can at times be difficult for small-scale designers to find manufacturing partners who are able to produce smaller quantities of clothing. Although Sri Lanka is a design, textile and apparel hub, we are geared more towards larger brands that require higher volumes. I was lucky that Gihan Nanayakkara of Orient Design, decided to help me manufacture my collections, he has also continuously provided Binara and I with a lot of support and encouragement. Getting the right exposure is also important and can be a challenge in its own right. In terms of providing exposure for up-and-coming designers, fashion shows like Colombo Fashion Week and the Sri Lanka Design Festival really provide a huge platform and significant reach for designers. We really need these fashion shows, they have an important impact and they do a phenomenal job of helping designers like me to take our brands to new customers."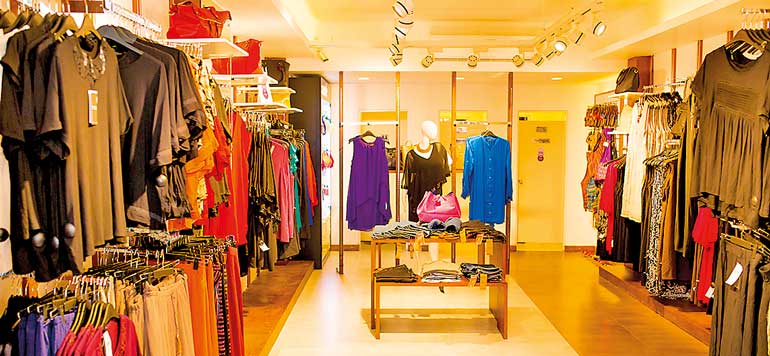 The Cotton Collection Plus store


Hitting e-commerce gold with Zalora: Two months after starting Rum Punch, Rukshika found an e-mail from Zalora – one of the fastest growing e-commerce sites in South East Asia in her inbox. Zalora, which was founded in 2012, offers an extensive collection of over 500 top international and local brands, and the company's retail team was keen to meet with her. Rukshika and Binara flew to Malaysia and after showcasing their samples, the Zalora team placed an immediate order with them. Commenting on her deal with Zalora, Rukshika said, "The order from Zalora gave us a lot of encouragement and filled us with positive energy. We were extremely proud to be the first Sri Lankan brand to be featured on Zalora, which has really helped us tap into key markets in the Asian region. Today the Rum Punch brand is available in Sri Lanka, Malaysia, Singapore, the Philippines, Hong Kong, Taiwan and the Seychelles."

First year highlights: Rum Punch is a relatively new brand that in just one year has achieved a significant amount of success. Commenting on some of her most memorable achievements, Rukshika said, "In 2015, Elle Malaysia included a Rum Punch reversible one piece on its top 10 colour block swimsuit list. In the same year renowned photographer Nigel Barker visited Sri Lanka and his wife bought a few pieces of Rum Punch swimwear. They thereafter did a photo shoot with her wearing the pieces and uploaded the images on their website and social media channels, and this provided a lot of international exposure for our brand."

Taking the brand to a new level: Commenting on how Rum Punch plans to grow in the future, Rukshika said, "Initially we were just testing the Sri Lankan market, but the response was fantastic. Customers have really embraced our trendy and sporty look and our pieces are multi-functional, so they're used as swimwear primarily but the sweat-resistant fabrics that we use also make them suitable for yoga. We currently sell our collections on fashionmarket.lk, at Dilly & Carlo, on Zalora and in a small boutique shop that was opened by La Voile Blanche in Mount Lavinia. However we are planning to start our own direct e-commerce store soon, so customers can shop directly with us online. We also hope that we can have a strong brand presence in at least 10 Asian countries by the end of the year. Looking to the future, we are targeting a 100% growth in our second year of operations and we hope to grow the brand into a Rs. 50 million business by 2019."

A lesson for others: When we asked Rukshika if she has anything else to add, she said, "I'd really like to thank my parents and my in-laws, who have supported Binara and I a great deal from the very start of this venture. Our families have helped us in so many ways and we are very grateful to them for their constant encouragement." Sharing a valuable lesson she learnt on her journey, she said, "It's great to do your own thing, but it's really important that you work for a few years and get the necessary work experience needed before venturing out on your own. I learnt so much whilst working in the apparel manufacturing industry and acquired the knowledge and skills required to run my business successfully. Having your own business is a huge commitment. It can be a really rewarding and great experience, but you have to do it right."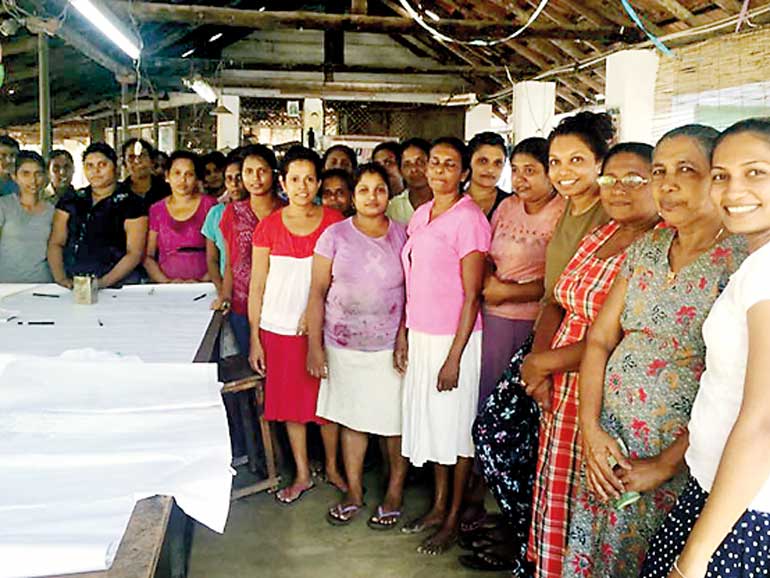 Darshi Keerthisena De Livera – CEO/Creative Director of Buddhi Batiks

Growing up with the art of batik: Darshi is a vibrant designer who grew up learning about the art of batik from her parents. Even before Darshi was born, her father, the renowned Buddhi Keerthisena had a thriving batik business and she spent her childhood, seeing her parents run their factory and showroom. At the time Buddhi Batiks was exporting traditional batik wear and in the 80s, Darshi's family moved to Colombo. The tourism industry in Sri Lanka collapsed at that time and her father started operating the business on a smaller scale. Prior to starting her higher education, Darshi spent some time at Lasalle, Singapore and thereafter went on to receive her Bachelor of Arts degree from Birmingham City University. She then started working at Brandix, where she reiterates that she received an immense amount of exposure. She also lectured at the University of Moratuwa and at the Academy of Design campus. In 2004, she started experimenting with batik techniques but instead of using traditional cotton fabrics, she tried creating batik pieces with silk satins and georgette. She loved the result and had found a way to make batik look exciting and youthful again. Commenting on the start of her career as a designer she said, "In 2006, I showcased my first batik creations at the Railway Show, which was organised by the French Embassy and in 2007, I participated in Colombo Fashion Week. The CFW show gave me a great platform and my collection was an immediate hit. I received excellent reviews that commended me for showcasing batik like it had never been seen before. This was very encouraging and really motivated me."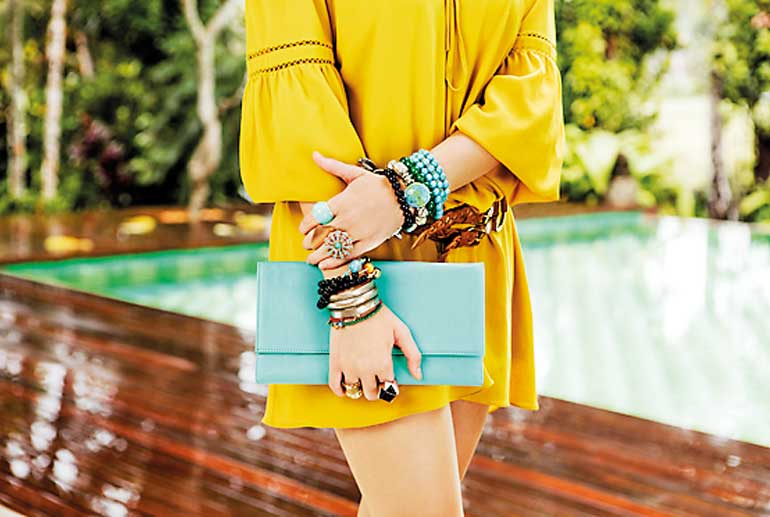 Accessories from Cotton Collection's in-house brand Raspberry


The Buddhi Batiks and BB brands: Commenting on the vision for her brands Darshi said, "The Buddhi Batiks brand includes a range of saris and evening wear that is more upmarket and caters to a more high-end clientele. Whilst the BB brand includes more affordable dresses and casual wear pieces that are specifically designed for younger customers. Buddhi Batiks releases a total of four collections each year, which are broken down into smaller weekly collections. By introducing new pieces each week, we're able to keep our retail space fresh and constantly offer our customers something new. Each and every piece in the Buddhi Batiks collection is a one-of-a-kind garment that is handmade with the greatest care. We also export a small quantity of pieces and plan to gradually expand and build a batik lifestyle brand."

The most important achievement of them all: Recollecting her most important achievements to date, Darshi said, "It's always great to receive awards and I was really honoured to receive the Young Fashion Entrepreneur Award from the British Council in 2005 as well as several other accolades. However my greatest accomplishment is being able to work with and empower women in rural Sri Lanka. Many of the women who work at our factory, started out as helpers and are now managers. It's incredible to see their growth and it's wonderful to be a small part of that. Many of these women also have to single-handedly face the challenges of raising and supporting their families. Juggling these responsibilities is a big challenge but we try to be flexible to accommodate their needs. For instance, we try and provide a longer lunch break during the day, so the women working at the factory can go home, feed their children and check on them before coming back to work. We've also done our very best to ensure that we give them the training opportunities they require to grow and progress."

Zoning in on the right customer base: Darshi's elegantly designed saris and clothing have won the hearts of customers of all ages, commenting on this Darshi said, "Initially, I thought that my customer base would be women between the ages of 25 and 40, but I was pleasantly surprised when a lot of teenagers came to me with their mothers to design saris for their graduation balls. Buddhi Batiks has a more classic appeal, whilst BB is a little more youthful. I think the beauty of the sari is that it really does appeal to a wide customer segment, regardless of their age, most women consider saris to be an essential part of their wardrobes."

Focusing on achieving organic growth: Commenting on her future plans, Darshi said, "In the last four years, we've doubled our growth. Looking ahead, I want to focus on achieving organic growth and really concentrate on applying a more sustainable approach to our operations. I want to bring in a more environmentally-friendly aspect to the business and gradually evolve it into lifestyle brand and make sure a variety of clothing and products are readily available. There is a lot of competition in the market but that's good because it pushes you to be your best and try new things. Innovation is another important area that I want to focus on, I want to introduce new techniques and fabrics and keep our brands fresh and interesting."

The support of apparel manufacturing companies: Darshi also currently heads the design team at MAS Linea Aqua and commented on the support that she has received from the apparel manufacturing industry. "In my career, I've been lucky to work with both of the largest apparel manufacturers in the country. Along with heading the creative direction at Buddhi Batiks, I also currently head the design team at MAS Linea Aqua, which is proving to be a wonderful opportunity. I must say that the leadership of MAS has always extended its full support to helping local talent and they have really supported me as well as many other local designers who are trying to develop and grow their brands."

Tips for other entrepreneurs: Highlighting some important advice for other entrepreneurs, Darshi said, "You have to be able and willing to work really hard to achieve your goals. If you're focused and determined, you will achieve some level of success. Also, it's important to help others on your way up. If you help others along the way, you'll find that there will come a time, somewhere down the road, when they will help you too."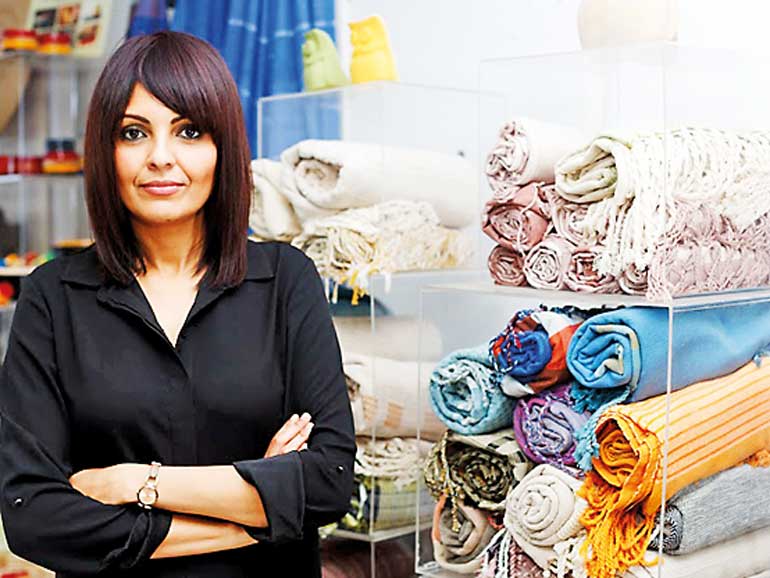 Linda Speldewinde – Founder/Managing Director, AOD International Design Campus

An entrepreneur with an interest in design: Linda Speldewinde is an entrepreneur who has always had an interest in design and has had an unwavering belief in Sri Lanka's design potential and what it can deliver. Commenting on what motivated her to start the Academy of Design Campus, she said, "I am an entrepreneur at heart and all my ventures stem from a love for design - an area that I've always been very interested in. I started AOD because at the time, Sri Lanka didn't have an institute that offered an internationally relevant design education. The Northumbria University School of Design then selected AOD to offer its world-renowned fashion and design degrees and courses, giving local students the opportunity to obtain a world-class education at home. I believe that education is integral to the fashion and design industry, it's where the industry starts. In order to develop the industry, it is integral that we begin with education."

The AOD Journey: Commenting on how AOD has evolved since its inception, Linda said, "We started by focusing primarily on education, then as AOD began to produce the right kind of designers for the country, I started other ventures that went hand-in-hand with this new development. The Sri Lanka Design Festival was launched to create a platform for the designers that needed an opportunity to showcase their work. An Island Collection retail brand was started to link design talent with our traditional craft communities, an initiative which has helped to develop grass-root level industries. Most recently we started, fashionmarket.lk, which is an online retail site that features and sells the clothing that our fashion designers produce."

A unique educational mode: In collaboration with Northumbria University, AOD offers a variety of courses ranging from fashion and textile design, to fashion marketing and also offers other design courses ranging from interior design to graphic design and motion graphics as well as animation. Commenting on the role that AOD plays in grooming industry talent, Linda said, "At the moment at AOD, we have close to 275 students enrolled in different programmes. AOD follows a unique model of education, which combines academic excellence (which is provided through Northumbria University), along with hands-on training opportunities with low-tech industries such as crafts, as well as high-tech apparel manufacturing industries (which are at the forefront of innovation). This leads to students receiving a thorough, holistic and well-balanced educational experience, that blends important knowledge and skills with adequate exposure to the demands and needs of the industry."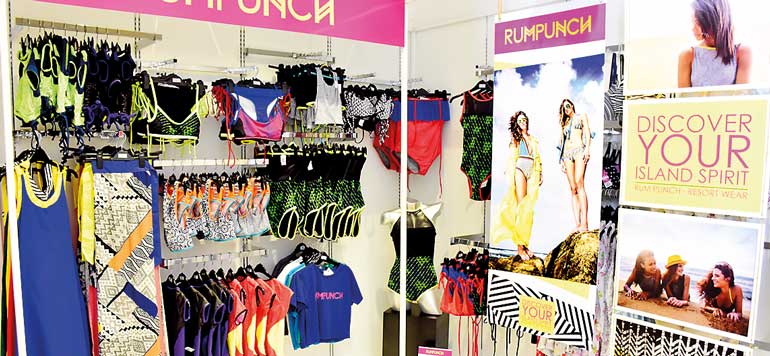 A Rum Punch retail space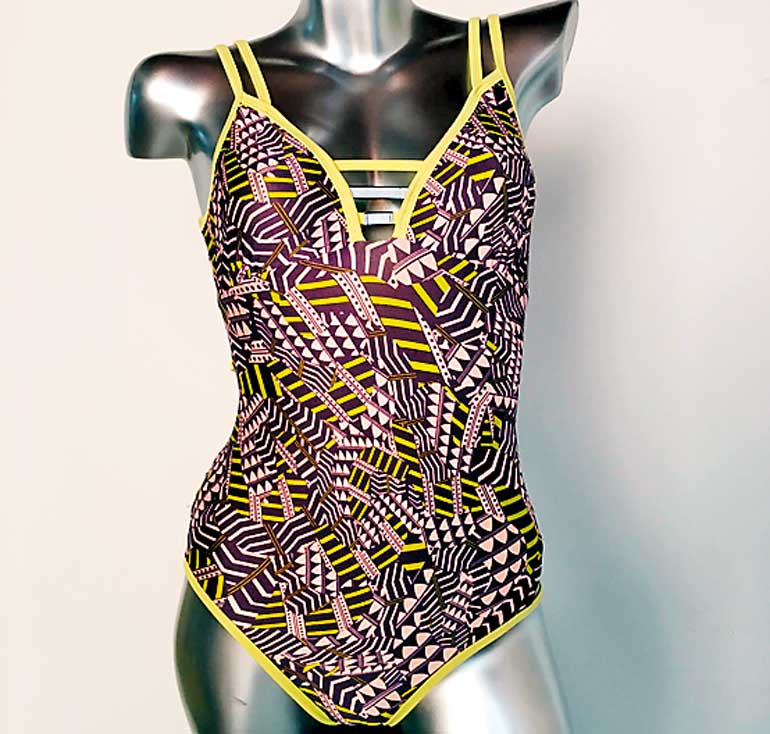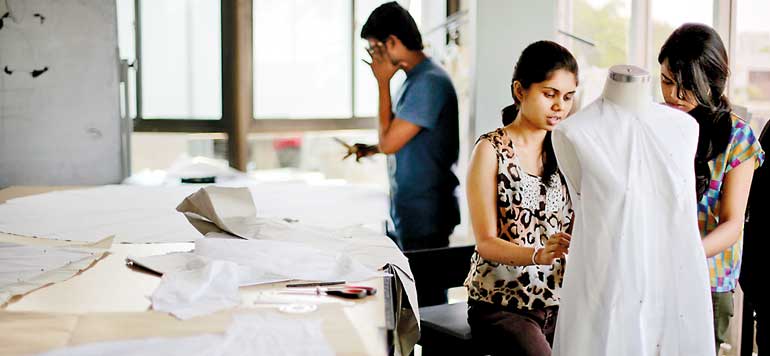 AOD students at work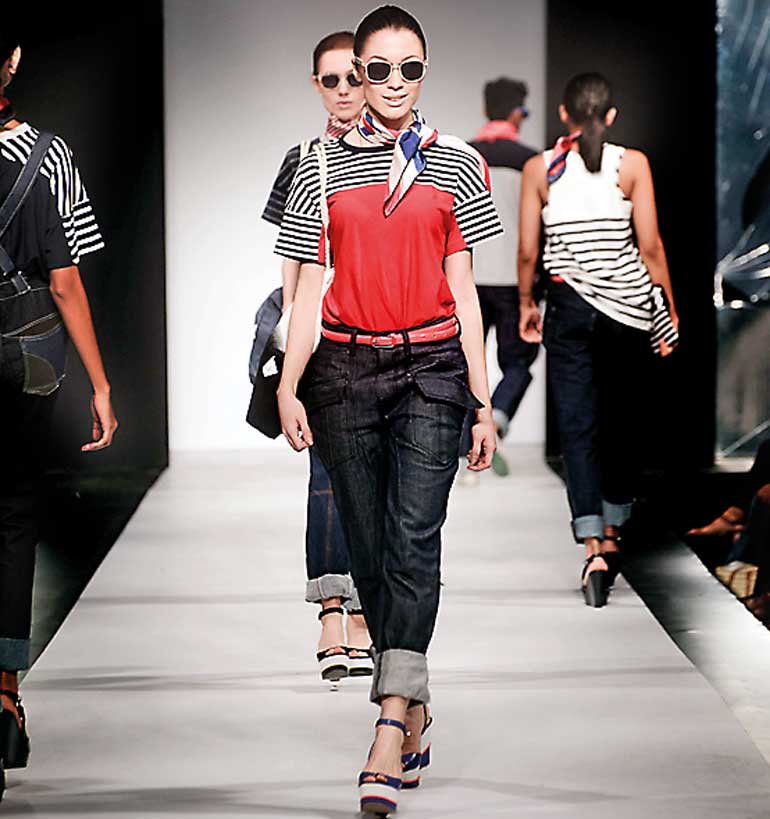 fashionmarket.lk – providing local designers with an important platform: Providing more information about her newest venture, fashionmarket.lk, Linda said, "We started fashionmarket.lk out of the need for a retail space that could support the fashion and design talent at AOD. I believe that online retail is the future for commercial designers and e-commerce has made it so easy and convenient to bring designers and potential customers together. At present, we have over 20 designer brands featured on the site, with over half of them being AOD talent. We've also been able to reach beyond Sri Lanka and have engaged with Indian customers who have shown a strong interest in Sri Lankan brands."

The road ahead: Commenting on her future plans, Linda said, "We have plans to keep growing AOD and to create even more opportunities for students of fashion and design in Sri Lanka. Simultaneously, we're growing the Sri Lanka Design Festival and want to make it a meeting place for both local and international designers. The Island Collection and fashionmarket.lk are also expanding rapidly to reach foreign markets and we have exciting plans in store to launch two sister sites shortly."

The evolution of the industry: Highlighting how she has observed how the fashion and design industry has evolved, Linda said, "This industry has grown by leaps and bounds. We have moved away from being perceived solely as an apparel manufacturing nation, to being recognised as a design and apparel manufacturing nation. We are proud to see how far our apparel industry has come in terms of design and we are glad to see the impact that the availability of a well-educated pool of design talent has had on the industry. At the same time, the increased availability of more designer brands as well as a greater exposure to fashion and design has changed the local consumer market and demands have shifted."

No challenge too great: Commenting on her unique approach to facing challenges Linda said, "I don't consider obstacles a challenge, instead I recognise them as being a natural part of the business process. The ability to constantly keep updating yourself is essential and I constantly focus on learning and making the most of every opportunity and experience."

Creating positive conversations about successful women entrepreneurs: Sharing words of encouragement for other women in business, Linda said, "I think our society today accepts the fact that women can do and achieve great things. Even if you look at most parents, the expectations for both their sons and daughters include success in education and in their careers. However, I think boys tend to have more role models in the business world whereas girls tend to hear more about the difficulties that women face at work, rather than the positive side of things. So I think we really do need more women entrepreneurs who can be role models at home and for society at large. Looking ahead I think we should create more positive conversations and it'll be great to talk more about the strength and success that women are capable of, instead of focusing purely on the challenges that they face."

Regardless of how they started their careers and where they are on the journeys of success, these five women are making their own unique impact on the fashion, beauty and retail industries. Whilst they are different in many ways, they share many common values and attributes that have undoubtedly paved the way for their success. They fearlessly walk their own paths, they have an incredible work ethic, they are genuinely humble and approachable and their passion, persistence and flair for business have helped them to balance multiple responsibilities and emerge as leaders and innovators in their respective fields.

(Images provided by interviewees.)