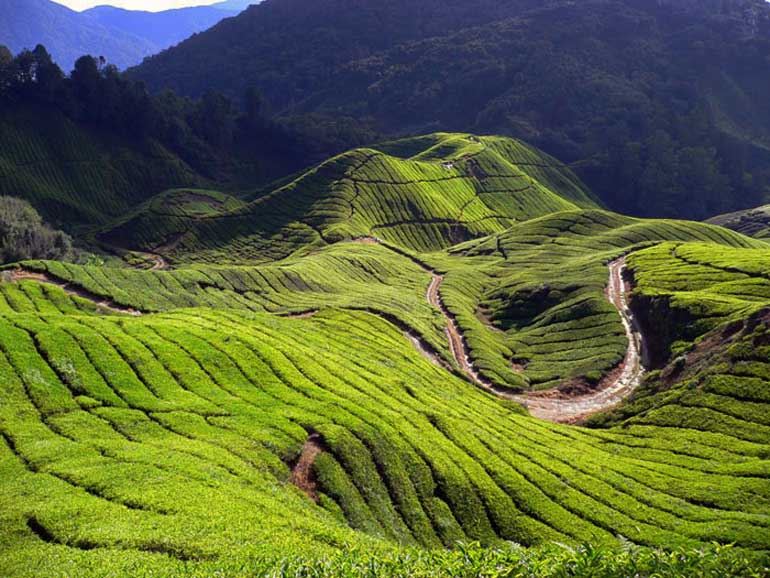 Both the plantations and the factory as key parts of this ecosystem needs to be shaken up if Lipton's endowment is to continue to prosper in Sri Lanka
My morning cup is having trouble. The tea industry is making headlines and all reads points to doom and gloom. The Government is expected to bail out the industry by purchasing tea leaves to keep prices up, which begs the question, why cannot we develop, nurture and sustain an industry?

The tea industry is not one we can claim of having developed by ourselves; it is one we really inherited on a platter. We only have to nurture and sustain the industry as the British really did the hard work. When the prices are high some enjoy, while when the chips are down the Government, which anyway does not have much spare cash, is expected to bail out the industry. This is quite common across many a sector and today's turn appears to be with the tea industry.

As per the development of the industry, we perhaps have been too obsessed with marketing. We have been quite preoccupied with finding the best marketing campaign and had been saving for that in billions for quite a sometime. Utilisation of the CESS collected for research perhaps had been quite difficult. The expectation always had been for someone from outside to come in and help save the day. With so many marketing professionals and students in this sector why we cannot come up with a winning campaign is an issue beyond my rational thinking.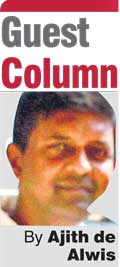 I still see a fundamental problem though as I view that the industry expects to grow almost with an obsessive emphasis on marketing. We have not been quite active in replanting and managing the estates for higher productivities. The tea sector has a significant working population and it is indicated that 5% of the population is engaged to this sector.

Social issues that dominate with the sector today have been identified to face significant nutritional challenges, housing issues, and in overall liveability. Changing weather has also created on top, disaster proneness such as landslides within estate areas. The crop of issues that one needs to tackle appears to be daunting.

We speak eloquently on serenity that one gets from drinking a cup of tea. The labour that nurses and prunes the plant too should feel the serenity and that is when we see equity in place. Specifically small tea holders appear to be in great trouble these days. When an industry which for a long time had been a cash cow for the country suddenly appears to falter, one can only think that a long-term critical neglect on key quarters is finally surfacing.

Usually keeping industry on a stable growth trajectory depends on the sector creativity and innovation capabilities. In this front we have been looking at the research, development and innovation issues across our industry sectors and it is glaringly evident that Sri Lanka is not figuring in the top 25 listed for tea research. This is significant and hope the message is taken with the right spirit.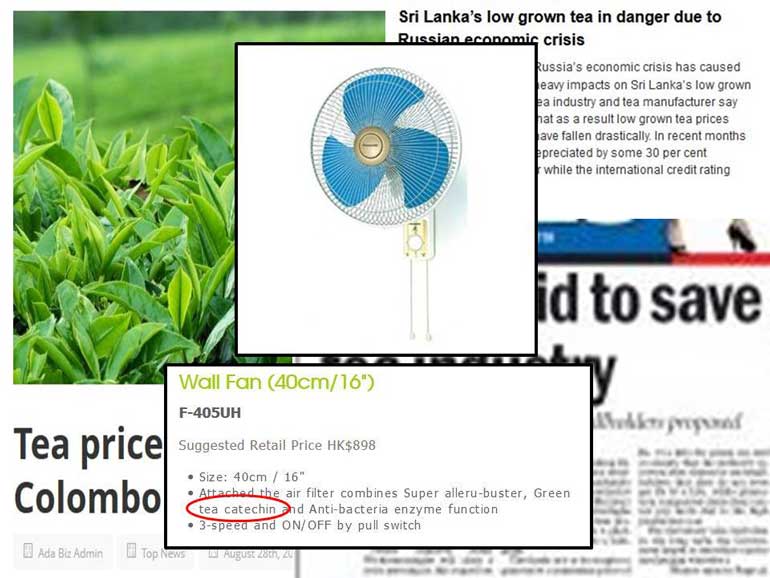 While we have an industry and a significant export earning contributor – second behind apparel and third if we are to factor in our remittances from abroad – is not generating nor making use of any new ideas. It is not for nothing that we say ideas are the currency of the 21st century and an industry is driven with coupling new ideas has long term potential. If you try to keep on getting your returns from your investments of the past the end is usually predicted to be around the corner!

Should the products from the industry only support filling up a cup and fight for a share of the throat. Diversity supports resilience and usually implied much more value addition. Components of tea are supposed to have magical powers and if one are to extract them there could be very many other ways of exploitation. It is indeed interesting to read a manual of a wall fan. The filter is supposed to include green tea catechin, an important compound, and the Japanese have integrated the compound into a filter. Imagine the expansion of the portfolio. Once extracted and with the potential properties proven imagination may be the only limitation in expanding.

Most if not all our tea factories which number to be around 800 look more or less the same. One could trace the look to their origins. The equipment mainly for making the orthodox tea appears not to have changed at all. Visitors from Britain perhaps can still touch and feel what their ancestors produced in cities such as Sheffield and Manchester perhaps. We are using equipment well past their competitive lifespan.

If the withering troughs and their old hygrometers can release their memories, those should be able to tell tales from a long, long time ago. Why we have not even taken trouble to improve on instrumentations and data recordings – big log books are really interesting to observe – only indicate the interest in perpetuating the past. It is no secret that the Sri Lankan tea plantation and factory system has low efficiency figures.


Innovation imperative

The innovation imperative exists for this sector too. Sometime back COSTI facilitated the development of a proposal to modernise the tea factory by pooling resources from our researchers and related practitioners. The participants to the proposal came from University of Peradeniya, Tea Research Institute and Tea Board. At one point one factory was offered too by a private sector party to go down this journey. However, the money for the transformation was to come from the budget allocation and this is where the matter at present rests.

The idea was to bring out a modern tea factory embodying mechanisation, automation and advanced instrumentation and even including robotics to transform how we are doing things today. It is clear that one is not going to get the transformation quickly yet going down on a path like this can yield multiple benefits. A great majority of tea factories today represent what Lipton may be only too familiar with. Coming into celebrate 170 years of tea in Sri Lanka, one may be left to wonder and feel that once you set foot inside the factory you are going back in time.

We perhaps demonstrate how well we have looked after machinery and systems. This may be terms as keeping an artisanal system alive and kicking but it appears that this no longer valid for the growth of the industry. The difficulty is having delayed so much the pains of change are going to be high. Seeking efficiencies would change the current issue of adverse cost of production. Innovation incorporated to the industry as well as to plantations could deliver best-in-class.


Nanotechnology and biotechnology

There are so many advances possible with nanotechnology and biotechnology individually or in combination. There are simple products such as nano tea in the market. The whole area of nutraceuticals awaits proper exploitation.

It appears that if the future of the industry that feeds the cup is to have any possibility, the contents may have to come out of the cup and into other forms with different functions. If robotics enters the estate with drones, etc., doing some additional work, the issue of labour in estates with all its ramifications is going to change. Both the plantations and the factory as key parts of this ecosystem needs to be shaken up if Lipton's endowment is to continue to prosper in Sri Lanka.


[The writer is Professor of Chemical and Process Engineering at the University of Moratuwa, Sri Lanka. With an initial BSc Chemical engineering Honours degree from Moratuwa, he proceeded to the University of Cambridge for his PhD. He is the Project Director of COSTI (Coordinating Secretariat for Science, Technology and Innovation), which is a newly established State entity with the mandate of coordinating and monitoring scientific affairs. He can be reached via email on ajith@cheng.mrt.ac.lk.]