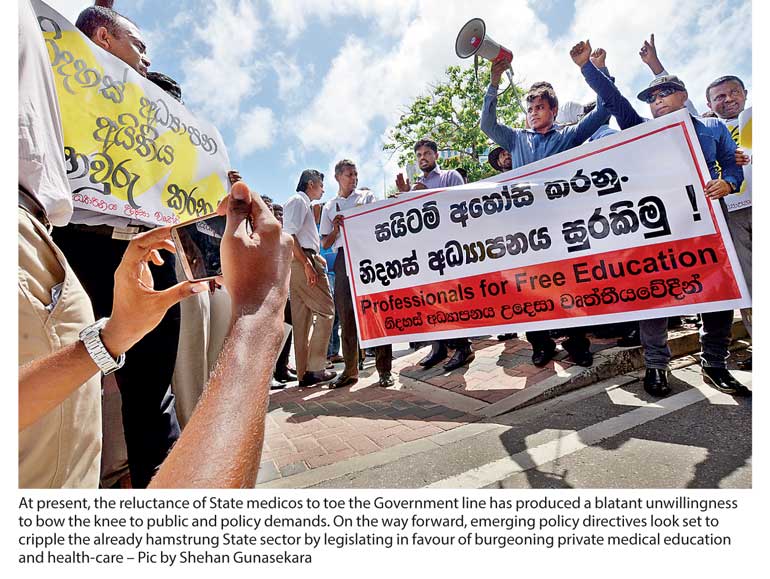 Maybe the last thing we need is another pseudo-diagnostic comment on the vexed issue of private medical education. For no single piece – article, editorial, news feature – can hope to encompass the gamut of principles, values, passions, afloat in the flooded public square. And to expect that a single perspective on a frustratingly complex issue would emerge from such a singularity is perhaps asking for the moon: too much: a willing suspension of disbelief that a newspaper's readership can increasingly ill-afford.

With that said, yours truly shall hereby attempt a redaction of a singular line of reasoning. And hope against reason that the thoughts below would not descend into a reductio ad absurdum.
Backdrop
The first medical school in Ceylon was set up in 1870 with relatively humble beginnings. Today it is eminently recognisable as the well-established Colombo Medical Faculty. It took almost a century (1962) for the second medical school in Sri Lanka to emerge. That bastion is known as Peradeniya Medical Faculty. There are eight such establishments island-wide producing a 1,000 doctors a year… which, for a population of 20+ million, seems miniscule; abysmally inadequate. As State-sector medical doyen Prof. Carlo Fonseka so pithily expressed it, "That is not enough. We don't have enough doctors."

The bottleneck in private medical establishments is proof perhaps that Government medical services can't quite cut it in terms of meeting growing demand, albeit the standard of health-care offered in terms of expertise (if not amenities) is excellent.

All things being equal, the State sector should produce all the necessary human resources to offer competent if not expert medical services. It has the mandate and the money as well as other resources and infrastructure to do so. With that said, as time has gone by, it has become more than evident that – for one reason or another (inability, unwillingness, successive policy directives) – the State cannot produce and deliver what the people of the country need. In the past, crumbling edifices and incompetent administration has underlined the inability.

At present, the reluctance of State medicos to toe the Government line has produced a blatant unwillingness to bow the knee to public and policy demands. On the way forward, emerging policy directives look set to cripple the already hamstrung State sector by legislating in favour of burgeoning private medical education and health-care. It is a trajectory quite deliberately undertaken by the incumbent coalition and enforced by the truncheon as well as trenchant magistrates' injunctions.
Push/Pull
The present Government's desire to critically engage the monopoly on State-sector health-care and medical education is by no means new or innovative. As doctors and patients alike with longer memories than sitting legislators will recall, the ground was broken way back in 1981… That experiment – the North Colombo Medical College – operated for over a decade and produced under a 1,000 doctors. There are those who would claim that the NCMC's alumni are mostly doing well, mainly locally but also overseas. Arguably 10 per cent of this cadre are among the crème de la crème of medical professionals at work today.

Demonstrably, under the requisite conditions (political will, legal writ, professional standards instituted and enforced), private medical education can work… and be made to work… and work well at that… well, reasonably well… and given the egregious state of health-care and medical education as evinced by something being rotten in Denmark these days, who can afford to quibble over the irrevocable logic of it?

Well, there is a plethora of protestors to vouchsafe the opposition to the perhaps disingenuous (in their eyes) argument. A panoply of reasons has been put forward as a shield and buckler: militating against professionalism, fair play, ensuring socioeconomic justice, combating classist statist oppression, checking Government on its fiscal probity, etc.

Striking students have been eloquent in the field expressing these thoughts; erudite educationists have been surprisingly silent about the validity of their vehement arguments; outraged academics have remonstrated mostly about the heavy-handed crackdown on student demos; perplexed members of the public have prioritised personal inconvenience over principled stands in plumping down on one side or the other of the issue.
The bottom line
In the face of more complex and sophisticated arguments on both sides of the barriers – on the street and in the House – permit me to offer a perhaps simplex perspective in favour of private medical education being allowed if not affirmed at this stage of Sri Lanka's national development:

a) There are simply not enough State-trained doctors to meet and cope with an alarmingly ailing and ageing demographic's needs (an estimated 50 for 100,000: cf. 60 in India, 70 in Pakistan, 220 – UK; 230 – US; 250 – Australia; and in the S. Asia region, only Nepal and Bhutan below our ratio).

b) The current system for enrolling qualified students as undergrads at State medical faculties is ironically counter-discriminatory in a country with such a pathetic shortage of physicians. The district quota system serves to flush deserving future doctors down the drain and out into a world where there is no NCMC or its like any more.

c) That the demand for medical education cannot be met internally means that 200 or more would-be medical professionals reluctantly, angrily, leave our shores – some never to return – to pursue their pot of gold at the end of a rainbow-speckled stethoscope. Our loss (in terms of folks as much as forex): the world's gain.

d) There is a regrettable opportunity cost in terms of not capitalising on the space to attract regional and trans-regional medical students seeking qualification in private-sector institutes of medical education that could be set up, run, and regulated here.
Conventional Wisdom/Devil's Advocate
This is an argument known and held and advocated by many reasonable defenders of the faith as regards State sector agency and

instrumentality. Be that as it may, there is a spectrum of sentiment militating against a simple assimilation of Government policy with State prerogatives. And in a democracy, such a tension is welcome – if not entirely healthy (no pun intended) – for the state of the nation.

NICE: It would be good to have more doctors to go around, to do the rounds; which burden is on the State alone (A straightforward admirable view).

NAÏVE: The introduction of a twin-helixed medico-educational structure – a public-private nexus – could create an unhealthy hybrid (the status quo of State and entrepreneurial hospitals, intensified beyond present scale and scope) or a deadly chimera (an embarrassment of BOI-approved operations mushrooming like poisonous toadstools to infect an unsuspecting public) (A simple alarmist view).

NORMAL: A conservative policy to undergrad enrolment in State universities is hampering the intake of competent and qualified future doctors and must be critically engaged with prior to exploring more expansive options (A standard view).

NATURAL: A liberal reformist agenda must be allowed to drive changes and prevail for the sake of present and future progress (A standard view).

NASTY: There is a hidden hand with vested political interests not necessarily hostile to State student's plight fuelling the flames of protests, trade-union action, strikes, demonstrations (A subversive view).

NAUGHTY: Capitalist ambitions of a privileged few in positions of power and authority able to influence Government policy in a manner not inimical to their potential personal financial interests are shaping State infrastructure through legislation – to the exclusion of accountable and transparent 'good governance' (A strategic view).

In the limit, more and more dimensions may mean less and less clarity and resolution. So the simplex argument and the clear, resolute, course of action it suggests – privatise health-care and medical education, with responsibility and restraint – may be the better short-term option, In the long run, we are all dead… or rich…