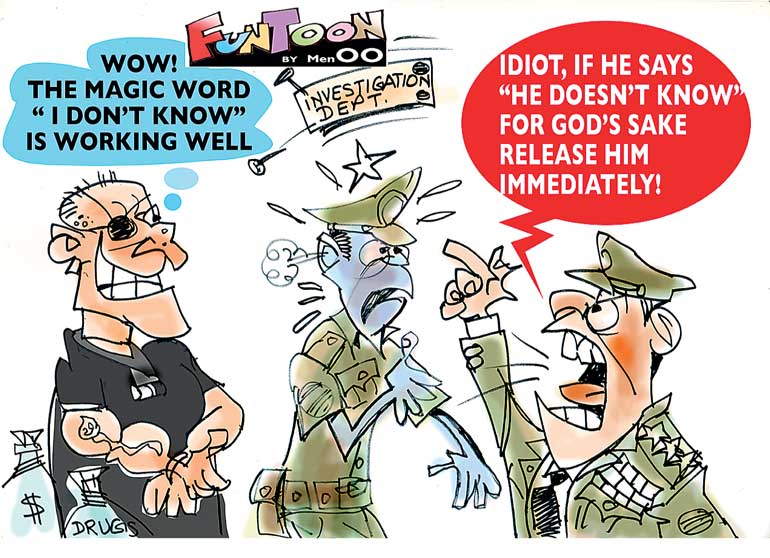 I am writing this on the morning of the evening when the moon will be full. But I am not sure if the madness which follows has anything to do with lunacy. Since a week or so ago, I have begun to question everything I know… or thought I knew… especially the bits I am beginning to find it hard to remember.

In fact, as I grow older, there are things I can't remember. I can't remember people's names; I can't remember people's faces; and – I can't remember what the third thing is!


The one consolation – if you can call it that – is that I do not seem to be alone in all of this. There is a veritable deluge of people from all walks of life, who, for the life of them, can't seem to remember a butter-brinjal. They are like the walking dead… "I forget" – or the creative living – "I know nothing."

Some of these who know nothing, like Manuel the barmy waiter in the British sit-com 'Fawlty Towers', are nice enough folks in their own right – if a little bit potty or dotty. Others, like virtually every crooked villain in history and literature, are a tad more bent on denying all knowledge, to the detriment of others. Pity that the phenomenon is spreading, and that the syndrome appears to have affected the uppermost echelons of politics and governance in our blessed isle as well...

In a knowledge economy and under an administration that prided itself on acumen, business savvy, chutzpah at technocracy, etc., one would assume the lovely courtesy government mandarins would afford the people who depended on them would be that at least they would remember something. I suppose it is too much to expect of the corrupt that they would opt not to forget that which would incriminate them. Now it is their turn to forgive the people for thinking that the sea-green incorruptible servants of the people of whom we expected so much can hardly remember who they are and what they did. With that said, I suspect we the people have always had a strong notion that the state of the nation being what it is today, we all know come the next election where they will be going. That much is still known, and eminently foreseeable.

Be that as it may, a plethora of questions linger over a panoply of heads like a poya orb over the blessed isle. We beg the question by posing these issues to the politicos at the source of the lunacy. But since the other lot are madder in badder and far more dangerous ways, one supposes it is incumbent on the media to ask the present administration what (if anything) they can remember. With elections being a double dozen or more full moons away, here is a creative way in which we can test state matters of the ministers from whom we expected much more. Trust that be the state of their minds as they may, they won't mind too much sitting the examination we their paymasters would wish to set for them. Begin when ready. Or when you have collected your wits or recollected your memories (whichever comes first):


A.Essays. (To be attempted only if the candidates haven't forgotten their history lessons.)

1.'A gift once in a while makes a good neighbour all the time.' Discuss with relation to India, the Trincomalee port or its naval installations, etc. (Caution: do not dive without a proper licence, or trawl for fish which clearly belong in the Indian Ocean.)

2.If Rajapaksa & Co. had had the good sense not to sell the family (NOTE: not their family, but yours) silver to the Eastern Dragon, this government would not have had to play 'Dungeons & Dragons' with China in a tougher mood by now. Debate, but not in parliament. (Consider carefully what the price of hypocritical declarations may be these days…)

3.Sri Lanka is no longer the Pearl of the Indian Ocean, but a Small Fish in a Big Pond, or possibly a Big Fish in a Small Bond Scam. Examine carefully by appointing presidential, parliamentary, and personally loyal commissions that will give the people the honest opinion you have asked them to give on your behalf. (Take your time. And hurry up. For all good things must come to an end.)


B.Short answers. (Please do not try to write on both sides of the paper at the same times.)

i.Can you remember a time when politicians were honest? Were we fools then as we are now? Do you remember anything at all? Even a name or number will be helpful. (Should candidates have a failure of memory, they may leave – if they can remember where the exit is.)

ii. Which do you prefer, India or China? (Caution: remember – if you can – the regional ambitions of the emerging powers. Or, if you prefer, forget the examples of Bangladesh, the String of Pearls theory, and the schoolyard lessons that bully-boys teach small fry who think they're too smart.)

iii. Explain the difference (if any) between Financial, Fiduciary, and Fiscal. (Take care not to get too physical, because there are ties that bind, and these could hang you in the end. NOTE: The maximum possible mark under many administrations has been F.)

iv.Do you a think a failed Finance Minister can or shall make a passable Foreign Minister? (Hint: there is a very short answer that could or should be essayed, under the circumstances.)

v.MCQ. (Fill in the blanks. If you can find them. If not, please leave the premises as you found them… If you can remember to return what belongs to the state on your way out, full marks – better late than never, minister.)

A. A new constitution is necessary because:

a. all the old constitutions did not give the new incumbents any of the powers they wanted

b. religion and politics don't mix

c. if you mix petty politics with chauvinistic religious interests with sufficient self-interest, you can stay in power for ever

d. you can try to stay in power for ever if you look like you have everyone else's interests before yours


B. Good Governance is:

a. Meaning what you say

b. Saying what you mean

c. Letting your colours show, getting others to let their guard down, then letting everyone including yourself down

d. all of the above – in case you have forgotten, go back and check


C. Central Banks, under the right circumstances, can be:

a. a good thing

b. a bad thing

c. a thing of beauty that is a joy forever

d. a damned nuisance if you get your crown jewels caught in the door on the way out
D. Democracy means:

a. all others do what you want

b. but a few do their own thing

c. could you mind your own business, please!

d. nobody knows anything but everyone thinks someone else does
E. Is the Right to Information Bill:

a. right
b. wrong
c. an act
d. a pretence?
F. A National Audit Bill is:

a. audacious

b. bodacious

c. bootylicious

d. don't know/can't remember, etc.
I began setting the exam paper above by assuming – in the spirit of G. K. Chesterton – that "I am a journalist, (and therefore) I know nothing." But that is merely a good place to start, and can never be the destination of a bunch of crooks who have lived off the fat of the land for far too long. Since we elected them effectively to replace the Murderous and Rapacious bunch of corrupt thugs who ruled the roost shortly prior to the democratic putsch of 2015, it only remains for the examiners to reproach the failing subjects with a long-cherished admonition:

Which, in the spirit of the Lord Protector of parliamentary democracy in another long legislature of fowls and fools, is best essayed thus: "Go, I say, you have sat there long enough for all the good you have done. In God's name, go, and let us have done with you!" – For surely you have failed the test… Not for want of memory but for the wanton unmindfulness that you and your ilk have foisted on this state as a parasitic state of mind and school of thought for too long… For long enough, now – so, go, the whole kit and caboodle and kitchen cabinet of effete conspirators!

Sincerity about not breaking bones or other grave offences against democratic-republicanism is one thing. Sly cupidity of the sort that puts the chicken-thief in charge of the hen coop and then expects all and sundry to smile and lump it while you and your co-conspirators laugh all the way to the bank is quite another. Sorry to say that the common or garden assumption which has been gathering moss like some ugly stone monument – that all crooks are the same, but the gentlemanly ones are the worst because they could or should have known better is no less true of you than it is of all the great democrats who have been guilty of national asset stripping schemes throughout all of history. Same goes for the republican greats who had all the potential or opportunity to transform our dirty rotten political culture; but sacrificed that chance on the altar of expediency, loyalty, cupidity, and perhaps even a touch of Cupid somewhere in the mix. Shame be on him who thinks evil of it – but the senior ranks of Cabinet must resign en masse with immediate effect! Shall we take a chance on some green at the gills incompetents, for a nice change from smooth operators working under the patronage of near senile senatorial types of the right school, class, and connections? Surely, for even if we know nothing else, we know this… this lot has hoodwinked their happy electorate for the last time in present and future history-in-the making.
vi. Bonus question (extra marks): History is not what happened. It is what you can remember. Prove this hypothesis with resort to…

a.administrative gaffes

b.bond scams

c.churlish knaves who remain resigned to being unsacked

d.democratic republican heroes who will be consigned to being unseated

e.everything you can remember, or have not forgotten – yet, or are unlikely to