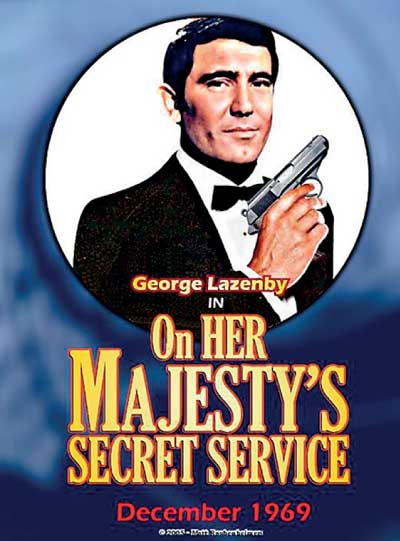 The world loves Bond, James Bond! It was James Bond, codenamed 007, who was famous for being in Her Majesty's secret service.

Brigadier M who had the control of him was discretionary as he knew Bond's prowess and there was no need perhaps to micromanage. He enjoyed complete delegation of responsibilities once unleashed on a task. However, M ensured that Bond had access to state-of-the-art equipment and methods to beat the opposition.

Supplying exotic gadgets was the responsibility of the Q Branch. Bond of course was not accounting for each of the penny spent either but he was to be relied by the system to ensure that the deeds are executed and we know that he thoroughly enjoyed what he was doing.

The system that we have perhaps is the exact opposite – this does not mean that we have to run all of our system as a secret service. We have to question. Has the system that we have in administration delayed our development or rather crippled national growth?

There are many perhaps who extol the virtues of the good old days and relive being under! While the British were managing themselves differently, their way of managing the colonies was based on the premise that the subjects definitely needed to be kept under close watch and with the slightest freedom they would steal from Her Majesty's wealth.

Of course the British did treat those who robbed harshly, even in their country, and Australia is what it is today perhaps due to such harsh sentencing! Stealing of a handkerchief, stealing cheese, etc. were sufficient crimes to be deported to Australia.


Our public service

A comment that was made recently by a retired civil servant who had been a diligent officer made my thinking broaden and appreciate some nuances in our public service. The conclusion I came to was that maybe after 67 long years of independence, we have been unable to shed the shackles from our colonial mindset as far as administration mechanisms are concerned.

The comment was about the process of auditing but can be broadly applied. He was experienced enough to comment. His direct comment was when we were lamenting about the processes and the serious loss of time as well as the negative impacts that the processes are causing in making progress. He simply indicated that what we are doing is colonial auditing and not development auditing.

While a professional auditor should be more competent to comment or rebut, a more hapless individual at the receiving end of the process would readily agree. We continue to have the experience of having to fill templates that had been used almost since the days of a colony – entering such information as dongles and servers because that is what the circular says that one has to do. In any other format, that is almost a crime against humanity!

An officer would roar… Sri Lankan administration system needs to change – we are living in the past and most believe that past is perfect! Perhaps SLIDA should introduce courses in innovation as service innovation is also an important innovation segment. Our systems are badly in need of that spirit.


Corruption

These days and especially since 8 January we do have a feeling of post-French revolution euphoria minus the guillotine of course. It is indeed important to ensure corruption-free systems and the tolerance for corruption should be zero.

Corruption will never do any system any good and Singapore gives us a clear practical example of a nation system that grew up understanding and eradicating the issue from the core of governance. However, the process of weeding out the corrupt should not cripple the system, nor should people close up without any decision whatsoever being taken due to the fear of administrative reprisal by way of explanations, etc.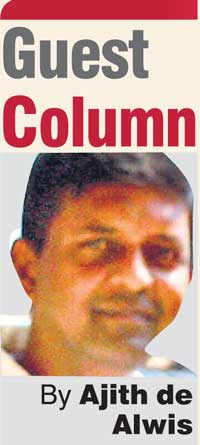 Systems grow when bold decisions and moves are made. Interest and the initiatives to break through the archaic system should not label one as corrupt and the act should be considered fairly and with a progressive mindset. One should be able to test the directives of circulars if the contents are found to be wanting as per the time and circumstances.

We appear to be generating, almost as a default, the inner thinking of one's interest to gain some personal benefits, if one is seen to embark on a major project or advocating something bold. We tend to look at or measure the person in a negative manner – guilty until proven innocent! The appreciation appears to be sadly missing in most sectors and this leaning towards viewing any progressive concepts with suspicion means that those who like to care do not today dare!

Men land on moon, Chandrayan beats the existing poverty at ground level, Mars become within reach and objects are manoeuvred on to a comet's surface; the list of human achievements continues though we are no way close to making any contribution to the list.

This is not what only the United States is doing. Our neighbouring India is doing it too, with lower literacy. We are not even producing saline and are we to believe that there is no market case to be made for such an enterprise? It is not when success happens what matters. It is when boldness results in a failure and whether you will be hounded to death. Organisations can be measured by how they handle failures. Successes have many fathers and we all know that. Failures find themselves as orphans.


Innovation

Systems should be encouraged to innovate. I do have a feeling that the British may be at times proud of us, having preserved systems they themselves have rejected many years back. The Mother of Parliament should have reared her children differently. The flock across the world is displaying quite erratic behaviour. We should not forget that politics is there to serve the nation and not to serve its own cause. We do see vocal cords in extended use for a party but hardly given a thought for the nation.

It is interesting to note that the United Nations does have a contest on public innovation – the United Nations Public Service Award. A couple of categories in which awards are given are innovative action in preventing and combating corruption in the public service, improving the delivery of public service, fostering participation in public decision making through innovative mechanisms, etc.

The award is considered to be the most prestigious international recognition of excellence in public service. The UN Public Service Awards is an annual event. It encourages exemplary public service and recognises that democracy and successful governance are built on a competent civil service.

I am sure there are lots of positive examples in our country but the common perception is different. Mobilising the system in this direction may bring about a positive change. You have to start to finish if at all. A competent civil service which is attuned to the needs of the system with equal understanding of system dynamics is a stable bedrock for effective governance and growth.

The Awards aim at discovering innovations in governance; reward excellence in the public sector; motivate public servants to further promote innovation; enhance professionalism in the public service; raise the image of public service; enhance trust in government; and collect and disseminate successful practices for possible replication. Looking at the website and learning from those winning entries and concepts can be a useful reference.


Effectiveness

I reproduce a statement of a situation faced by one of my colleague when he visited the National University of Singapore for two weeks: "I visited NUS in 2002 on training for 'Curriculum Development' for two weeks. I reported to the university on Monday morning. I had only two weeks and hence visited the Department of Chemical Engineering of the National University of Singapore very early on Monday at about 7:30 am. Nobody was there in the department and the doors were closed. So I decided to walk around and just went through the corridor leading to the staff rooms of academics where I could read their research work on displays with their names.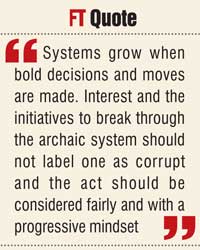 "After passing several rooms I was in front of a room without research display but with a name board. I couldn't believe to see my name on that room. I just looked at my watch to see the time was 8:05 a.m. I rushed to the office area and could see many of the doors were open by that time and people were busy to start their daily functions. What a nice environment to work.

"I was welcomed to the department by the Head of Chemical Engineering and she arranged a staff assistant to provide me with whatever facilities I needed and also to arrange meetings. I can't still believe that on the same day with a room allocated, I was given the password to their intranet and also internet with staff privileges; registered to the main library, dedicated staff to give the required training, etc. All ready from the first hour on the first day. I don't have to say how I used these facilities to spend my two weeks with maximum effectiveness."

Come back to our project; for three years we had to spent more than seven months in getting ready to work starting from basic procurements and any expeditious purchase will give rise to an audit query as the process does not consider the duration and apply the rules equally across. Thus a good part of the time is lost in getting ready. We overemphasis the process rather than the objectives of the project.

It is quite important to take a fresh look at the situation that we are in. We still appear to be living in the past as per our procedures and practices. We should quickly come to understand that the past perfect attitude that we have inculcated and continue to nurture should undergo change.
[The writer is Professor of Chemical and Process Engineering at the University of Moratuwa, Sri Lanka. With an initial BSc Chemical engineering Honours degree from Moratuwa, he proceeded to the University of Cambridge for his PhD. He is the Project Director of COSTI (Coordinating Secretariat for Science, Technology and Innovation), which is a newly established State entity with the mandate of coordinating and monitoring scientific affairs. He can be reached via email on ajith@cheng.mrt.ac.lk.]