Earlier I wrote about men, women and their relationships. It was more about the personal space within our family units.

Women rule the personal space. As Upul Shantha Sannasgala, a keen observer of human nature, observed in the Lankadeepa of 5 January 2014, women are now overly asserting themselves in the private space.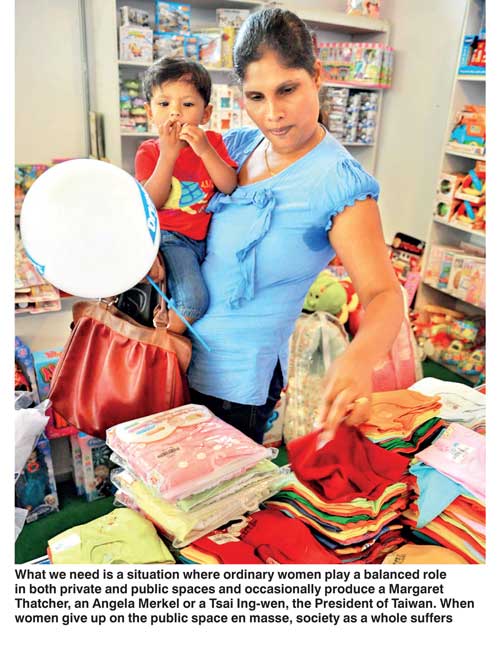 Father knows best is not true anymore, but it is replaced by mother knows everything. Children are naturally attracted to the mother and it is easy to distance a father from a child, and he says children are indeed more distant from fathers than they should be. Mothers' rule is getting stronger in the home these days, but it is not a good trend.

The public space is a different story. As if by cue, women take a backseat in the public space. You could be a high court judge during the day, but at social gatherings you are happy to limit your conversation to matters of the kitchen and the children, leaving the matters of the public space to the men.

Discussing court matters in public is not appropriate, but it is not appropriate to have no considered opinions on anything else either. No wonder women are largely absent from the centres of power like boardrooms, the Parliament and the even the Dayaka Committees in temples where the devotees are mostly women.


A balanced role needed

Most men may find the situation convenient. Women are doing better and better at the credentialing game. They sit in the front of the class to take copious notes and regurgitate the same at exams. As a result we have as many or more women with higher education credentials than men.

In the old days, asset poor but educated men married less educated but asset rich girls. Not anymore. Now professionals marry professionals. Education and technology has empowered women to play their secondary role even better. Men can relax at parties and drink all they want because technology is such that even the heaviest SUV can be driven home by the wife.



At work you have armies of women to maintain your files and keep the boardrooms running. Women have a strong presence in government where examinations and political patronage are the determinants, but these are not the kind of professional of whom we can be proud.

What we need is a situation where ordinary women play a balanced role in both private and public spaces and occasionally produce a Margaret Thatcher, an Angela Merkel or a Tsai Ing-wen, the President of Taiwan.

When women give up on the public space en masse, society as a whole suffers.

I am speculating here, but I submit that women in 21st century Sri Lanka are relatively more backward than their 20th century grandparents or great grandparents who ventured, given the circumstances.

Today women have become a regressive force in society. Overly powerful at home, they are the parent-halves who push children towards examinations success above all, thwarting any signs of rebellion. Some of the English-speaking elite might say 'that is not us', but the average Sri Lankan mother is the force behind the Grade 5 scholarship frenzy, and "that child got 3As, why couldn't you?" comparisons at GCE A/L.

Bhanuka Harischandra, a young entrepreneur says the following about parents and entrepreneurship: "The biggest problem would probably be your overachieving parents expecting you to follow their footsteps because that's what they know, and it just happened to work out for them."

Bhanuka might as well have said mothers instead of parents. Today's mothers have mastered the credentialing game to land safe jobs and that is what they wish for their children. This is not the kind of family support we want for the 21st century.

Let us look at 20th century Sri Lanka first.


Men and women in 20th century Sri Lanka

Between the two books 'Nobodies to Somebodies' by Kumari Jayawardena and 'Women and the Nation's Narrative' by Niloufer de Mel, we get a sense of the role played by women in the political, economic and the social sphere in 20th century Sri Lanka.

While women in the Jayewardena's book kept the dynasties running, de Mel describes the activists and professionals who sound so daring by today's sober standards. What I notice most about this period is that women from the English-speaking elite were able to use their connections to advance social issues.

Daisy Bandaranaike, mother of SWRD and wife of a Maha Mudaliar, together with wife of A.E. Gunasinghe, the trade union leader, and other influential women, were instrumental in leading the Women's Franchise Union to get the franchise for women in Sri Lanka even before those in UK.

Some of the women in De Mel's narrative include professionals such Minnete de Silva, Anil de Silva, Jean Arasanayagam and Winifred Nell who were also active in politics, and political firebrands like Vivienne Goonewardena.



Women in the lead in 21st century Sri Lanka

My knowledge of or access to resource is limited in the contemporary social or arts and media spheres, but I like to note women's presence in two other spheres – the political and the corporate.

The 2015 Parliament consists of 13 women out of a total of 225 to keep the levels of female representation hover just above the customary 5%. These ladies include Hirunika Premachandra (Colombo), Sudarshini Fernandopulle (Gampaha), Rohini Kumari Wijerathna (Matale), Geetha Kumarasingha (Galle), Maheswaran Vijayakala (Jaffna), Sriyani Wijewickrama (Ampara), Chandrani Bandara (Anuradhapura), Sumedha Jayasena (Moneragala), Thalatha Athukorala (Ratnapura), Pavithra Wanniarachchi (Ratnapura), Thusitha Wijemanna (Kegalle), Anoma Gamage (National List) and Shanthi Sriskandarasa (National List).

As with the case of most men in Parliament, almost all of these ladies are there thanks to a trail-blazing father, spouse or other relative.

What we women lack in the political and social sphere we may have gained in business.

The 40-under-40 List by the Echelon Magazine included Linda Speldewinde of the Academy of Design, Jayomi Lokuliyana, Founder XMessenger and Subhashini Abeysinghe, Researcher at Verite. Having only three women in the list is understandable because family responsibilities make women take longer to mature as professionals. In that sense, the listing top 50 women in Business by Echelon is probably more indicative.

Top 50 women in business mostly made their mark in banking, finance, law, marketing, advertising, tourism and retail sectors. Of the 50 women, nine including Otara Gunewardene, Odel; Sandamini Perera, Prime Lands Group; Neloufer Anverally, Cotton Collection; Varuni Fernando, Triad; Sandra Wanduragala, Selyn Handlooms; Neela Jayawardena, House of Fashion; Shahani Markus, , Auxenta and Jayomi Lokuliyana, zMessenger were listed as founders or co-founders of new enterprises. Shahani Markus of Auxenta is notable as a founder of an IT company and Jayomi Lokuliyana of zMessenger as a marketer in the mobile technology field.


Elite-flight from the political sphere

The above anecdotes about women in politics or business in contemporary Sri Lanka do not prove or negate my point about the average woman today being relatively more conservative than their parents. A deeper analysis is needed. However, what I find interesting is the fact that today we are hard-pressed to name prominent social entrepreneurs of the likes of Daisy Bandaranaike with allies in political power structure.

Today's business world or the world of English-speaking elite (ESE) is segregated from the political sphere, leading to an impotency of the ESE in national matters. In USA when whites left the cities to get away from urban decay, it was called the white-flight. In the same vein, the absence of the urban elite in the political sphere can be seen as an elite-flight from politics.


Call for elite women with rural roots

Repeatedly we hear from women's groups about representation for women in Parliament, Provincial Councils or Local Government, but these groups have achieved little. Funded by foreign agencies they are program-oriented and women issues have become another career path for them. According to my observation, new ideas or new initiatives have come from men, like Mahinda Deshapriya, the Commissioner of Elections, and Ranil Wickremesinghe, the Prime Minister, in particular.

Local government election law was amended recently to add a 25% more seats reserved for a list of women named by each Party. An initiative by the PM. Deshapriya has enlightened women's groups about the need to ensure more presentation at the Party hierarchy. The common wisdom is that increased representation for women at the local level will build the pipeline of potential provincial councillors or parliamentarians. In practice, women from grass roots lose out to sons or the occasional daughter of the old elite in each electoral district.

Feudal thinking is still the norm in rural Sri Lanka. Voters want pick somebody with the wherewithal to help them, not somebody just like them. One solution is for women in the old elite to get more active. I can think of many capable and committed young women from old political families with strong rural roots. They should consider get into the public space without wasting their time in Colombo deliberating over the china for dinner parties. I end this column with a call to elite women with a social consciousness. Get involved.

On a personal note, I would put my money where my mouth is, if it was not 'a little too late in the day' for me to get into politics. More importantly, I have discovered the joys of playing with ideas and labouring over a keyboard to find expression. If any of you younger ladies out there is interested, all the power and support to you.
(Sujata Gamage can be reached at gamage@gmail.com. She writes a weekly column in Dinamina, maintains a blog in Sinhala and posts her research on http://lirneasia.net/projects/hcr/.)