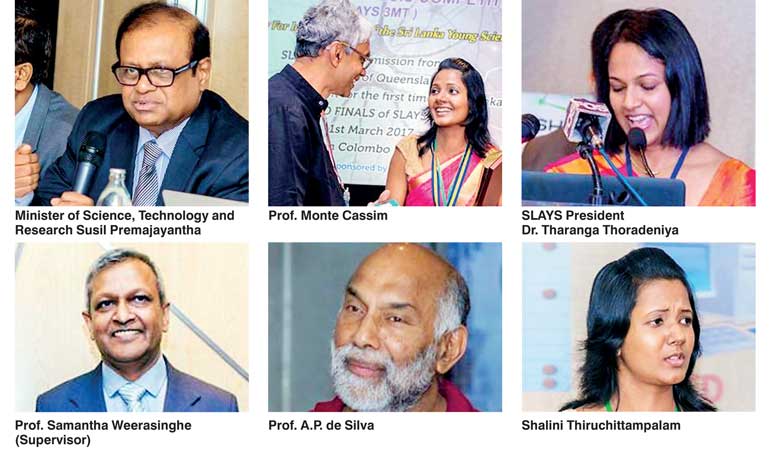 Young scientist Shalini Thiruchittampalam was quite eloquent and with subtle humour articulated her research work 'Probable chemical compounds from Sri Lankan flora for the treatment of neurodegeneration' at the SLAYS 3MT thesis competition and bagged both the Best Presenter Award and People's Choice Award.

All those who were present were naturally ageing as time moved on and her findings through the use of computational methods – she indicated that if she was to use the usual laboratory methods on her choice of flora extracts one after the other she may actually find herself succumbing to the very diseases that she wants to find cures for! – and the logic of the process was quite powerful with the concept simply explained. I am sure all were wishing that she will find her chemical policemen from the local flora quite quickly before many more days and years ticked by.

In research and in science unless you communicate your work is not complete. On that day 11 finalists – all young scientists – went on to explain their research work to an audience that largely consists of both local and international group of scientists. All were quite impressive and the nature of areas that each one of them engaged also had so much potential for Sri Lanka.

This list of 11 came from a select list of 75 semi-finalists. As a participant in listening to the three minutes from some of those 75 I can vouch that all who participated were quite impressed with the young talent on display throughout the process. One may have ultimately won as that is the nature of a contest but through that event Sri Lankan research received a new positioning for sure.

Judges were absolutely happy to hear and experience the depth and the spread of research taking place within our universities. If there was ever a doubt on soft skills of researchers, this certainly laid those to complete rest. It was quite difficult to select the finalists but this too had to happen.


SLAYS and 3MT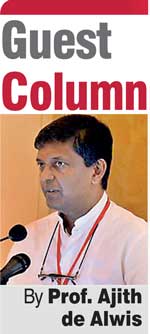 This exciting event took place on 28 February and 1 March, within the SLAYS Open Forum 2017 organised jointly by Sri Lankan Academy of Young Scientists (SLAYS) and National Science Foundation of Sri Lanka (NSF) in collaboration with the Coordinating Secretariat for Science Technology and Innovation (COSTI) of the Ministry of Science Technology and Research.

Three Minute Thesis (3MT) is a research communication competition developed by The University of Queensland, Australia which challenges research students to present a compelling oration on their thesis and its significance in just three minutes to a non-specialist audience.

As per information available from University of Queensland, since the inception of the program in 2008, the competition has grown to an international event and universities in almost all continents are holding their regional competitions. SLAYS provided leadership in introducing the program to Sri Lanka and should really be commended for a positive initiative. The potential impact and the growth potential by being a participant are sure to leave a lasting impression if one values the experience. All may not win but all will definitely grow up by being a participant.

When you have to give a three-minute speech with one PowerPoint slide covering your entire research work really calls for organised thinking and planning and to be short, sweet and to the point at the time of delivery. One second over the limit and you are disqualified and such were the rules of the contest.

This exercise in the art of condensing not only develops the students' presentation and research communication skills, but also forces them to critically think about the core element of their research project and its importance for the broader community. The latter aspect most of the time escapes from the mind of our research students as they may have been peer promoted to consider the certificate and the convocation end point.

In today's climate some may also savour the final Facebook uploads and the number of likes. It is important to break this developing psyche of wastefulness with the youth. As we have shown Sri Lanka has fewer researchers than elephants and this dangerous negative trend of initially not getting many scientists into research and then losing those who are engage in doing something to frivolity need to be countered and countered aggressively. SLAYS, you do have a role to play and that is why you are important!


Engaging positively, with society in mind

Late Indian President Abdul Kalam did spent best part of his presidency in wooing children and the young of India to engage positively and with society in mind. He once wrote targeting the youth: "I would like to ask you, what you would like to be remembered for? You should write it down. It could be an important contribution; whether it is an invention, an innovation or a change that you bring about in society that the nation will remember you for."

This really is an important question. If our young scientists start with this question in mind or rather having first clearly answered the question in their mind imagine the possible transformation that is possible within the landscape.

Today much of the research work is confined to institutional four walls and even if they are presented you are more likely to see some abstracts in one's own institutional conference. What 3MT Thesis actually indicated was that that there are quite important work going on but unless some change is initiated would just be limited to the student supervisor and closer peer group.

SLAYS not only exposed more than 75 research areas currently being carried out in the country in a blitz presentation format to an influential audience including politicians – the Minister of Science, Technology and Research was present early not just as the Chief Guest but also as a panellist listening to researcher woes and did listen to Shalini's winning presentation on video. The public too will have the opportunity to listen to all the finalists via the SLAYS YouTube channel. There were quite a few promises made to the young scientists by the Minister and time will tell on delivery. It is also up to SLAYS to ensure that the dialogue that they created be kept alive. Sri Lanka perhaps holds the world record for starting all the right things but never sustaining most of them. The cost of abandoning is too high and on 1 March in the concluding session where SLAYS identified their forward march, many a good suggestion was made and some agreed upon too for action.

Inspiration was provided by Prof. Monte Cassim who hails from Japan at present who also is the Science Advisor to the Sri Lankan Prime Minister, when he invited all the researcher finalists to join the Japan Sri Lanka Innovation Forum. Both days the young were exposed to news on opportunities that they have and today they are all virtually connected too via COSTI's Basecamp. A seasoned mountaineer may say from the basecamp to the summit is not just few steps but needs much resolve and courage. We believe that those researchers who were present on the day plus the SLAYS team had what it takes to achieve such.



Winning with research

In addition to the 3MT Thesis competition which I consider as the signature element, there were the international visitors – among them one of our own possible Nobel prospects, Prof. A.P. de Silva of University of Belfast – who made many presentations on winning with research. The agenda had been carefully crafted with the young researcher in mind.

As Prof. AP showed in his keynote presentation, 'Science research is a worthwhile career: A Tale of Two once troubled cities,' one needs to be strong on fundamentals and then pursue with imagination. Hope how he weaved magically the use of simple ideas into global products and global firsts was really understood by the young scientists present as the ideas were so powerful.

Well, it is quite clear that's some elements that prevail in our system need some quick weeding out. Hope SLAYS will list them out and take on one by one in a determined manner. There is some serious dismantling to happen within our apparatus to herald in a stimulating research culture, without which the seeds for much-needed growth are difficult to happen.

On the day there were the observing minds impressed by the way the event had been organised and executed. SLAYS, do not allow yourselves to rest on your laurels after carrying out an event that even some of you may have believed to be impossible. It is up to the leadership at the helm, Dr. Taranga and her team, to ensure that you do not just plan the next event only thinking about the glory of the past one but having ensured some additional delivery by opening up frontiers for young scientists to engage and prosper. You may now have the top 10 issues facing the young scientist researchers of Sri Lanka and that is your list of things to do!