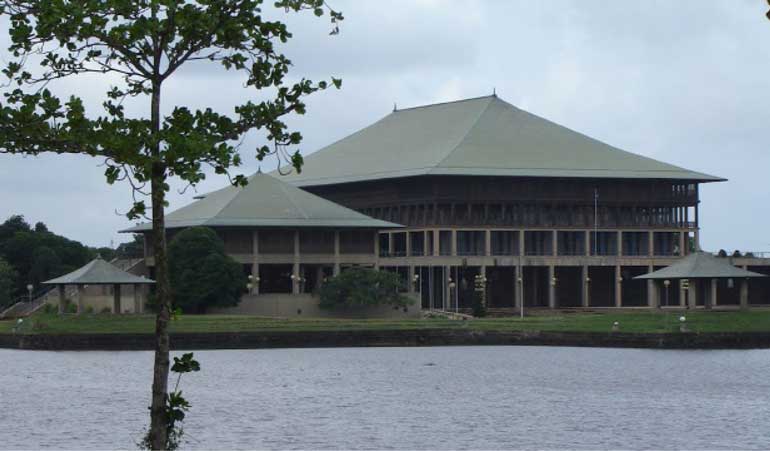 The challenge in constitutional reforms is to have the long-term goal of a Sri Lankan identity, while giving the space for identity politics in the short term and convincing the Sinhala majority the necessity for doing so. This issue comes to fore in the electoral reform component of constitutional reforms
Twenty-three years after Black July and its aftermath, it is easy to see say 'never again,' but are we doing enough? As Minister Mano Ganesan said in an emotional radio broadcast the other day, the ballot has to replace the bullet, but are we paying enough attention? Discussions on Constitutional reforms are ongoing in the Parliament. Whether we are giving sufficient attention in those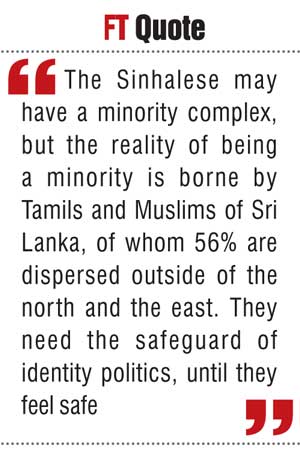 discussions to the complexity of minority representation in Sri Lanka is a question.



Some say that after the end of 30-year brutal war we should now move form identity politics and adopt a Sri Lankan identity. That is not realistic. Given the geographic reality of a large Tamil population in South India, the Sinhalese majority has always had a minority complex, and that will not go away easily. The brutal confrontation with the LTTE has not helped.

The Sinhalese may have a minority complex, but the reality of being a minority is borne by Tamils and Muslims of Sri Lanka, of whom 56% are dispersed outside of the north and the east. They need the safeguard of identity politics, until they feel safe.

The challenge in constitutional reforms is to have the long-term goal of a Sri Lankan identity, while giving the space for identity politics in the short term and convincing the Sinhala majority the necessity for doing so. This issue comes to fore in the electoral reform component of constitutional reforms.

Current representation of minorities in Parliament

The present Proportional Representation (PR) system has enabled a reasonable level of representation for minorities. For example, in the Parliament elected in 2015, the Sinhalese, Sri Lankan Tamils, Indian Origin Tamils (IOTs) and Muslims MPs, respectively, are distributed at 78%, 9%, 4% and 9%, respectively. This distribution by ethnicity in Parliament is more or less reflective of the distribution by ethnicity in the population according to Census of 2012, which was at 75%, 11%, 4%, 9%, respectively, with less than 1% of other minor-minorities.

Not all minorities are alike. All three 'major' minorities (i.e. Sri Lankan Tamil, IOTs and Muslims) use Tamil as their mother tongue, but they have distinct identities. Each minority has its own area of territorial concentration with Sri Lankan Tamils in the Northern Province, Muslims in areas in the Eastern Province and IOTs in the Central Province. Yet, 30% of Sri Lanka Tamils and 68% of Muslims live outside of the North and the East. Of the IOTs 5% live outside of Nuwara-Eliya District. In fact, 56% of all minorities live outside of N&E or Nuwara-Eliya.

Representation at the district level may show anomalies. Minorities are not represented in 12 out of the 22 districts some of which have sizeable Muslim populations. Puttalam is a case in point where Muslim population is 17%, but no Muslim MP is elected at present. Such under-representation or non-representation of minorities is somewhat corrected by the over-representation of minorities in the National List, but the selection to National List is a haphazard process. For example, no IOT was returned as a National List MP in 2015, although IOT communities are found scattered outside of Nuwara-Eliya, Mahanuwara and Badulla districts from where IOT district MPs are returned presently.

Minority presence in major parties

Of the 50 minority MPs returned in the general election of 2015, 32 were returned as Members of the two main political Parties, the UNP and UPFA. Of those eight were returned from Party Lists as National List Members and 24 were nominated and elected from 10 out of 22 electoral districts (i.e. Jaffna, Vanni, Batticaloa, Digamadulla, Trincomalee, Nuwara-Eliya, Mahanuwara, Anuradhapura, Badulla, Kegalle and Colombo Districts).

Because current electoral districts cover large areas averaging about 500,000 electors per district, Minority candidates are able collect votes across districts. This ability makes them attractive as candidates in a slate of candidates nominated by major parties even in Sinhala majority districts such as Mahanuwara, Badulla and Colombo.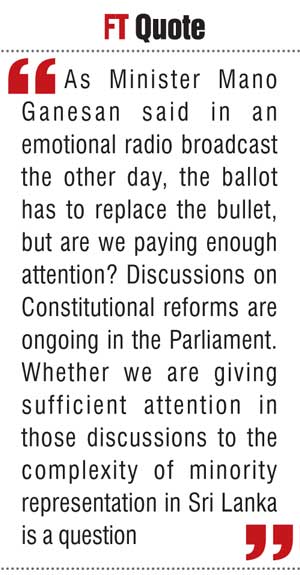 Mixed-Member PR scenario

The electoral methods under discussion presently in constitutional Assembly is a Mixed-Member Proportional Representation (MM-PR) method. Here the objective is to have Parties represented in Parliament in proportion to the votes they receive, but a certain percent of the MPS are returned through FPP contests to give voters a closer link with their representatives. Additional Members are returned using Party Lists to make the final composition of the Parliament more or less proportionate.

MM-PR methods require the demarcation of country into about constituencies returning 65% of fewer FPP MPS out of the total number MPs. This upper limit for FPP is essentially a rule of thumb for making the MM-PR systems work. The current number of MPs is 225. An increase of to about 240 is thought to be tolerable, making the likely number of FPP seats in Parliament to be about 140-145. The formula currently on the table is 140 FPP members plus 91 List MPs making up 231 MPs. It is proposed to give five seats as a bonus to the winning Party and another four as allocation for special circumstances for a total 240 MPs in Parliament.

If 145 Members of Parliament, say, are to be returned on a FPP basis from smaller Constituencies, the ability of minority candidates to be nominated from major political Parties will be reduced, with Colombo, Badulla and Mahanuwara been affected most. The minorities in these districts are highly dispersed, except perhaps in the historical electorates of North Colombo, Central Colombo and Akurana.

When a UNP or the SLFP are nominating candidates for FPP contest in those and other districts, it is unlikely that they will be fielding minority candidates except in the few where the minority is in majority. There was a time when Sinhalese considered as their own minority MPs such as M.H. Mohamed of Borella, Bakeer Maker of Beruwala, M.L.M. Aboosally of Balangoda and M.H.M. Neina Marikkar of Puttalam, but it will be a while before we get back to that situation.

The situation in the east also presents a problem where Tamil and Muslim communities live in clusters, but close together. Multi-Member constituencies are not the norm in MM-PR systems but we may have look closely at introducing those in some areas.

The ability to return 91 MPS through Party Lists gives the opportunity to make up for losses in FPP seats. A possible scenario using the 2015 election results show that if one out every third MP in the Party Lists is a minority MP then we can have 25% of minority representation in the final composition of the Parliament to give us a "Parliament that looks like Sri Lanka" – ethnically speaking. Getting more women there will certainly improve the picture further, but that is another topic for another day.

Just getting minorities in name elected is not sufficient. They have to be sufficiently representative of distinct regional identities among the minorities, complicating adequate representation matter somewhat. With some hard work, we should be able to find a solution and begin the process of healing and reconciliation.
(The writer can be reached via sujata@lirneasia.net.)