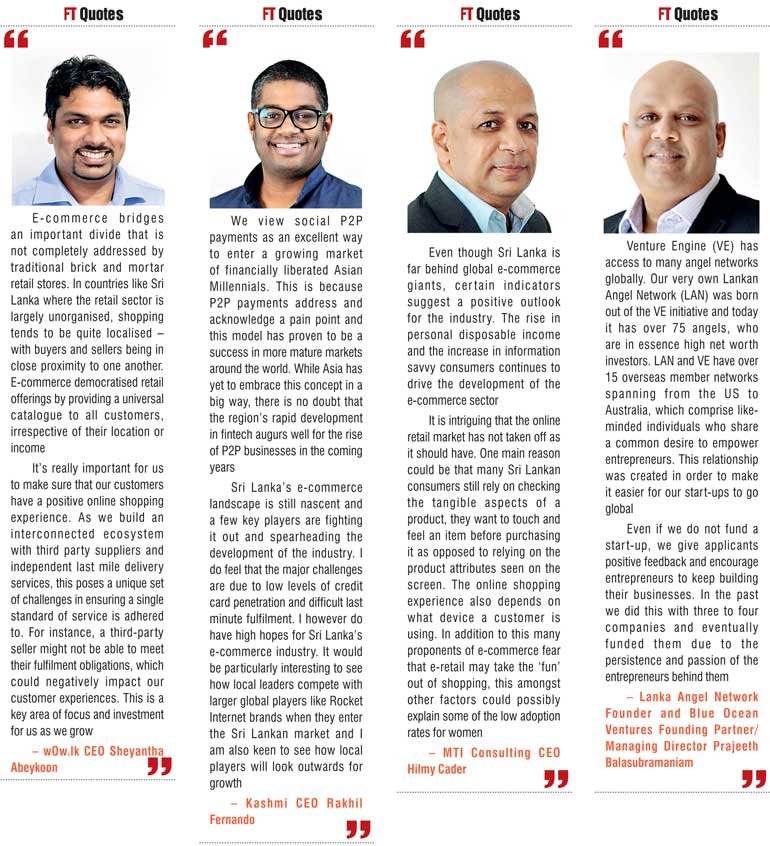 An in-depth interview series with business leaders, trendsetters, entrepreneurs and movers and shakers who are fuelling progress, making an impact in their industries and contributing to different aspects of the country's development
At the start of 2016, We Are Social reported that there were a total of 3.4 billion[1] internet users in the world; which translates to 46% of the global population having access to internet. Internet penetration has transformed the way businesses are run and transactions are carried out, paving the way for a bustling era of e-commerce and digital payments. Whilst there are different e-commerce models ranging from B2B, B2C and C2C, digital payment apps are also closely connected to e-commerce, and are offering people new and innovative ways of making payments.

According to a study compiled by Statista[2], in 2014 B2C e-commerce sales worldwide were projected to reach $ 1.5 trillion by 2018. The 2016 edition of the Asia 500 report[3] published by Internet Retailer revealed that the Asia Pacific e-commerce market is already worth $ 834.71 billion, an increase of 32.1% from the $ 631.81 billion that was recorded in 2014. Sri Lanka is currently on its own journey of growth and e-commerce and digital payment companies are starting to win over customers.

In this month's edition of the 'People of Progress' series, we take a closer look at the industry, through insights provided by professionals at the helm of e-commerce and digital payment companies, we have also taken the input of business experts into consideration. Our hope is to provide a holistic view of the industry and select businesses, enabling you to understand their positions, their individual success stories, pain points and challenges, whilst obtaining a greater understanding of the trends and opportunities that are part of Sri Lanka's e-commerce narrative.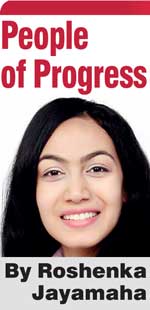 Building on the foundations of a pioneer site

Sheyantha Abeykoon, the CEO of wOw.lk (a unit of Dialog Axiata PLC), is a Wharton MBA graduate who has over 17 years of experience spanning across industries such as financial services, retail and digital services. He has also worked in both entrepreneurial and corporate settings in Sri Lanka and overseas. Abeykoon has played an integral role in building wOw.lk into a leading e-commerce site, and has helped steer the company through several important transitions.

Some people still remember wOw.lk in its early days, when it was known as anything.lk, the site that pioneered the concept of daily deals, and injected fun and excitement into the online retail space. wOw.lk is currently ranked by startupranking.com as the top e-commerce start-up in Sri Lanka, and it has now obtained the status of a well-established business and has become a dynamic end-to-end consumer site that offers customers access to a diverse range of products and services.


A crucial transition

Commenting on how wOw.lk made its transition from a daily deal site, Abeykoon stated: "The company embarked on an important journey about two years ago to transition from being a pure daily deals site (which generates a lot of excitement but has a natural 'ceiling' on how much it can grow), to becoming a fully-fledged e-commerce store. After many iterations and pivots on the model, we finally got it right and firmly established the company as one of the largest e-commerce stores in the country. The store operates on a hybrid model, using both the open marketplace model (connecting buyers to third party sellers) and an inventory led model."


The democratisation of shopping

Reiterating how e-commerce democratises the shopping process, Abeykoon said: "E-commerce bridges an important divide that is not completely addressed by traditional brick and mortar retail stores. In countries like Sri Lanka where the retail sector is largely unorganised, shopping tends to be quite localised – with buyers and sellers being in close proximity to one another. E-commerce democratised retail offerings by providing a universal catalogue to all customers, irrespective of their location or income."

Abeykoon added: "Additionally, smaller merchants who would typically struggle to sell their products through organised retail channels get island-wide reach through e-commerce. They benefit greatly from e-commerce platforms as they are able to showcase their products online and distribute them to all corners of the country. By featuring his products on wOw.lk a small-scale craftsman in Anuradhapura, can take a localised product such as traditional crafts and offer these in other parts of the country."

Explaining the value of partnerships for wOw.lk, Abeykoon said: "wOw.lk was recently selected by Google to be the e-commerce partner of choice for its local rendition of the 'Great Online Shopping Festival'. Strategic partnerships of this nature, play a great role in boosting e-commerce at large. We also have long-standing partnerships with leading Sri Lankan and multinational brands in the electronics and FMCG sectors, since wOw.lk was the platform that first introduced many of their products to the online market."

Explaining the latest trends and developments in the e-commerce industry, Abeykoon said: "E-commerce is growing rapidly in Sri Lanka and we are seeing strong growth in areas outside of Colombo. We have seen categories like consumer electronics grow rapidly online, this is encouraging as the sale of these products has traditionally been dominated by offline retailers. We have also gradually seen consumers become more comfortable with buying high-ticket items online. Additionally more large and small-scale merchants are recognising the value of utilising an e-commerce platform as a sales channel."


Ensuring customer satisfaction

Highlighting some key challenges in maintaining high levels of customer satisfaction in an e-commerce business, Abeykoon said: "It's really important for us to make sure that our customers have a positive online shopping experience. As we build an interconnected ecosystem with third party suppliers and independent last mile delivery services, this poses a unique set of challenges in ensuring a single standard of service is adhered to. For instance, a third-party seller might not be able to meet their fulfilment obligations, which could negatively impact our customer experiences. This is a key area of focus and investment for us as we grow."

Abeykoon added: "E-commerce still accounts for under 1% of business in the Sri Lankan retail industry, however I believe that its growth potential is significant enough for it to now be placed on the national policy agenda. With the right support framework, Sri Lanka's e-commerce industry can reach all-new levels of success."


Spearheading a new approach to facilitating payments

Rakhil Fernando – CEO, Kashmi, started his career in banking and private equity, but eventually decided to delve into setting up start-ups. Inspired by Venmo, the peer-to-peer (P2P) payments app that was developed in the US, Fernando felt that Asia also needed a similar solution. His three co-founders and he formed Kashmi, bootstrapping the company for a year and a half on their own funds, until they completed a seed funding round, which raised SGD 750,000. Following the creation of a successful prototype in 2014, Kashmi was officially launched in Singapore in 2016.

Since its launch in January 2016, Kashmi has acquired over 7,000 registered users with an average wallet top up of SGD 200. The current aggregated gross transaction volume is on a run rate of over SGD 300,000 (approx Rs. 30 million) a month, an encouraging sign for a start-up that has only been operational for five months.


The Kashmi concept

Commenting on how Kashmi works, Fernando said: "As a start-up, Kashmi hopes to evolve into a company that eventually provides an array of financial services for young people. Our first step towards achieving our long-term vision, is the development of a mobile application that offers a peer-to-peer payment gateway that is driven by social media. In a nutshell, Kashmi is a mobile application that allows young people to send and receive money instantly through a seamless and social interface."

Fernando added: "The app solves a common problem. Young people who spend large portions of their limited disposable income in social situations tend to borrow and lend money between themselves on a regular basis. These personal loans and IOUs are mostly settled in cash but they are extremely frequent and often difficult to track and retrieve. With the Kashmi app, users can send or receive money instantly regardless of which bank they belong to. This means that shared expenses can be settled in real-time. The app also allows users to accompany these payments with fun messages and digital social interactions which appeal to Millennials, thereby positioning Kashmi as a service that enhances a user's enjoyment and lifestyle, rather than serving purely as a transactional medium."


Top achievements

Highlighting top achievements on Kashmi's journey, Fernando said: "Kashmi is proud to have graduated from two prestigious accelerator programmes over the past several months; TURN8 in Dubai and Startupbootcamp FinTech in Singapore. To be a part of these select groups and be recognised amongst the top innovators and disruptors in the fintech start-up community makes us very proud. Of course, the major highlight of our growth so far has been the successful closure of our seed round."

Commenting on his future plans, Fernando said: "We view social P2P payments as an excellent way to enter a growing market of financially liberated Asian Millennials. This is because P2P payments address and acknowledge a pain point and this model has proven to be a success in more mature markets around the world. While Asia has yet to embrace this concept in a big way, there is no doubt that the region's rapid development in fintech augurs well for the rise of P2P businesses in the coming years."

He further added: "Kashmi will be looking to expand this service in the Asian region. This is because the young Asian market is becoming increasingly more active and vibrant in regards to exercising their purchasing power and openness to digital technologies. As more and more young people embrace fintech, a company like Kashmi (that focuses specifically on providing a P2P gateway first, and thereafter a full spectrum of financial services for young people), will definitely fill an important void. In Sri Lanka for example, Kashmi is exploring the option of launching a similar product to what we have in Singapore but with added features that solve country specific user cases. We are also working on peer-2-peer lending, merchant solutions, remittances and a few other projects."


Trends in digital payment applications

Highlighting the latest trends that he has observed, Fernando said: "We have noticed that there is a strong demand for P2P payment solutions in the region. Although Asia is bursting with potential, we have observed a large dichotomy between the knowledge of fintech in the region and people's acceptance of modern solutions. With respect to our own product, which encourages people to go cashless, we are actually trying to promote a seismic shift by disrupting well-entrenched user habits and behaviour. However, the good news is that the outlook for the future is positive and this in itself is encouraging. Users, especially young people, are now using mobile technologies and new payment methods with greater ease, and they are becoming more confident and accepting of fintech solutions."

Commenting on the development of the e-commerce industry in Sri Lanka, Fernando stated: "Sri Lanka's e-commerce landscape is still nascent and a few key players are fighting it out and spearheading the development of the industry. I do feel that the major challenges are due to low levels of credit card penetration and difficult last minute fulfilment. I however do have high hopes for Sri Lanka's e-commerce industry. It would be particularly interesting to see how local leaders compete with larger global players like Rocket Internet brands when they enter the Sri Lankan market and I am also keen to see how local players will look outwards for growth."

Fernando concluded: "Being a fintech start-up that has the goal of improving financial inclusivity, in the region and Sri Lanka, it would be great to see more regulators (in our case the Central Bank), working with us to introduce innovative financial products to the nation."
Prospects for e-commerce start-ups

Hilmy Cader, CEO of MTI Consulting, has long-been providing Sri Lanka's top corporates with strategic guidance. Over the last few years, MTI Corporate Finance, launched Idea2Fund to empower the next generation of young entrepreneurs. Sharing his insights on the prospects for up-and-coming e-commerce start-ups in Sri Lanka, Cader said: "Even though Sri Lanka is far behind global e-commerce giants, certain indicators suggest a positive outlook for the industry. The rise in personal disposable income and the increase in information savvy consumers continues to drive the development of the e-commerce sector."

According to online statistics usage site Internet World Stats[4] Sri Lanka had 5.6 million internet users as at December 2014 and 3.4 million Facebook users as at November 2015. These figures vary by source and are continuously changing. Commenting on the increase in internet penetration in Sri Lanka and its impact, Cader said: "The increase in internet penetration levels have been made possible by the availability and affordability of mobile data and increased smart phone usage across the country. Initiatives like Google's Project Loon, will also further facilitate affordable internet access across Sri Lanka, and this all-important boost in internet penetration, will undoubtedly fuel the growth of e-commerce platforms in the country."


Tips for start-ups gearing up for growth

Sharing his insights on how e-commerce start-ups can prepare for growth, Cader said: "Whilst it's hard to outline a single approach or method to prepare a business for growth in the e-commerce sector, it's recommended that start-ups should arm themselves against the dangers that growth brings."

He added, "Firstly, forming strategic alliances at the start of ventures, will provide start-ups with access to a larger pool of resources and ideas. Alliances help to mitigate the risks and expenses that have to be borne by both parties and help to reduce the fear of failure, which has proved to be a main barrier for entrepreneurial success in Sri Lanka. For e-commerce start-ups, it's important that efficient real-time inventories are put in place from the on-set of the business to ensure that day-to-day operations and sales will be streamlined regardless of the business's growth. The correct systems and tracking methods will ensure that customer needs are met at all times."

Cader also stated: "A common mistake made by most entrepreneurs as they grow is that they lose focus of their customers. It's important to remember that the customer is king, irrespective of the size of a business. It is the entire experience from online browsing, to making online payments to experiencing efficient delivery and post purchase support that could determine whether a customer keeps revisiting an e-commerce site. It's also important that up-and-coming e-commerce businesses invest in data analytics, which will prove truly useful in the long-run in helping them to identify patterns and trends in regards to customer behaviour."


Industry observations

Commenting on trends and insights that he has observed in the e-commerce industry, Cader said: According to a research study conducted by Kaymu it was observed that members of the population falling between the age brackets of 25-34[5] were more likely to make use of e-commerce platforms than other generations. This is particularly because Generation Y tends to be more technologically savvy than most of the other generation groups. Moreover, it is this very group that prefers online shopping to traditional alternatives.

However, when observing the main interests of Sri Lankan e-commerce users, e-retail does not surface to be a priority. Rather 7%[6] of total e-commerce activities in the country are concentrated around new technology related products, while online shoppers only account for 4%[7] of e-commerce activity. Such statistics can be a cause for concern. I believe that the e-retail industry has tremendous potential in Sri Lanka, considering the fact that our retail market is worth approximately $ 7 billion[8]."

Cader added: "It is intriguing that the online retail market has not taken off as it should have. One main reason could be that many Sri Lankan consumers still rely on checking the tangible aspects of a product, they want to touch and feel an item before purchasing it as opposed to relying on the product attributes seen on the screen. The online shopping experience also depends on what device a customer is using. In addition to this many proponents of e-commerce fear that e-retail may take the 'fun' out of shopping, this amongst other factors could possibly explain some of the low adoption rates for women. According to Kaymu, more Sri Lankan men (68%)[9] than women (32%) use e-commerce platforms and the divide is notably drastic."


Key inhibitors

Cader added: "Up until now we have been obsessing about the wrong statistics, demographics only have a limited impact. What we have overlooked is that the most commonly used payment mechanism in Sri Lanka is Cash on Delivery. It is quite startling that more than 95% of e-commerce users in Sri Lanka prefer the cash on delivery (COD) payment model according to Kaymu. Ironically, the main payment mechanism of many e-commerce platforms is through a credit card facility. Unless an alternative is devised, e-commerce platforms will appeal to only a marginal proportion of Sri Lankan shoppers who own credit cards."

Cader concluded: "If we do not overcome these inhibitors and create user-friendly and attractive interfaces, the engagement levels of Sri Lankan e-commerce platforms will plummet, they might become stagnant and their existence might be potentially threatened."


Funding opportunities for e-commerce start-ups

Prajeeth Balasubramaniam – Founder of Lanka Angel Network and Founding Partner/Managing Director of Blue Ocean Ventures, has been on an ongoing mission to empower entrepreneurs in Sri Lanka. He founded Venture Engine, with Rajan Anandan in 2012, and since then, the initiative has funded 22 start-ups, of which three are e-commerce businesses."

Explaining more about the three e-commerce businesses that Venture Engine helped get off the ground, Balasubramaniam said: "Overall, Venture Engine has funded start-ups to the value of $ 7 million. We have funded and laid a strong foundation for three very different e-commerce companies in Sri Lanka. Takas.lk was one of the first companies we funded, where we invested in the founding team at their idea stage in late 2012. Takas.lk has made amazing progress and is now one of the fastest growing e-commerce companies in Sri Lanka especially in the area of pure-play e-commerce. We have also worked with Glitteray (www.glitteray.com), an exclusively online jewellery store that is run by Rayhana Iyne and zigzag.lk, an online fashion and lifestyle store that is run by Dinindu Nawarathna. Both of these companies, with our support have been able to achieve a month-on-month growth of approximately 10%."


A methodical approach to grooming entrepreneurs

Explaining how Venture Engine (VE) works, Balasubramaniam said: "Venture Engine (VE) has access to many angel networks globally. Our very own Lankan Angel Network (LAN) was born out of the VE initiative and today it has over 75 angels, who are in essence high net worth investors. LAN and VE have over 15 overseas member networks spanning from the US to Australia, which comprise like-minded individuals who share a common desire to empower entrepreneurs. This relationship was created in order to make it easier for our start-ups to go global."

He further added: "We look for several key aspects in each application that is submitted to Venture Engine. The most important factor is the team, we always consider whether the team has the requisite domain expertise and the passion and drive to work 24/7 for 8-10 years to build a great company. The other key thing is the space – we evaluate whether the addressable market is large enough to build a very large company over the next 10 years. Although we fund companies at the idea stage, we are now seeing many more start-ups that are up and running – so we look at the early metrics on user acquisition and engagement.

"Even if we do not fund a start-up, we give applicants positive feedback and encourage entrepreneurs to keep building their businesses. In the past we did this with three to four companies and eventually funded them due to the persistence and passion of the entrepreneurs behind them. Once an entrepreneur comes on board, we work very closely with them to set up the right business plan in the early stages of identifying the product-market fit. We also give them guidance in regards to financial management and good governance, we support them with the legal aspects of their business, as well as their sales and marketing strategies and we ultimately help them to achieve their goals and vision."


Creating positive environments for start-ups

"There is a big scope for e-commerce start-ups at the moment, and whilst there's a growing demand for online shopping, the industry still has a long way to go. Venture Engine is trying to contribute towards creating a positive environment for start-ups in the country and is encouraging entrepreneurs to embrace a start-up culture. Most recently we won a pitch to host the Asian Business Angel Forum in Sri Lanka in 2017, which is Asia's largest premier angel investor gathering and conference for emerging and growing businesses that specialise in innovation and technology driven industries."


The road ahead

As people around the world increase their acceptance of online platforms and embrace the convenience of e-commerce and digital payment applications, they are shaking up tradition and revolutionising the way that trade is done.

The immense potential of e-commerce remains undisputed. However the way ahead for all global players in the industry will be a quick paced marathon of perseverance and endurance, and it remains to be seen whether Sri Lanka's e-commerce industry will merely limp behind the front runners, sprint alongside them or someday, even dare to take over.

Even though the industry in Sri Lanka is still running under an 'early days' banner, it cannot do so for forever. It'll undoubtedly take the very best efforts, innovation and commitment of both established players and new entrants, the Government and investors to unleash the industry's full potential. Hurdles will have to be overcome, perceptions will have to changed, creativity and new thinking will have to be applied, policies will have to be put in place and above all trust will have to be instilled in customers.

If people don't have the resources or access to explore the world online, or if they don't have trust in the process of clicking 'buy' or 'pay', then customers and industry players will be locked in an eternal game of tug of war. E-commerce and digital payment companies have to focus on their customers and do whatever it takes to get them to join the race and integrate the use of e-commerce into their daily lifestyles.


Footnotes

[1] Source: Compiled data from We Are Social (http://wearesocial.com/uk/special-reports/digital-in-2016)

[2] Source: Statista, the statistics portal (http://www.statista.com/statistics/222128/global-e-commerce-sales-volume-forecast/)

[3] Source: Internel Retailer (https://www.internetretailer.com/2016/02/02/e-commerce-asia-grows-32)

[4] http://www.internetworldstats.com/stats3.htm

[5] http://www.kaymu.lk/research/

[6] http://www.kaymu.lk/research/

[7] http://www.kaymu.lk/research/

[8] http://www.ft.lk/2013/09/06/why-e-commerce-will-explode-in-sri-lanka-in-very-near-future/ [(calculated with the household expenditure index) article by Lahiru Pathmalal]

[9] http://www.kaymu.lk/research/