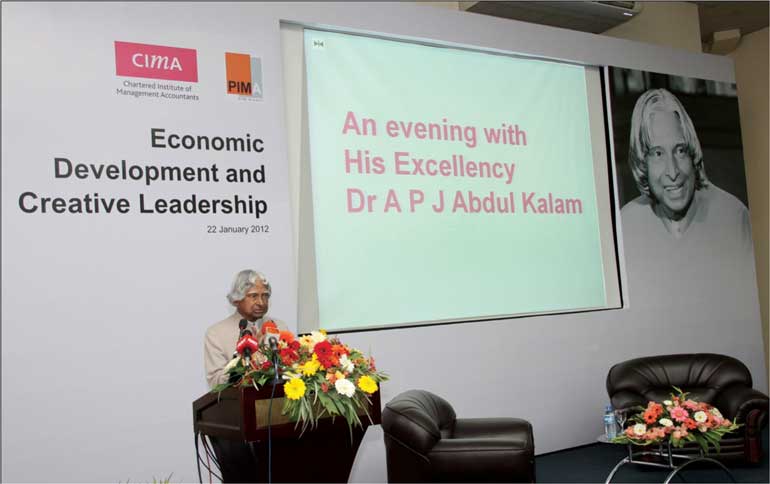 Much has been written on a great human being named Avul Pakir Jainulabdeen Abdul Kalam. He was much loved by the world not only as a brilliant scientist but as a diligent strategist. I still remember when Dr. A P.J. Abdul Kalam visited the Postgraduate Institute of Management (PIM) on 22 January 2012. Today's column is all about reflections on what he shared with us at PIM.


Overview

Dr. Kalam visited Sri Lanka for the first time in January 2012. As a 'People's President', he received a rousing welcome. Among the many activities on his agenda, he delivered a speech on 'Ignited Minds of Youth is a Great Resource for a Nation' at the Bandaranaike Centre for International Studies.

He visited Jaffna University as well. What was so special to us was that the alumni of the Postgraduate Institute of Management (PIMA) and the Chartered Institute of Management Accountants (CIMA) had jointly organised an evening lecture at PIM on 'Economic Development and Creative Leadership'.


Succeeding with Integrity

"Dear friends, let me put forth a question to all of you: India, China may become economically developed and G-8 may thus become G-10 or G-11 or G-12. But, would this select group of economically developed nations bring global prosperity, peace and happy societies in the world?" Dr. Kalam posed this question to a packed audience. Answering the query, he went on to describe a distinctive profile for the Nations of the World in 2030. The following were the salient features:
A world of nations where the divide between rural and urban, rich and the poor, developed and developing has narrowed down.
A world of nations where there is equitable distribution and adequate access to energy and quality water.
A world where the core competencies of each nation are identified. Missions synergising the core competencies of different nations lead to economic advantage and faster development for all the societies.
A world of nations where all the students of all societies are imparted education with a value system.
A world of nations where affordable quality healthcare is available to all.
A world of nations where governance is responsive, transparent and corruption-free.
A world of nations where crimes against women and children are absent and none in society feel alienated.
A world in which every nation is able to give a clean green environment to all its citizens.
A world that is prosperous, healthy, secure, devoid of terrorism, peaceful and happy and continues along a sustainable growth path.
A world of nations with creative leadership which ensures effective mechanisms to resolve conflicts between nations and societies in a timely manner, keeping overall peace and prosperity of the world as a goal.
According to Dr. Kalam, the realisation of this vision will require, above all, creative leaders with the qualities of nobility, compassion, innovation, transparency and benevolence. He also mentioned that this world Vision 2030 has been derived out of the Distinctive Profile of India by 2020.

"Since you are all from the management and business community of Sri Lanka, let me explain, what sort of business opportunities are awaiting in India, so that India and Sri Lanka can work together to improve their bilateral relationship," said Dr. Kalam.

"To achieve the distinctive profile of India before 2020 in the similar lines, we have the mission of transforming India into a developed nation," stated Dr. Kalam. We have identified five areas where India has a core competence for integrated action:

(1) Agriculture and food processing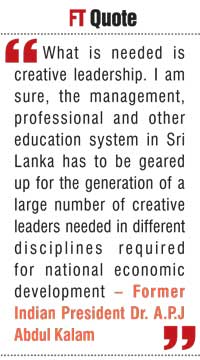 (2) Education and healthcare

(3) Information and Communication Technology

(4) Infrastructure: reliable and quality electric power, surface transport and infrastructure for all parts of the country

(5) Self-reliance in critical technologies. These five areas are closely inter-related and progressing in a coordinated way, leading to food, economic and national security.


The knowledge society in the 21st Century

"The world in the 21st Century will be a knowledge-based society with multiple opportunities," said Dr. Kalam. He was referring to a book 'Empires of the Mind' by Denis Waitley. This book gives what type of the new world which we are facing now? What was yesterday and what is today.

"I have modified certain points of the author to suit our conditions. I have also added a third line which is pertinent to the action required by the management institutions."

It specially says that "what worked yesterday, won't work today".

1.Yesterday – natural resources defined power: Today - knowledge is power

Institutions will be powerhouses for knowledge.

2.Yesterday - Hierarchy was the model: Today- synergy is the mandate

Institutions will be the enablers of the intersection of multiple faculties towards mission goals

3.Yesterday – leaders commanded and controlled: Today – leaders empower and coach

Potential Leaders will be empowered through exposure to the needs of sustainable development

4.Yesterday - shareholders came first: Today – customers come first

Education should inculcate sensitivity to "customer" needs

5.Yesterday - employees took orders: Today – teams make decisions

Institutions can inject team spirit

6.Yesterday - seniority signified status: Today – creativity drives status

Institutions are the breeding environment for creativity

7.Yesterday – production determined availability: Today – Competitiveness is the key

Competitiveness is powered by research and university has to have the motto of "teaching-research-teaching"

8.Yesterday - value was extra: Today – value is everything

Value-based education has to be introduced as a part of the curriculum, at least for one hour every week

9.Yesterday – everyone was a competitor: Today – everyone is a customer

During education industrial and entrepreneurship training is essential

10.Yesterday - profits were earned through expediency: Today – Work with integrity and succeed with integrity.

Home, organisations and educational places should become learning places.

"I am sure, all the members present here will keep these aspects of 21st Century in mind which will facilitate the youth of Sri Lanka to evolve the learning process for meeting the demands of the 10 components of the knowledge society," asserted Dr. Kalam.

"For that what is needed is creative leadership. I am sure, the management, professional and other education system in Sri Lanka has to be geared up for the generation of a large number of creative leaders needed in different disciplines required for national economic development."

"Since I am in the midst of a business community, I would like to give the linkage between national economic development and creative leadership," said Dr. Kalam.



Economic development and prosperity

Dr. Kalam spoke about how economic development led to prosperity in a sequential manner.

Nations Economic Development is powered by competitiveness.

The competitiveness is powered by knowledge power.

Knowledge power is powered by technology and innovation.

Technology and innovation is powered by resource investment.

Resource investment is powered by revenue and Return on Investment.

The revenue is powered by volume and repeat sales through customer loyalty.

Customer loyalty is powered by quality and the value of products.

Quality and the value of products are powered by employee productivity and innovation.

Employee productivity is powered by employee loyalty, employee satisfaction and the working environment.

The working environment is powered by management stewardship.

Management stewardship is powered by creative leadership.

For success in all missions we need creative leaders. Creative leadership means exercising the vision to change the traditional role from the commander to the coach, manager to mentor, from director to delegator and from one who demands respect to one who facilitates self-respect.

The higher the proportion of creative leaders in an organisation, the higher the potential of success and the growth of organisation and thereby leading to accelerated national economic growth.

Dreams into action

"Dear friends, I have seen three dreams which have taken shape as vision, mission and realisation," reminisced Dr. Kalam.

"The space program of the ISRO (Indian Space Research Organization), the AGNI program of DRDO (Defense Research and Development Organisation) and PURA (Providing Urban Amenities in Rural Areas) becoming the national mission. Of course these three programs succeeded in the midst of many challenges and problems. I have worked in all these three areas. I would like to convey to you what I have learnt on leadership from these three programs and the personalities whom I have discussed."

Dr. Kalam went on to spell out the features of creative leaders.

A leader must have a vision.

A leader must have a passion to transform vision into action.

A leader must be able to travel into an unexplored path.

A leader must know how to manage success and failure

A leader must have courage to take a decision.

A leader should have nobility in management.

Every action of the leader should be transparent.

A leader must work with integrity and succeed with integrity.

Interestingly, we saw all the above in the late Dr. Kalam.

"For a vibrant business, the important thrust will be on the generation of a number of creative leaders who will create, nurture and grow the business to its full potential by combating all the challenges faced in the process," he went on to state. "My greetings and best wishes to all the participants' success in the mission of creating new opportunities of growth through creative leadership," Dr. Kalam concluded.


Way forward

"Dreams are not what you see when you sleep, they are the ones that keep you away from sleep." We picked the above statement from Dr. Kalam as the thought of the week for PIM this week. It simply amplifies the purpose-driven life of Dr. Kalam. Perhaps a fitting tribute to him from Sri Lankan managers would be to diligently work towards not only organisational progress but societal wellbeing as well.