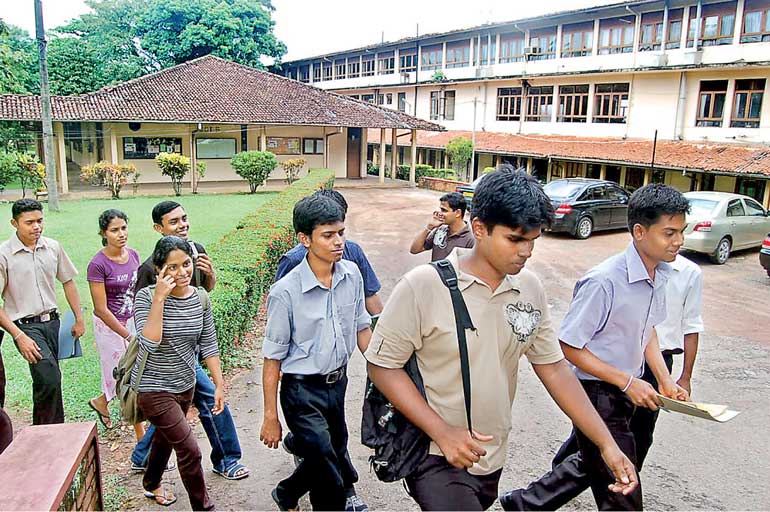 If a family can afford to pay, higher education is worth the cost. However, when tax revenues are spent or

students borrow to attend college, we as a society need to question whether a degree is worth the cost
In a survey of the 2015 graduating class in the UK, 56% said their degree was not worth the £9000 per year tuition payment. However, 86% of the same group of students responding to another survey said they were satisfied with their campus experience. There you have it. The university experience is a worthwhile one, but who should pay is the question.

While young adults may appreciate a university for the campus life it offers, parents too are beneficiaries. Let's face it. Higher education is first and foremost a way to keep youth off the streets and parents and adult children off each other's backs. They are also necessary finishing schools for today's cloistered youth. We raise our children as total dependents till they are 18. We send them to college to experience the world under some adult supervision.

If a family can afford to pay, higher education is worth the cost. However, when tax revenues are spent or students borrow to attend college, we as a society need to question whether a degree is worth the cost. We need to constantly assess and reassess the objectives of public higher education.



Funding of basic education

Public funding of basic education (or school education) is unquestioned. Basic education is not really a public good. Public safety and clean air are public goods because they non-rival and non-excludable. Basic education is considered a merit good. Merit goods such as education and healthcare may be under-supplied in proportion to their perceived value if left to private enterprise, and are sometimes provided by governments or non-profit organisations. If the poor find it easier to not send their children to school, it is a social problem like if one or more families choose not to vaccinate their children.

The Universal Declaration of Human Rights (1948) and United Nations Convention on the Rights of the Child (1989) spell out decreasing level s of rights from basic to tertiary education as "make primary education compulsory and available free to all, secondary education available and accessible to every child and higher education accessible to all on the basis of capacity."


Funding higher education

Private benefits of higher education are clearly established to be higher than its public benefits by economists. However, public funding for higher education continues with varying levels across the world.

Historically we can see three types of funding depending on who paid the teachers – the first type was in ninth century Bologna, where students hired and paid for the teachers. The second type was in Paris about two centuries later where teachers were paid by the church. State funding for universities really started as a power issue when in 1167 King Henry II banned English students from attending the University of Paris and increased funding to the University of Oxford, to absorb the returning students.

Today education in UK, USA and Europe and Australia is largely funded out of the public purse, directly as grants to universities, or indirectly as easy-term loans to students. The reasons are threefold – (1) Democratic ideal of equal opportunity (2) Meeting national needs for a work force with advanced skills and (3) education as noble activity which cannot be priced, a more emotional reason .

Higher education existed in the East long before the first European university was established in Bologna in 1088. During the Buddha's time in the fifth century or before, students followed famous teachers. The Buddha himself sought out two famous teachers at that time – Alara Kalama and Uddaka Ramaputra. Although there is no indication that Siddhratha Gautama, the young Buddha, attended Taxila, the famous education institution at the time , there is evidence that many young men came to Taxila from far-off places such as Kashi, Kosala and Magadha, in the buddha's 'neighbourhood'. The students paid masters 'Guru Dakshin' or 'Guru panduru' at the end of their learning.

Students in Italy took Guru Dakshin to a new level when they were came into difficulties with the cities where they studied as foreign studnets. The students formed mutual aid societies of foreign students called "nations" (as they were grouped by nationality) for protection against city laws which imposed collective punishment on foreigners for the crimes and debts to their countrymen. These students then hired scholars from the city to teach them. In time the various "nations" decided to form a larger association, or universitas—thus, the university.

Professors themselves were not powerless, however, forming a College of Teachers, and securing the rights to set examination fees and degree requirements. Eventually, the city ended this arrangement, paying professors from tax revenues and making it a chartered public university.

Oxford University, the first university in UK, flourished as a public endeavour under the patronage of the King when as previously mentioned King had a bone to pick with the French and the Catholic Church.

The purpose of all early universities was essentially the training of clergy. Universities in USA too started for as institution to train ministers, but with private funding. Harvard University (1658 –to date), the first university in USA, started with a donation from a Mr. Harvard. Public funded school started with University of North Carolina (1789-todate) and later through the Land-Grant act which spread public universities, with at least one per state. The 1950 to 1970 period in USA saw rapid growth in higher education, but since then, funding for universities have been more measured and universities are continually asked to justify their existence.


Massification

A large part of issues of quality and relevance of universities today is related to phenomenon of massification. Prior to World War II, only a small minority of the US population—most of whom were male and white—continued their education after high school. The initial expansion of American higher education came immediately following World War II, and again after the Korean War, when returning soldiers were offered financial assistance from the federal government under the GI Bill of Rights. Designed to ameliorate the labour market crunch that would otherwise have been created by the large number of returning soldiers, the GI Bill extended access to higher education to veterans and their families. We are now beginning to see the effects of massification in the developed world.

As Hugh Lauder of University of Bath notes:

"For much of the twentieth century, a close relationship between education, jobs and rewards existed in most of the developed economies primarily because access to higher education was severely restricted. Today, by contrast, higher education has become the norm for middle classes and aspiring working classes in most of the developed economies.

"However, the demand for knowledge workers has failed to keep pace with rapid increase in the supply of graduates. This has led to increasing labour market congestion as university graduates struggle to distinguish themselves from other job seekers with the same credentials. The result is credential inflation that makes it more difficult to cash in on educational success."

Lauder's comments are about developed economies, but worth keeping in mind in our part of the world as well.

In Sri Lanka, we saw our own massification when the University of Ceylon established a second Arts Faculty in Colombo in the early 1960s. The classes were conducted in old racecourse, hence the nickname Ashva Vidyala students to those enrolled.


Growth of private higher education

In UK, USA, and Australia, the massification of higher education was publicly funded. Today 80% of or more of students in those countries are enrolled in public institutions. Those in private institutions too are subsidised through easy-term loans.

In contrast, private higher education is predominant in Asia to varying levels with South Korea (80.1%), Japan (77.4%), Indonesia (79.9%) and Philippines (60.9%) at the high end, and India (30.7%), Bangladesh (14.4%), Vietnam (10.4%) and Thailand (9.9%) at the lower end in terms of enrolments in private institutions. Absent from statistics is Sri Lanka, a country where succeeding governments have been too 'chicken' to acknowledge the presence of private higher education.

This growth of higher education in Asia is not a fashion or even an evil, but it is how each country deals with the phenomenon of mass demand and deal with it.


Private opportunities Sri Lanka

In a 2011 survey by LIRNEAsia, we found 27 private institutions awarded 2,733 degrees during the 2010/2011 academic year. In addition, public institutions admitting students outside of the UGC Z-Score system produced 4,229 graduate from nine institutions. We also found five or more professional bodies awarding 1000+ degree equivalent qualifications, for a total of 8,000+ plus degree or degree-equivalent private degree holders produced in Sri Lanka. The output of public institutions in the same year was just twice as much at 16,000.

We also found the costs too be anywhere five lakhs to more than 10 lakhs, with most programs costing five to 10 lakhs. The quality may vary, but we found all degrees awarded were from foreign universities recognised by the UGC.

In effect, in Sri Lanka we now have an opportunities for private higher education of a reasonable quality to fit every middle class or upper middle pocketbook. My advice to parents would be to seek out opportunities that expand the experience and world view of our young adults who have grown up in what I would call Colombo-based upper middle class bubble.