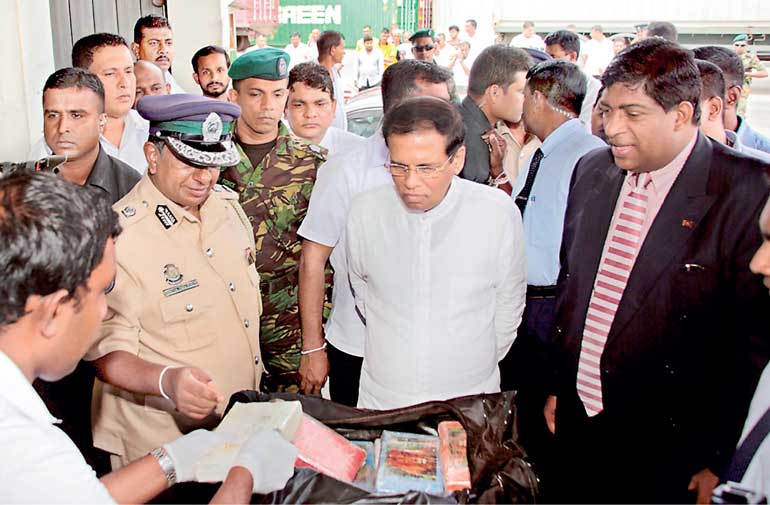 Drug busts of gargantuan dimensions signal that detection is ongoing, even if a crackdown on crime cartels in the present does not necessarily mean that past offenders will be brought to book by the same measure. Turf wars of yore which remain unresolved to date, with leftovers from a previous ostensibly systematically corrupt regime enjoying an afterlife in democratic-republican ranks, possibly symbolise the accommodation that the revolution has made with what was – and still is – rotten in the state. Seen here are President Maithripala Sirisena and Finance Minister Ravi Karunanayake at the recent drugs bust
In myth and legend alike, heroes are made in the image and likeness of men. The Greeks and Romans and other civilised peoples created even their gods after an uncannily human stripe. They lived, lusted, and died like any mortal worth an inspiring tale or saga. Their merits were often immortalised long after their political value, social relevance, and spiritual significance had faded; together with the cultures which gave them birth. Today, though, we still talk about 'Herculean labours' and credit 'wily Odysseus' with Trojan horses that helped raise Troy's barricades and razed the previously impenetrable topless towers of Ilium – or hero-worship 'Promethean personalities' who steal divine fire to bless and benefit Homo sapiens, the naked ape.

Fiction is no exception to heroic parthenogenesis in general. Science-fiction in particular is replete with superheroes who embody the godlike virtues – and diabolical vices – of their politico-religious counterparts. Marvel's lucrative franchise, for one, bears ample witness to this commercially successful phenomenon. The Mighty Thor with his mystic hammer Mjölnir is no less marvellous for his celluloid success than for his Asgardian nobility of spirit and courage – in the face of not only danger, but certain defeat written in the cosmic portents: that dreaded Twilight of the Gods. Iron Man's persona is the epitome of psychology's Promethean Man, forging in the passion of his industriousness an embodiment of all that is honourable in humanity-serving entrepreneurship. Least godlike in demeanour, arguably, but demonstrably most humane in his super-heroism is Captain America, that quintessential patriot from a more simplistic age.


Hamartia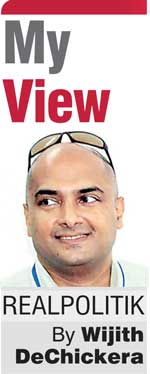 Problem is, they all have feet of clay; dark secrets from less than pure pasts; deep-seated character flaws that could be their own undoing as well as portending disaster for the very humanity they serve or claim to serve.

In this respect, very few literary creations offer a simulacrum of life. They overemphasise humanity's greatness at the expense of the reality of their least oddity or quiddity. And vice versa. But there are exceptions which prove the rule… underlining the ironic resemblance to the realities from which these stories draw their inspiration, leaving audiences both challenged in thought and stimulated to action by their verisimilitude to ordinary individuals in real life.

A case in point familiar to this columnist is the cult sci-fi classic #Blake's 7. The iconic BBC TV series which was telecast to British audiences in the tens of millions at its height ran from 1978-81 before its abrupt, unforgettable, unfathomable climax after 52 episodes of gritty (albeit low-budget effects-driven) television. That its characterisation, however, cut so close to the skin of contemporary Soviet, Thatcherite, and Reaganist politics gave it an edge over rivals and contenders like #Dr Who, for instance; and with its innovative tropes, story arcs, and inversion of conventional values, it scarred my mind's-eye with insightful portrayals by skilled actors of complex roles whose character's vices and virtues still ring true today – even in CGI's gobsmacking milieu with its big-splash, widescreen, OTT space operas.

A particular episode remains pertinent from the perspective of contemporary political happenstance:


Shadow

The eponymous hero of #Blake's 7 is a political agitator against a corrupt Terran Federation. In his epic struggle against this Earth-based civilian military administration – backed up by the mindless tyranny of Space Command, its military arm – he, by default, recruits a ragtag motley crew of criminals to rebel against galactic oppression. Then by design he seeks to enlist the help of the notorious Terra Nostra – a systematic cartel dealing in general crime and terror but specialising in mind-numbing drugs. While his initial efforts to persuade the Terra Nostra to join forces with him fails, Blake persists in his efforts to undermine the administration's power in the outer planets using elements of the criminal underworld who might be willing to join the rebellion.

En route to that goal, the rebel leader discovers a dark secret that could blow the lid off the oppressive civilian administration. The planet on which the Terra Nostra's source of power is located is discovered by Blake and his companions Avon (a top notch bank swindler) and Jenna (the second-best smuggler in the solar system) to be heavily guarded – by none other than Federation troops! The President of the Terran Administration controls the production and distribution of shadow, the narcotic that keeps billions of souls in abject slavery!

As one character remarks, it's a subversive strategy: to control people at both ends of the power spectrum using a single power source. Law and order as well as lawlessness are both regulated from the same origin: the despotic political regime that operates simultaneously above and below the law.


Life imitates art

It's a subversive strategy that characterises galactic empires of the fictitious future as much as island republics of the perilous past. A not so long time ago, under a regime far from long gone to judge by its ongoing agitation, this tandem approach to societal control saw Sri Lankan suffer from tyrannical presidential machinations on top of things and drug barons' turf wars beneath the thin veneer of the rotten old political culture. It was an entirely undesirable ethos that did not go unremarked upon.

The current heroes of our times – still gung-ho and hung up on Good Governance – commented on it, critiqued it, challenged it, conquered it by a coup de main and no little cooperation from the overshadowed masses grown tired of widespread and systemic corruption and abuse of power. That the first flush of hope in the aftermath of our own political rebellion's victory over the forces of evil – drug cartels, oppression, abuse of power – is fast fading makes watching reportage of it on television as palpable as a classic space opera, perhaps?

The episode of #Blake's 7 titled Shadow ended with a bang… The crew of the Liberator, their spaceship, arranged for a nasty explosive surprise for the next time the President of the Terran Federation would visit his 'shadow'-planet – but Blake's rebellion eventually ended with a whimper (spoiler alert!): Avon being the last man standing in an inexplicable shootout in which Blake himself and all his followers were dramatically killed (some apparently survived for a 'novel' afterlife). But the real-life political escapade in which our own gallant liberators sent our erstwhile overlords and evil rulers – if you will pardon the perhaps simplistic space-opera jargon – an unmistakeable message might well be in real danger of fizzling out in an ironic anticlimax. For previous tensions that are hard to resolve even today and perennial socio-political stresses which cannot be wished away remain, and place our not so newly liberated republic under a somewhat familiar shadow.


Revolution

For instance, the alleged drug barons and political warlords whom the present republican coalition fingered as being the villains of the piece under the erstwhile regime still continue to be at large, which is both worrying and puzzling. The shadow of the long arm of the law appears to be foreshortened or even amputated in some cases. Some villainous lawbreakers of the militaristic civilian administration past not only survived the rebellion of insiders who became outsiders for the sake of revolution. They also thrive under the auspices of good governance – being ensconced as they are in clover, in the cabinet, or in other cushy jobs that come with high-profile portfolios.

Other alleged felons enjoy a surprisingly carefree political afterlife, to the exception of occasional summons to grace the offices of CID, TID, FCID, and CIABOC, whose revolving doors ensure that no shadow of grief of pain mars their joy at being alive under the reign of men entirely great – who also, thank the stars, permit puny rebellious scribes such as yours truly to harry or hassle them chronically. (Not that we love them less, but this our republic more.) A few lucky individuals are even among the ranks of Tuscany: ministers, legislators, governors. A shadow has fallen.


Reality

So what happened to the rebellion? Did it go the way of Avon and Blake at that great shootout on Gauda Prime? Have the constraints of realpolitik <like some hopeless chicken without feathers> come home to roost? At least this administration is culpable of overestimating their competence and/or underestimating the roadblocks along the primrose path to serving justice as regards the sins of crime, corruption, and chauvinism under the previous government. If not incompetence, then Good Governance has to admit its liability for the greater of the two evils: complicity in the former regime's doings, or a cynical laissez faire laissez passer approach in the interests of constitutional reform that will not only safeguard the republic against antidemocratic excesses but also streamline a certain political party's future charter in the short term.

Be that as it may, we must appreciate the present civilian administration for its positive approach to transparency in the detection of egregious crime under its watch. The presence of no less than the President of the Republic at Sri Lanka's largest and most outrageous drug haul in the history of the island's smuggling career has sent out a strong signal to apologists of the previous regime, who were careful never to let even a shadow of a doubt associate their leaders with pharmaceutical cartels.

Hope that the presence of the beleaguered Finance Minister doesn't betray a deeper or more complicated meaning to this significant development, such as one-upmanship directed against Customs and Excise officials with whom he and/or his Ministry have clashed before or a desire for a PR coup of a sort to stay a declining popularity needle? There is also that quiet hero who has finally realised, as one commentator recently essayed, that there is nothing much to separate Arjuna from Ajith, and has evidently capitulated.