The National Human Resource Conference (NHRC) of 2017, the largest HR conference in South Asia, will begin tomorrow. Further to the discussion we had two weeks ago, this column will highlight the nature and features of NHRC 2017 in inviting the Daily FT readership to enjoy an insightful and interactive experience.
Overview

The NHRC 2017 will be a platform to deliberate on digitalisation, disruption, diversity and design with regard to this inspirational intervention. Key highlights of the sessions are worth discussing.

Dr. Ravi Fernando, as the keynote speaker, will focus on 'C-Suite HR Leader and Emerging Future Role'. Mara Tolja, the Co-Founder of Connectle, New Zealand will speak on 'Working Out Loud and the Future of Work'.

Raj Raghavan, Director and Head of Human Resources, Asia Pacific Region, Amazon will discuss 'Managing Innovative and Disruptive Talent in High-Tech Companies'. Esther McIntosh, Country Director of World University Service of Canada (WUSC), will speak on 'Developing a New Generation of Youth Employees for Growth Sectors of the Sri Lankan Economy'.

Saman Wimalaratne, Financial, Management and Corporate Restructuring Advisor/Regional Director, Magnifier INC., will deliberate on 'HR Analytics to Optimise ROI'. I have the rare opportunity to be a speaker while being the honorary President of IPM, and will be discussing 'Touch-Savvy HR Leaders: Caring, Daring and Sharing'. There will also be a panel discussion on 'Transformational Leadership in Action'.
Dr. Ravi Fernando on 'C-Suite HR Leaders'

"Ensuring Sri Lanka has an emerging pool of talent which is high tech and high touch is the challenge IPM needs to meet by identifying the skill set and competencies which will become essential for an HR leader of the future," observes Dr. Fernando.

In the future, HR leaders will be expected to play a multiplicity of roles to ensure the organisation is "relevant and strategically competitive". He foresees following three roles – 1. A driver of the HRD strategy to ensure the "right" talent is acquired, retained, inspired and enabled; 2. An identifier and builder of future competencies, enabler of technology and strategy tool usage within the organisation i.e. digitisation and design and blue ocean market space creation; 3: Build a cadre of diverse talent with global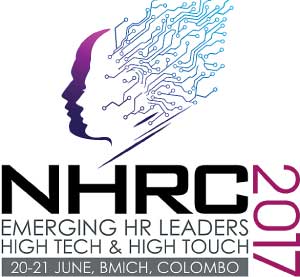 exposure and sustainability mindsets i.e. understanding of the new realities of the world and their potential disruptive impact on current business.

He is of the view that if future C-suite HR Leaders are to meet the above challenges, they need to invest in being both academically and professionally competent on an ongoing basis, globally exposed and have the confidence required to win the right to be heard amongst all C-suite leaders of every functional expertise.
Mara Tolja on 'Working Out Loud and the Future of Work'

"Leadership, culture, innovation and organisational structures are all being transformed as companies look to become more agile, responsive and engaged," observes Mara. "Workers are required to master new skills of building relationships, accessing knowledge and discovering opportunities in an increasingly digital workplace."

According to her, "WOL (Working Out Loud) circles and professional online networks like Connectle, provide peer support groups that give structure, support and shared accountability, empowering employees to practice these essential digital workplace skills". Working with the creator of WOL Circles and author of 'Working Out Loud,' John Stepper, Mara had facilitated the first WOL Circle in London in 2014.

Since then the practice of Working Out Loud has spread to more than 20 countries and a diverse range of organisations, including Bosch, Daimler, the University of Melbourne and The Australian Tax Office. During this session, Mara will describe how organisations can embed WOL Circles into their onboarding, innovation, digital transformation and leadership development programmes, making change easier and more sustainable.
Raj Raghavan on 'Managing Innovative and Disruptive Talent in High-Tech Companies'

'Learn how Amazon employees innovate locally' is Raj's invitation for us. He says that this insightful session will also feature a key perspective on how to identify, develop and unlock the potential of creative and disruptive talent. How do you tap into the creativity of the millennial talent for business growth? What is the best way to provide creative space and autonomy whilst ensuring timeliness and working backwards from the customer? Raj invites us to join this session for key insights from a company that innovates on behalf of its customers.

As the Amazon's Head of Human Resources for Asia Pacific Region for their Retail Devices and Content Businesses as well as Global Technology & Business Operations Centres spanning several countries across the region, Raj will share his wealth of expertise. Prior to joining Amazon, Raj was the Head of Human Resources for GE's Global Research and India Technology Centres. He initially joined GE in 1999 at GE Capital International Services (now Genpact) and held various senior HR leadership positions supporting several businesses in various locations.
Esther McIntosh on 'Developing a New Generation of Sri Lankan Youth Employees'

"With the ending of the Sri Lankan civil war in 2009, combined with the growth of the Sri Lankan economy in recent years, several sectors including ICT, construction, hospitality and tourism and automotive/light engineering have registered significant growth,", observes Esther.

"This development presents both an opportunity and a challenge for Sri Lankan human capital development," she argues. "On the one hand, the growth in these sectors has resulted in an increased demand for skilled employees to occupy entry level positions. This holds the promise of creating a new generation of skilled employee that is able to attract Foreign Direct Investment (FDI) and supporting greater competitiveness in the Sri Lankan economy. It also has the potential to address the issue of youth unemployment which adversely affects young women."

However, as Esther opines: "Despite the opportunity, many companies especially SMEs in the informal sector are unable to attract and retain young women and men to join their workforce." She will share her experiences in the area of Advancing Specialised Skills for Economy Transformation (ASSET) project which is funded by the Government of Canada. The five-year project is implemented in 11 districts of Sri Lanka and will train more than four thousand persons.
Saman Wimalaratne on 'HR Analytics to Optimise ROI'

The unfolding modern-day business environment has compelled us to have a re-look at some of our beliefs. The question we should ask ourselves is, 'who is the king'; is it the customer or the investor? These are the observations of Wimalaratne.

"With the technological advancements, the world has come to a point where the customer no longer knows what he or she wants," observes he. "It is all about 'innovation' taking over the world with investors taking the lead in creating a 'need' in the minds of customers. This is where the emphasis given to the customer is out-weighed by the demands of investors."

As he argues, "We are in an era of quantification". This is where a greater emphasis on objective-driven decision making, supported by stubborn facts and statistics is of paramount importance. With the new technological advancements, the fundamentals of decision making are changing; Big Data Analytics in particular is revolutionising the whole process challenging the contemporary approaches adopted in different support functions of an organisation. It is now time for each of these functions to bring that of objectivity supported by analytics into the fore in creating a positive impact by complimenting the efforts of the investors.
The interesting rest

I will be speaking on 'The Emerging HR Leaders: Caring, Daring and Sharing'. Emerging HR leaders have to be not only "tech-

savvy" but "touch-savvy" as well. They need to demonstrate that they dare to take key decisions without fear or favour. They also need to have a tough mind and a tender heart in showing their genuine care towards employees. Let me share further details of this session in my next column.

There will be an interactive and insightful panel discussion on transformational leadership. It is a reflection on HR professionals as to how they show more transformational leadership behaviours as opposed to transactional leadership. Carl Cruz, Chairman, Unilever Sri Lanka, Jagath Pathirane, Chief Executive Officer, Expo Freight (EFL), Bindu Vinodhan, Founder of The Institute of Leadership Learning and Transformation, Smitha Murthy, Leadership and Organisation Development Consultant, and Shehara Jayawardana, Group Joint Managing Director, McLarens Holdings Ltd. will be the panellists whilst Ajith P. Bopitiya, Chief Executive Officer, Trikonsult will function as the moderator.
Way forward

We brought you 'In Search of HR Excellence' in 2013 with an overwhelming success. We hosted the largest-ever attended HR event of IPM in 2014 with the theme, 'Redefining HR for Boosting Performance'. It further expanded with the theme, 'HR for National Prosperity' in 2015. Last year, we zoomed into the aspect of competing as a nation in a global scale with the fitting theme, 'HR Ecosystem for Competitiveness'.

Now, the South Asia's largest HR event is coming to you, more enhanced and enriched tomorrow as an engaging and energising experience. I have no doubt that it will generate immense insights, initiatives and implications in line with emergent HR leaders being high tech and high touch.
(Prof. Ajantha Dharmasiri can be reached through director@pim.sjp.ac.lk, president@ipmlk.org, ajantha@ou.edu or www.ajanthadharmasiri.info)