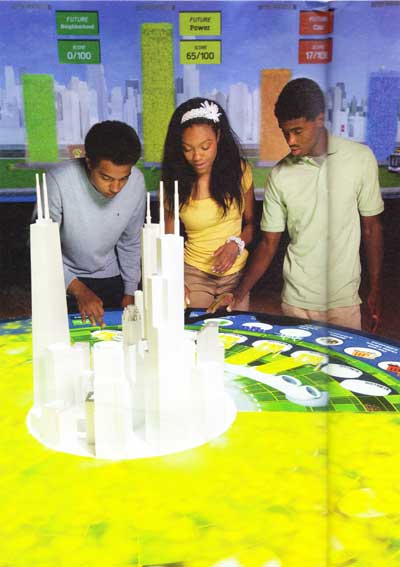 Teens choosing a mix of energy sources to power the City of Chicago in the Exhibition Future Energy Chicago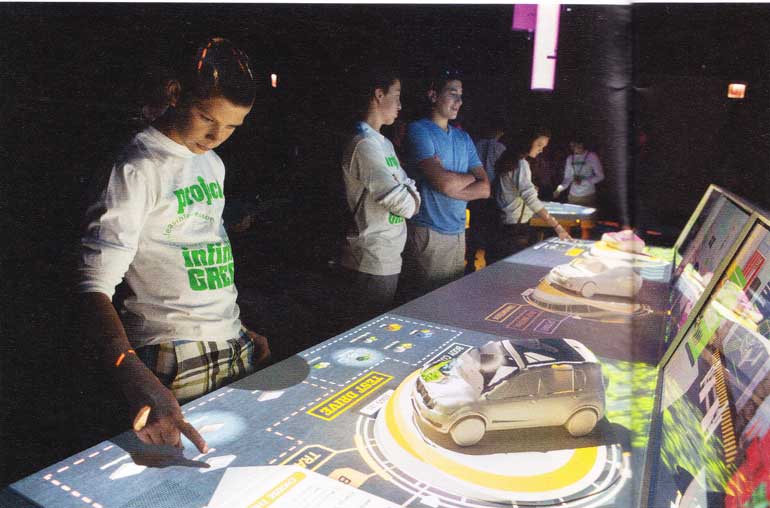 School children designing energy efficient cars in Future Car
It is time that the stances that we take on issues and then the follow up execution and action we take sent out a refreshingly different messages to the community at large. That does not mean that we have not been responsible for any messages. Most certainly we have, though the nature of many of the messages – dateline Colombo – that we have been responsible we really cannot be too proud of.

Our celebrations usually have been pin up affairs – lot of sound but lot less of sustained substance. Models made out of cardboard and polystyrene usually do not speak volumes and most certainly do not leave any lasting impressions on the sky line or at ground level. The message – via a structure or a characteristic – should not be based on something we do which supports conspicuous consumption but a one that is future conscious – an iconic action depicting sustainability.

It is not for adventure that the concept of ecology has been entwined with industry and society today. The subject of ecology describes how nature functions and such concepts today are being brought into the management of society and industry. Thus the growing importance of industrial ecology.

Can our nation's business capital be a model city for ecological planning and behaviour? A city with a necklace of wetlands, an adornment our city is not really making a statement but more conscious of reclaiming and or in instances being used as wastelands is an aspect a U-turn in decision making is required. Confined to these waterways, the city is truly embroiled in a waste management problem in addition to the usual issue of energy.


Rapidly rising energy needs

Modelling studies by a few international organisations have identified by 2030 the world will be in need of 50% more energy than what it had in 2012. The population is set to grow and the consequent demands on water and food by the same time are predicted to have 30% and 50% more from the baseline at 2012. These scenarios were submitted for discussion at Rio+20 conference. This is no easy task and the issue is actually compounded by everyone having to work within the constraint of climate change.

The world is seeking ways to limit the temperature growth to not more than 2°C from the pre-industrial position. These are challenging tasks by any nature. How we have internalised these scenarios for Sri Lanka is an open question. As multiple debates continue on various platforms and on screen, 2030 and roadmaps that we have to design and enact certainly appear to be on no one's mind. All are fixed on 60 months and some may be on even lesser timeframes!

In this climate, technologies that support a cross section of needs are much more of value and those which demonstrate abilities to drive sustainability are absolutely important and should receive policy attention. In the energy systems this means renewable in all its formats should receive due attention.

We cannot look at an example from elsewhere where we only see the results of investments made over a period when some of these emerging concepts were not in place. Such examples are certainly not valid as solutions for today. When we have to attend to issues and in a situation where we have not really made any earlier intervention then it is important that we think, learn and act in ways that are more suited to the future rather than demonstrating blind followership.


Gandhian way of life

Can a Gandhian way of life be applied to a technology? Inside our bodies the process of metabolism derives energy from our food. With cities consisting of the same biological entities as primary energy seekers why not consider the same biological pathways in extracting embedded energies under benign conditions.

Biogas technology which is technically terms as anaerobic digestion is a quite a gentle technology system and that embodies what was envisioned in the question posed earlier. It has had an interesting history and has always been identified as a solution provider to issues facing the society.

When biogas became popularised in Asia soon after the first oil crisis, the expectation of it was to serve as a low cost energy source for cooking and lighting. As waste was to be the raw material the benefit from the public health point of view was equally understood. Thus there was the movement to connect toilets and the deployment of biogas systems in sanitation.

The pioneering biogas example in Matunga, Mumbai in India was linked to a leper colony and dealt with sanitation with the product used for cooking and lighting. With the passage of time the link of organic waste in landfills and the consequent rogue emissions of methane to the atmosphere with the understanding of climate change have resulted in diverting organic waste from landfills and making use of anaerobic digestion systems.

The captured methane is used in power or as a transport fuel and this has brought in a close loop system for urban waste and urban energy needs. Today it is the possible climate response via the biogas systems that is getting the attention of decision makers. It is important to understand that biogas systems are better as decentralised energy systems and this again is the pathway some economies are planning for their future. Certainly in circular economies decentralised energy systems will play a significant role.

Biogas energy generation can be identified as Gandhian way of energy generation. Mahatma Gandhi extols the virtues of ahimsa and he was always for non-violence even if the objective was to free the land from the oppressors. How is an energy system display this characteristic?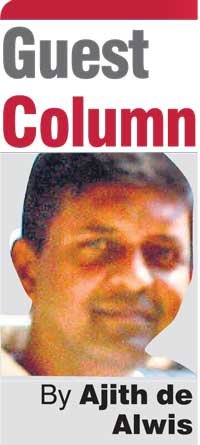 The biogas system depends on the use of benevolent stream of microorganisms in an air tight oxygen free environment. No harsh temperature and pressure conditions are needed as the process makes use of life in micro scale. The only process requirement being the provision of necessary and sufficient conditions for the anaerobic organisms to grow and function within a defined environment. They in turn make use of the waste provisions and through the metabolic activity produce what we the society can use for power and energy.

Biogas is a combustible gas which can be further purified to produce a fuel gas of quality equivalent to natural gas. Thus this is an excellent pathway to develop a society based on waste recycling and renewable energy. The absence of harsh conditions and the gentle process conditions are the equivalents to ahimsa conditions. The microorganisms are nurtured by providing optimal conditions and the benevolent environment leads to plenty of exhaust products which are what we require.

The non-violence nature is thus quite obvious. The gentle, ambient conditions, especially possible in environment such as in Sri Lanka, of biogas systems make it a clean technology of choice for sustainable development.


Unique history with biogas

Sri Lanka has a unique history with biogas. The technology came in around the 1960s and took roots in the 1970s following the initial fuel crisis. The Colombo Declaration identifying biogas technology for Asia was released in 1973. How many remember this declaration?

The foundation for the Pattiyapola renewable energy based village was also at a result of this event. The world's first renewable energy village – as an international project – with biogas unit as the centre piece of technology providing electricity with a mini grid happened at Pattiyapola in the Southern Province. Biogas had been by and large relegated to serving few households with the tag line 'a rural energy system' or 'pro poor energy mechanism'. Biogas in Colombo will certainly change that perception.

I have argued strongly for setting up a biogas based power plant to serve the City of Colombo in line with proximity principle of environmental management as well as demonstrating a climate friendly business capital.

Biogas is without doubt a more versatile renewable energy source due to its determinate energy value and ease of storage, hence, potential utilisation is independent of factors such as geographical location and season – a factor that most renewable fail on. It can be used directly for heating and electricity generation, and as substitute for fossil fuel applications, e.g., transport fuel.

The potential utilisation of the digestate as fertiliser can also reduce dependence on energy intensive mineral fertilisers. With the potential for green buildings in Colombo the waste yielding manure and the liquid digestate also providing opportunities in hydrophonics – plants without soil- would be a boon in changing the psyche of the city. We will not have extended supply chains for food but the city itself providing for oneself.

The triple benefit opportunities of biogas technology – environmental, energy and agriculture – again highlights the ahimsa approach as multiple benefits with one effort, etc.


Radical realignment of thinking

This demands radical realignment of thinking as per city planning. Some appear to be alive for such needs as shown in a science model where the visitors are challenged to design their own energy system. Even if there is not the immediate application the next generation of decision makers certainly will grow up with a much more open and an enlightened mindset after such experience.

That is a function of a city science centre – another requirement where the Colombo as a city may be desperately seeking! A landmark that is conscious to the enlightened mind by way of absence. Let us think consciously what we have to do in turning our city to be an iconic City of Substance!
[The writer is Professor of Chemical and Process Engineering at the University of Moratuwa, Sri Lanka. With an initial BSc Chemical engineering Honours degree from Moratuwa, he proceeded to the University of Cambridge for his PhD. He is the Project Director of COSTI (Coordinating Secretariat for Science, Technology and Innovation), which is a newly established State entity with the mandate of coordinating and monitoring scientific affairs. He can be reached via email on ajith@cheng.mrt.ac.lk.]