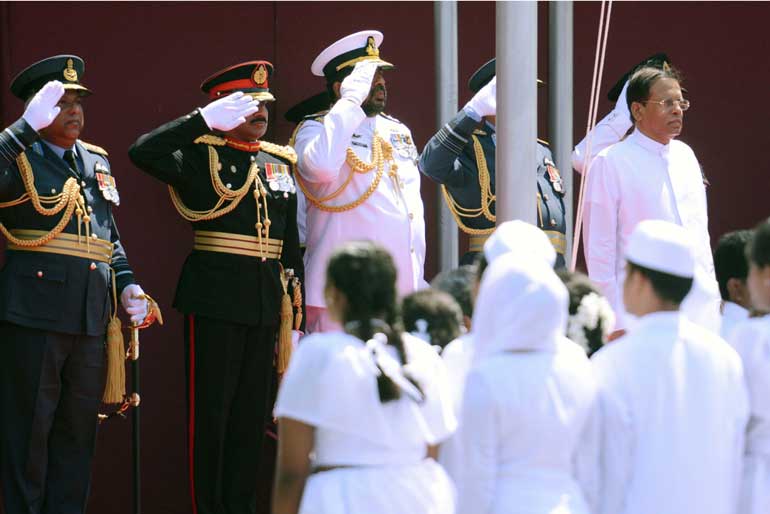 Much ado about nothing? The singing of the national anthem in Tamil on 4 February has generated controversy, constitutional invocations, and no small measure of churlishness, in some quarters of 'civil' society. After 68 years of freedom from foreign oppression, it seems there are still lessons for Sri Lanka to learn about unity, true nationalism and how chauvinism is the first refuge of a deeply insecure majoritarian complex
In many ways, we've had a long wait to hear liberty bells being rung in the expected quarters. Our land lay supine and plundered for 443 years since Lourenҫo de Almeida set his heart on rapine and pillage – and three successive colonizers followed suit to exploit the treasures of our country as a commercial opportunity. That epoch ended in 1948, with the raising of one national flag and the singing of one national anthem in then Ceylon's two national languages.

After that, we Sri Lankans – with a little help from our friends at home and abroad – have managed the rape and desecration of our own resources and opportunities. For 68 years since that signal day when Tamils and Singhalese stood united under one flag. Singing independence in our own tongues and hymning in our hearts that precious liberty with bells on. Along the way we've suspected, subverted, sabotaged, slaughtered each other – often, ironically enough, in the name of the parity and equality we've independently embraced and separately espoused. There seemed little if any hope that united we could stand again under one flag.

So it is no mean day when Singhalese and Tamils can gather beneath one banner at an iconic event and sing their mutual national anthem in their own languages. No matter that its singing was done separately. Or that one began the ceremony and that the other ended the commemoration. The credit for this gesture of goodwill and great-heartedness must redound to the account of a movement and a machine that has been militating for unity and harmony among our island nation's panoply of people since long before it assumed office as the state's governors a year and two months ago to this day.

That amongst its movers and shakers are men and women of genuine goodwill and great spirit is no longer in doubt. Their gesture in the face of puerile opposition or legalistic passion more than demonstrates that government's heart is in the right place in this cause; and that once its mind is set on doing the right thing by all its people, it gets done. A new hope is rising again in right-thinking circles of dispassionate policymakers – so we must say, together with all supra-constitutional liberty-loving Sri Lankans: good for you, sirs! (And, possibly, madam; as some commentators see the hands of a triumvirate in the inclusive pluralism which has become de rigueur for government these days...)

Strong opposition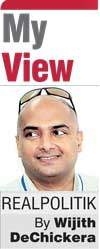 Of course, we can't expect everybody in our Blessed Isle to be exactly ecstatic. In fact, some clearly weren't – In fury, some cold-bloodedly said so. A VIP who used to be Somebody – but who isn't Anybody too significant these days, and was clearly a Nobody at the independence day event – was none too pleased. In no uncertain terms (ignoring bigotry in his own backyard), he characterised the singing of Sri Lanka's unifying anthem in both of its national languages as a betrayal (of the war victory); a breaking down of a bastion (majoritarian nationalism); a bulwark for separatism (but selectively, only minority Tamil nationalism in his opinion) to raise its ugly head again.

That he was not alone in saying what could or should otherwise be brushed off as personal animus or the pretentions of an autocratic chauvinist must be cause for some concern and caution on the part of more inclusive and pluralistic democratic-republicans. But whether it is a lion baiting his captive sheep or wolves in sheep's clothing head-butting their once lionized shepherd, inveigling him to roar again, one can't easily tell. Whichever it is – a former strongman rattling his leonine sabre, or an expectant followership rousing semi-recumbent ex-leaders to sinister expressions of intent – it is evident that nationalistic chauvinism has not retired to greener pastures or 'bought the farm' in a coup d'état quite yet. There be dragons here.

Softer opposites

Of course, not everyone in our Republic is as passionate about the issue. In fact, apathy and ignorance might be the lot of most observers of last Thursday's path-breaking initiative towards more inclusive reconciliation at the national level. The majority of Sri Lankans may feel about it as much as they feel about Sinha-lay stickers. They don't know that it is potentially nationalistic and not as patriotic as they presume – they don't care that such seemingly innocent ideological slogans once set off long-lasting conflagrations in times not out of mind as yet.

There is little to be commended in such non-engagement with the potential dangers of a discourse that has #nationhood, #homeland, and #separatism (or separation of identity by ethnic markers) as its parameters. Except that such indifference to ground realities rarely starts wars... it just has to sit back and let the hostilities run us down to earth while it runs its course. Perhaps there is something to be said for Sri Lankans who are so sick of ideological wars that lead to actual conflict that they'd rather sit back and let someone else's stickers and slogans do the talking. Perhaps not.

Significant others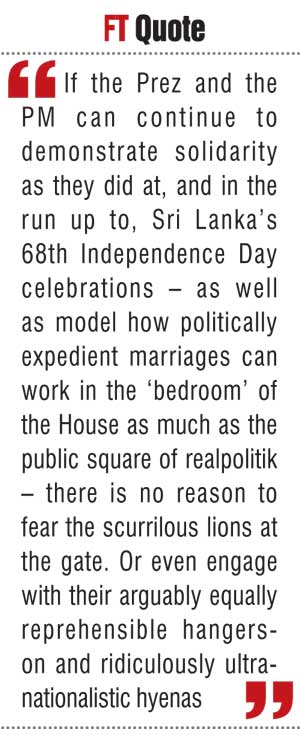 Of course, it isn't the usually tender-minded (or dispassionate?) polity that is setting the agenda in these days of impending reforms tied in to nation-building. In fact, it appears to be an increasingly tough-minded (or desperate?) political leadership that is chalking the playing field and strategically moving the goalposts.

The President, for one, might have surprised his detractors and monetarily silenced hostile dissenters by taking a strongly patriotic line that managed not to disintegrate into nationalism – which is the last refuge of scoundrels and the politically desperate.

That the Prime Minister was tight-lipped and unsmiling during most of the day's events should not dissuade his electorate from him remaining committed to sweeping reforms of which he is widely perceived as being the chief architect – despite the chief executive receiving both kudos for significant victories and disapprobation for what seem like minor imbroglios but might well be major fiascos taken in a larger context.

If the Prez and the PM can continue to demonstrate solidarity as they did at, and in the run up to, Sri Lanka's 68th Independence Day celebrations – as well as model how politically expedient marriages can work in the 'bedroom' of the House as much as the public square of realpolitik – there is no reason to fear the scurrilous lions at the gate. Or even engage with their arguably equally reprehensible hangers-on and ridiculously ultra-nationalistic hyenas.

Silent opprobrium

Of course, it isn't only the cowardly chauvinists in informal opposition ranks who are being opportunistic. In fact, government is playing the same game on the other side of the table by sending out essentially the same signals to its most significant constituency (if you will forgive the simplistic assumption of a singular voter base) that a previous oppressive regime once did. But in a more structured, responsible, and reasonable-for-realpolitik way (one must assume the matter of one's constituency is a complex one these days).

That there was a lion float symbolizing the sovereignty of the Sri Lankan state; that there was a mighty show of the nation's military might and its determination to safeguard territorial integrity once secured; that the keynote speech was in Sinhala only, and that cultural impedimenta set a certain nationalistic tone, while the world in the shape and form of the gathered diplomatic community watched. All these send out strong signals that smack of the republic's still-very-much majoritarian ethos.

There is, in this light, much more to be said of government's deliberate intention to send a counter-signal to its critics and champions alike. However they may have to pander to the relatively harmless majority sentiments, there is no going back on its commitment to a more representative, inclusive, pluralistic Sri Lanka.

Singular opportunities

Of course, it isn't only government that gets to – or should get to – reinvigorate flagging belief in liberty's frills. In fact, if we (its electors) don't endorse their thinking when they get it right – per their manifest promises and a multiplicity of potential mandates from civil society – we might well get liberty cut up into little pieces again.

Which is, perhaps, a departure from Montesquieu's or John Hobbes' definition of power-sharing and delving into a resurgent Mahinda's and a racist Joe Q. Public's desire for power.

Lest we forget that we are a diverse republic, let us the people celebrate as a nation and perpetuate in our own neighbourhoods and spheres of influence all the things that government does to move us towards becoming a more pluralistic, inclusive, country.

Let the elected representatives of the people who are pleased to think of themselves as our political leadership remind themselves that they are servants of not simply the constitution as a letter of the law; but the good, pleasing, and perfect will of its right-minded citizens – which is the spirit of Sri Lanka.

In the past (the 1949 singing of the national anthem – jointly, successively – in Sinhala and Tamil) is our future. There is little or only legalistic merit in referring the matter to a constitution that is a dead letter in many other respects in the present. We hope our Third Republican Constitution will at least propose scheduling its singing in both national languages.