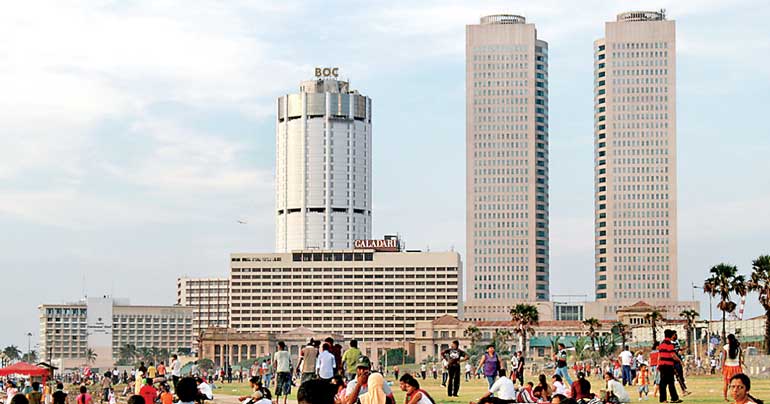 BOOM AND/OR BUST – on one hand congratulatory enthusiasm by the international monetary and political powers that be, coupled with handouts that underline their largesse as much as global commitment to Sri Lanka's burgeoning investor and development profile; on the other, on the other, a lack of critical engagement by domestic voices of a content polity seduced by sundry prosperity gospels
I am hardly an expert when it comes to finance. My best fiscal efforts have brought tears to my better half's tender eyes. The most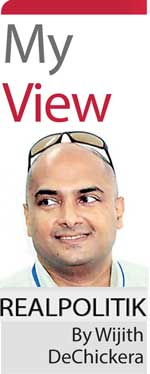 tough-minded fiduciary decision I have ever taken would have Keynes, Friedman, and Greenspan, nodding solemnly and agreeing that some men just don't understand money. That probably has you smiling and wondering whether this is a column on subversive politics or the confessions of a self-made pauper. It is less of a laughing matter that if and when a prime minister in general and a finance minister in particular stand accused of the same naïveté, or something nastier, the joke somehow seems to be on us – Or that someone is laughing all the way to the bank…

But I don't want to fruitlessly digress into overripe scandals about Central-Bank bond-scams, suspicious deals made on the never-never with Government adopting a hush-hush policy on public matters that it wishes kept private, or the laughable laissez-faire, laissez-passer approach that too many of our more democratically minded leaders seem to be adopting for comfort as far as republican values go. (He said breathlessly.) There is no space for gossip, rumour-mongering, reaping the whirlwind of RTI among principled commentators in responsible rag-sheets who eschew damned lies and statistics; while desiring the whole truth no matter how sour or rotten. This is not the time and place for it – as the bishop said to the actress.

So bear with me while I attempt to frame a question that has been skulking at the back of my thick skull cogently enough for the kos polos to comprehend. It is to do with how money matters at the macroeconomic level are presented for the consumption of a public greedy for good news and still gullible enough about good governance.
On the one hand
In the right corner:
Government is growing a pair and threatening to expose the power and financial abuses of the likes of Gota in advance of LG and/or general elections;
The foreign minister is a fountainhead of eloquence, erudition, and effervescent egalitarianism overseas – while the finance minister is a wellspring of brilliant schemes (pun intended) to rake in the shekels for state coffers and streamline non-strategic, non-performing, non-state enterprises;
A German tourism giant (TUI) is looking to expand into and invest in Sri Lanka's travel and hospitality industry including setting up training ops here… a sign of their confidence as investors in the island-nation's greater future, enthusiastically posted on social media by scurrilous spinmeisters with vested interests in fanning the flames of the propaganda blitzkrieg of the powers that be in the absence of a real war to garner the sympathy of the starving masses or the popular vote of captains of commerce and industry;
Plus many other sunshine stories about booming investor confidence and a blossoming macro milieu too numerous, numinous, amorphous, and generally painful for human beings challenged by the BS factor to mention here…
On the other
In the left:
A head of state who preaches austerity to an audience of prelates and the progressive hoi polloi he fondly imagines will prop up his presidential ambitions; but is compelled to hand out perks, powers, privileges, positions, to the parasites in parliament who perpetuate a crumbling coalition for the specific purpose of passing unpopular but perhaps desperately pressing constitutional reforms
An irascible premier who believes in the republican virtues of honesty, integrity, probity, as long as his cabinet colleagues and blue-eyed boys are not expected to toe the line when it comes to transparency and accountability; especially if they're upper drawer super ministers or loyal underhand finks (short for what I can't say to sathosa – er, satisfy, you for fear of libel and slander)
The dismal picture that no democrat worth his salt will spill: one of "irredeemable debt, unfavourable markets, diminished reserves, lack of FDI", rupee value declining and falling, flight of foreign capital, growing suburban street demos signifying middle-class unrest (as only editorialists and letters to the editors of national newspapers dare to essay)That shameful phenomenon known as supplementary estimates for the House to approve of super-luxury vehicles for MPs' carless garages, while members themselves remain careless about their surprised, shocked, or starving constituencies short of election time
_ A country that is parched peevish at the lack of rain, but drummed out or drowned under the periodic deluges when the heavens open to signify that our guardian deities are still pleased by the virtues of our governors
My question – posed purely as an amateur and someone whose opinion in monetary matters (or for that matter: issues fiscal, financial, fiduciary, macroeconomic – and call me jaded; but I think even the experts would struggle to distinguish and differentiate these spheres in real life) is nil, nada, nein, niet, non est – is this…

WTF is (really and truly) going on here, dear? Is it a boom or bust, a bulge in the investment cycle and not a gun in the finance minister's pocket, inflation, stagnation, stagflation, or some general silliness like business as usual while the country goes to hell in a hand-basket as has been par for the course under successive corrupt regimes (to one extent: systemic nepotism; or another: strategic cronyism) that you and I know nothing about or could care less for?

There is a time and place for everything under the sun – and now that the bad guys are out of power and only the ugly are hovering on the fringes of government like an old girlfriend who still has feelings for you, it's the good guys on whom it's incumbent to present a clearer, sharper, lucider bigger picture. Sadly, it's the good guys and their gospel of prosperity – with their peace for the periphery and ripe plucking for the powerful – that mother might warn us about today.

In the meantime, I have another confession to make… in what must surely be an off day in the great scheme of my foolishly undertaking to bark like a mad dog at the caravan of realpolitik. As circuses go, it's a good enough circus, but as caravans go, it went… and with it my reputation as a voice in the wilderness, prophesying against the good, the bad, and the ugly alike. But my confession is more to do with the weather: I can't make head or tail of it – and as my German meteorologist friend said just the other day: "Mann kann sich nie auf das wetter verlassen, nicht wahr?" (Which, roughly translated for consumption in a republic tottering under the rainclouds of realpolitik, reads: 'Being your brolly, brother, it's the sunshine we're bothered about.') There is something rotten in a democracy where the former rogues and scoundrels ripped our entire republic off by auctioning the national silver to foreign powers with glad eyes on a 'String of Pearls'. But where the decent blokes – who decried it then – are endorsing the principle as well as the practice now – who deny it today with equal vim, vigour, and vitality. While, to boot, they give their good wine needing no bush the full propagandistic treatment!

What's that, dear? It's drizzling? Yes well, when troubles come they come not single spies but in battalions. That downpour of international largesse, that thunder shower of tremendous investment boosts, the flash flood of brilliant ideas to raise castles in the air of revenue for state coffers? It's advance warning of the rain and shine – and/or rain and/or shine – to come… It's realpolitik with the ante upped – It's the economy, stupid – It's where the battle-lines for the blessed-isle's real well-being and future progress and prosperity are really and truly being drawn! Time to brush up on matters fiscal, financial, fiduciary; time to mug up on the bottom line; time to get in on the down and dirty; because the money shot is why, where, what – and how – the frame of our fame and fortune are being made up – the honey pots…