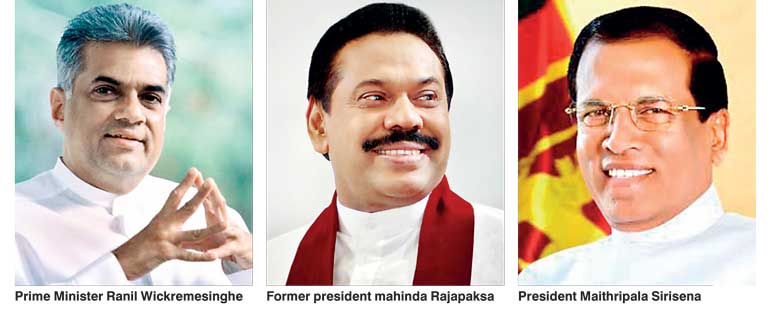 James Thurber the American author is best known for his famous short story published in 1939 called the 'The Secret Life of Walter Mitty'. Thurber's article created the awareness that most people from time to time had an episode of imagination. I call this the Walter Mitty Syndrome

This is best illustrated from the first paragraph of his article:

"We're going through". The Commander's voice was like thin ice breaking. He wore his full dress uniform, with the heavily braided white cap pulled down rakishly over one cold grey eye. "We can't make it sir. It's spoiling for a hurricane, if you ask me." "I'm not asking you, Lieutenant Berg," said the Commander. "Throw on th

e power lights! Rev her up to 8500! We're going through."

The pounding of the cylinders increased: ta-pocketa-pocketa-pocketa-pocketa. The Commander stared at the ice forming on the pilot's window. He walked over and twisted a row of complicated dials. "Switch on No. 8 Auxillary," he shouted. "Switch on No. 8 Auxillary," repeated Lieutenant Berg. "Full strength in No. 3 turret," shouted the Commander. The crew bending to their various tasks in the huge hurtling eight-engined Navy hydroplane looked at each other and grinned. "The old man'll get us through," they said to one another. "The old man ain't afraid of hell."

"Not so fast! You're driving too fast," said Mrs. Mitty. "What are you driving so fast for?" "Hmm?" said Walter Mitty. He looked at his wife in the seat beside him, with shocked astonishment.

So Walter Mitty whilst driving his car was imagining that he was piloting a navy sea plane in a storm.


Everyone at some time could have Walter Mitty Syndrome

It could range from a man banging away at his old car getting the enthusiasm for it by thinking it was a sleek sexy Ferrari, or a politician in a dream world of exercising power he did not have.

The current political scenario appears to be a huge Walter Mitty Syndrome. The key players are in a dream world. They are plotting and planning and manipulating to get to the throne of power, with very little concern about developing strategies for growth! So, let's take a peep at their probable dream world.


RW

So what is Ranil Wickremesinghe dreaming about? As he is being driven to Parliament, he is making the speech to the nation after winning the election with a four-fifths majority. He says: "The people want me to be the all-powerful leader. The Constitution will be changed and all the powers vested in the Prime Minister. All the corrupt politicians will be kept in jail for a long time. MS will be a token Head of State and will be taken out of storage only for ceremonial functions. The period of the Parliament will be extended for 15 years as the people want me to be in charge for a long period of time."

At this stage of his speech his security man will say: "Sir, we have reached Parliament." RW will shake his head and say, "What, what?" The security man will repeat, "Sir we have reached Parliament."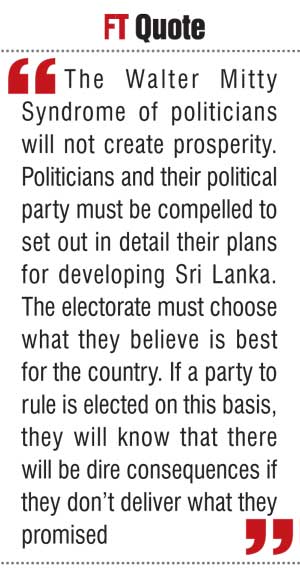 MR

He is being driven down the motorway to Colombo. "I thank the people of Sri Lanka for my overwhelming victory. I won 90% of the seats. I respect your wishes and will impeach the President. I will respect your wishes and change the Constitution and have Parliament appoint me your President. I will respect your wishes and change the silly rule that said I cannot rule for more than two terms."

Mrs. MR: "Mahinda you are talking to yourself. You are also waving, but we are on the highway and there are no people on the roadside." MR says: "Eh, eh, what did you say?"


MS

Seated in his office: "I must say I am sorry for allowing the UNP to make a mess of everything. I am grateful to the people of Sri Lanka for placing their trust in me. I have decided that I will take control. I will appoint a SLFP prime minister who will work under my leadership. I will appoint ministers who will follow my guidance. The farmer from Polonnaruwa will take this country to great prosperity."

Mrs. MS: "Are you alright? I did not see anybody going into your office but I heard you speaking for a long time."


Economics not dreams will give us prosperity

In the current political scene the sole focus is on getting power and keeping power. Do our political leaders want to get elected so that they could do good for the country? Or do they want to get elected because it will be good for them and they can get their fingers in the honeypot? Will this mean that without any plans for the development of the country, they will try to get elected with a combination of fairy stories and thunder box oratory?

We cannot allow that to happen. We must demand that all who vie for power must set out detailed plans of what they will do if they come into power. Whoever is elected must be held accountable to deliver what was promised. If they don't, the public must agitate. With the power of social media it can become a tinder box ready to explode if the politicians do not deliver on their promises.


A comprehensive plan for our country

Every leader aspiring to lead the country must be compelled to publish their plans. A plan for the country must have two components. A commitment to core values. Freedom in its many dimensions. Freedom of speech, freedom to write and express views, freedom to practise ones religion, freedom from corruption and nepotism. Whether one is rich or poor, one will feel better if you can breathe the air of freedom.

Every political leader must declare a strategy for development. A small sample from the menu of development options have been set out below. These illustrate the type of issues the politicians must consider and then declare their chosen path to take us all to prosperity.


Rural centric

There has to be holistic over view of the thrust of development. Is to be a rural centric model as about 75% of the population live in either very rural areas, or very marginally urban areas. If this is the model, what is the essential infrastructure to support it? Is it groups of villages linked to minor urban centres that will support it, with a hospital, secondary education, finance for SMEs and the administrative services? Will this approach be complemented by getting industry to move to rural areas, so that people can cycle to work from home?

The heart of the rural model will have to be protected. Agriculture must be protected from imports that can destroy it. The plethora of small industries that sit side by side with agriculture must also be protected.


Urban industrial centric model

Would the thrust be to develop industry and exports as the engines of growth? If that is the strategy, how is this to be created, how is it to be financed, and how will it affect the current rural base of the economy?

Will free trade agreements be entered into with India and China to gain access for our exports? Can this be done without free trade destroying our agriculture and the SME sector? Is there a strategy to take China and India for a ride and to get access to their markets and prevent their exports destroying our industry?

In either model, or any other, the method of managing other key issues must be set out. How will the current foreign debt be paid off? How will the local debt be reduced? What is the target debt to GDP ratio? Projections for government revenue and how the budget deficit will be managed, the investment in infrastructure and how it will be financed, etc. This is just an illustration of the type of issues that must be addressed in any sensible plan

Plans not dreams will

give us growth

The Walter Mitty Syndrome of politicians will not create prosperity. Politicians and their political party must be compelled to set out in detail their plans for developing Sri Lanka. The electorate must choose what they believe is best for the country. If a party to rule is elected on this basis, they will know that there will be dire consequences if they don't deliver what they promised.