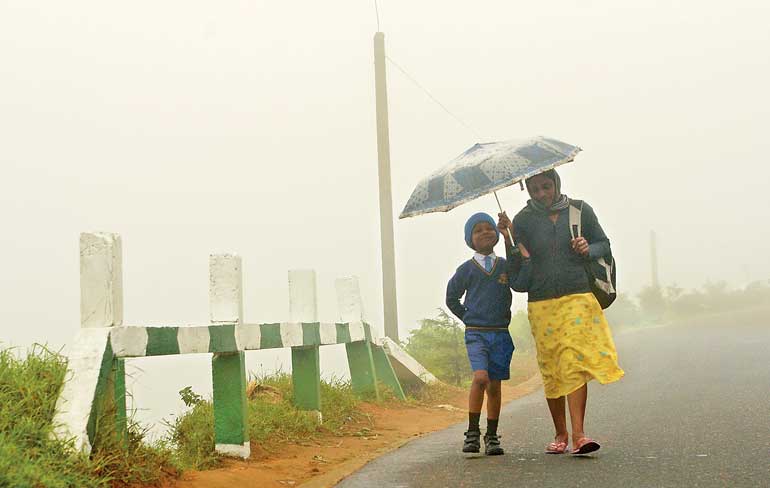 A boy going to school on a misty morning up country. More than 500 schools in Sri Lanka are without basic sanitary facilities and only around 1,200 schools have science education going beyond Ordinary Level, while only 1.9% of GDP was used for education in 2015 – Pic by Shehan Gunasekara
It can be safely stated that most of the time our rhetoricians are not mathematicians. The current state of STEM education is enough evidence. Though rhetoric is flowing freely and forcefully and in abundance the reality is that it is only what we have had for much of the time – no insights, no solutions.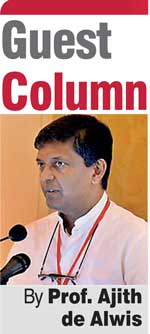 The earliest perhaps well-known and heard of rhetorician and a mathematician was Pythagoras. Some say that his real name is not known but this is a nickname bestowed on him by his ardent followers. The name is supposed to mean "He who spoke truth like an oracle". It was the quantification of a situation and the lucidity of delivery that had set him apart from the crowds or rather reason for crowds crowding him to listen to!

Pythagoras believed and worked to demonstrate that all objects can be described by using numbers and ratios. It is said that Pythagoras and his followers were the first (may be if taken the Greek civilisation) to understand the world through imagination and not via religion or empirical data. His imagination was connected to expressing situation via numbers and then understanding.

Today I produce lines of data available from our country on various issues taken from both primary and secondary sources. I wish no order in this nor any subject preference. We produce data for many areas but they do for most of the time stay on as data serving very much less than their potential.

Data have stories embedded upon analysis and properly utilised can give rich dividends. In our rhetoric we should perhaps not simply rattle out odd bits of data indicating that as the problem and the only solution too but look at the form of data in more detail. The following data thus carry stories and there are connectivity too.

Resolving one can solve another and perhaps therein lies the need for understanding the form, the pattern. The sources are not indicated for the sake of space and to give the data line more prominence but are available upon inquiry.
More than 500 schools in Sri Lanka are without basic sanitary facilities
Only around 1,200 schools have science education going beyond Ordinary Level
Only 18% of Sri Lankans stay in cities (18% urbanisation)
1.9% of GDP used for education (2015)
National early childhood care and education program 2014 budget is Rs. 22 million (0.008% of GDP)
76% of rainwater is run-off water – so it goes into the ocean without being used
Between 2015 and 2016, four hundred thousand have left the shores of Sri Lanka for jobs abroad
24,000 dead so far and 90,000 suffering from the disease with five to six dead per day – the CKDu burden
The cost of corruption as estimated by TISL in Sri Lanka is amounted to staggering Rs. 322 billion
In 2014, 250 State enterprises made losses
Post-harvest losses in fruits and vegetables – 30-40% of the production
The 2015 expenditure on fruits from abroad was Rs. 5,637 million (45 mkgs)
Fiscal deficit of Budget 2015 is 5.4% of GDP
83% account penetration among all adults in Sri Lanka
In 2012 2.5 million of the population was above 60 years (12.5% of nation population)
2016 World Press freedom Index Sri Lanka 141st from 180 countries. This is an improvement of 24 positions from last year and Sri Lanka became the country that rose most
2016 Enabling Trade Index Sri Lanka was positioned in 103rd place among 136 countries
2016 GDP growth slowed to 2.6% in 2Q, reflecting the impact of floods in May on agriculture and manufacturing
Only about 3.5% employees report occupational related accidents though mandatory to do so
Accident and Orthopaedic service of the National Hospital in Sri Lanka treated 102,321 accident victims in 2015 and 12% were occupational related
500,000 man days are lost annually due to occupational health hazards (Dept. of Labour)
Due to lack of labour, apparel and textile sector factories are operating at 65% efficiency
Foreign Employment Ministry indicates that each month over 13,000 female workers seek foreign employment
Active internet users 6.09 million (27.4% penetration – June 2016)
Active social media users 3.5 million (17% penetration – Jan 2016)
25.83 mobile connections! (124% vs population – 2016 Jan)
4.2 million Facebook subscribers (18.9% penetration – June 2016) and 119,000 twitter users (Dec 2015)
47 patients died of HIV in 2016 which is a 157% increase over 2015
Sri Lanka has had 6,168 research publications in the period 2010-2015
Of 149,572 students who were eligible to enter to the university system only 25,624 were admitted (from 2014/2015 A/L)
Hi-tech exports as a percentage of the manufactured exports 0.9%
Death by electrocution, four per day (2015)
The expenditure on crude oil and refined products in 2014 $ 338 m (Rs. 44,132 m)
Average litres of milk yield per cow in Sri Lanka two litres (in Israel 30 litres)
Headcount of R&D scientists (all sectors) – 5,705 (2013)
Researchers per million population in Sri Lanka – 278 (2013) the same for Singapore in 2012 – 8,486
The degree of self-sufficiency in milk production (2015) – 40%
Gross expenditure on R&D as % of GDP – 0.1%
Do you see when you scan the list interesting lines of data, ammunition for taking opponents or opportunities and challenges that need to be tackled?

Victor Hugo has reputed to have said, "He who opens a school door, closes a prison". We may have data on schools closing and crime rates going up as two distinct data points and two ministries (at least) trying to solve these situations separately. Do we ever use the data together and think creatively to have a plan that understands such connectivity?

Do we associate our successful achievement of some of the MDG goals even before some have identified MDGs in the first place to our successful education process at the time? Today with tuition and schemes of education where learning and values being not at the centre of the equation, do we feel ashamed of still some schools having no sanitation facilities? The state of some of the existing facilities may shock us too if we take a closer look.

Again we have written on this column the possibility of tons of garbage should be an integrated exercise between three ministries – environment, power and energy and agriculture. When bringing in gully bowsers and septage transport we may actually include Ministry of Water supply too with the same solution! Biogas – an integrated solution that defies current rules and regulations but actually would solve the problem.

It is not about for each and every issue creating inter-ministerial committees but allowing fruitful public sector alliances in a fluid manner with flexibility and allowances when such opportunities are seen. I do hope we can have a Daily FT index such as Harper's Index where the mosaic of data can be looked into with an open and an analytical mindset to understand the multiplicity with the broadsheet providing the canvas for the citizens.