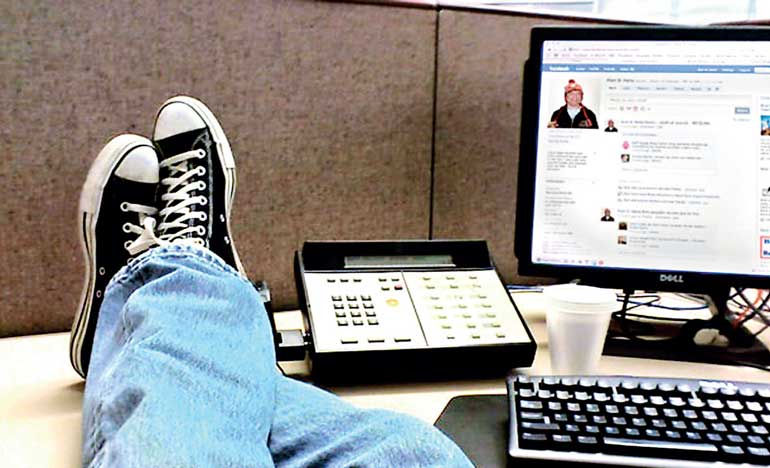 Employees often spend extended periods of the workday cyberloafing
Loafing is often associated with lazily loitering or lethargically lounging. Now we have a newer term, associated with computers. Cyberloafing is when you loaf in cyberspace. Today's column will probe its prevalence in Sri Lanka along with its associated pros and cons.


Overview

Cyberloafing is a term used to describe employees who surf the net, write e-mails or conduct other Internet-related activities at work that are not related to their job. These activities are performed during periods of time when they are being paid by their employer. The individual is called a cyberloaf(er), while the act is cyberloafing. There are other associated terms such as cyberslacking or goldbricking.

The term goldbricking aptly highlights the key essence. According to Wikipedia, the term originates from the confidence trick of applying a gold coating to a brick of worthless metal. While an employee may look busy and occupied, he or she may add less value to the organisation as their focus is elsewhere. Mark Gimen, a staff writer for the Salon Technology website states that cyberloafing costs US employers $ 1 billion a year in computer resources.

This is one clear example of its bad side, which is often highlighted.

A recent Kansas State University study published in the 'Computers in Human Behavior' journal reveals that between 60 and 80% of an employee's time on the Internet is spent doing something other than work. This could range from checking personal email to even personal financial transactions.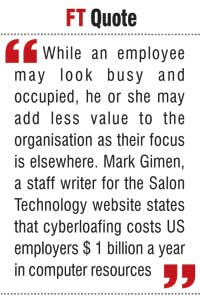 Key forms of Cyberloafing

Based on recent research findings, the following can be highlighted as the commonest forms of Cyberloafing.


Checking personal email

Many employees keep their personal email account open all day. There is nothing wrong with it. Yet, as Jada A. Graves, an editor at U.S. News highlights, issues arise when personal email becomes often the gateway distraction into other forms for cyberloafing. Opening up a daily emailed newsletter leads to catching up with rarely seen buddies and solidifying happy hour plans, and before you know it, you've neglected correspondence on your professional email account.

Plus a lot of personal mail accounts host some form of instant messaging, which can either be efficient for interoffice communication or inefficient for out-of-office chitchat.

This is a very common occurrence in Sri Lanka, with the popularity of Gmail, yahoo mail or even hotmail.


Social media

In 2012, Learnstuff.com released a document detailing how websites like Facebook and Twitter were reducing the productive time available to work. Facebook is the most popular time-wasting site; employees are interrupted once every 10.5 minutes by tweets and instant messages. As the report further reveals, it takes approximately 23 minutes for employees to regroup after using a social media website, and each user is costing his or her company nearly $ 4,500 every year.

During the recent past we have heard of several stories of the 'bad and ugly' side of Facebook in Sri Lanka. I have seen many employees start their day in office accessing daily newspapers, gossip sites and many other websites of that nature, offering a variety of entertainment.



Playing games

Scrolling down a Facebook newsfeed or updating your status only takes a few seconds. It's some of Facebook's other capabilities—like Candy Crush Saga and Bejeweled Blitz—that truly eke into corporate time. According to PCMag.com, 25% of Facebook's active users each month are playing games, which is a whopping number of people for a site that has more than 1 billion members.

We might not have reached such a point in Sri Lanka, but there are cases where younger employees (Generation Y) are more inclined to do so.


Watching videos

As reported by US News, YouTube contains a whole heap of "time-sucking" videos, and it has a few imaging cousins that are also pulling in page views from those who should be working. Many major news outlets offer online streaming, particularly for important live events. Netflix, Hulu and HBO Go also offer streaming options for those hoping to keep up with their favourite movies and shows. CBSsports.com and ESPN.go.com provide online coverage of sporting events like March Madness, the Olympic Games or the World Cup.

This is a very popular activity in Sri Lanka, with employees frequently watching cricket and catching up on news. When a tournament is on, a hidden window (to watch when the boss is not around) of Cricinfo is open. Also, it is not so uncommon to watch 'forbidden scenes' of celebrities.


Shopping

Online shopping is one of the more common cyberloafing activities of office employees. According to a CareerBuilder survey, 16% of employees in the United States were planning to catch some Cyber Monday (a marketing term for the Monday after Thanksgiving week in November every year) sales in 2012, while 49% expected to do a little online holiday shopping in the office sometime in November and December.

We are also making strong headway with popular e-commerce websites. Finding cheap airfares through websites is also becoming increasingly popular.


Managing finances

According to the earlier cited Kansas University Study, US employees of all ages admit to cyberloafing but surfing indulgences varied. Older employees weren't tweeting and playing Words with Friends like their younger colleagues. Instead, they were indulging in a little money management. Especially with the provision of online tax submission, the number of employees using their office's web connection for filling out and filing schedule has become a common feature.

We are also moving there with internet-based billing services offered by several leading banks in Sri Lanka. With more e-government initiatives, facilities to pay dues through the internet are becoming increasingly common.


Job searching

There are common websites that connect you to attractive job offers. Whilst there is no harm in searching for something better, doing that during the productive working hours is the issue. This is also becoming popular in Sri Lanka.


From Cyberloafing to Cyberworking

One may ask whether cyberloafing is inevitable. That is of much relevance to Sri Lanka. I was teaching a course for public sector employees several years ago, with a distant learning component where the students had to download reading material.

The majority of them were doing it during work hours as they did not have internet access at home. The situation would have changed by now with more attractive home internet offers.

The subtle balance between cyberworking and cyberloafing is worth discussing. It is the tendency to digress or get derailed or distracted while working with computers. The issues arise when it becomes excessive.

Excessive personal use of office internet could have dire consequences. A recent Modis survey in the US found that 30% of IT professionals admit their departments monitor employees who might be violating content policies. And 48% of IT professionals admit their company does some sort of banning, blocking or throttling of non-work web content. Additionally, CareerBuilder reports that 25% of employers have fired a worker for cyberloafing.

Certain multinationals operating in Sri Lanka maintain comprehensive IT practices including restricted access to identified websites. Popular websites such as Criccinfo are available after working hours, with a time-linked sensing.

The challenge here is to maintain a balance. "A good, motivated employee is going to be engaged in their work," says Dave Lavinsky, President and Founder of Growthink, a business planning and strategy consulting company.

"Yes, they're going to goof off sometimes, but for the most part, they're going to be focused and you're going to get a lot out of them. When companies choose to play Big Brother and heavily monitor computer use, they're not going to have happy employees that are willing to give their full effort."


Positive uses of cyberloafing

However negative it appears, there are positive aspects of cyberloafing as well. According to a study conducted by the National University of Singapore, cyberloafing can actually serve as a coping strategy against negative workplace experiences. Their research shows that although emails which are not work-related can be time wasters, internet browsing may have positive benefits.

Enhancing knowledge and gaining inspiration for innovative practices are some other benefits of cyberloafing. It can give a sense of relaxation to a stressful employee or a way to get connected with someone in a different time zone during working hours.

Getting updated on weather or helping spouses at home through an urgent internet transaction could be some other possibilities.

"In formulating Internet policies, managers must recognise that blanket policies that prohibit all forms of personal web usage are not effective and excessive monitoring is likely to lead to employees' retaliation and stifle legitimate Internet use," concludes the Singaporean study. "Instead, managers and companies should work toward implementing acceptable internet use policy."

In other words, there has to be some flexibility with certain restrictions. If the organisation practices Management by Objectives (MBO) with key performance indicators (KPIs) for employees, then whether they cyberloaf or cyberwork will clearly reflect in their performance. A clear message of such individual responsibility should be communicated to all employees.


Way forward

Cyberloafing is prevalent in Sri Lanka, especially in the ICT sector. It is also gathering momentum in both the private and public organisations.

Flexibility with regard to internet access and firmness with regard to website restrictions are both required in order to maintain a productive workplace. Sri Lankan managers should be proactive and pragmatic in this respect.

(Dr. Ajantha Dharmasiri is the Chairman and Director of the Board of Management of the Postgraduate Institute of Management (PIM). He also serves as an Adjunct Professor in the Division of Management and Entrepreneurship, Price College of Business, University of Oklahoma, US)