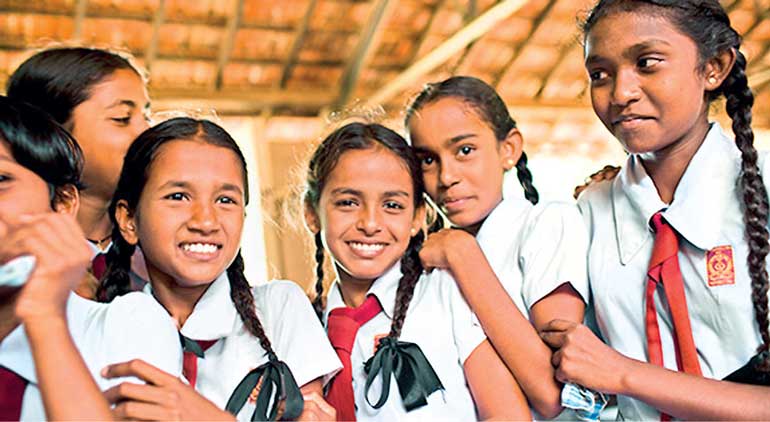 The Cabinet of the new Government elected on 8 August 2015 made nearly 700 decisions during the last 11 months, and 36 of these decisions concerned education or technological knowhow
On 9 September 2015, soon after the National Government Cabinet was announced last year, I wrote a column with the heading 'Making sense of the 48 portfolios in the Cabinet'. My outlook was positive.



"Having juggled to secure the presidency and then to form a minority Government in the general election, the President and Ranil Wickremesinghe are engaged in a tightrope act of governing, the likes of which we have not seen before. In consideration, I suggest we cut the Government some slack and see how we can build efficiency, effectiveness and accountability within the 48+ Cabinet which seems to be our destiny at this point."

Today, after nearly one year, the portfolios are essentially unchanged except when M.K.A.D.S. Gunawardana died and his portfolio of Land was given over to John Amaratunga and Tilak Marapona, Minister for Law and Order, resigned and his portfolio was given to Sagala Ratnayaka. Two additional portfolios were created to keep the number of Ministers the same, with the portfolios of Special Assignments created for Sarath Amunugama and Regional Development for Field Marshal Sarath Fonseka.

Maintaining a large Cabinet is indeed a burden on taxpayers. Some would compare costs of duty free cars for the Cabinet against the cost of nutrition package for pregnant women, for example, but I would not grudge giving the Cabinet Members the facilities they need to do their jobs, as long as they are judged on their performance.

Do our Ministers provide for themselves in order to dole out welfare packages to supporters, or do they make policies that drive the economy and create jobs that pull people out of poverty or help us as a society feel safer and more secure?

The Cabinet decisions in the past year are not reassuring. Our Prime Minister should take a leaf from his younger counterpart in Canada about guiding his Cabinet of Ministers. In November 2015, Justin Trudeau made public his ministerial mandate letters, essentially the marching orders for his Cabinet for the next four years, which he said will help Canadians hold their Government accountable.

In the absence of such a public declaration or even a sign of internal directives, we owe it to ourselves to check how our Ministers are doing. Through this column I hope to make an attempt, beginning with education-related portfolios. My method is admittedly limited, since I will using only press releases from the 43 Cabinet meetings held from 8 August 2015 to date. I could be missing some of the small but effective initiatives that did not require Cabinet approval, but we need to start somewhere.

The Cabinet of the new Government elected on 8 August 2015 made nearly 700 decisions during the last 11 months, and 36 of these decisions concerned education or technological knowhow. The proposals were put forward by five Ministers, including the Minister for Sports and the Minister for Science and Technology. Although the portfolio of Dayasiri Jayasekera, the Minister for Sports, does not directly concern education, it shows how one might make a positive impact in others' territory in a crowded Cabinet.

I categorised each of the cabinet papers as a policy or a project, and the projects were further categorised as welfare, construction or other. Projects are popular with voters. Beneficiaries will applaud and others would not care. However, I would take a good policy any day over projects that are not connected to potential or performance.

Of the 36 education-related Cabinet decisions, 31 concerned projects – welfare (4); construction (16) and other (11). Only five decisions concerned policies. The policies included cash vouchers for school uniforms and a continuation of that policy, recognition of NVQ qualifications for recruitment in Government and the Higher National Diploma in Accountancy (HNDA) as an alternative qualification to the B.Com degree in Government, and an Amendment of the Buddhist and Pali University of Sri Lanka Act.

Dayasiri Jayasekera (Sports)

I found Dayasiri Jayasekera's Cabinet paper on implementing a Sports and Physical Health Promotion National Week in January interesting in that it gave statistics from the education sector to justify it. The engagement of Sri Lankan children and young adults in sports is as low at 25% in schools and 8% in universities, he cited.

The other proposal to implement 13 development projects that included renovation or construction of stadiums and pavilions in Hingurakgoda, Thamankaduwa and Dimbulagala educational divisions as part of the 'Lift Polonnaruwa' larger project was an obvious 'Yes, Mr. President' project. Overall, if Jayasekera were to be given a mandate, would it include the participation of schoolchildren and university students in sports or would the mandate be shared with the two other relevant Ministries?

Susil Premajayantha (S&T/Research)

The Science and Technology portfolio is a problematic one because projects which are attractive to a Minister in charge would overlap with many other Ministries including Ministries for Industries, Higher Education, Information Technology, and others.

During the last 11 months, Premajayantha got approval for three projects – an e-education initiative (of which type of project we already have too many with no accountability); research on solar panels, for which I like to see our competitive advantage; and an international summit on technology.

If I were to a suggest a mandate for the Minister, it would be to evaluate the contributions of research institutes under his purview – i.e. National Institute of Fundamental Studies, Industrial Technology Institute, Arthur C. Clarke Centre for Modern Technology and National Engineering Research and Development Centre, and do a summit of those and the host of other research institutes under other ministries, to see how they all can learn from each other and justify the tax money spent them.

Another mandate would be to review the three grant and/or policy making bodies – National Research Council, National Science Foundation and the National Science and Technology Commission – and rationalise their missions. The Vidatha centres that were established under the previous regime too should be evaluated.

Akila Viraj Kariyawasam (Education)

Kariyawasam did the best in terms of policy, in my opinion. Two of his Cabinet papers were on the use of cash vouchers in place of procurement and distribution of materials for school uniforms. It is a bold experiment, the lessons from which can be extended to other services by Government, including the cash vouchers for fertiliser program which is being implemented more slowly.

However, I am not so enamoured by the 'The nearest school is the best school' program. It is the same old idea under a new name and continues the centrist approach to implementation with no regard to the autonomy that should be given to the provinces. His mandate should be to let the province run the programs, keeping a light but targeted oversight mechanism from the Centre.

Mahinda Samarasinghe (Skills Development and Vocational Training)

Samarasinghe got approval for Cabinet papers of which one was a policy to issue a circular mandating the acceptance of NVQ level 3 in place of GCE (O/L) and Level 4 in place of GCE (A/L) in Government recruitment and promotion.

The three construction projects approved are for the reconstruction and relocation of Automobile Engineering Training Institute, Orugodawatte and the construction of Advanced Technological Institutes (SLIATE) in Kegalle, Dehiwala, Jaffna, Galle, Gampaha, Kandy, Kurunegala, and Sammanthurai and improvements to the technical college in Vavuniya.

In his paper on SLIATE, the Minister says the SLIATE graduates are in demand. We like to see more evidence in that regard and more focus on the quality of other programs under his purview. The National Apprentice and Industrial Training Agency is a particularly important institution with monopoly powers over the private initiatives to expand training opportunities.

A Cabinet paper for funds for regular performance evaluation of technical and vocational institutions will go a long way to make the inputs to sector more effective. The inputs to skills development and vocational training relative to higher education too should receive more attention.

Lakshman Kiriella (Higher Education)

Kiriella takes the cake for putting forward the most education-related construction projects, not counting the larger highway projects which he put forward in his dual role as Minster for Highways. The projects receiving approval included extensive infrastructure development in almost all universities, but the Minister is silent on the accountability of these institutions. If he thinks the performance issues in higher education should be left as an internal affairs of the public university system, he is making a mistake.

I have written at length about what can and should be done from the outside to make our universities more open and accountable. If the Ministry does not focus on the performance and accountability of public universities, it will continue to pick taxpayer pockets to fund higher education, bring students to the doors of the universities with the Government absorbing the output, to the benefit of none but the 4% of Sri Lankan youth and the faculty and employees who enjoy benefits of self-administration with no accountability.