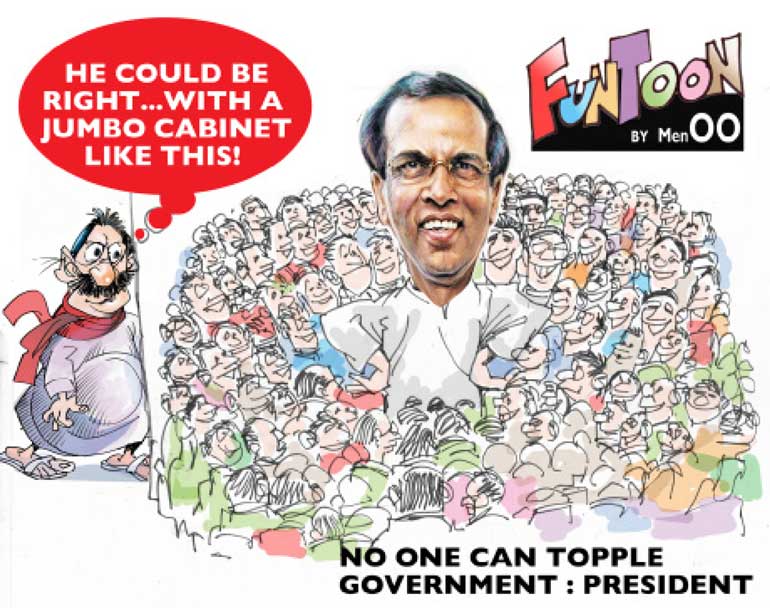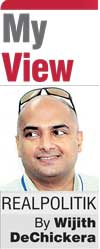 Did you feel that democracy is the worst form of government? Except, of course, for all the others that have ever been! Could it be, though, that we have seen too little of it, of late, to appreciate it least when it works best...

We have experienced less of it than some supposedly mature occidental democracies, but more of it than many if not most of our oriental neighbours. Westminster-style parliamentary democracy in the early glow of our independence's dawn had nice small cabinets; and only small change in terms of growth, development, progress.

Republican-style executive presidencies embraced more ambitious governmental and national developmental projects; but opened the door to the corridors of power for those who would usher in autocratic democracy or authoritarian republicanism. Realpolitik-driven coalition governments of the past two decades or so have seen gargantuan cabinets being built to bridge bipartisan divides; and explode the myth that a clean, strong, efficient, government has to be small and focussed for the most optimal impact. Ridiculously large and accommodating today, these are designed to accomplish the ambitions of a few – from the sublimely small and relatively exclusive cabinets of years gone by, which by default achieved the aspirations of many...

Good governance, when it raised its gorgeous head after much beating and battering under constitution-bending would-be despots, promised to end all of that. But it wasn't long before the pragmatic dictates of politics based on a hamstringing electoral system that hangs too many parliaments made it turn aside for a moment for the worse, looking strangely attractive like some gargoyle's head.

Bad enough the 19th Amendment under Good Governance's vision of government by a single party/faction/coalition envisaged a small Cabinet of 25 and got us all excited; it also brought in the possibility of a large Cabinet of 50, 75, 100 – or more – Cabinet Ministers (at Parliament's performers' pleasure)... if and when the House was horribly divided and 'national government' was necessitated. That ugly reality was also envisaged by the shapers and moulders of 19A+/- and it looks as if democracy – which is neither good nor bad, but thinking makes it so – is set to pay the price of big, conjoined, united, symbiotic, government.

Worse than a distinct absence of separation of powers – as we saw with former regimes – is possibly the symbiosis of too many legislative forces, as under the present dispensation. Major Government = Minority Government + Minority Opposition Faction – Majority Opposition. Worst of all, we know this is a better form of democracy, even if we suspect it is less than the true substance of Good Governance.


Pros: the good

The best thing about so-called 'national government' is what Premadasa the Elder would have labelled 'Consultation, Compromise, and Consensus'. Consultation has all the positive ramifications of a nation talking to itself via its elected representatives. There is a healthy benefit in compromising, in that no lone rangers or solitary visionaries get to set and drive the agenda, especially against the grain of the national interest. Should a plan or project or policy or programme to progress well and be implemented effectively, the stakeholdership that comes from consensus would cement Cabinet prerogatives and Parliamentary initiatives together. And yet...


Cons: the bad

The very thing about the "three C's" formula is that is has a less favourable flip side. Consultation now means that those whom the polity rejected are not only back to occupy the seats they were deemed unfit for in Parliament but are, perforce and not perchance, holding important Cabinet portfolios into the bargain. Compromise – as we saw in dilution of 19A's original and potent incarnation – often and usually means that what survives backroom deals and horse-trading is less than savoury (lifting of travel bans?) and often unfit for a full-bodied republican regimen. Consensus can sometimes necessitate that there is honour among thieves – and rogues and robber barons of all ilks – and that what was *pro bono publico* under a benevolent and dominant tyranny is now *pro bono politico* under an ersatz democracy.


Neutrals: the ugly

The not so nice thing about a Government by the Government for the Government is that while propagandists can convince Parliament and spinmeisters can persuade Civil Society that it is the people's interests that are being served, in reality it is a Pantagruelian Parliament's interests that are seen to be serviced. For nearly nine months soon it would have been the case that members on both sides of the House have sat on the same side of the table, thinking, in typical Parliamentary style: "Spoon hand having while, serve self" (it works better in Sinhala translation).

This is not to say that no good – union in vision, unity of purpose, expedition of works, economies of scale, effectiveness in implementation – can come out of separate factions coming together in the common good. With that said, it might be argued that what has transpired is that the uncommonly evil – allegedly corrupt and aggressively cynical 'congressmen' with an eye on the main chance – have been turbo-injected back into the political mainstream where they can hold a big and growing government to ransom. Crooked politicos holding the nation hostage was a thing of the past... Or so we thought – Now it has been introduced and sanctified as the 'new political culture'.

So, what is it, this New Political Culture? Animal, Mineral, or Vegetable? Animal: A creature not too unlike beastly zoos of Houses of the recent past, where the law of the jungle prevailed – and it was the survival of the fittest and dirtiest-fighting foulest? Mineral: A rare and precious element that we are on the verge of discovering – a superconductor of consensual politics that will grease the skids of the nation-state's trajectory to the Nth? Or Vegetable: mindless, heartless, featureless, fruit of many winters of discontent among parliamentary plant life...

Maybe we quibble too much? Perhaps the part of "all good citizens and true" in times like these is to quit complaining and comply. A majority of us voted in both the MPs (I almost wrote "monkeys", Mr. Prime Minister!) of the UNFFGG and the UPFA who comprise the Cabinet of Pantagruel and its Gargantuan parent Parliament. Though only a minority of us voted in the TNA to fulfil its federal dream of yore, that alliance's leader is now the leader of the opposition – which, also, is neither good nor bad; but thinking makes it so. So only time will tell whether it would have been better for the broader national project to have a minority government that genuinely struggled to deliver on its good intentions (had the UNP decided to go it on its own). Or for it to have slipped back into strange bedfellowship with a majoritarian Government that has a majorly minor formal Opposition which has pledged to support it, and a minorly majority informal Opposition (whose other minority half has also promised to support the National Government) whose penchant is to scupper anything Good Governance says and does...

Perhaps we don't quibble quite often and loudly enough, then! Maybe the more meaningful role of "we, this island's watchmen" – in, and for, such a time as this – is to carp and cavil. Add the burden of the budgetary allocations and bureaucratic apathy of a raft of Deputy and State Ministers to the burgeoning cost of the national governmental project! Include the ludicrousness of Cabinet and non-Cabinet portfolios to your plaintive wails! (What's a 'Minister of National Dialog', for e.g.? A Nation of Ministers talking to itself?) Never mind the 'new political culture', where is the 'new society' that Good Governance promised us? Shall we let the demands of realpolitik sabotage the good intentions with which the righteous (even self-righteous?) coalition to end all unholy alliances set out on the yellow brick road to red-blooded democratic republicanism?

We may have no choice. Some bad eggs and some ugly mugs seem to have been accommodated so that the 'new political culture' can take root in democracy's freshly asweddumized soil. Darned little we can do now about hyper-Cabinets except to join with the JVP – arguably and demonstrably the de facto Opposition today – to engage with the de jure Government in the hope that new political culture will translate sooner than later into new society, new standards, new life. Even if we die a little in doing so! Carpe diem, citizens!