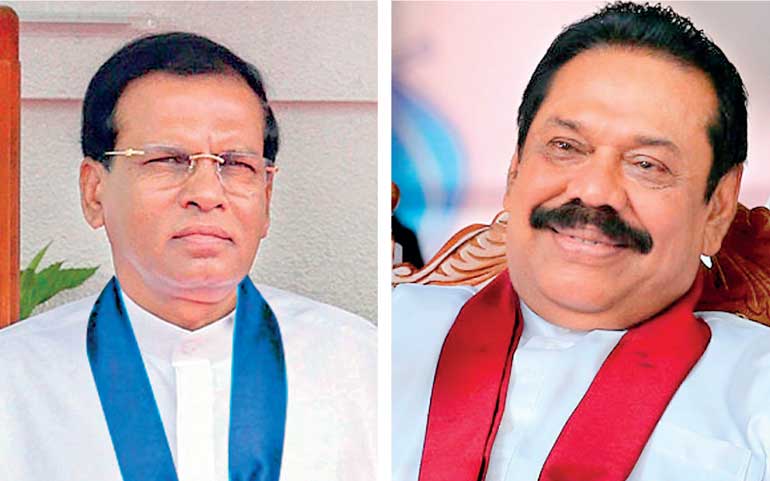 THE X FILES – the more some things change, the more they remain the same…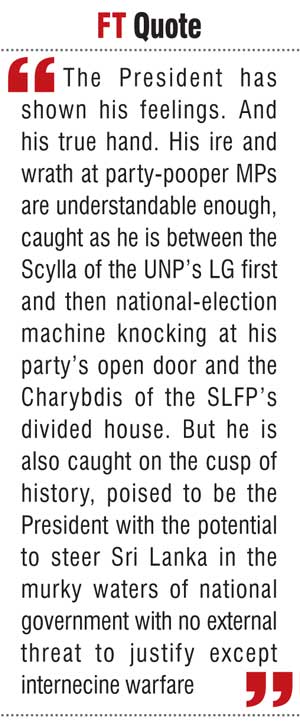 You could think we would know better by now not to make future heroes out of former zeroes. We have had our idolatrous fingers burned by doing precisely the very thing before: placing political messiahs on a pedestal and worshipping at their shrine. That is asking for trouble, as the actress said to the bishop, and as we have religiously discovered for ourselves at the hands of five executive demigods (four male deities and one hemidemisemigoddess). In the end, after all the poojas we offer and pandang we lay before them, we find they have feet of clay… Or, as H. H. H. Munro aka Saki said, "Sooner or later, out pops the cloven hoof…" – which is as good a way as any to say that man is a political devil. (He was referring to blessed aunts. Maybe it's the same thing.)

Far be it from us to cast aspersions without just cause. For the bitterest critic or cynic was once the romantic who idealised a norm, an idea, the hope that things would change. (I am one such! How about thou?) That we would see a sea-change, and not be left to ponder why we see no change, sea or rich or strange or otherwise. Such is the way of all political flesh – especially the exquisite chief executive fowl… It goes the way of all dead meat… that is to say, towards the kitchen. A kitchen cabinet (or albeit exclusive hall of fame) where the potential of successive presidents and presidencies fallen flat on their faces vie for honour, shame, guilt.

Fear of The Other drove some to their doom in the eyes of their once-adoring public, with their shameful pogroms against a common humanity, despite their vaunted ideals of 'A Righteous Society'. Frailty and fickleness drove others (thy name is woman!) to welsh on their promises to eradicate 'Corruption' and 'Crime', and feather their own nests with ill-gotten gains from ill-imported French locomotives. Fame, fortune, and the inordinate love of friends and family prioritised violently over the welfare of the Republic undid crooked, corrupt, chauvinistic, cupidity-driven father figures to mighty untimely falls after liberating a nation of a terrorist tyranny's scourge. (O, how fallen now are the once mighty! Perhaps posterity alone will dignify their graces with a greater charity than the contumely which carpers and cavillers now heap on their heads?)

That the incumbent would slide off his perch, flap his wings, and show his true colours comes not as a shock or a surprise to the student of history or psychology. That said, the sitting President's apparent reversion to norm or adoption of the customary form – at least in one respect: threatening to REVEAL ALL as regards his political opponents' alleged wrongdoings – pales in comparison to past presidential misdemeanours. (It is not as egregious as, say, threatening to bump off a brace of errant newspaper editors hostile to your administration – Or actually bumping off the most threatening one belligerently inimical to the war effort of your regime.) With that said, it is quite revealing of the arguably true character of the person in question. And a deep, if disappointing, insight into the pitfalls of the power-trip that the executive presidency thrusts on a personage under its aegis – warts, clipped wings, and all.


Once and future praxis

The President has shown his feelings. And his true hand. His ire and wrath at party-pooper MPs are understandable enough, caught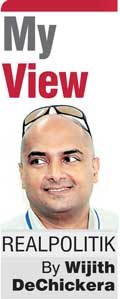 as he is between the Scylla of the UNP's LG first and then national-election machine knocking at his party's open door and the Charybdis of the SLFP's divided house. But he is also caught on the cusp of history, poised to be the President with the potential to steer Sri Lanka in the murky waters of national government with no external threat to justify except internecine warfare and the Hambantota Hun (you know who, dear) at his gate. And not only to do so in the narrower interests of partisan survival (and, perhaps, self-propagation: already his acolytes are demanding he abrogate his pledge to abdicate at the end of one term). But also to manoeuvre our island-nation to clearer waters beyond the dangerous currents of post-conflict politics and the submerged reefs of the old political culture of cronyism, corruption, and chauvinistic sabre-rattling.

Thus his broadside against Rexiting SLFPers is disappointing (Rexit being a term of reference to those Freedom Party MPs who'd rather exit the segment of their party loyal to burgeoning democratic Republicanism – to risk their erstwhile political future with demagogic, at least, and despotic, at worst, Rajapaksaism). The nature of his barely veiled threat to counter or stymie Rexiters is a revelation of a character. You can take witlessness out of a native of the political periphery and instil him in presidential office; but his native wit will revert to his natural mode under severe duress. It also provides an insight into the presidential personality, 19A or no 19A: That power tends to make leaders careless with the words they speak, and near-absolute power – or the illusion of it – makes them absolutely agnostic to the consequences and ramifications of those words they speak with abandon in a fit of pique. Which is to say that the clearest perspective of our typical presidential temperament, which also puts paid to one theory that executives protect the broadest spectrum of national interests, comes from the sharpest words spoken with the lowliest intent.

We have heard such words uttered in either fits of pique or stated in carefully crafted policy decisions or presidential diktats. Some executives spoke their mind to recalcitrant judges on whom they had files; or worse, friendship-based insider information; and it is whispered that even chief justices caved under the whip of presidential tyranny. 'The files' has been a common Damocles' sword hanging over the heads of errant MPs from the time of those 17 Members of Parliament who crossed over to decimate the UNP in a House soon to be dominated by the Beliatte Bombers (you know whom). It continues to be an unsubtle sledgehammer-like stratagem to threaten swotting irritating insects, who, today, are like flies to executive demigods… except they are swotted not for sport for being wanton boys, but for the survival of the desperate demigods themselves.


Now for that sea-change

Now much of what has been essayed above might easily be interpreted as an ad hominem attack on a singular President. But this could not be farther from the truth. For what people and personages often interpret as critical personal comments on a solitary personality is much better seen as a sole citizen's critical engagement with the governing collective on behalf of civil society. In a milieu where ostensible champions of Good Governance are reverting to time-honoured traditions such as threatening to 'reveal all' IF their political opponents don't tow the party or coalition line, it is more grievous that readers would be offended at the temerity of one writer to share a perspective than for an entire republic to let this regrettable lapse into our dark ages of governance and darker side of political ethics to pass sans commentary.

In addition it must be noted that there are perhaps more Promethean (pragmatic) or Olympian (aloof, detached) responses to President Sirisena's praxis doing the rounds. Some commentators have opted to interpret his words and deeds as signs of life at the top of government and strategic thinking by a politician in a tight spot. These span a spectrum of sensibilities, as below:

"NATURAL": The dismissal of certain old, and appointment of some 40 new, SLFP organisers was a much desired disciplinary measure in the interests of maintaining that party's cohesion, structure, and integrity. (This is a naïve view, especially as the party leader cum president appears to be acting out of character and has overlooked several previous situations – e.g. the 19A imbroglio, the JO's Pāda Yātra's defiant challenge – to do so. If it is a spontaneous response to recent insouciance, it is a late, weak, one.)

"NECESSARY": The timing is right for Maithripala Sirisena to assert control of the party of which he is the de jure leader. This is especially so because of the increasing stridency of former president and de facto party leader Mahinda Rajapaksa in seeking re-entry into political and partisan orbit. (There is some pragmatic reasoning which goes into such thinking – especially since it signals a departure from the MS faction's previous perceived pusillanimity in accommodating or ignoring the MR-fired JO.)

"NAUGHTY": The UNP is possibly using – and has probably always used – MS as a cat's-paw to declaw the Lion of Medamulane. That MS would intentionally and intently seek to divide his party, even to conquer it, is unthinkable. So an external agency must be sought for his fractious approach now where once he seemed to favour détente with his fellow SLFPers. (This is a charitable strategic valence to attribute to the UNP. Which, if it is true, redounds more to the fractiousness of the SLFP than the forcefulness of the UNP in the fragmentation taking place. For it could be equally true that MS lay low in the early stages of his presidency only to show his true colours as threats to his leadership of nation, coalition, and party emerged.)

"NASTY": The President's actions (rough words and tough punitive appointments) are not substandard, but subversive. That in one fell swoop MS has pre-empted MR acolytes from activism during the impending local-government elections while promoting his own supporters to positions of power and influence that could stand him in good stead if and when the SLFP decides to part ways from the UNFFGG government it props up speaks volumes for MS's sly, recondite, but not entirely unexpected political acumen. (It is a subversive view, one in which to adopt such a perspective means that more than posturing, it appears the President has set his sights on a longer stay at the top of the pile, every which way.)

Be that as it may, this essay – and the democratic-republican project it intended to capture and critique – are both a long way off the mark… Well-intentioned, but lacking the legs to carry it through with the steam with which they both started off. At least, I can admit it. Can MS – or, redundantly, MR – do the same? We voted for leaders who would be the winds of change: A sea-change (to revert to a hackneyed phrase of mine) into something rich and strange. We have inherited simply a change of wind… hack politicos rehashing the same, stale, rice-and curry conventional and customary threats and shenanigans to privilege their rise to and remaining in power.