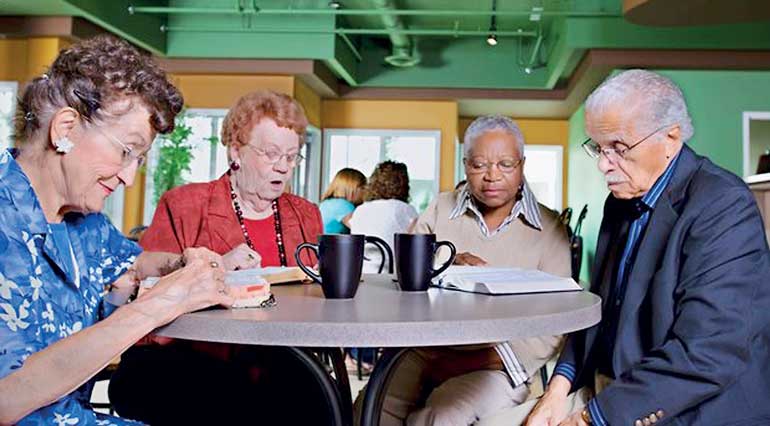 In the landscape of Sri Lanka today reading is a rarity. Public libraries or public resource spaces are much less visual in towns and city centres than hoardings of places to fill you up! Even though millions are spent at times on producing big thick volumes over project ideas and issues, everybody says that they do not have time to read all that and ask for an executive summary.

You begin to wonder why you should not just produce the executive summary and stop there. This definitely saves lots of forests and space on shelves too. I found my profession as well as the further education opportunity through reading. I think reading was the greatest gift that my father instilled in me.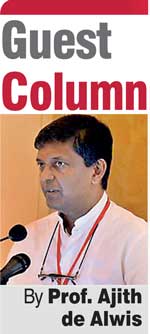 I still remember the introductory book on Chemical Engineering at the British Council (which my father religiously used to take me to in the early days once the habit of reading books in English also took root) and also the biography of Viktor Korchnoy, my idol in chess, which is titled 'Chess is my life'.

I had the wit perhaps to answer in the Cambridge Commonwealth Trust interview that chess is my life but my life is not only chess! This answer was in two parts with the latter coming out quickly to the question of 'Then why do you want to do postgraduate studies?' Maybe that answer differentiated from the rest of the first classes who were present from my first class.

Chess too was given to me by my father but after a while I never played with him as he was not up to the mark. I am sure he did not mind – maybe not as I will never know - and excused my arrogance and merely watched my play from a distance.

I lost my last connection to my genetic heritage when my father passed away last week. However, if gene encoding means something then my father was instrumental in embedding reading and the love of books into my basic code of existence. The genome may have been sequenced but the decoding is not. Hence the existence of a gene for reading is not yet known.

However, recent research has revealed that those who have a love for reading good books tend to live longer. Mark Twain is finally vindicated. It is a pity that my father, other than flipping through the newspaper, switched from reading to gardening in his later years and I wonder whether that was a factor in aggravating the dementia which really affected him in his final years. It is deeply saddening to see a human suffering due to the wiring of his memory playing tricks on him. I learnt a lot perhaps – though really did not help him in any way – about the power of mind over matter.


Additional lessons

Both my parents in different ways have given me many an additional lesson during their last days. There is a serious need within our medical system – both the native and the western – to change the method of practice.

For six long years I had constant interaction with both these systems. There appears to be no real interest in finding solutions to a patient's ailment or seeking prevention over care. In one instance I was totally taken back by the suggestion of the consultant – I will give a much better brand!

There was never a chance for me to speak to the doctor on new developments following some deep searches through Dr. Google. Not much time is usually spent transferring a prescription to a piece of paper.

The contradictions between specialists too were interesting but quite worrying when you are a patient with a supposedly incurable disease. Even though there is usually a battery of tests that needs to be carried out prior to a visit, there is also scant regard at times for their readings. You witness the specialist completely ignoring the readings indicating that if one were to do another test the readings would be completely different. There is usually no rational explanation and you have to consider some few words as sacred.

While the life slips away and the pain (both the body and the mind) intensifies, the content on a white slip is expected to take care of you and all your worries for the next couple of weeks. The cycle unfortunately continues and I think it is not the disease that finally takes your last breath away but the different types of pills giving you different types of ills!

Our own system of medicine is interesting in a different way. The costs are not at all prohibitive. The process however usually is in terms of time. The two systems operate with completely different sets of speeds and rules. As you move from one senior practitioner to another there appears to be fundamental flows in the way each Ayurvedic specialist operates.

I was not able to answer the question of the quality of a concoction made out of leaves taken from a wayside with all the urban dust and pollutants even if boiled or steamed. While there appears to be lot of logic in their statements, the method of application leaves a lot to be desired. My scientific scrutiny indicated to me many loopholes but there was never an opportunity to carry out a discussion to find answers to my questions nor any other means to seek clarity.

I see lots of sense in the Chitrakoot Principle followed in India today. With dementia I sought the opinion of the use of virgin coconut oil. Dr. Google of course yields some interesting search results. That there is a growing demand for Sri Lankan virgin coconut oil in the US especially is undisputed. I checked even with expensive coconut oil capsules packaged well and priced prohibitively.

Questions to our medical personnel in that particular specialty really did not generate a positive response and a lack of interest was evident. There is no interest whatsoever even to run a trial or to seek some special observations from a particular course of treatment. The literature received from a sales representative is usually the decider as I have gone through the process of hearing that now we have a better product (definitely at a higher cost) which should be followed. Trying to ease the pain with the patient you have no choice.

You only read about breakthrough stem cell treatments, personalised medicine from genomics, cartilage replacements and other breakthroughs as a result of a doctor's exploits only in magazines and from other countries.


Simple and honest man

For an example, I am not sure how much time some of the medical professionals have to read annual white papers coming through places like Johns Hopkins. While our IT workforce keeps medical transcriptions for US doctors such processes never migrate to serve our own patients. In some situations I lost records as government hospitals kept records without release and when you visit the next time the file has been lost in between. With consulting we carry the complete set of records by ourselves hoping that the doctor will look at patient history to no avail! One glance and a few taps were usually sufficient to come out with the magic recommendation.

My father took life very simply and was scrupulously honest. Not for him was an interest in additional real estate or cars though he was quite concerned about locking the doors and the cupboards wherever he lived almost to the last minute.

He was quite content with what he had and all that mattered to both my parents was my education. A lot was sacrificed by them throughout the process and I feel really guilty as one works in this land that the fruits of their labour really may not have helped them to have a superior quality of life.

When you are interested in making use of the education that has been received – totally free in my case up to graduation and PhD. too as a result of a scholarship that was given to Sri Lanka – you tend to work away and the parents may not really get the benefit of time and attention.

There were no complaints and in any case my father would have approved of my sweating away trying to achieve at most times the impossible within the state structure as he was a diehard government servant with a serving attitude.

I must admit that I have not acquired the respect and diligence that he had with respect to state rules and procedures - sorry father, it is simply impossible.

A lot of my values were built upon his values. He was not a father who extolled or took pride in foreign countries – I have heard some say that they would even prefer to born as a dog in the United Kingdom. He never waited with the thought for me to grow up to share a drink! He never ever influenced me to make decisions except perhaps in one case when I switched from cricket to hockey.

He was not very religious but the occasional comment I have heard was that you do not need to recite Pansil every day saying that once is enough if you are not breaking any of the five precepts. His logic was quite simple and he followed what he stated. So my father as a Buddhist was not quite visible as many people are today. We should know that it is not the visibility that is important but the practice which unfortunately is seriously lacking.