Much ink has been spilled over the alleged (we're still COPE-ing) CBSL bond scam, the stubborn refusal to deal with an issue, power-plays around personalities and preferences rather than principles, and the value of compromise in a republic whose governors hail from a coalition. But let me add a point or six to the thickening mix. So that, well, the point will stick – in 'average' democratic-republican minds, if not in 'aristocratic' gubernatorial praxis!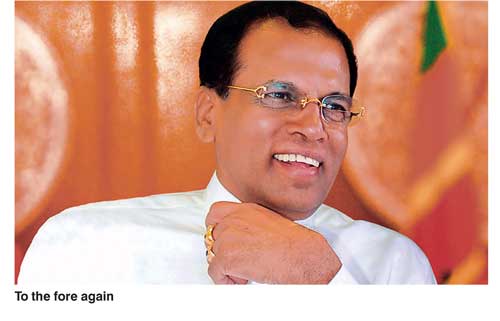 In politics, nothing sticks for long … Not values. Nor friendship, nor loyalty. Not even the briefly favoured few who are often enough – by men of vision and valour, at that, and ironically enough – thrown to the wolves. A writer can thus screw his courage to the sticking point and only plunge the sword in – because each man kills the thing he loves. (The coward does it with a kiss … The brave folk with their sword!?)

And one loves one's emerging 'new country'. The old banana republic, rotten at the top or to the core (which came first one doesn't know; it hardly matters), has undergone a sea-change into something rich and strange. There are some similarities to the old regime (cf. realpolitik still rules the roost). There are some departures (e.g. a return to principled constitutionalism over a reign through personal caprice) and some major differences (viz. the welcome absence of bloodshed and blatant thuggery which was once sanctioned, if not commissioned, by one's rulers). There is – most of all – a sense of hope and faith that "something good could come out of it – yet". That hope and faith may well be fast fading; although human nature, being what it is, and we Sri Lankans, being the resilient island-race that we are, we cling to hope … even after faith has flow the coop …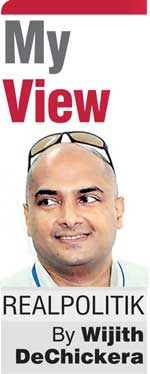 High fidelity

Allow me to clarify. It is faith in the nation's democratic-republicans that is fading. Not the democratic-republicanism metanarrative per se, which has become more clearly discernible since January 2015. That narrative and enacted parable will be kept alive by guardians of the faith of many stripes in sundry camps. (One hopes.) A project such as the movement launched against the oppressive antidemocratic ethos of the decade or so past has its own momentum that not a few parliamentary or extra-political setbacks can hamstring. (One wants to believe.) As the Bard said, "age cannot wither nor custom stale its infinite variety"; so with the democratic impulse of our ancient people – a civilization older than Greece.

On the other hand arrogance, apathy, authoritarianism, can undo the most systematic republican project. The former regime proffers a perfect example of these hamartias. That part of the present dispensation aspire to at least some of the arrogance and authoritarian or elitist refusal to engage with public opinion (at least when it runs counter to the incumbents' policies) does not bode well for the perpetuity of the project. Refer the decline and fall of the Roman Republic at the hands and mighty arms of the burgeoning Roman Empire for frame of reference in terms of the mindset of sea-green incorruptibles against whom nothing must be said by the very people who elected them. Could it be that the republicans who ousted our imperial regime have grown – or always were – no less imperious in the face of opposition to their follies (among which favouritism occupies pride of place)?

It is against these "slings and arrows of outrageous fortune" that Good Governance must now contend especially. No less than our head of state and chief executive has ridden into the lists in at least that part of this task's thankless undertaking. Not that the President is perfect in his provenance or longstanding respect for democratic principles or republican precepts. That he is an agent of paradigmatic change and the actively chosen instrument of the United National Party and the united national-minded people for national transformation makes his present stance and forceful contribution to the democratic-republican project at hand a vital element in its security. There is a time to be silent, and a time to speak out and act out. President Sirisena has chosen well his time, and the issue on which to judiciously take a stand – for him personally, for a people, for the sake of that project.


High stakes

For him personally, taking a visible role – and in visibly in-control mode – in the resolution of the Central Bank Governor's impasse has raised Mr. Sirisena's political profile and public appreciation. Since the triumphal flush of being the common candidate passed into common currency – revived from time to time at the passing of 19A, perhaps on Independence Day – the President has (rightly or mistakenly) been perceived as a rubber-stamp for the UNP-led government's agenda. While it has been more or less a salutary – even visionary – agenda, not all its policies have been popular or pertinent or praiseworthy. That perception has changed with Mr. Sirisena coming out of left field at a public gathering to put his foot down with a firm hand. He fiddled edgily with a thorn in the state's flesh that had to be removed; finessed a compromise solution that won him and his executive partner accolades; and sent out a none too subtle reminder to the UNFFG that as a chief executive, future presidential or prime ministerial hopeful, and bulwark against the return of the Rajapaksa regime, he is far from being a spent force – and still a man of some mettle as much as a means to the UNP's ends …

For a people, he is – if not a brightly shining flame, at least a steadily burning fire – a bastion against the inroads cronyism or nepotism could make into the complex machinery of coalition government to the detriment of the democratic-republican project. Once before, most apparent in his grandstanding declarations and strident opposition to the UNP's IMF-driven tax regimen revision, he tasted the ignominy of defeat by being shown up as evidently Not The Last Word In Matters Fiscal, when VAT was bumped up no matter what he promised on populist platforms. Now to the chagrin of the patently 'loyalist' or perceivably 'royalist' cabal in the inner sanctum of government, but to the common person's delight or relief, he has demonstrated that it takes two to tango when democratic leaders dance in tandem. Mr. Sirisena is still the people's president, even if some other elected powerhouses with their elitist approach to governance by (if not fiat, at least) 'ignoring the ignorant' run the risk of alienating a people's government from a newly egalitarian people themselves.

For the sake of the ongoing democratic-republican project, it has accomplished the most. Not to the victor belong its spoils. For in the faceoff between Pres and Premier, neither emerged a victor – nor need they have … For the people's sovereignty – a.k.a. the mandate of the democratic-republican project – is, and must be, the ultimate laureate. In no wise are new CBSL Governor Dr. Indrajit Coomaraswamy's well-deserved laurels compromised by dint of neither PM nor Pres having their respective first choices grasp the prized CB wreath. It merely underlines the truism that in marriage as much as a political dalliance, a good partnership comprises a symbiotic state of four parties: a master, a mistress, and two slaves. Be it imprudent of us to speculate who the first two are from among our two first-among-equal executive leaders? Be that as it may, a democratic-republican state in which both leaders are seen to be – and willing to be seen – as servants of the demonstrably republican state is a good thing for the ongoing democracy-restoring project.


High hopes

For a loss of faith in the democratic-republican project – as was recently tangible in the town halls and market squares of a newly liberated Sri Lanka – is not a sign that all hope is lost. Rather, it reassures those who are more realistic about human nature, the natural political beast at work in all parties and personages, and the reality of realpolitik, that real change takes time and effort; and that genuine sustainable transformation comes at a cost … a price that few politicians and no less people want to pay. Thus, the recent loss of faith in the democratic-republican project – perhaps because of cynicism at delays and deviation by some Good Governance-trumpeting elephants – is a symbol of the hope that many if not most people (true patriots, these) still have in Good Governance per se.

The resolution of the Central Bank imbroglio is by no means a silver bullet to strike and achieve all targets set for macroeconomic and financial fundamentals in our nation's best interests. But it proves the golden mean … a desirable middle state bridging the gap between government by insensitive elitism and government by responsive provincialism. The Prime Minister, as the premier standard-bearer of a visionary technocracy-driven super-state achievable in the future, if all goes well, has no doubt learned through bitter experience by having his fingers burned in carrying a torch for indefensible colleagues or friends fallen foul of best practices. That the President, as no mean flag-waver of late for collective responsibility as much as individual accountability, has taught us a valuable object-lesson in returning government to the middle path of consultation, compromise, and then consensus. Learn, or depart!