I heard that a politico wants the people who call on him to address him as 'sir'. He had put up a notice to that effect outside his office. It made me mad. It made me sad. It made me bad to know. There is only so much that we law-abiding citizens will put up with. Thus this rant!

A chance to plant an idea in other worshipful worthies' heads. To begin in a small way to try and genuinely change our political culture. A small step towards cleaning out the mouldy Petri dish full of the old, leftover, colonial, perennial 'culture' of viruses, bacteria, and other political protozoa whom yeast or fungi would look down on with well-earned disdain.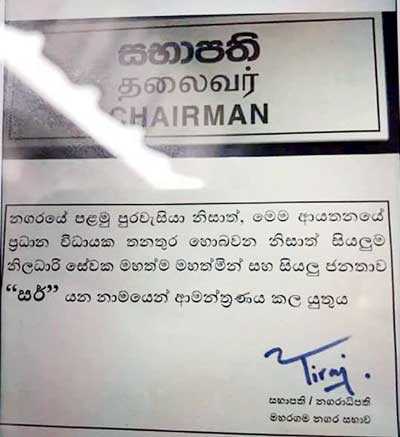 It was not the president who said it. I would call him sir. Because he is, after all, our duly elected and stalwart head of state. Even though he has lost it a bit of late. His head, I mean. Not the state. Not yet, at least.

It was not the prime minister. I should call him sir. For no other reason than his once blossoming buttonhole as a premier statesman to make a small island-nation proud. Even though full many a flower is born to blush unseen and waste its sweetness on the desert air. And even he has to nip a tad more than a bit of rot in the bud before he can aspire to sterling greatness again. Plus he would probably call me 'mister' back.

It was not some stellar state or deputy minister with an escutcheon not yet blotched by bull. Not even a yeoman backbencher whom I'd gladly call sir. Because once upon a time he took the plebeian bus from Bingiriya or Bintenne to represent his electorate diligently. And served his constituents solidly. As much as his conscience soundly. With all due nods to stern duty.

It was a two-bit politico. Some backwater frog in a well. Masquerading as a not-yet, never-will-be kissed prince. Who deserves a smack. Not on the lips. But much lower. Even to address that worthy as 'your worship' – the customary form of address for a mayor, even though he is less than one, being merely a mayoral chairman of a town council – would be to misunderstand that 'worship' is derived from the old English sense of 'worth-ship'. Of which he has little – if some other toady put up the sign outside his office demanding the public's obeisance: 'call me sir' to curry favour. Or none, if he ordered it done himself.

Not done

I'm not done myself.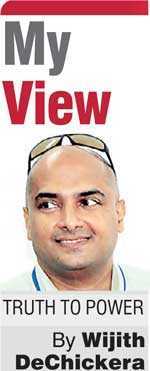 I'm not done till I tell you that titles may be designated, but respect is earned. But not only you need to hear it. Since much bigger and better public officials seem to suffer from the same malaise these days.

We're not done till we tell you that power tends to corrupt, and infinitesimal power such as you have corrupts infinitesimally. While great men are almost always bad men, petty politicos like you are often merely mediocre. Maybe there is no greater heresy than that the office sanctifies the holder of it. However it is also equally true that minor offices tend to make small-minded people seem punier than they are.

You're not done until you hear from us that we have had enough of you and your ilk. Smaller, more microscopic and myopic minions have the same malaise. Like the petty bureaucrat or miserable functionary in a government office who plays God with the people on a daily basis because that's his or her only bread and butter. Bigger, but not necessarily better people than you have been bugged by it. No one among us who has been subjected to it is likely to forget the Caesars of yore strutting about like tyrants while their whelps of a Nero or Caligula ham it up from Hambantota port to Hingurakgoda airport.


Not quite done

Without coming all undone let me tell you whom I'd call sir. In my salad days, when I was in the field rather than flying a desk, I interviewed among others a finance minister. At his office, on his arrival, a ministry flunkey insisted that I stand up. I stood my ground and remained seated. "Stand up, he is your minister," the monkey gibbered. "Sit down and shut up, he is my servant," I jeered. Perhaps sensing a kerfuffle, that worthy put his head round the door. "Are you ready for me, Mr. Chickera?" he asked, dropping the 'De'. "Yes, Mr. Choksy," quoth I. I regret to say I dropped a brick about the bureaucrat's bumptiousness. "Never mind," said his worship. "We mustn't let small-minded people distract us from the bigger picture." I could only say, "Yes. Sir."


Done

Now I'm done. Non serviam. We shall not serve. You, sir (yes, you heard me right), are our servants. That sign could be outside our homes and places of work, and you'd be the one invited to bow and scrape. That sign should be outside our offices for it is we who invited you to serve us. As for invites, don't expect one from me or likeminded members of my tribe. We are done inviting the likes of you to 'grace' our functions. In the event, at the event, all you ever do is preen yourself and spout hot air. And then you go and disgrace yourself in the House or at your place of work. Work which passes for public service. Paid for by the taxpayer who has insult added to injury by your pious platitudes at election time. To say nothing of promises never kept. Non serviam. We shall not serve you or your bloated ego. No, sir! Let that be a small prick (no, not you, sir) in your conscience. The sign is up. The writing is on the wall. It is in triplicate. No. No. No. We shall not serve. Non serviam.
(Journalist | Editor-at-large of LMD | Writer #SpeakingTruthToPower)