The greatest changes in world history took place gradually, without even getting the attention of a wider majority of the people. The same is taking place right now. While many are preoccupied discussing various trends over the next many decades, they seem to have ignored what is happening now. The great opportunities that is present, right now.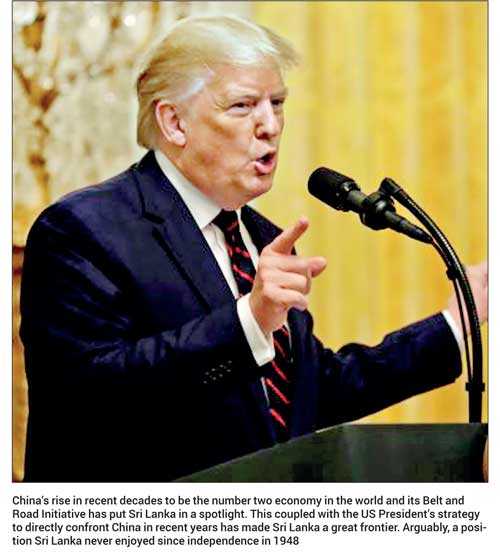 The US-China trade war

Just over one year into his presidency, Donald Trump declared the trade war against China. The concerns of USA were the colossal trade deficit with China, alleged theft of intellectual property and alleged forced transfer of American technology to China.

Two things are clear from this. The US has identified modern technology as the key factor for economic leadership and the dire need to rectify its trade deficit. This is very relevant for Sri Lanka as well. Sri Lanka is not connected to the global technological value chain and runs a significant trade deficit (and an external current account deficit).


Windfall for smart countries

Since the early part of 2018 USA has been increasing tariffs on imports from China. Around $ 300 b worth of imports from China have been subjected to increased tariffs since then. What is more important to note is the fact that USA is shifting its imports from China to other countries.

A key beneficiary has been Vietnam. Investments have been flowing into Vietnam. For example, China based wireless earphone maker GoerTek is planning to move production of Apple AirPods to Vietnam for an investment of $ 260 m. It is also reported that Google would shift Pixel smartphone production from China to Vietnam. In addition Intel, Samsung, and Foxconn Technology have already made investments in Vietnam this year.

The Japanese brokerage firm Nomura has listed down Vietnam, Taiwan, Malaysia, Hong Kong, Singapore and Philippines as the Asian countries that could benefit most from the US-China trade war. Even India has acted recently to reduce corporate taxes possibly to take advantage of this opportunity.



Opportunity of the century for Sri Lanka

Although countries such as Japan, South Korea and Taiwan sped past Sri Lanka in '60s and '70s, the cold war between USA and USSR provided a phenomenal opportunity for those countries. One could argue that Sri Lanka was not a strategic frontier at that time to benefit from those geo-political factors.

However China's rise in recent decades to be the number two economy in the world and its Belt and Road Initiative has put Sri Lanka in a spotlight. This coupled with the US President's strategy to directly confront China in recent years has made Sri Lanka a great frontier. Arguably, a position Sri Lanka never enjoyed since independence in 1948.

Sri Lanka has already missed the first two years of this phenomenon. Assuming Donald Trump wins a second term, this window of opportunity would be available for five more years. Sri Lanka needs to act fast to grab the opportunity and establish it so that it cannot be reversed even after these five years.


Examples of recently-developed countries

If we need any guidance as to how this opportunity should be exploited, we just need to study how the recently developed countries such as Japan, South Korea and Taiwan did it over the last five to six decades. Following are few examples.

In 1988 South Korea exported 576,134 units of automobiles out of which 480,119 units were exported to USA. In Taiwan, consumer electronics took off in 1960s when transistor radios were ordered by Japan which were re-exported to USA. Similar to South Korea, Taiwan obtained technology from Japan to serve the US market. Taiwan's entry into semiconductor industry in 1974 was due to the licensing of US based RCA Corp.'s CMOS technology. Taiwan has not looked back since in the semiconductor industry.


The need for sponsors



The reality is, the global market is highly competitive. It is very difficult to obtain technology and penetrate markets purely based on demand and supply dynamics. That is why a new entrant such as Sri Lanka needs sponsors.

We need a sponsor country who as a policy would share technology and/or a sponsor country who as a policy would open their market for such technology-oriented industries.

The above examples are real life scenarios of how it has happened in the recent global history.

We may have to incur calculated geo-political costs, but that would not be material compared to the economic benefits if we could negotiate prudently.


Would presidential candidates miss it?

It is this opportunity and how it could be exploited that I have tried to highlight in my book 'A Simple Plan for Sri Lanka'.

Unfortunately, none of the presidential candidates seem to have announced a plan to exploit this opportunity of the century for Sri Lanka.

In fact, the responsibility lies with their advisors and experts to advise these candidates and devise a policy to take use of this advantage and get Sri Lanka out of the lower middle income trap that Sri Lanka is in right now.