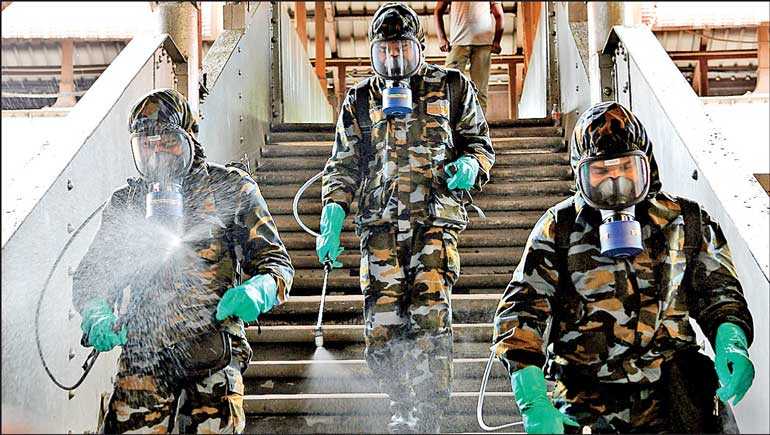 The battle to overcome this pandemic is not unlike chess. We are not in the fray to vanquish the enemy but only to checkmate it and once we are done with that, the next game begins. This is the lesson 'The War of The Worlds' can teach us and like the Martians, we cannot live in a bubble. We need to engage with an environment which the human species have battled, overcome and coexisted with, for millions of years. We are an advanced species not only mentally but physiologically and we must not let the disinfectant wipe out that DNA – Pic by Shehan Gunasekara
---
'The War of the Worlds' is a science fiction novel written in 1897 by H. G. Wells. Initially, published as a series by both Pearson and Cosmopolitan magazines, the storyline is a chronicle of a Martian invasion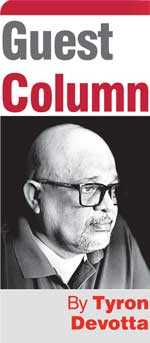 of Earth. Fighting breaks out between the invading aliens and armies of Earth, and for a while it looks like the invaders are winning. Then, suddenly, the war ends and all the Martians die, not because of the humans fighting back, but because these alien beings did not have the antibodies to overcome a bacterial attack.

This is a story about microbes, and our very human existence, put in a nutshell. For millions of years (if Darwin is right), we have learned to overcome and coexist with them – the good and the bad microbes. This is something we must accept and understand, especially during this pandemic.

The story of humankind is one of survival and evolution, and we can only continue if we know to live with these microorganisms. With viruses and bacteria, it may not be a case of wiping them out, but more a matter of coexistence. That is why we as humans need to take a careful look at the mechanisms used as virus guards in the COVID-19 battle.
Sanitising
The global hand sanitiser market, which was valued at $ 919 million in 2016, is slated to considerably expand its size to reach $ 1,755 million by 2023. However, what presents itself as a saviour can in fact be detrimental to the very existence of humankind. Yes, a dramatic statement, but Bloomberg, in a recent article titled 'To Make a Building Healthier, Stop Sanitizing Everything,' says "A more serious risk is that attempts to sterilise our surroundings can kill off bacteria critical for human health—or, even worse, inadvertently promote the survival and evolution of more dangerous bugs, including antibiotic-resistant superbugs.

'We should be worried,' says Rob Knight, Founding Director of the Center for Microbiome Innovation and a professor of paediatrics at UCSD. 'If we're overzealously stripping off all the bacteria that would naturally be there, then we may be creating homes for bacteria and maybe even viruses that are harder to remove.'"
Immune systems
The National Center for Health Research (NCHR), a nonprofit, nonpartisan think tank based in the USA, focused on research that can improve the health of adults and children, says bacteria are everywhere, including one's entire body. The bacteria in our body weighs as much as our brain, i.e. something like 3 lbs! Bacteria can be harmful, but some species of bacteria are necessary to keep us healthy, like those on our skin, in our airways, and in our digestive system. These bacteria are the first line of defence against foreign "invaders" (pathogens) that can cause infection and other problems.

It also says that bacteria also act as "tuning forks," for our body's immune system, making sure it's pitched just right. The immune system shouldn't be too sensitive or too sluggish: it needs to respond quickly to an infection but it shouldn't overreact (If it does overreact and attacks the body itself, the result is an autoimmune disease, such as rheumatoid arthritis, lupus, or MS). Each person has a personalised collection of bacteria called the microbiome. We acquire our first bacteria while being born, and every day our environment exposes us to more. Some of these bacteria take up residence within our bodies and help us develop a robust immune system.
Going nuclear
But the Bloomberg article points to us going nuclear, as in our anxiety to quick fix things, we use harsh chemicals to eradicate pathogens, where simple soap and water will do the trick.

The question amongst scientists is whether this anti-virus quest everyone is on will wipe out various species of virus and bacteria, to which our older generations were exposed and got immune to. They are concerned that the younger generation post COVID-19, would be deprived of these species. Scientists point to outdoor air being much healthier than the trapped air inside modern buildings.

There are even statistics to prove that large gatherings outside cannot be as dangerous in the spread of the virus as events indoors. That is probably the best explanation so far to the Royal-Thomian match last year, where a COVID-19 positive case visited the grounds. We all feared a cluster, but nothing serious happened, although there are those who believe the vast amounts of alcohol consumed was also a contributing factor (smile).

The crucial question then is, can we in Sri Lanka build the office and living spaces for the post-COVID era? What these requirements will be is now being avidly discussed amongst scientists, researchers and designers.
Air quality
Years before the pandemic, Luke Leung, Director, MEP + Sustainable Engineering Studio of global architectural, urban planning and engineering firm Skidmore, Owings & Merrill's (SOM) was talking about the microbiology of buildings. Leung is of the view that more can be done to make building healthier from a microbial perspective, than only using organic materials and maximising access to natural light and outdoor spaces. While acknowledging the merits of using filters to eliminate SARS-CoV-2 and other pathogens and contaminants, he also warns of the dangers of air being sterilised over long periods. He believes that offices and living spaces should have ventilation systems that pump in microbially diverse outdoor air.

SOM is already working on a project where he will put this plan into action. The 31-story WeBank tower in Shenzhen, which is scheduled to complete in 2022, will have a system where air will be drawn through trees planted on balconies before it's funnelled inside and according to Leung, outdoor air must first be measured for pollutants. He says in the case of office buildings they can be recharged with microbes from outside at night because people need air-conditioning during the day. (Bloomberg reports)
Port City
The best example of building sustainable systems for real estate development in Sri Lanka is probably the Port City Colombo project. Theirs may well be the most unique blueprint in Sri Lanka, given their Development Control Regulations (DCR), which provide a set of strict guidelines for all aspects of construction and planning going from urban design, utility, landscaping to sustainability, which are compulsory for developers who will build on Port City.

The project is designed on principles of conservation and efficiency, with plans to use rainwater for drainage, irrigation and gardening and energy efficient and environment friendly systems for electrical and pumping works.

According to what's available in the public domain, the new city would have a park, a green lung with four thousand trees and building designs with corridors for wildlife to live naturally within the landscape. The project talks of bird migration and nesting, to mitigate risks associated with birds flying into glazed surfaces, while the wildlife corridors would allow for safe movement of animals between adjacent habitats.

Projects such as these will have to take into consideration the post COVID complexities of living and work spaces, and foremost of the concerns would be air quality within buildings, and make it their USP. The advantage that Colombo has is it is not polluted like other South Asian cities, and drawing in outside air, to regenerate closed environments would not be an impossibility.

Currently, according to the Center for Disease Control in the USA, there are many questions that are unanswered, such as the effectiveness of mitigation efforts to prevent SARS-CoV-2 spread, in terms of ventilation and masking; the proportion of SARS-CoV-2 infections acquired through airborne transmission; conditions that facilitate airborne transmission; infectious dose for SARS-CoV-2 (how many virions are required for infection to occur?); will inoculum size and route of inoculation affect risk of infection and disease severity? Etc.
Mapping it out
All this points towards one thing — that we are in uncharted waters dealing with microbes and its carriers. While in the past we would have thought that proofing a house against rodents and wildlife could be the safest environment, today the thought process is in an entirely different direction, in terms of how much we need to be exposed to an environment that is diverse with bacteria and viruses.

The battle to overcome this pandemic is not unlike chess. We are not in the fray to vanquish the enemy but only to checkmate it and once we are done with that, the next game begins. This is the lesson 'The War of The Worlds' can teach us and like the Martians, we cannot live in a bubble. We need to engage with an environment which the human species have battled, overcome and coexisted with, for millions of years. We are an advanced species not only mentally but physiologically and we must not let the disinfectant wipe out that DNA.
---
(Tyron Devotta is a senior journalist and Public Affairs specialist with over 40 years' experience in the media. He can be contacted via email, tdevotta@gmail.com.)
---