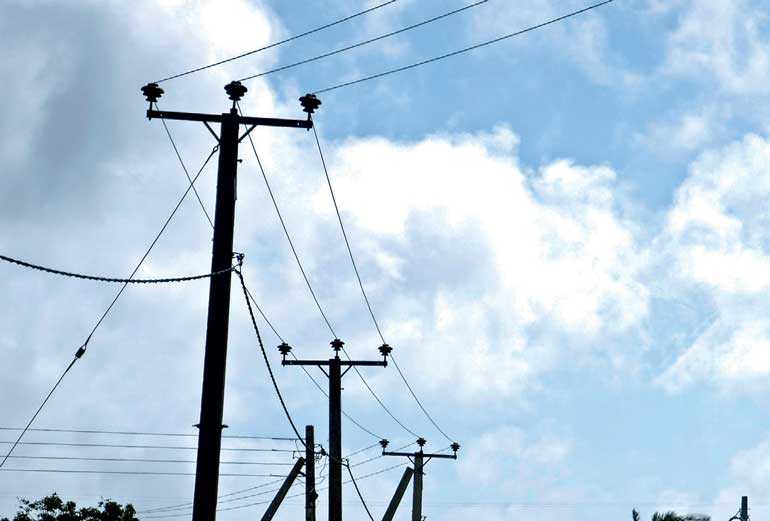 For four long years the Government slept over power generation, it was the power cuts that awakened them from their slumber and if properly handled could pave the way to a solution - Pic by Ruwan Walpola
The country faced electricity power cuts, reminding citizens of early 1990s, which resulted in private power producers supplying electrical power with long-term power supply agreements. Today, most have completed their agreement period, but some were extended; yet others were forced out.

The country-wide power-cuts except for Colombo city started in mid-March without warning, three hours in the morning and one hour in the evening, on a staggered basis. First the problem was failure of Norochcholai second power plant, expected to be corrected within a week. But power cuts continued with CEB claiming water deficiency in reservoirs due to drought. Power cuts stopped for Sinhala New Year, but could come back after the two-week grace and any time over the next five years.


Drought and power generation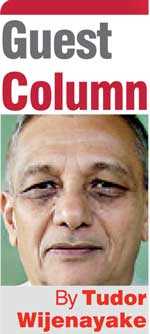 The country had bountiful rains last year; by November most reservoirs were overflowing, hydropower plants were running full capacity. But rains ceased by end-November; everyone hoped for customary heavy rains during December end. Prior to construction of large reservoirs, heaviest floods in history took place in 1947 and 1957 late December.

But history failed to repeat, scanty rains fell in December while power-plants worked full capacity. If CEB accessed balance water in reservoirs in early January, the result of high power generation and poor rains in December would been visible. January to March are dry months with mild rains in April, heavy rains expected only in May. If CEB curtailed hydropower generation saving precious water and relied more on fuel, power-cuts could have been averted.

Normally, when power situation becomes critical, government explains the populace and request reducing consumption, also sets an example by cutting down street lights. But nothing happened.


Poor power generation capacity

The country failed to learn from power shortages in the 1990s and except for Norochcholai during 2011/2014 no power-plants were constructed, under construction or even contracts awarded, but the electricity demand is increasing. Non-implementation of anticipated power plants was due to tug-of-war between CEB and Public Utilities Commission of Sri Lanka (PUCSL) and political interference.


Sampur power plant – President's policy

The MOU for 500MW coal power plant at Sampur, Trincomalee was signed in 2006, between National Power Corporation of India and the Government and in 2013 number of related agreements were signed.

The power plant construction dragged on for 10 years over various issues and in September 2016 final agreement was to be signed, when Environmental Foundation filed a Fundamental Rights case. At the Supreme Court, Additional Solicitor General informed the Court that he got written instructions from the Secretary to the Ministry of Power and Energy that the Ministry is not going ahead with the Sampur Coal Power Project. Thus the end of the coal power project.

President Sirisena made several public statements that he is against coal power. Thus the Secretary's letter to Solicitor General would have been on the President's instructions. The question is why was the President's policy not informed to CEB and PUCSL to adjust the power plan accordingly? Also when Sampur Plant is discontinued, how will the power demand be met?


Long-Term Generation Expansion Plans

CEB was expected to prepare Long Term Generation Expansion Plans (LTGEP) and produced three proposals, 2013-2032, 2015-2034 and 2018-2037, for the acceptance of PUCSL. The 2013-2032 plan was accepted by PUCSL, envisaged 500MW coal power plant in Trincomalee and a series of coal power plants thereafter.

CEB's subsequent plans included 100MW of solar-power in 2019 and 150MW in following years, 100MW wind-power plant in Mannar by 2018 and further 150MW in subsequent years. Thermal power included two 300MW natural gas plants in 2019 and 2021 and balance future power based mainly on coal.


PUCSL response

CEB claims the power plan was based on least cost power generation, which according to CEB is coal. But the CEB proposal featuring a series of coal plants was rejected by the PUCSL, due to:

1. The cost claimed for coal is unduly low, whereas costs of LNG, diesel and furnace oil are deliberately made higher, thereby indicating coal being cheaper.

2. Externality costs – The health and environmental costs of power generation using different fuels, CEB had failed to include externality costs in their proposal, these costs are heavy on coal, thus CEB proposals did not reflect the true economic costs of power generation.

PUCSL claims coal costs become higher when adjustments for externalities were made. PUCSL modified the plan submitted by CEB, included LNG and renewable generation plants for a balanced plan. However, the proposals were rejected by CEB and threatened trade union action.

CEB claims energy cost for Norochcholai is Rs. 8.87 per kWH, but refers only to basic energy cost, without fixed and variable overheads. According to CEB's bulk supply tariff submission made to PUCSL for October-December 2017, coal-based generation of Lakvijaya cost became Rs. 14.53 to 14.74 per kWH.


Cost of power

In September 2017, thermal power of 386.7GWH was used at a cost Rs. 9,902.5 million. If the same power was obtained from LNG at Rs. 15 per unit (rate claimed for Kerawalapitiya LNG plant) would cost only Rs. 5,800.5 m, saving Rs. 4,100 m for the month.



Executive Summary contradicts the plan

Although CEB's LTGEP 2018-2037 proposals neglected LNG usage, the Executive Summary in the report says:

"Incorporating LNG power plants to Sri Lankan power system was studied. The present trend of LNG fuel prices were considered with the possibility of recovering the capital cost of LNG infrastructure. The option of adopting a land-based LNG terminal or Floating Storage Regasification Unit (FSRU) is to be further evaluated. However LNG infrastructure must be established by 2020 in order to gain the maximum benefit of environmental impact mitigation.

"The combined cycle plants operating using oil in Western region shall be converted to LNG immediately when the facility is made available in 2020. The main load centre of Sri Lanka is the western region. In order to minimise the transmission losses, development of power plants closer to the load centre is identified complying with the environmental requirements.

"Due consideration was given to the availability of natural gas in the Mannar Basin and utilisation of the natural gas as a fuel for the power sector. Possibility of introducing indigenous natural gas in Mannar Basin by year 2020."


Power generation plan in a mess

CEB's Power Plan assumes implementation of various power generation projects. Unfortunately, implementation failed due to tug-of-war between CEB and PUCSL, also Ministry officials and politicians had own agendas. Sri Lanka's power costs are the highest in South Asia, raising manufacturing costs. CEB runs at a massive loss and would be higher in 2019 and will continue to rise over the coming years.

CEB engineers prefer coal-based power for their own reasons, but further coal plants are unlikely to get environmental acceptance. With experience of Norochcholai and Sampur, approvals will face long delays, resulting in power shortages and back to expensive thermal power.

Power Plan expected LNG infrastructure by 2020, but no was action taken. Meanwhile the Government has signed MOUs with India, China and Japan to set up LNG power plants of around 500MW capacity each. These proposals are outside the Power Plan; and locations, price of electricity produced, criteria for unloading and storing LNG have not been discussed. Also how will they connect with Mannar gas when available?


Kerawalapitiya 300MW power-plant

Tenders were called in November 2016 for the Kerawalapitiya 300MW LNG generation plant. Nearly three years later, the tender is yet to be finalised. The award swayed between Lakdhanavi, a subsidiary of CEB offering power at Rs. 14.98 per unit, while China's GCL offered at Rs. 15.97. One rupee difference amounts to Rs. 2 billion a year. When Cabinet was proposed to award the contract to the Chinese, Minister Patali Champika opposed and it got postponed. But the same proposal presented by the President on following week got approval, showing the President's interest in awarding the contract to the Chinese.

Gas-based power generation is new to Sri Lanka and the country lacks knowhow. Thus the contract should have been awarded to the local company, even at a higher price. But our politicians think otherwise.


Unsolicited FSRU proposal

The Korean Ambassador submitted an unsolicited proposal for a free FSRU supplying one million tons of LNG a year, under take-or-pay basis for 20 years. For President Sirisena the proposal was sufficiently important to remove Ranil and appoint Mahinda as PM. The move was turned down by the courts, but the Swiss Challenge is still pending, being postponed a number of times.


Alternate power sources

The country has exhausted major hydropower potential, but solar and wind-power are alternatives, with their limitations. When rains fail, hydro-production reduces. Solar is available only under good sunshine, from around 8 a.m. to 4 p.m., reducing with cloud cover. During change of wind direction from south-east to north-west and vice-versa results a low wind period reducing wind-power generation.


Battle for solar energy

The Government commenced the 'Battle for Solar Energy' ('Soorya Bala Sangramaya') with the target of establishing rooftop solar systems on one million households and adding 1,000MW to the main grid. But solar producers claim 590 proposals to produce 1,400MW, which were submitted to CEB after spending over Rs. 100 million on application fees alone, are pending acceptance. CEB accepts solar power form small to medium suppliers only at Rs. 16 a kWH, a rate deliberately kept low to discourage solar investors, while offering as much as Rs. 40 to some private power producers.


Power cuts to country's rescue

Power cuts resulted from unrestricted hydropower generation in January and February after poor rains in December, a manipulation by CEB engineers to create an emergency situation to bring unused private power producers on line. They succeeded in their endeavour, also power cuts made the Government wake up after a four-year sleep.

In March 2017, the Government announced the construction of a floating solar power plant 100MW capacity utilising 4% of the Maduru Oya Reservoir (roughly 500 acres). Finally, thanks to power cuts the solar plant agreement was signed on 9 April.


Minister promises to end power cuts

Power and Energy Minister Ravi Karunanayake pledged to end power cuts from 11 April, made possible due to garments and other factories closing down for the New Year. Meanwhile on 9 April Cabinet gave the green light to the P&E Ministry to purchase 100MW of supplementary power from three suppliers at rates between Rs. 28.70 to Rs. 30.63.

A Ministerial Committee proposed a 200MW barge mounted power plant from the supplier currently operating a similar plant. On 9 April the Minister submitted the new power generation plan, but Cabinet refused to discuss and postponed to the next Cabinet meeting.


Cost of delay

According to PUCSL's document 'Financial Impact of Delay in Implementation of Power Plants – Generation Plan 2018-2037' Kerawalapitiya 300MW Natural Gas Power Plant was expected to be commissioned in January 2019. Due to delay additional cost of thermal generation is Rs. 8.95 per kWH. Thus for one month delay, at 80% plant factor, additional cost becomes Rs. 1.55 billion.

The country's thermal power capacity (excluding coal) stands around 2,230MW. The Minister expects further 1,000MW thermal plants to overcome shortage. If LNG replaces 50% of 3,230MW, saving on thermal cost would be Rs. 100 billion a year. The five year delay waiting for LNG will cost the country Rs. 500 billion. Can the country afford this loss?


LNG infrastructure

Powering LNG plants requires LNG, local or imported. The Government has called invitations to recover gas from Mannar and other regions, but recovered gas needs storage facilities and users. When Caine discovered gas in Mannar and proposed to supply gas from the Dorado well to the mainland, the CEB, Ministry of Power and the Cabinet were caught unprepared. Now the country needs to establish an LNG storage, import/export facility and establish LNG power plants to replace 50% or 1,500MW of expensive thermal plants.


Planning

Thus urgent planning is needed over LNG power plants as capacity, gas storage, unloading/loading facility, FSRU or a dedicated LNG harbour, gas jetties, location, transport of gas from discovery to storage, also internal transport to users (power plants and industrial users). When Mannar gas is recovered, a usage mechanism needs to be in operation.

As the country lacks experience in gas technology, normal procedure would be to hire an international consultant to prepare an implementation report. Selecting the consultant and the report could take a year.

A more logical and faster approach would be to invite local engineers who left the country in the 1970s and '80s and were engaged in the oil and gas industry. They are now retired and are willing to give their knowledge to the country. Most urgent is the preparation of 'LNG Import and Infrastructure Plan' with their assistance. Meanwhile Nalin Gunasekara, a retired international consultant on oil and gas, currently resident in Australia, who conducted a number of seminars locally and others too, would support planning Sri Lanka's future.


CEB's role as power planner

Over the decades CEB held the responsibility of preparation LTGEP. But CEB engineers manoeuvred the plan for their own financial gain, dragging the country into the current mess. By offering only Rs. 16 for solar power, CEB deliberately suppressed development of the solar industry, clearly indicating their neglect of responsibilities bestowed on them. CEB has proved beyond doubt that they cannot be trusted to prepare the LTGEP. Thus the preparation of LTGEP needs be handed over to a new organisation established for the purpose. CEB could continue as the contractor, producer and distributor of electricity and implementer of the plan. The new organisation would prepare the plan, supervise implementation and monitor progress made by CEB of LTGEP.


Way forward

Solar-power would be the fastest way of getting additional power at low cost, only if a fair price is offered. With proper incentives factories would cover their roofs with solar-panels, reducing their air-conditioning/cooling costs. Highway solarisation (fixing solar panels over expressways) has not even been attempted. It would be possible to get over 1,000MW from solar power, early and cheaper, replacing thermal power.

The country needs LNG power plants and gas infrastructure to accommodate local gas. Faced with high cost thermal power, the country cannot afford to waste time in calling tenders and evaluations as done for Kerawalapitiya. The way would be identify critical items and award contracts on negotiated basis. Tenders could be called for non-critical items.

The fastest way to get power plants would be to utilise the November 2016 Kerawalapitiya tender, where Lakdhanavi was lowest at Rs. 14.98 per unit, next China's GCL offered Rs. 15.97. Currently awards are awaiting court order. The country needs 1,500MW of LNG power early and lowest Lakdhanavi needs to be offered the tender, in addition GCL too be offered a power-plant at Rs. 15.97. As the country needs additional power urgently, both parties could be requested for offers for a third 300MW plant and the lowest offer be accepted. Three plants and conversion of existing 300MW Kerawalapitiya plant would result in 1,200MW plants running on LNG. In addition a 500MW power plant from India, China or Japan could be negotiated, but may take time.

In three years the above power plants would be sufficient to accommodate a FSRU, also gas produced in Mannar. The Swiss Challenge need to be modified and negotiated to accommodate the country's requirement to be proposed by Sri Lankan professionals engaged in gas and energy. For four long years the Government slept over power generation, it was the power cuts that awakened them from their slumber and if properly handled could pave the way to a solution.