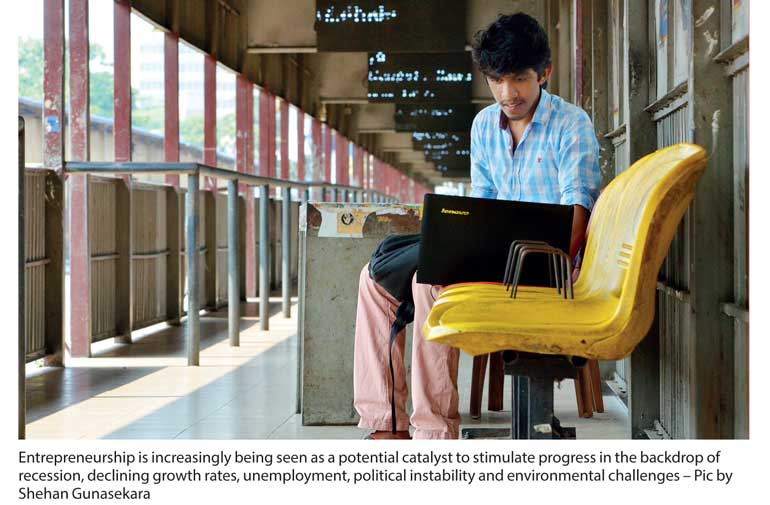 By Jeeshan Mirza

Following the end of a near three-decade civil war, Sri Lanka was primed for rapid economic growth. Buoyed by post war optimism the country's economy surged ahead from 2009 onwards amidst adverse development and slowdown in the global economy. This led to Sri Lanka being considered as one of South Asia's best performing economies. Media stories were rife with comparisons to the likes of Singapore, Hong Kong.

Fast forward to 2017, much of the optimism and post war jubilation has waned. The headlines have taken a U-turn with stories of declining growth, debt, burgeoning trade deficit taking centre-stage. The miracle of Asia is slowly becoming Asia's left behind economy. Thought leaders and economists have floated a variety of theories to explain Sri Lanka's economic slump. One overlooked and underestimated factor is the low level of entrepreneurial development in Sri Lanka.

The relationship between entrepreneurship and economic growth has been explored as early as the 18th century, by the likes of Adam Smith and Jean Baptiste Say. Recent decades have seen a strong revival in the study of entrepreneurship amongst academics, government policy makers, and business leaders.

Entrepreneurship is increasingly being seen as a potential catalyst to stimulate progress in the backdrop of recession, declining growth rates, unemployment, political instability and environmental challenges. Numerous researchers have pointed out to entrepreneurships ability to thrust nations forward by creating new wealth, jobs and being an incubator of innovation.

Particularly in the developing and emerging economies, governments see entrepreneurs playing a role in tackling both economic and social challenges. And as the popular saying goes, entrepreneurs and small business form the lifeblood or backbone of any economy.
Lifeblood of any economy
Statistics from Sri Lanka's Ministry of Industry and Commerce suggest that 75% of all enterprises fall in the SME category, contributing to 52% of the country's GDP and 45% of the employment. Although this sounds promising, one must take a closer look at the actual numbers as opposed to the percentage. Sri Lanka's volume of business activity is simply not enough to generate the desired economic growth.

Department of Labour statistics suggest 2.8% or roughly, 230,000 of the Sri Lankan working population are employers or business owners. Global Entrepreneurship Monitor (GEM), a consortium of universities carries out an annual survey of the most entrepreneurial countries in the world.

According to their study, in Thailand, 27.5% of adult population (aged between 18-64) are owner-managers of established businesses, making it the second most entrepreneurial country in the world. This means close to 13 million people in Thailand are involved in some form of business activity, explaining the outstanding growth of the South Asian nation.

This should not come as a surprise to anyone who has visited or followed the progress of Thailand. Thais are very industrious and entrepreneurial in nature engaging in various types of business catering to both export and domestic market.

Vietnam has business ownership rate of 19.6%, Brazil 16.9%, Indonesia 15.3%, Bangladesh 11.6%, and China 7.5%. Considering the population of these countries, the level of entrepreneurial activity in these economies is staggering. Countries with population similar to Sri Lanka such as Chile, Taiwan, Romania, and Cameroon also have business ownership rates around 10%.
Lesson for Sri Lanka
If there were a lesson for Sri Lanka from these countries, it would be to improve on the 2.8% statistic. In other words, Sri Lanka needs a fivefold increase in entrepreneurs and SMEs to fuel economic growth. The big question here though is why Sri Lanka does not have enough entrepreneurs. Equally important to understand is why Sri Lankans are not opting for path of self-employment.

For the past two decades, numerous researchers have carried out studies to ascertain the lack of entrepreneurial intention in the island nation. The consensus is Sri Lankans in general are resistant so self-employment.

One researcher for instance observed antipathy towards business amongst younger generation. Self-employment was perceived to have low social respect, stability and security-in comparison to other professions. Another researcher discovered a clear preference amongst graduates towards government jobs followed by private sector.

Some researchers provided evidence that Sri Lanka's culture predominantly emphasises the need for affiliation over achievement and power. In economic literature it is well established that entrepreneurs are generally achievement oriented. In another study, a researcher concluded youth are pressured by family and society not to consider business.
Cultural influence
Well-known educationist Professor Gunapala Nanayakkara has written that child-rearing practices in Sri Lankan culture creates dependence syndrome. He further states the riskless environment they are brought up in curtails their independence, risk taking and challenging behaviour. Several researchers also point to the education system in Sri Lanka, which they purport, is theoretical, not providing the grounding and self-confidence required for self-employment and other challenging opportunities.

To further understand the low entrepreneurial intention levels in Sri Lanka, I myself carried out my Master's research on 'Cultural Influence on Entrepreneurial Intention'. The study was done with a sample base of private university graduates who are well aware of Steve Jobs and Mark Zuckerberg. Despite the small sample size, the findings of the research were consistent with those of earlier researchers. Culture and social factors were indeed barriers, hindering entrepreneurial intention of the graduates.

Family, friends, cultural norms, society and peer pressure were the chief culprits swaying potential would be entrepreneurs to the safety and comfort of a nine-to-five job. Most respondents were not comfortable with risk taking, ambiguous situations-essential requirements for entrepreneurs. Many of the personality and psychological limitations identified from the research are known to inhibit entrepreneurial intention. These traits are products of our upbringing, culture and society.

The typical response of policy makers to improve entrepreneurial environment is improving ease of doing business and introducing SME friendly policies. There is no denying that both are essential. Sri Lanka ranks 110 amongst 190 countries in World Bank's ease of doing business ranking. A more favourable and conducive business environment is bound to encourage entrepreneurs. However, going by the Sri Lankan entrepreneurship research findings, these might not be enough.

Sri Lanka's issues are far too deep-rooted to be resolved with tax concessions, subsidies and business plan competitions. The roadblocks which prevent an individual from becoming an entrepreneur start long before one decides to start their career. Resolving these issues requires participation and involvement of various stakeholders.
Boosting entrepreneurship image
The Sri Lankan Government needs to create a more favourable and positive image of entrepreneurs and entrepreneurship in the country. Thais for instance have a positive attitude towards becoming entrepreneurs, something that carries a high status in their society.

Schools, colleges, institutes of higher education also have a role to play with more progressive application based education, extra-curricular activities to promote innovative thinking, risk taking. However, parents could be the most influential factor by teaching their children to think freely and independently, and encouraging exploration of new ideas, unfamiliar circumstances.

One valuable lesson from Thailand is their society's tendency of not pushing failures; encouraging people to start anew with lessons. The cultural support for experimentation and innovation in Thailand produces optimistic minds, which are undeterred by the fear of failure.

There is no doubt that Sri Lanka needs more entrepreneurial development to fuel economic growth. However, there is no short-term silver bullet solutions to this. Sri Lanka must not underestimate the cultural barriers, which have been clogging the entrepreneur production pipeline. Once addressed, and given reasonable support from government with regards to business friendly policies-entrepreneurship could grow in Sri Lanka ushering a new era of economic development and prosperity.


(The writer is a researcher on entrepreneurship and small business development. He welcomes feedback, comments at jeeshan2000@gmail.com.)