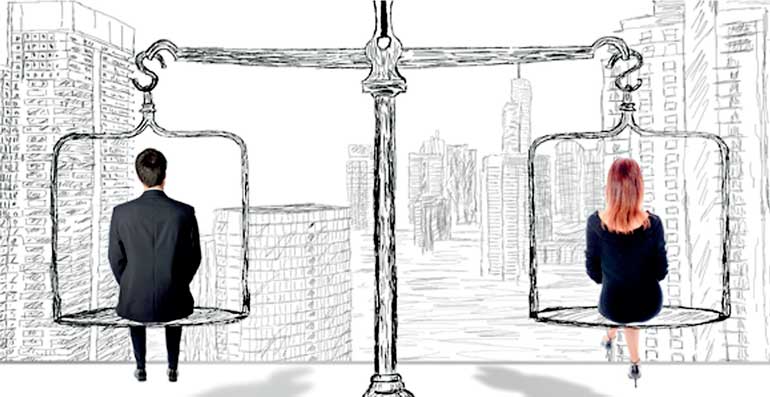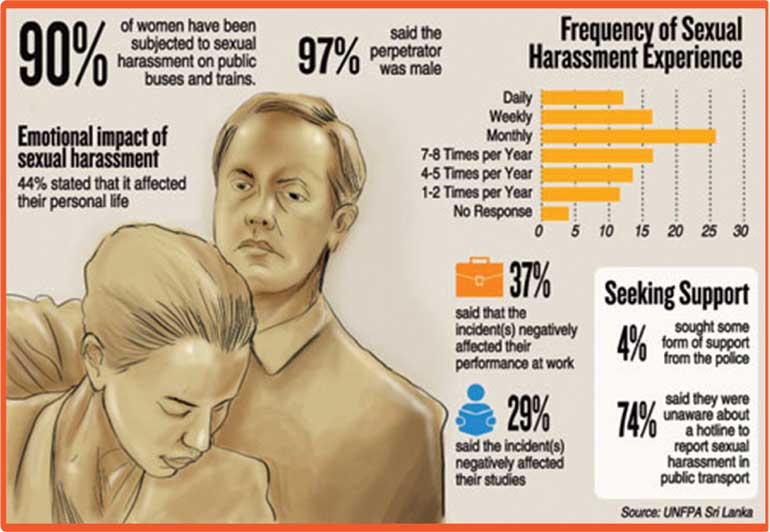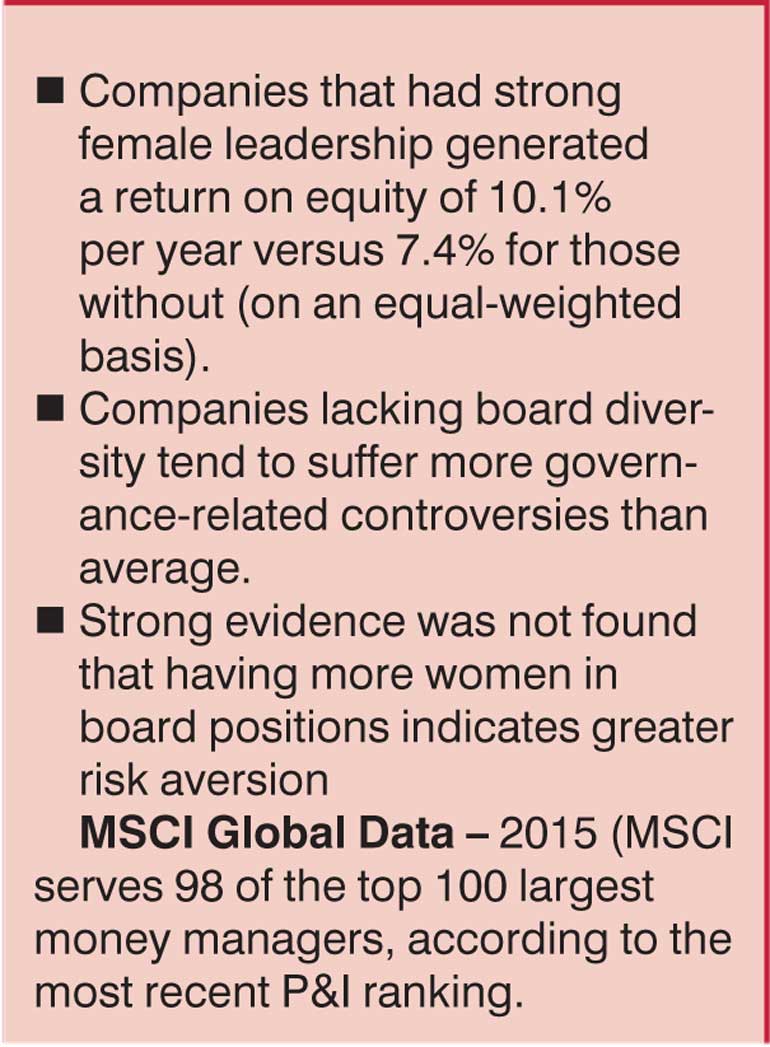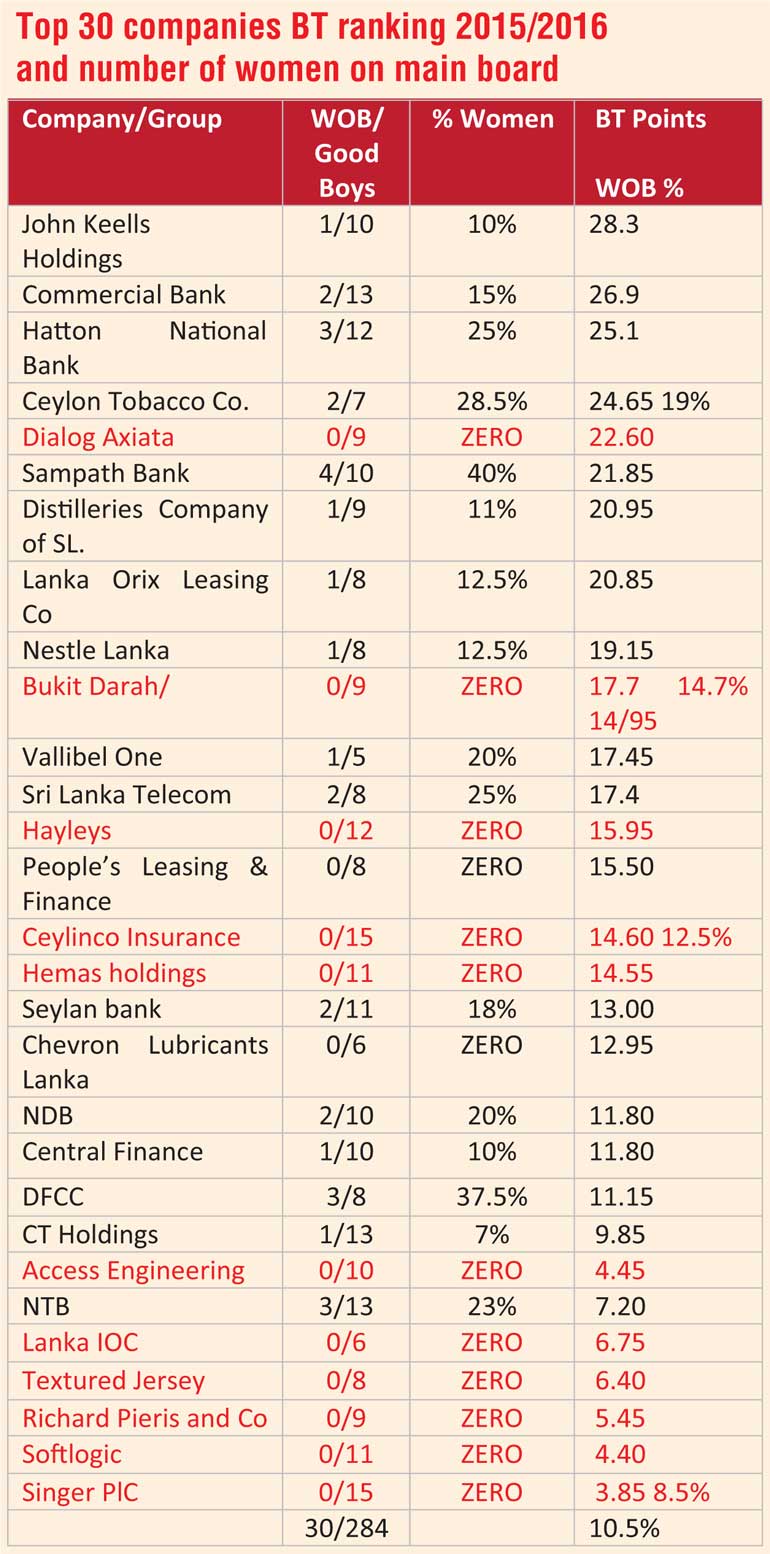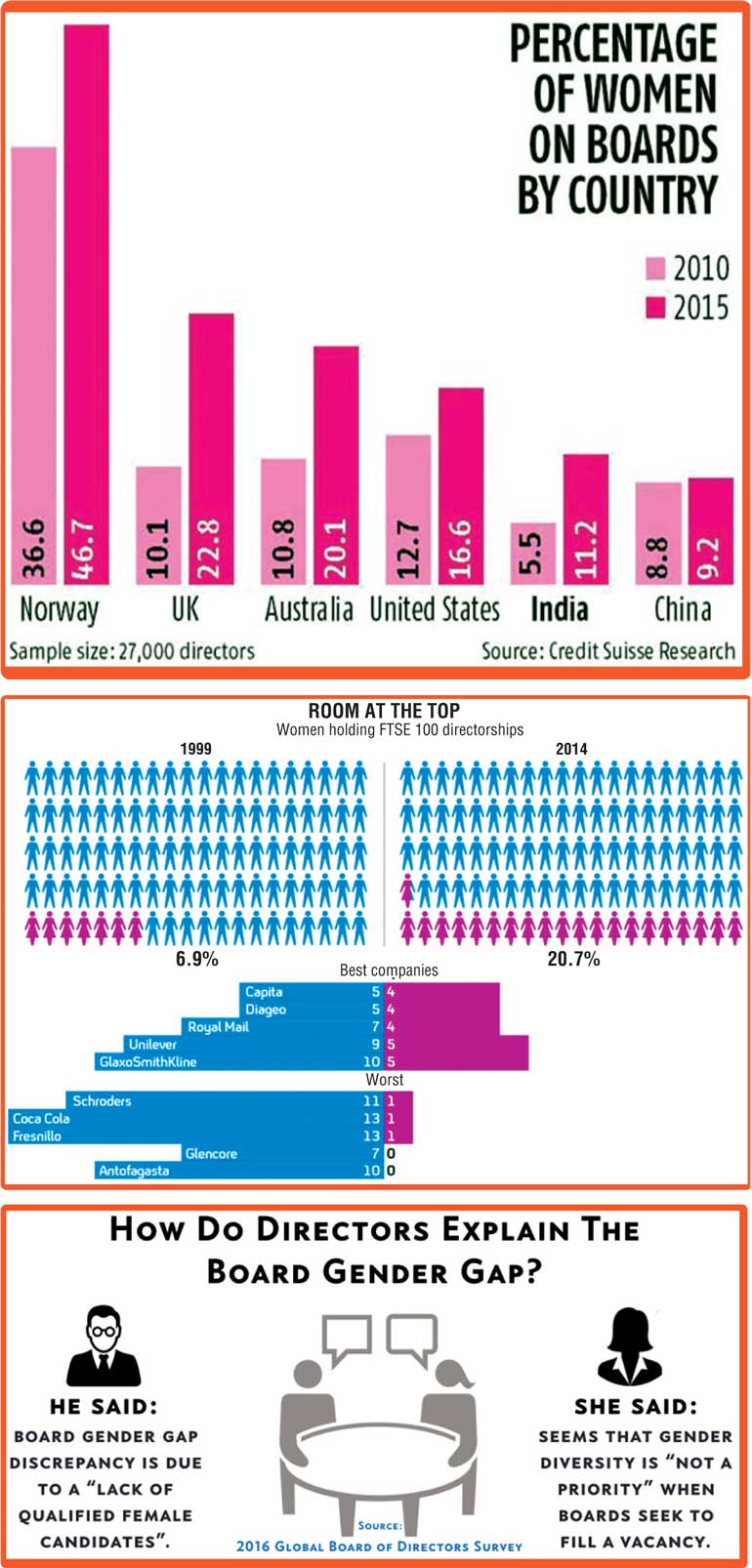 The writing is on the wall, chaps. We need to do something. There's a moral imperative, an economic and social necessity, but above all, it makes business sense. The facts stack up.
Women on boards make business sense
It is time enough that business leaders, walk the talk on gender inclusivity and take on a measurable action plan with a clear charter of principles that will guide the business community and the industry and professional bodies to mitigate and reverse the enduring issue of women's representation in the boardroom.
The representation of women on boards is not just a pipedream of equality in an age of empowerment. It is a matter of governance. Any company not adhering to this is falling short on a fundamental principle of inclusivity.
MSCI ESG Research in a compilation of companies from around the world that includes 4,218 companies, released the 'Women on Boards: Global Tends in Gender Diversity on Corporate Boards' report in November 2015. It highlights the current state of women on boards throughout the world (see inset for greater detail).
nThe percentage of women on boards globally stood at about 15% in 2015, up from 12.4% only a year earlier. The countries with highest percentage of board seats filled by women are Norway (40.1%), Sweden (33.7%), and
France (33.5%) lead the way.
Within the MSCI ESG Research global director reference universe at the time of the report, 73.5% of companies had at least one female director, although for boards with at least three women, that percentage drops to just 20.1%.
Twelve women serve on four or more Fortune 1000 boards and come from a variety of professional backgrounds, including law, politics, academia, and non-CEO executive positions as well as the C-suite. This 'Amazing Dozen,' as 2020 Women on Boards calls them, shows that there are a multitude of paths to the boardroom.
Quo Vadis Sri Lanka?
We don't know for sure, as the studies are somewhat suspect, but the only report of any credence puts it at 1%. (Place of Women in Sri Lankan Society: Measures for Their Empowerment for Development and Good Governance H.M.A. Herath)
Even Pakistan is better than us, if this is correct at 3%. India with a lot of legislation and push is at 12%, struggling with a patriarchal society that is particularly malignant in comparison to our more educated, more open society.
How then did we end up so far down the scale?
Is 1% the right figure? I care not to quibble. Either way it is far too low. On the plus side we do see a 40% representation of companies in the Top 30 Companies (BT business ranking) with at least one woman on the board. But even amongst these if we take the no of Women Board Directors as a percentage of total it is 8%.
The Colombo Stock Exchange (CSE) has 295 companies representing 20 business sectors as at 30 September 2017, with a market capitalisation of Rs. 2,919.7 b. It would take the Ceylon Chamber or the CSE less than half a day to get one person to flip through the director list and compile the actual ratio. I hope they do it someday soon. The Ceylon Chamber now has a woman CEO who was one of the most highly-respected civil servants of any gender in our bureaucracy. They show signs with this move of walking the talk. I guess it now needs a concerted effort and a few more champions amongst the boys' clubs.
We in Sri Lanka were way ahead of the pack, in women's empowerment. One of the earliest countries in the world to give women franchise in 1931. We had the world's first Women's Chamber of Commerce and the first woman Prime Minister. We have free education, free and fairly good healthcare, an enviable Quality of Life Index and a maternal mortality that is as low as the developed world. Further, women are often more educated than men right up to university.
In fact, one report states: "In comparison with women in other developing countries, Sri Lankan women appear to be greatly privileged. Indeed, many (men, in particular) are of the view that women are treated very well in the climate of the predominantly Sinhalese-Buddhist culture, where the mother figure is revered as a goddess at home and mothers are highly respected in the society as a whole (Obesekara, 1990). Furthermore, the argument goes, due to the respect accorded to womenfolk, a great many of them have attained the status of doctors, engineers, lawyers, administrative officers, diplomats, university lecturers and other such high positions in society."
And then we seem to have lost the plot.
Women on boards Sri Lanka – A quick snapshot
The facts are clear I said and the inset quotes extensive data in the West and other parts of the world. Let me make a case of the connection that applies to Sri Lanka. I took a list of Top 30 Companies (Business Today ranking 2016), that are deemed the best run, most profitable entities in the country and looked at WOB (Women on Board) representation in this group. An obvious pattern emerges.
The top four companies have an average 19% of Women Board members. Whilst the average of the total top 30 is 8% (still above the so-called national average of 1%). The top four have almost 2.3 times more or 11 percentage points more women than the average of the top 30. The top 10 are averaging 14.7% again 6.7 percentage points or 81% more than the total. The top 15 have 12.5. So the correlation is clear: The more success full companies have a greater number of WOB compared to the ones less successful. This does not prove causality but a clear correlation. 19%, 14.7%, 12.5% and 8% – the level of WOB as a percentage of directors drops as they drop down the line of performance!
There are however some unforgivable exceptions. The nine companies with no board placement on the top 30 league need to get their act together. Surely they can find nine women equal to the task? Given some of the high profile, respectable and well-informed gentleman on most of these boards, I am surprised they have not pushed the envelope on what is an obvious lapse in governance standards, or the desire to right noticeable lapses in gender rebalancing even on a notional basis. Surely at least doing the usual tactic of having a management accountant from an audit partner, a banker, a company secretary, an economist or a lawyer as an external non-executive director could solve the issue.
Dialog, Hayleys, Textured Jersey, Ceylinco Insurance, Hemas, Softlogic, Singer, Bukit Darah (Carsons), all in the top 30, in particular have no excuse. There is a cautionary tale in the Singer buyout. How can a company that is involved in white goods not have a woman guiding some of its strategy? I say this with sadness and some personal bias. I helped Singer in its early trajectory to market dominance and to become one of the strongest household brands in the country. I also happened to be the first woman senior manager there in the early '90s. Sadly they seemed to have regressed since in gender strategy and now in shareholder value.
Women on boards; one woman at a time – Let's make it happen
I for one think political representation is not where the crucible of shame and blame and inclusion should begin.
Most of us of any gender know that getting women into politics is like the proverbial bull baiting of a matador. With all the cards stacked up for men it's still almost impossible to get good men into the political process. Does it seem feasible that women with all the dice loaded against them, will be able to enter and perform credibly without systemic and societal change first?
It must begin with the top of the pyramid in the private sector where we all know real economic power resides. Within the engine of growth, driving foot to foot, shoulder to the wheel, on par with men, contributing as equals.
It is in the company or the organisation, in the battle ground of the marketplace and commerce that we must begin to fix the rot.
It is now well known, that companies with gender-diverse management teams have been proven to consistently perform better and be more profitable than those without them. There is overwhelming evidence to support the value proposition of having more women in senior leadership positions. A growing body of research – including studies by McKinsey – has proven that companies with more women in senior executive and board roles have advantages over those that don't.
Many global studies show clear indications of better financial performance and diversity of boards with at least one woman on the board. It must be noted causality cannot be assumed but correlations can be established. Whilst there is no clear reported data sets or studies done in Sri Lanka, a quick analysis of the top 30 companies in a BT listing shows a clear correlation (see inset).
The need for a paradigm shift in the patriarchy of the existing systems and a concerted effort to ensure compliance on women's representation in boards can only be inculcated if the challenges in ensuring this representation, move beyond the endless prevarication of "we are not ready yet; "there are not enough women who want to stay the course" and the usual lame excuses at making this happen.
Collective intelligence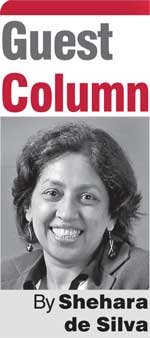 "Why should business leaders care about gender diversity? Beyond moral reasons and the race for unleashing potentiality; the most important reason is that research finds a clear correlation that teams work smarter."
Gender diverse boards have higher collective intelligence and an increase in emotional quotient that adds to better balanced judgement than in all male or homogenous groups. Collective intelligence refers to how smart a group is. To assess this intelligence, psychologists measure groups' performance on various tasks. Importantly, group intelligence has less to do with the intelligence of individual group members and more to do with group composition. When a group has a mix of men and women they tend to have higher collective intelligence and decision making.
Diverse groups tend to leverage members' varied experiences, which reduces groupthink and can lead to:
Improved decision-making
Increased brainstorming
More innovative thinking
Scientists believe that a major contributor to group intelligence is the ability to sense group members' emotions—a quality known as social sensitivity. Research shows that, in groups, women are more socially sensitive than men. For example, women are more likely than men to pick up on social cues that facilitate collaboration, allowing for more balanced conversation among a group encouraging the integration of individuals' contributions to the overall group discussion, the group "gets more" from the team's efforts. (Catalyst report)
The old stereotype that women are more transformational and men more transactional and that women can at times be more empathetic to conflict or crisis management often getting better or more balanced outcomes. They are also better at tangential thought which can lead to new market opportunities or blue ocean thinking that is less constrained by male hierarchies of thought and systems.
A call for action
A call for action – to all chambers – the CCC, FCISL, NCE, WCC, WIM, SLIDA, JAAF, WCF; to professional bodies – CIM, CIMA, ACCA, SLIM; and regulators – CSE.
Two plus years ago, mostly in vain to all the chambers and companies of repute plus industry clusters. While most of it fell on deaf ears, a few good men and women at the top of leading conglomerates took heed at least to respond and a few to act. I now repeat the exercise.
Hopefully the time is right and a few more will wake up listen and act.
To do this I will suggest again a to-do list of 10 possible steps to implement as a national initiative for ensuring women on boards – one woman at a time can be implemented.
No doubt a plethora of excuses real and imagined, will emerge.
First the usual excuse that many countries have tried a compulsory rule of 30 % or accelerated quotas have failed. Our near and not so necessarily always dear, neighbour India is a case in point. They moved ahead with a compulsory quota system and are still chugging along at 11 % of women on boards.
"Asia has a problem that cannot replicate Western dictums and indices of success or any other measure." We know.
To bring pragmatism into the approach, my suggestion is a hybrid solution that should cause little contention and reads like a dummies guide to WOB. In essence, lead from the top. Champion the issue. Mandate a process and set very minimal targets that are within reach in a 12 to 18-month period. Follow the 10-point plan.
A 10-point plan
1. Declare an intent. A woman on every listed company board by 2020. Lead from the top. Social and organisational change needs champions.
2. Set early milestones – Target a date to begin. Suggest – Latest Jan 2018. Avoid death by committee syndrome. And the talk shops. Take a few actionable tiny steps immediately. Please avoid any more mindless seminars that perpetuate male chauvinism in the main. Circulate a few must-dos – immediate steps to entire chamber membership.
Suggest:
A. Every company to appoint a champion.
B. Every company to come up with their own self-regulated time plan pledge.
C. Every company to table a board discussion on the strategic need and viability of scouting for and having a short list of candidates for review.
D. Alert them that the writing is on the wall and that it will soon become mandatory.
3. Don't overshoot on expectations. Don't overkill. Do what's manageable. Don't go for the 30 club. (A broad group of countries pledging a minimum of 30% WOB).
Suggest you shoot for one woman per listed company on the main CSE board by end Dec 2018/March 2019 depending on financial year end of company.
This has to have immediate issues related to vacation of board seat or filling of additional board seat to accommodate this. Chambers to work in collaboration with CSE/SLIDA. Companies on the second Diri Savi Board can be given till 2020.
4. Champion the value setters – Shame the laggards
Ensure that any company that is not compliant in women board representation is disqualified from any business excellence or sustainability award or ranking. I do hope CCC does this with the Sustainability Awards to be judged in a few months. CIMA, ACCI and other management entities that conduct awards for corporate reporting excellence to put in criteria that disqualify companies with no board representation of women. Name and shame. Chambers or CSE to red flag companies that are non-compliant.
5. Create a short list of potential women and a call for nominations. Suggest the chambers convene a meeting of all women directors and non-board CEOs for a nominations committee of W2W. (Women Directors to nominate a minimum of three other potential women. There is no reason it can't be M2W and open it up to all directors to nominate at least three women for grooming). CSE/Chamber to publish a list of all women directors and their profiles as a possible pool of trainers or mentors.
6. Develop champions. MAARC (Men As Agents of Reform and Change) or women AAW (Awesome Aspirational Women). Every listed company to identify a HR head or point person who will in turn establish a short list pool of potential three to 10 candidates for grooming into management boards and thereon to main boards.
7. On-boarding workshop/retreats – Have a series of on-boarding action plan sessions that must be run like a collective bargaining agreement. Chamber monitoring and evaluation committee, with company action teams that commit to shortlisting candidates. Set goals to drive results on career pathways within a set time period. Specify goals for gender, measure your progress at regular intervals.
8. Keep at it – Appoint one person in each chamber/industry organisation or professional body who will constantly flag this issue and be spokespersons. The chamber should provide practical strategies and resources for chairs and boards that agree to champion this agenda and voluntarily pledge towards it intent to improve female participation on boards.
9. Seed from anywhere – Allow for and attract women from the across the world to be board appointees in companies that say they can't find women on local boards. Establish a pipeline tracking methodology to Identify and fast track women who may be able to make future boards. Invite potential internal candidates as observers and give them board exposure. Work with SLIDA and great a hot 50 potentials who are then trained via international or local Experts.
10. Create the WOB Boardroom Diversity Index (BDI). Measuring female participation on the boards of Sri Lankan companies. The scarcity of women directors is a key aspect of the wider economic disadvantage experienced by women in the workforce. The need for publishing the Boardroom Diversity Index, bi-annually.
The larger picture
Thirty years of war and a violent youth insurrection in the '70s and '80s have added to the subordinate status of women, the growing incidence of domestic violence. Studies say possibly every second woman (40% according to Jayatillake et al, 60% says Deraniyagala) are victims of domestic violence. Almost every woman (90% - UNFPA), have been exposed at one time or another to some sort of sexual harassment of a physical kind whilst taking public transport (men flashing, jerking off or rubbing against women in a sexual way or groping women on crowded buses and trains). Shame on us.
"For some, the violence appears bound to the country's increasing levels of male alcoholism – drinking-related issues are more than twice as common in Sri Lanka than across the rest of South Asia. For others, it's linked to drugs (recent countrywide figures suggest there are over 45,000 regular users of heroin), or the ever-steadily rising rates of unemployment." (Corinne Redfern)
The incidence of rape is unclear and it is appalling that no authority has got a sense of the real scale of the problem. Ministers randomly quote disparate figures and no one calls foul or validates context or discrepancy.
Two years ago, former Women's Affairs Minister Rosie Senanayake said: "A woman is raped every 90 minutes." Recently the incumbent minister said it was "every four hours". Brainless journalists and bloggers flash these remarks in equally cavalier fashion across newspapers and social media without thought or compunction. It appears most reported 'rapes' are consensual sex amongst minors. The non-consensual rape (or rape as many of us might refer to it), is unreported and the figures unknown and no one seems to care.
Five million women or 65% of women who are of working age are out of the work force. Women are underrepresented at many levels of career advancement often not by systemic intent but by circumstance. The labour force participation of women is half that of men. From an economic standpoint it is difficult to fire an economy and stay competitive with such a high level of underutilised labour.
With the high rate of single woman headed households the crises of livelihoods and managing the family unit has huge repercussions on social security and the future of our nation.
All this must be addressed, but if there is one place we must start, it is freeing pathways to get women to the top and to participate in decision making at a Board level. Balancing the concentration of power, will increase the sensitising of society to the collateral issues around gender mainstreaming in workplaces.
And then to role of parents, teachers, media and policy
Afterword – Personal perspectives on 'the elephant in the room'
Having worked across a spectrum of sectors and with several of the leading groups companies in Sri Lanka, I do strongly believe that there are no absolute restrictions to women reaching the top of any organisation in Sri Lanka.
In my long career in the workforce, I have not ever been privy to any form of major prejudice harassment or any insurmountable glass ceiling and so I know it is possible for women to achieve and flourish. I have never encountered any harassment sexual or otherwise that was not innocent at best.
At a personal level, while I don't think that the workplace is free of these issues and in fact I have been privy to many tales of abuse and exclusion of others, I subscribe to the fact that most women in management are woman enough to fight their own battles and cross or not cross boundaries of engagement.
Sexual dynamics in the workplace are as old as time. The Harvey Weinsteins of the world will and do exist in every culture. And they will meet their nemesis. But these are exceptions, not the norm and most companies have clear mechanisms to expose and fight these issues and they should never be the reason to exclude more women into the pack.
This much I know: I travelled a path no woman had trodden in most of the jobs I had in my corporate career. Little steps of empowerment that came easy and I hope I made it easier for other women who trod these same pathways after. I know each person has his own cross to bear that is weighted by social class, education, context and chance.
There are many women who have done this and much more, scaling even greater heights, who did it with equal ease and no drama or conflicts. Some of us can say, "At no time were we overstepped for a man with lesser skills. We climbed our careers without fear or favour and know it is not impossible. It is in fact fairly straightforward." Of course we met with chauvinism and some implicit and explicit roadblocks. But nothing that could cause a sleepless night or not be par for the course in any career. Perhaps we had to try a little harder, but not unduly.
Lower down the totem pole and to women of less economic independence or social standing, who without the role models as I had in my peer group and family that took independence and courage to be one's own person in a man's world as a norm, to these other women, it would be a different struggle.
Dare I say, sometimes, women themselves are part of the problem. Blocking some paths or expecting separate rules of play. Motherhood, wifehood and the whole burden of culture and expectation can and must be juggled without compromise as many women do and have done. The larger issues of mainstreaming and equal representation of women in the workforce needs many other systemic changes but for the case of women on boards and the ensuring a single woman on every board as the initial imperative, we will need no major resources to make this work.
Equal rights on equal terms and with a system of meritocracy and gender inclusivity as a strategy that is monitored, rewarded and reported against, is all we need.
The rest is up to us women. The women shall rise like Maya Angelou. They will rise to the occasion. And boys beware, they will surprise! An empowered woman unleashing her potential in a man's world will like a duck to water settle in and not rock the boat if that's the biggest concern.
(The writer is a competiveness and international marketing and communication specialist. She has her own foundation promoting social enterprise and also sits on several boards and trusts.)