A quick solution to most of the transport problems in the country is to improve rail transport for passengers and goods – Pic by Shehan Gunasekara
---
Sri Lanka Railways seem to be a topic of much interest to public these days. Hats off and congratulations to management and staff of Sri Lanka Government Railways and Government of Sri Lanka for venturing out to embark on a railway improvement project, the first stage of which is to import higher quality, engines, power sets, carriages to keep the highly-subsidised SLGR moving along with the outdated, overused, unwashed and dirty rolling stock. Some of the dirtiest diesel engines may be in Paradise.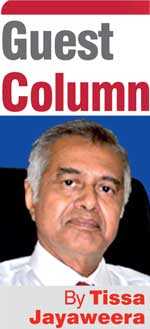 Although the numbers imported are negligible these will add to the current fleet of 96 diesel electric locomotives, 42 diesel hydraulic locomotives, 90 power sets, 3 steam engines and 500 carriages as recorded by SLGR.

Neither the SLGR General Manger nor the Auditor General has made the public or Ministry of Transport aware on a monthly basis or at random at least once a quarter how many or what percentage of these rolling stock are on the move and how many are under repairs. A few days ago it was stated 20 engines are kota uda for want of spares and repair bays. How many days on an average does it take Railway staff to repair an engine? Walking through workshop many heads are seen, but how many are working?

Talking to locomotive operators, most say engines lack necessary parts for efficient function of engines, thereby under combustion and lack of power causing high fuel consumption and smoke. The Railway Workshop was considered one of the best in the country for in-plant training some time back. Now it is a hellhole with idle labour.
Number of trains on the move
Among the bouquets and brickbats thrown at Railways, neither the general public, the taxpayer, nor train passengers have observed an increase in the number of trains on the move – although it is reported often that new trains and carriages have been added to the fleet. SLGR management has been incapable to increase the number of trains on the move during peak hours.

According to the website, 386 trains move a day between 320 stations, transporting 340,000 to 350,000 passengers a day on 1,500 Kms of track. Most are repeat passengers who use the train as a means for daily transport and live by train stations. Naturally train passengers do not see any improvement in service as they live with trains on a daily basis. Most say train timetables are ill-planned and trains run at random times and not at times required by passengers. A passenger requirement survey must be done.

New, modern and faster trains are being added to service on the Upcountry Line. At present there are 10 trains moving up and down on a daily basis with three additional trains on Friday, Saturday and on holidays, if they do move as scheduled. The first up-train starts at 0555 and reaches Kandy around 0900; if started at 0530 the train will reach Kandy by 0830 giving a lead time to start your mission in Kandy from 0830 onwards. Intercity starts at 0700 and reaches Kandy by 0930++. All have seven carriages at present and the new trains too have seven carriages. The 1st, 2nd class and 3rd class run three or four carriages. Passenger requirement is an additional 3rd class as train travel is cheaper, faster and more comfortable than bus.

It is said the new trains have a bigger engine capacity and climb faster. Are railway time planners sticking to same time schedules for trains on the Upcountry Line with new high capacity engines? Then it is a waste of public funds if arrival times are not advanced. Efficiency Improvement Department has to work out time tables to adjust arrival times. The down train from Kandy starts at 1500 and tickets are being issued from 1330. Passengers from Colombo have only 4½ hours working time in Kandy. There should be another Kandy/Colombo Fast Train at 1600.
Facilities at railway stations need an upgrade
The facilities at railway stations too need an upgrade. Some railway stations are maintained by the private sector as CSR projects. These stations are clean but toilets, canteens and other facilities need improvements as they are still SLGR maintained. SLGR is one of the biggest land owners and most rail stations are in strategic locations.

These can be converted as Public-Private-People's Partnership (PPPP) model on to big city centres/shopping malls by SLGR, Megapolis, with public and people's participation inclusive of areas for park and ride which is yet to be seen in this country.

Improvement of facilities of rail stations should be followed by addition of more ticket counters for speedier access or ticket machines be added for commuters with credit/debit cards to purchase tickets from machines.

The Railway Efficiency Improvement Department is supposed to be working on improving efficiency of issuing of tickets.

How long will they take, is there a time target? Travellers say reserved seats are booked months ahead by mafia. Most developed countries including India are adding ticket machines for purchase of tickets at stations as well as online purchase of tickets. Purchase of ticket machines will involve much tender procedure and railway may end up purchasing the wrong machines which usually happens in Government purchase.
Indian example
Ceylon was a rich country with a high quality Ceylon Government Railway (CGR). Train service was made poor by politicians from 1960 onward. This was a developed country at time of independence and is now a country which is once again struggling to become a developing country from 1978. We have been aping the West, then a country that followed Ceylon to become a developed country with business houses expelled from Ceylon by wrong political judgment establishing themselves over there, then other South Asian countries. Let's now follow India, which is developing at a rapid pace.

Conditions at airports of India are being revamped at a fast pace on a PPP model. One of them is among the 10 Best Managed Airports of the World. High quality long distance and short distance old ramshackle busses are being replaced with copies of busses from reputed manufacturers of Europe, now made in India. The Indian National Railway is improving by leaps and bounds with rolling stock and engines made in India, again copies of trains of Europe. Rail tracks are being relayed by machines to improve speed with technology of India.

Like in this country most trains of India run between 50-60 Km/Hr, but the new intercity express trains of India are now operating at 130 Km/Hr, all with rolling stock made in India on improved tracks laid by Indians with track laying machines imported from Europe. Their departure and arrival times are on the dot. Congratulations, INR.

There was a time in the past when long distance trains of India arrived on the time schedule of the next day. Electrification of railways is taking place. India was short of power five years back. Now they have sufficient power to electrify railways. Metro rail too is being added on elevated tracks. INR, like SLGR, is operated at a loss. India is yet to see high speed trains of Japan, Europe and China. Other than for metro, no elevated tracks. People still travel on the roof of carriages, which does not happen yet in Sri Lanka. PM Modi's Government has set a target to make INR profitable by 2025 by increasing rolling stock, frequency of trains by improving tracks and signalling system, resulting in faster trains. India is the fourth largest rail system of the world.
Public pays for Railway inefficiency
This country has no plan to make Railway profitable ever, not realising that the public pays for its inefficiency. Thanks to operators of private busses, State transport operate busses at the same fare as private busses. Now certain depots of Sri Lanka Transport Board have become profitable. Once again this reflects on the number of busses operated and cost of operation. On an operational ratio, number of employees in a depot is far greater than the number of employees required to operate a fleet of busses in comparison to private operators.

Ceylon had one of the best bus/train systems of the world before nationalisation. SLTB/SLGR became politicians' job bases after 1960. The number of employees vs. number of km moved is far in excess of international norms. All State departments are employment bases for politicians, so are State-Owned Enterprises (SOEs). Politicians are not educated, nor do they have sufficient meritocracy to realise that all born and living citizens of the country including themselves pay for their inefficiency.

A quick solution to most of the transport problems in the country is to improve rail transport for passengers/goods, which no politician in power has ever ventured out to. Currently 350,000 passengers are transported on a daily basis by railway. This 350,000 is being subsidised by 21 million citizens. New and faster trains are being introduced. Train travel in Paradise is 20-30% cheaper than bus for a more comfortable safer journey. Will our politicians have the guts to at least increase train fair to equate to bus or increase the fare of the new super luxury coaches and trains, some with AC? In the developed world train fare is higher than bus fare as trains are faster and safer.
National plan needed
Trains will cut pollution to a great extent but the only diesel engines of the world with thick black exhaust fumes are operated by SLGR. Efficient and fast train service will reduce road traffic congestion to a great extent, thereby reducing pollution. The Railway has enough land by rail stations. These can be converted into park and ride for cars, three-wheelers and motorcycles.

A park and ride train promotion can be done very quickly.

SLGR moves only 7% of the travelling public and 2% of goods. There should be a national plan to move at least 20% people and 10% goods by train. Let's all wait and see if any politician/political party will have in its manifesto to improve and make the Railway an efficient people/goods mover and not be a burden to citizens of this

country.