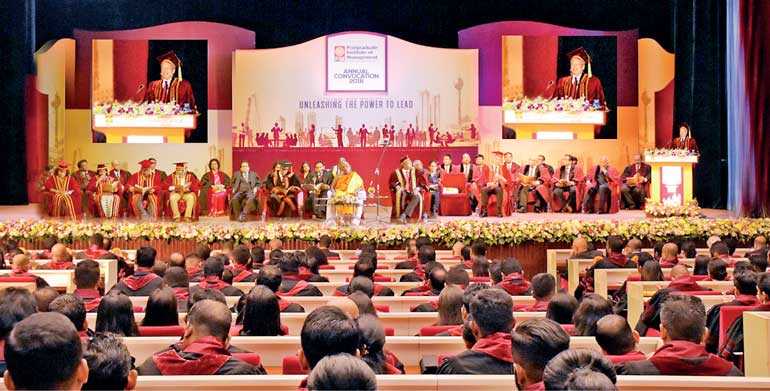 We are indeed delighted to present 441 extraordinary managers at the PIM's latest convocation. They have been developed as leaders with global presence and local pulse. That's why we picked the apt theme this year as 'unleashing the power to lead'. Instead of cursing the darkness of leadership we see at the political fronts, we decided to light not one candle but many. Today's column is all about this prestigious event of the premier postgraduate enterprise that aptly acclaimed as the "Nation's Management Mentor".


Overview

As we are much aware, leadership is all about inspiring, influencing and initiating. It is more than positions and titles as it involves decisions and actions. We have been breeding leaders to the nation for over 30 years. These thoroughbred professionals have mastered value creation with confidence and competence. They are equipped with cutting-edge knowledge and complementary skills needed to perform in both private and public sectors alike. In producing them with clarity and commitment, the PIM has always been a centre of excellence in management education with its wings spreading beyond Sri Lanka.

Excellence is all about being exceptionally good. When applied to enterprises, it involves exceptional achievements in a consistent manner. That's what the PIM is proud of as a self-financed and semi-autonomous public entity. We simply excel with extraordinary executives in essentially engaging them to unleash their true potential. The nation expects them to contribute towards the socio-economic upliftment in multiple fronts.

As our mission proclaims, we ignite human imagination by developing leaders with global presence and local pulse. In this endeavour, we pursue innovative teaching, cutting-edge research, enriching partnerships, inspiring sustainability and exemplary governance. Now the time has come to expand our reach, regionally and globally in adhering to best practices with appropriate use of technology. The PIM will continue to produce value in practicing values, as the nation's management mentor.


Keynote speaker

Jan Kunigk, the Executive Vice President of Siam City Cement PLC and the Director Marketing, Sales and Innovation at Siam City Cement Lanka Ltd. was the keynote speaker of the PIM's annual convocation this year. Currently Kunigk is leading the Sales, Marketing and Innovation departments for Siam City Cement in Sri Lanka and is part of the Thailand based Corporate Sales and Marketing Excellence Circle and a member of its Digital Council.

Siam City Cement is the fastest growing cement and construction materials company in Asia with current revenues of close to $ 2 billion, 6000 own employees and assets in India, Indonesia, Bangladesh, Cambodia, Vietnam, Myanmar and Indonesia.

Kunigk is an independent advisor to several European, US and Singapore based institutional investment companies and has served in various top management and senior management positions before joining Siam City Cement. He served as Commercial Director of Holcim Indonesia, a publicly traded company since January 2013, generating revenues of Swiss Franc 1 billion. Kunigk was responsible for all sales and marketing activities and lead the transformational and change management program from a product-centric to a customer-centric and customer-focused organisation, changing the mindset of over 2,500 employees.

He holds a Master degree in Business Administration (MBA) from Western Illinois University (USA) and a Diploma in European Business Studies of Bamberg University (Germany). He continuously focuses on executive education to stay up to date and joined programs at Harvard University, Boston, Massachusetts, Chicago Graduate School of Business, and at IMD, Lausanne, Switzerland.


Highlights of the keynote address

I felt Jan's speech was timely and topical. His main focus was to highlight how unleashing the power to lead becomes relevant in the current business context. He brought a wide array of points to ponder in order to ascertain the rigour and relevance of leadership. I thought of sharing some extracts from his speech:

"I believe the greatest truths of universe is before leading others it is foremost important to lead yourself first. Envisioning a better future, setting worthy, self-reflected and challenging goals, and following through with sustainable impact first and foremost requires leading yourself. Often leadership is a lonely road. And to keep ourselves inspired, motivated, and energised we need to lead ourselves with our heart, with a clear purpose, and full devotion. Successful organisations need leaders who know themselves first; have the inner compass that points them into the right direction. Many leaders never take the time to do so. Take time to reflect on what you want to do, why you want to do it, and how you will do it."

"Good leadership isn't something that just happens," he went on to say. "It requires many competencies such as decisiveness, motivation and the ability to lead by example. It might seem easy to set the right example for employees and be a source of inspiration for them, but putting it into practice successfully can take a lifetime. It's about trust, gaining respect, and motivating and managing employees to get good results. A team that's being led by a poor leader, will be more likely to experience a conflict than teams with leaders who encourage, involve and inspire their employees. It's sometimes said that managers do things right and leaders do the right things. The best solution however, is to be both a manager and a leader."

As Jan further observed, "When it is done the right way, we call it leadership; when it is done the wrong way, we call it a disaster." "It falls to the person in charge to give people a reason to believe in that person's talents, and the ability to get people to work together."

"Few people in high places get there without being knocked over a few times. Being flattened is nothing to be ashamed of; how you rise to your feet is what counts. If you do it by acknowledging your shortcomings and then set about remedying it through further education, training, or even experience, you demonstrate that you have resilience. Employees deserve leaders who know how to bend, but not break. Such leaders handle the issues that make everyone else weak in the knees – a fierce new competitor, a pending merger, or conflict in the workplace. They need to know that their leader has the heart to embrace a challenge and the guts not to break down in the face of adversity. They also need to know that their leader has brain enough to back off from the impossible so as not to break the organisation. Savvy leaders pick their moments carefully; tough leaders persevere only."

"Command is granted; leadership is earned," observed Kunigk. "That's an adage that governs our military. People are put into positions of authority, but it is up to the individual to earn the respect and trust of his followers. When followers see the leader doing what is right for the team; that is, supporting, developing, nurturing, and defending in good and bad times they grant their trust. The same trust-building revenue applies to individuals. Managers who put the interests of their people first by finding ways to help them grow, develop, and take on more responsibilities cease to be mere managers; they are leaders of men and women who have earned their rank by giving their people a reason to believe."

"Leadership only succeeds when it shows others how to extend and push for greatness." Your team should look at you and think, "If she/he can do it, I can, too." True leaders do not whip their team into shape from the back of the pack. They lead the charge, while carrying their share of the weight. If your leadership model says, "Failure is not an option," you may be setting yourself up for not only more failure, but a culture of disappointment and fear. Failure is a vital process of invention, innovation, and risk-taking. If you want a truly extraordinary team, celebrate failure and even encourage it in a controlled, experimental environment."

"Good leadership takes strength of character and a firm commitment to do the right thing, at the right time, for the right reason," opined Jan. "This means doing what you say, when you say it. If your team can't trust you, you'll probably never lead them to greatness."

"Setting an example isn't just about finding ways to motivate employees in the short term; it can also inspire them in more lasting ways. Inspirational leadership generates enthusiasm and passion for the organisation's mission by helping employees to align their personal values with company initiatives. An inspired team is more likely to meet its goals, demonstrate higher levels of engagement, and produce higher quality work."

"You have all the thinking in your hands by now. You are ready to excel and launch. With that, I wish you the very best for your future, in developing your legacies, and with that all the best for your future endeavours". That's how Jan Kunigk concluded.


Way Forward

As Aristotle said, roots of education are bitter but the fruits are sweet. The convocation day was a time of tasting that sweetness. A premier postgraduate program should have high quality and relevance. That's what we at PIM are continuously striving for. I earnestly hope that the 441 private sector managers and the public sector administrators who graduated will contribute their utmost towards the betterment of themselves, their respective organisations, and the nation at large. That's how we unleash the power of leadership in breeding holistic leaders fulfilling a dire need.
(The writer can be reached through director@pim.sjp.ac.lk, ajantha@ou.edu or www.ajanthadharmasiri.info.)