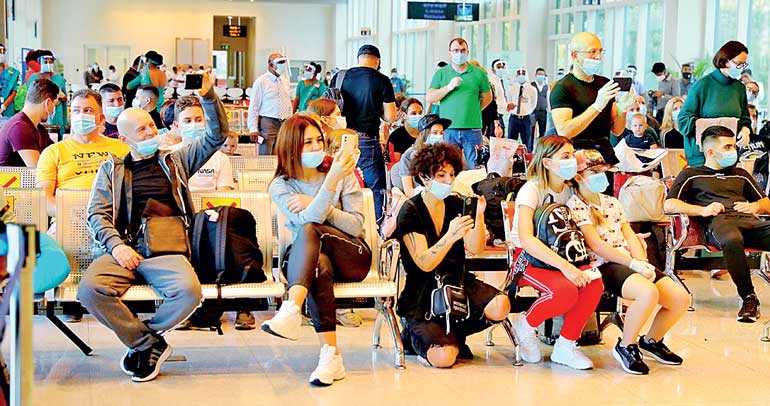 Haphazard U-turns facilitated by airport authorities at the request of controversial former diplomat Udayanga Weeratunga to fly in Ukrainians without proper checks and violating the established protocols at Sri Lankan airports is an irresponsible act
---
The COVID-19 pandemic has forced an extraordinary time on human civilisation and people have been confronted with a critical juncture demanding a novel path. As a result they are searching for creative and innovative solutions.

Unusual circumstances require collaboration and corporation between all states, institutions, and multilateral agencies in order to take steps to control the pandemic and related global challenges with an open mind, so as to chalk out a new way forward. Similar coordination with a strategic approach is of utmost importance nationally among the concerned authorities and local institutions to manage the pandemic and revive the economy. Or else leave the virus to take control of the situation.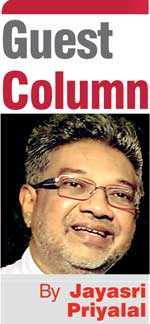 Millions of lives and livelihoods are at stake fighting a war against an invisible virus which is mutating fast and spreading at a rate. Although there appears to be a ray of hope with the vaccines, a clear strategy to instil resilience and recovery is necessary.

An urgent need is emerging to re-open the airports and ready to welcome the tourists eagerly waiting to travel, locked down as caged animals for months. The Sri Lankan hospitality industry and the airlines prepared to take up the challenge and stimulate the economy. The country needs scarce foreign exchange; the dire situation of the financial deficiencies in the economy is no secret. There are no qualms about reviving tourism and hospitality is a priority for Sri Lanka.

President Gotabaya Rajapaksa's Government unveiled a clear message to the public and an action plan for the strategic sectors to make all these happen. What is most important and urgent is all ministries, institutions and State authorities should act in concert aligned in one direction.

A leader is the one who does the right thing; a manager will always be happy to do the things right. It is sad to note that neither of these is happening in Sri Lanka. Instead, the haphazard relaxation of controls worsens the situation getting more COVID-19 infected foreigners entering the country at our invitation as guests.

In the worst-performing COVID-19 pandemic crisis management countries, the population did not receive a clear message on what to do on their part, as in China's case. Mixed priorities and unclear messages confused the public. In many democracies, the current leaders got elected by riding popularity waves stirring nationalistic emotions in the election process.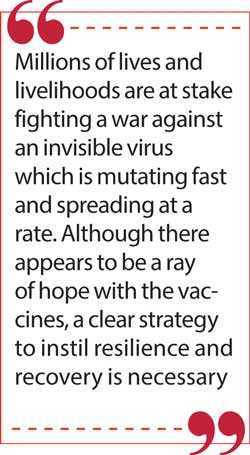 They were good at managing misinformation to achieve their electoral success. They lacked clarity in their message to tell people what to do, and they were not ready to learn from others who successfully coped with the unforeseeable and the unpredictable in the past. Moreover, they dared to neglect science and professional medical advice. That is how COVID-19 has tested the leadership abilities of many politicians.

The American war veteran General George S. Patton quotes are used in interpreting and handling challenging situations from his battlefield experiences. He said, prepare for unknown, studying how others in the past have coped with the unforeseeable and the unpredictable.

What is seen in the current fix is, many political leaders are confused with known unknowns, and unknown unknowns and are happy to disregard the science and medical advice for own convenience. Attitude demonstrates irresponsible leadership in many countries without any clue or strategic revival plan to manage the situation to overcome the crisis, aside from learning from past experiences.

President Gotabaya Rajapaksa is a war veteran and with his military background should be familiar with theses phrases. Yet, we do not see whether he is putting them into practice. The phrase's punch line is learning from others as to how they handled the unforeseeable and unpredictable.

No single country has successfully controlled the situation but counted on the grand immunisation programs with the vaccine's help. Pending such medical resolutions, no one is willing to ease the lockdown conditions, particularly following the new strain spreading at a rate; instead, they tighten and impose strict social distancing.

Following the COVID-19 pandemic infused health disasters, there are two other critical areas that Sri Lanka needs to restore to international standards: public health systems and alternative indigenous medical practices.

Sri Lanka ranks high in maintaining a universal health system across the country with a network of hospitals and health centres. Thanks to our medical professionals' dedicated services, we have successfully defeated many diseases in the past and have a healthy population. Learn from the unprecedented coronavirus pandemic and its nature of infections, which is impacting heavily on vulnerable groups with underlying health

conditions.

At the beginning of 2020, Sri Lanka acted as if there was no pandemic wave, by imposing curfew, closing the airports and setting up quarantine facilities for foreigners without taking adequate steps to test and isolate infected people in a systematic and scientific manner. Everyone focused on conducting the election in search of the two-third majority. Policymakers were overconfident and they never want to learn from other countries as to how they managed the pandemic. General George Patton emphasised this point in his statement quoted above.

As per statistics reported in the media, there are 83,000 beds in 627 networks of hospitals on the island having around 500 Intensive Care Unit (ICU) beds, before the onset of COVID-19 pandemic. Has the Ministry of Health provided resources to increase the number of ICU beds, ventilators, and PCR and swab test facilities in the hospitals across the areas where the coronavirus is active?

Pandemic preparedness and equipping the public health systems to cope with future outbreaks of contagious diseases epidemics or pandemics in Sri Lanka will undoubtedly boost the image as a safe tourist destination for foreigners to visit. If we upgrade our public health system with the necessary facilities, pumping resources will increase the country's image as a choice travel destination.

We have shown our kindness, compassion, and competencies when handling disasters such as bomb explosions and tsunami calamities to many foreigners' satisfaction. Similarly, the health authorities should develop a plan to introduce the immunisation program targeting the vulnerable groups and the essential services providers. Alternatively, we can count on Helawedakama and Ayurvedic immune boost systems popularised with professionally qualified physicians. In Wuhan, China, the Western physicians attached to the Peking University Hospital have acknowledged the contributions of Traditional Chinese Medicine (TCM) practitioners' contributions in curbing the spread of the virus. TCM clinical treatment practices have been documented and are under the scrutiny of WHO.

The Government should take adequate steps to prevent quacks and soothsayers prescribing divine concoctions, which undermines public confidence in alternative medicine practices.

Showing resilience and mainstreaming sustainability is the way to stimulate and accelerate growth in the Sri Lankan economy. For the revival of Sri Lankan tourism industry, an integrated master plan responding to the new challenges post the COVID-19 situations is necessary. But such initiatives should be done in consultation with relevant authorities without compromising health and safety precautions to control an unprecedented pandemic.

Haphazard U-turns facilitated by airport authorities at the request of controversial former diplomat Udayanga Weeratunga to fly in Ukrainians without proper checks and violating the established protocols at Sri Lankan airports is an irresponsible act. Such incidents will undoubtedly damage the Sri Lankan infectious and communicable disease health experts' reputation doing their jobs at airports.

Weeratunga may be demonstrating his patriotism by activating his Ukrainian networks to visit Sri Lanka to boost our tourism industry. Such gestures might not earn him credits to offset the underhand deals with arms dealers he had while serving Sri Lanka's Government as the Ambassador to Russia and Ukraine.

It is heartening to note that the Tourism Minister Prasanna Ranatunga is aware of the shortcomings that led to the lapses and the Sri Lanka Tourism Development Authority Chairperson Kirmali Fernando's appeal, all stakeholders cooperate to realising the more significant national goals.