It is with great concern that I read the article in The Lancet of December 2018 on UNAIDS and Michel Sidibe. I am not privy to the sexual harassment complaint, investigation and the report of the independent committee. The allegation by a female staff member was not against Michel but a male official and the insinuation was that Michel did attempt to influence the investigation.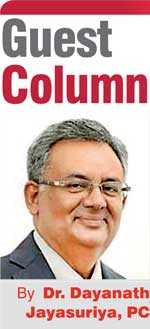 Sexual harassment within the UN system is not new. On 23 December 2018, The Sunday Times of Sri Lanka reported that a female Sri Lankan employee in the UN in New York made allegations of sexual harassment against an UN Under-Secretary General who prematurely resigned before the case was over.

As someone who has been involved with the UN response to HIV/AIDS for over 30 years, this piece is intended to highlight some of the fundamental structural and operational problems that had a negative impact on the ability of UN and its specialised agencies to cope with the AIDS pandemic meaningfully and with ubiquitous petty staffing issues looming large.

My association with the UN and its specialised agencies on programs relating to HIV/AIDS goes as far back as 1987 when I was appointed by WHO then Director-General Dr. H. Mahler as a Consultant on the very first day when the Special Programme on AIDS was created under the late Dr. Jonathan Mann.

There was uncertainty as to the trajectory of the virus and the worst case scenario. Jonathan was instrumental in mobilising international attention and introducing a human rights approach to the issue. His program management skills were, however, not very strong. He alienated the heads of relevant WHO Divisions and Units by issuing a circular that no one can issue a public statement on the crisis without his authorisation.

My mandate was to develop some guidelines on testing and more importantly to liaise the Division of Drug Policy and Management to get approval for a fast track approach for drug testing. Dr. John Dunne who was the Secretary of the WHO Committee for the approval of drug testing protocols quite rightly refused to authorise procedures which glossed over certain fundamental safeguards and requirements.

My stint was rather short-lived and I reverted to the substantive division in which I was previously working. Dr. Mann's stint was also short-lived. With Dr. Hiroshi Nakajima at the helm of WHO, the new D.G. found himself uncomfortable that Dr. Mann was getting wide publicity. Jonathan left for Harvard University.

Dr. Michael Merson's tenure witnessed the expansion of HIV-related work by other agencies. With more funds than WHO's AIDS program, some of the other agencies upstaged WHO in country program interventions. The emergence of a coalition of UN agencies to tackle AIDS was thus inevitable. Dr. Peter Piot became the head of UNAIDS and later Dr. Sidibe became his trusted lieutenant and ultimately his successor as well.

My career on HIV-related work involved working with UNESCO and UNDP and finally as UNAIDS Country Head and Programme Coordinator. Turf issues among the participating UN agencies as well as international developmental agencies stymied the UNAIDS response from the outset. UNAIDS struggled to carve out a niche for its role and this varied from country to country depending on the availability of funding, the personality of the UNAIDS staff and degree of inter-agency cooperation.

Corruption in the disbursement of funds was rampant in some countries and this was well documented a few years ago by Transparency International. UNAIDS Country Programme Coordinators who highlighted this issue won the wrath of national AIDS program managers and others who were complicit.

It cannot be gainsaid that much progress has been made by many countries in slowing down the spread of the virus and in minimising prejudice and intolerance. But yet there is no room for complacency.

I served UNAIDS during the tenure of both Peter and Michele. What exactly was Michele Sidibe's contribution that once deserved him to be the worthy successor to Peter and what has led to his downfall? Michel was a strong advocate that irrespective of the number of funding agencies, countries must have 'one policy' and 'one evaluation modality'. Many national program managers spent most of their time filling out forms. Michel also advocated a strong public health and human rights approach, including equal rights to gay and lesbian sub-populations.

He galvanised some of the worst affected countries in Africa to put HIV/AIDS control measures and the distribution of drugs as top items on the unfinished health agenda. He was successful in getting top political leaders and their spouses to lend support to grass-root interventions.

From the outset, UNAIDS was a virtual dumping ground for many unwanted staff from partner agencies. This problem got compounded with the passage of time. Michel increasingly found it difficult to manage 'problem cases' and complaints by some country program managers of undue interference by such personnel at headquarters went unheeded to such an extent that a few country program managers quit in disgust.

Michel's efforts to accord prominence to African and other Third World leaders might have been a cause for concern of certain prominent members of the AIDS community from so-called First World countries. Michel was handpicked by James Grant to lead the UNICEF program in Timbuktu, his first appointment with the UN after he qualified in France.

Like Kofi Anan, he knew what poverty was and he was always prepared to lend a helping hand to countries struggling to cope with the epidemic. Leaders of African nations have recently passed a resolution acknowledging the unique contribution made by Michel, thus exacerbating the North-South struggle for supremacy when it comes to matters of integrity and transparency.

Michel was to be made the scapegoat by an influential lobby. He warded off pressure to step down immediately but announced that he would resign before the expiry of his term. The new search process for a successor is estimated to cost more than $ 250,000, an amount sufficient in some countries to save the lives of thousands of HIV infected kids.

Sexual harassment is no doubt ubiquitous in the UN system and it is always difficult to deal with such cases that at the end all the parties feel that justice has been meted out. There is no doubt that sexual harassment has to be outlawed and there must be a 'zero tolerance approach' without exception. We all remember the difficulty that was encountered when a nominee judge in the US-faced sexual harassment charges.

Michel might have tripped over some of the fundamental steps that he should have taken as reported by the committee. No one is perfect and certainly Michele is no exception to this. However, the current major onslaught on his professional managerial capacity and leadership qualities is perhaps unwarranted given the structure of UNAIDS and its operational context.

What is urgently required is to revisit the basis for UNAIDS so that the organisation, as adapted, itself becomes more robust and less vulnerable to external influences and internal manipulations.