The recent release and box-office success of the Telugu biographical movie 'Mahanati' (Great Actress) has created a great deal of interest in the famous South Indian actress Savitri.

The bio-pic simultaneously released in Tamil as 'Nadigaiyar Thilagham' (Doyenne of Actresses) is about yesteryear actress K. Savitri who was known as Savitri Ganesh after she married Tamil romantic actor Gemini Ganesan also known as R. Ganesh and Gemini Ganesh.

Savitri ruled the roost in Telugu and Tamil filmdom for nearly 15 years in the fifties and sixties of the last century and was hailed as the finest actress of her time. The actress was extremely popular with Tamil and Telugu audiences during her time and enjoyed what could be termed as a cult following at the peak of her career.

The titular role of 'Mahanati/Nadigaiyar Thilagam' denoting Savitri is played by a young actress Keerthy Suresh who is of mixed parentage with a Malayalee father and Tamil mother. The key role of actor Gemini Ganesan/Ganesh is played by Dulquer Salman the son of Malayalam Super Star Mammooty. The film has evoked much curiosity about the real life romance between Savitri and her actor husband Gemini Ganesan. Although the couple had separated in later life, theirs was a love story that captivated film fans of an earlier era.

In recent times I have been requested by many Rasikas and admirers of the Gemini-Savitri duo to write about the real life romance of these two great reel life actors. This week's 'Spotlight' therefore focuses briefly on a glamorous romance that began with great sweetness but sadly soured at the end.

Savitri and Gemini were very popular in Sri Lanka known formerly as Ceylon too. The couple had many fans from all communities in the Island. Savitri in particular had a lot of female fans. I remember Gemini and Savitri arriving together by plane from India at the Ratmalana airport in the early sixties. They were the chief guests at a cultural event named 'Silamboli' or 'Tone of the Anklets'. Hundreds of fans mobbed them at the airport. The newspapers in all three languages published photographs of their arrival on the front pages. In later years Gemini Ganesan came several times to Sri Lanka. In 1978 Gemini along with actress Rajshree attended a musical show at the Sugathadasa stadium as chief guests.

"Gemini" Ganesan

"Gemini" Ganesan was born on 17 November 1920 into a well-educated middle class Brahmin family in Puthukoattai which was then a principality ruled by a king or "Rajah". His father was Ramaswami and mother Gengamma. His given name at birth was Ganapathi Subramania Sarma but was generally called Ganesan. Soon he became known as Ramaswami Ganesan or R. Ganesh.

In some of the earlier films in which Ramaswami Ganesan acted, the credits show him only as R.G. As his screen career blossomed, the actor became known as "Gemini" Ganesan. The prefix "Gemini" came into being because prior to acting Ganesan had worked as casting director at the prestigious Gemini studios in Tamil Nadu.

Gemini Ganesan was regarded widely as the greatest romantic lover in Tamil cinema. In fact he was dubbed "Kaadhal Mannan," meaning 'King of Romantic Love'. In a career spanning more than five decades Gemini Ganesan made his mark in Tamil films as the romantic hero par excellence. Though he played a number of diverse roles he made his mark as a lover on screen. It was this which earned him the laurel "Kaadhal Mannan".

Interestingly his on-screen and off-screen persona got intertwined in this respect. While the evergreen actor Gemini crooned his way into the hearts of many lovely heroines on screen, the off-screen hero in real life had four wives plus several liaisons with attractive women. He himself admitted to his numerous affairs with other married women to an Indian magazine. When the magazine wanted more details, Gemini declined to elaborate saying, "Gentlemen don't tell!"

Gemini cooed and wooed his way into many a heart. All the world loves a lover! Gemini was the greatest lover on Tamil silver screen, making hearts flutter. His handsome features, dashing personality, cavalier attitude, soft speech, twinkling eyes and impish humour proved an irresistible combination. Girls blushed as Gemini's soulful eyes from the screen seemed to penetrate the innermost depths of their hearts. Many actors have romanced their heroines on screen in the past and no doubt will do so in the future. The "Romantic King" crown of Tamil cinema however belonged to Gemini Ganesan and all other aspirants to it were/are only pretenders to the throne. He was and will be forever the "Kaadhal Mannan" of Tamil cinema.

Gemini's first and only legal wife was Alamelu, fondly called "Bopji". Gemini married at 19 and had his first child when 22. This did not prevent further marriages done according to Hindu religious rites. One such wife was Pushpavalli with whom he acted in his first film 'Miss Malini'. Another was of course the illustrious actress Savitri known as Savithri Ganesh and about whom the bio-pic has been made.
Even as a septuagenarian Gemini made headlines by his marriage to a woman called Julianna who was half his age. He also had a live-in relationship with the actress Rajashree for some years.Ganesan's other extramarital liaisons were numerous and added grist to the gossip mills of Kodambakam in Chennai, where most film studios were located at one time. Gemini was no gigolo but a Casanova. He was not a hypocrite and candidly admitted to these affairs saying his life was an open book. Some writers have compared him to Gary Cooper in this respect.

Gemini's legal wife Bopji stood by her philandering husband throughout like the typical Indian loyal wife. She and Gemini had four daughters. Three of them – Revathy, Kamala and Jeya – are medical doctors. A fourth, Narayani, was a journalist on Times of India. Gemini had two daughters by Pushpavalli. The elder is Rekha, the well-known Hindi film actress. The younger Radha also acted in a few Tamil films but then opted for marriage and migration to the USA. Savitri and Gemini had two children. The daughter Vijayasamundeeswari is a physiotherapist. She acted in films as a child artiste, 'Baby Savitri'. Gemini's only son Satheesh Kumar is also living abroad in the USA. He is a computer engineer.

Savitri

Savitri was of Telugu ethnicity and the younger of two daughters. She was born on January 4th 1936 in a small village called Chirravurru in Guntur district in the present day Indian state of Andhra Pradesh. Savitri's parents were Komma Reddy Kuruvaiyya and Subhadramma Reddy. Her father Komma Reddy Kuruvaiya died when she was only six months old. Savitri's mother Subhadramma took Savitri and her elder sister Maruti and moved to her husband's elder brother Kommareddy Venkatramiah Chowdhury and his wife Durgammaa's home. Thereafter Savitri's paternal uncle KV Chowdhury became the guardian of both sisters.

Discovering that Savitri had a flair for dancing and acting her paternal uncle let her participate at a very young age in dance dramas staged by a theatre company. The family moved to Vijayawada city where Savitri learnt music and dance from Sista Poornaiyya Shastri. Savitri's uncle cum guardian thought of making his ward an actress in films. The family relocated to Chennai in order to facilitate Savitri's entry into films. It was then that Savitri met her future husband Gemini Ganesan for the first time.

He was then working at the famous "Gemini" film studio owned by the legendary S.S. Vasan. Savitri came for an audition at Gemini studio and was tested and interviewed for a part by Gemini Ganesan. She was not selected because she was found to be too young for the role. Gemini however noted in his report that K. Savitri had "striking features, showed much expression and had much promise".

Savitri got her first break in 1950 through a minor role in the Telugu film "Samsaaram'. After getting a few more films doing small roles, Savitri got her major break in 1952 through maestro L.V. Prasad who directed 'Pelli Chesi Choodu' in Telugu and its Tamil equivalent 'Kalyanam Pannip Paar'. In 1953 came 'Devdas/Devadasu' made in Tamil and Telugu by director Vedantam Ragavaiah. Savitri was the heroine and A. Nageswara Rao the hero in both films. The film was a roaring success. Savitri was now established as a heroine in Tamil and Telugu films. She began to get paired with almost all the leading actors in films including her future husband Gemini Ganesan who was earlier known as R. Ganesh in films.

Her first film with Gemini was 'Manam Poala Maangalyam' in 1953.It was directed by P.Pullaiyah. Gemini at that time was already married to Alamelu called Bopji and had children by her. This did not deter the man who was regarded as the king of romance on screen as well as off screen. Both Ganesh and Savitri were struck by Cupid's flowery arrows while acting together in 'Manam Poala Maangalyam'. It developed into a full-fledged love affair in 1955 when both acted in 'Missiammaah' directed by L.V. Prasad. By this time R. Ganesh had become Gemini Ganesan. When Gemini attempted to court Savitri, her paternal uncle and mother often obstructed it as much as possible.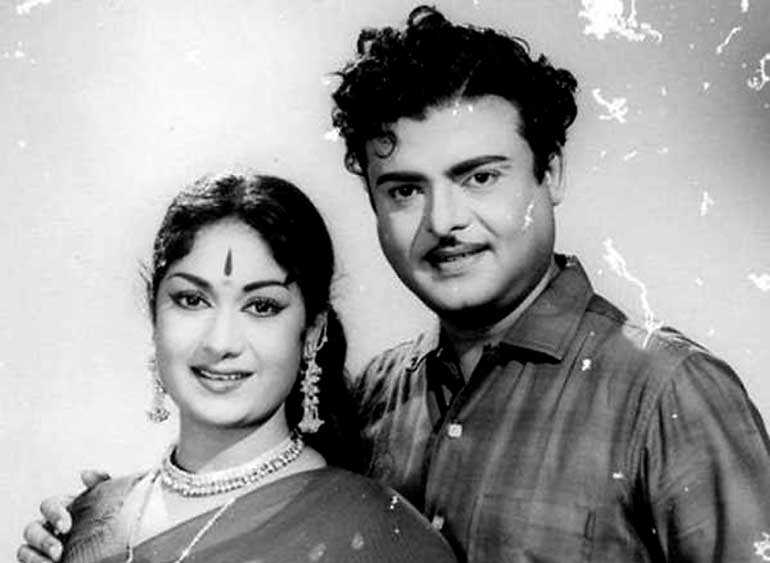 With Savitri's family objected strongly to this liaison, she ran away from home and sought refuge from Gemini. Savitri and Gemini married secretly at the Chamundeswari temple in Mysore (now Mysooru) in a Hindu ritual conducted by a Brahmin priest where Gemini tied the "thaali" around Savitri's neck. Gemini, who was then living with wife Alamelu and children at Nungampaakkam, set up a second home with Savitri in a rented house at Abhiraamapuram. Later Savitri bought extensive property on Habibullah Road in T'Nagar and built a modern mansion. Gemini began shuttling between both houses. He used to spend the day at Nungambakkam and night at T/Nagar.

The couple had two children, a girl Vijayachamundeswari, and a son, Sathishkumar. Chamundeswari is a physiotherapist in India while Sathishkumar is a computer engineer in the USA. Sathish is the only son Gemini had. All his other children from wives Alamaelu and Pushpavalli were daughters.

The Gemini-Savitri duo

The Gemini-Savitri duo shone brightly on the silver screen and acted in many memorable films. Both acted together in 44 films. Among these were 'Missiammaa,' 'Yaar Paiyan,' 'Maayaa Bazaar,' 'Kappaloatiya Thamizhan,' 'Paava Mannippu,' 'Paarthaal Pasi Theerum,' 'Paatha Kaanikkai,' 'Hello Mr. Zamindhar,' 'Kaathiruntha Kangal,' 'Poojaikku Vantha Malar,' 'Aayiram Roobai' and 'Katpaham'.

Fans loved seeing these real life partners playing lovers or acting as husband and wife on screen. Their chemistry on screen was terrific. Love duets with Gemini crooning and Savitri cooing were relished by many. Both enjoyed a loving relationship in real life too where he called her "Ammaadi" and she called him "Kannaa". Sadly their relationship soured and the loving Gemini-Savitri couple got separated after some years. There was no formal divorce because they had never been legally married.

Friction between both started developing when Savitri ventured into film making. Savitri had from the time of her entry into films wanted to produce and direct films. Her role model was the actress Bhanumathy who directed the film 'Chandi Rani' and also co-produced films with her director husband Ramakrishna. Savitri was now encouraged by fellow artistes to produce and direct films. Savitri formed the company Sri Savitri productions and embarked on a venture to direct a film. Gemini, a cautious man who believed in making real estate investments over film production, was unhappy.

Savitri's maiden venture as producer-director was the Telugu film 'Chinnari Papulu' based on a story written by her friend Veeramachaneni Sarojini. A novel feature of the film was that the well-known playback singer P. Leela composed music for it. The film was a tremendous success. An elated Savitri went on to make K. Balachander's Tamil film 'Neerkumizhi' into a Telugu film, 'Chiranjeevi'. The film crashed badly at the box office. Savitri then made her debut as director in Tamil by re-making 'Chinnari Papulu' as 'Kuzhanthai Ullam'. The film had Gemini Ganesan as the hero with Sowcar Janaki and Vanishri as the heroines. Savitri played a cameo honorary (Gaurava) role. The film did not flop but did not do too well either.

Gemini Ganesan now began advising Savitri not to make any more films. But egged on by a group of self-serving sycophants scrounging off her, Savitri spurned Gemini's advice and went ahead making films. This led to heated arguments between husband and wife. Complicating matters further were reports that Gemini Ganesan was having a clandestine affair with actress Rajshree and Savitri with comedian actor J.P. Chandrababu.

Apart from this Savitri also started imbibing liquor frequently to relieve stress. Her constant companion in clinking glasses was the writer V. Sarojini. When Gemini objected to Sarojini's presence and the drinking bouts, an enraged Savitri reportedly asked Gemini to "get out". This was the ultimate straw that broke the camel's back. Gemini left in a huff and never returned. The loving couple who called each other Ammaadi and Kanna had a permanent rupture. Some of Savitri's close relatives including her sister Maruti and brother-in-law Mallikarjun reportedly encouraged and prolonged the break-up. So did some of Savitri's woman friends.



Despite Gemini's opposition Savitri went ahead with film making. She attempted to make two films at the same time. In 1964 Savitri along with A. Nageswara Rao and Jamuna had acted in the Telugu film 'Mooga Manasulu,' directed by Adhurthi Subba Rao. The film was a smashing success. It was remade later in Hindi as 'Milan' with Sunil Dutt and Nutan and again proved commercially successful. Now Savitri wanted to re-make it in Tamil as 'Praaptham' with Sivaji Ganesan, Chandrakala and herself doing the three key roles. At the same time she bought the rights to the Tamil film 'Vietnam Veedu' starring Sivaji and Padmini. Savitri remade the film in Telugu as 'Vintha Samsaaram' with Jaggiah and herself in the lead roles. Both 'Praaptham 'and 'Vintha Samsaaram' were released on the same day in April 1971. 'Praaptham,' which Savitri directed, produced and acted in, barely made even but 'Vintha Samsaaram' was an utter failure.

The journey downhill

With the exit of Gemini Ganesan, a cabal comprising relatives, friends, domestic servants and film company employees had gained much influence and power over Savitri. Moreover they had also systematically robbed her. False accounts were presented and funds siphoned off. Jewellery was stolen and some houses and property misappropriated. Savitri being in an inebriated state frequently had aided these dishonest elements. So with her films crashing at the box office Savitri was in a terrible financial crisis. As a result Savitri had to sell off her Habibulla road mansion, other houses elsewhere, estates, jewellery and luxury vehicles to offset her financial losses and reimburse her creditors.

She moved to a rented house and began travelling about in taxis, three-wheelers and cycle rickshaws. She also started acting in a lot of character roles (Gunachitra) in a minor capacity. Like many other yesteryear heroines Savitri started acting as a mother in many films. Savitri acted in more than 75 films in a nine-year period from 1971 to 1980.

Her health started deteriorating. Savitri was a diabetic and also suffered from high blood pressure. Furthermore she had become an alcoholic. It was her husband Gemini who made her imbibe liquor first at a diplomatic function organised by the Indonesian Embassy in the early sixties. Thereafter she had become an occasional social drinker. However she started drinking frequently due to stress when she became a producer-director. A gang of scroungers surrounded her and exacerbated this tendency. Financial losses and separation with her husband made Savitri turn to strong drink in a big way for solace and also to drown her sorrows.

Her health began deteriorating further. On 11 May 1980 Savitri collapsed at a hotel in Mysore where she had gone for a film shoot. It was due to hypoglycaemia. Apparently she injected insulin and had continued drinking without eating. She was admitted to hospital in Karnataka and later brought to Chennai on 17 May and hospitalised at the Lady Willingdon Hospital. She was in a diabetic coma and was continuously unconscious. Her estranged husband Gemini returned to her bedside and looked after most of her medical expenses. Savitri was later moved to her home and kept under intensive care. She lay in a coma for nearly 19 months and finally passed away on 26 December 1981. Millions of Saviri's fans mourned the lamentable loss of their favourite actress.

Gemini Ganesan, the one-time heartthrob of Tamil cinema passed away peacefully in his sleep 24 years later on 22 March 2005 at his residence in Nungambakkam, Chennai. Tamil Nadu. Jayalalitha Jayaram who has acted opposite Gemini in some films was the State's Chief Minister then. She remarked then that the death of Gemini Ganesan was "an end of an era in Tamil cinema".

Nostalgic memories revived

Nostalgic memories of that bygone era have been revived by the release of Savitri's bio-pic. A fresh debate has ensued about the sweet and sour relationship between Gemini Ganesan and Savitri due to the film's impact upon the viewers. Some blame Savitri and others accuse Gemini as being the cause for the break up. The flawed portrayal of both characters in the film too is faulted.

Sadly the children of Gemini too are slinging mud at each other in an acrimonious exchange of words fuelled by self-serving sections of the media. Gemini's daughters by Bopji are critical of Savitri while Savitri's children Vijayachamundeswari and Satheeshkumar criticise Gemini.

To those genuine fans of Gemini and Savitri, this public spectacle of raking up the negative sides of their one-time idols causes immense sadness indeed!

(D.B.S. Jeyaraj can be reached at dbsjeyaraj@yahoo.com.)