Sri Lanka Tourism is placed in a complex situation. The Tourism Master plan should spell out the development areas, ascertaining for instance maximum accommodation capacity in Colombo. Anything excessive would not only bring the prices down but also increase traffic, impacting movements of business – Pic by Shehan Gunasekara
---
"Easier said than done!" is what many veterans of the tourism industry say whenever the subject of enticing high spenders to Sri Lanka is debated. That being so, some boutique brands have fetched high prices in the past though the current situation has compelled them to break even with reduced rates.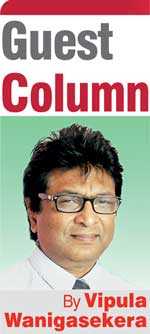 Quality against numbers is the catchphrase that is emphasised in many tourism destinations and yet only a few had succeeded in this part of the world. Attracting high spenders is dependent upon many aspects, most of which are beyond the control of the tourism industry.

The recovery from the shock of April 2019 has taken a longer time than expected but the industry can rest assured with the election of the new President, whose priority is national security.

Nonetheless the skyscrapers that are erupting at a rate in the city raises eyebrows in some quarters whether these buildings, said to be apartments, are targeted for tourists, meaning that there will be a continuous oversupply compared to demand in the capital.

A senior industry member returning from WTM says that once the prices are lowered, it would take a long time to recover due to fierce undercutting among tour operators to grab existing business. There is no way of regulating this for another year, at least.

Thailand, which had been known as a budget-friendly destination, made a strategic move to attract a new breed of high-end clientele. They had undertaken many local initiatives and international campaigns promoting luxury tourism with a focus on high-spending visitors.

For example, Pattaya wants to rebrand the city from the early reputation of location to fulfil the travellers' sexual needs. The authorities say that Thailand has so much to offer in nature, culture and culinary art to visitors. The issue is easily seen from an interview with an employee of a massage centre where she had said: "I would rather be a waitress, but then I couldn't send my children to school to have a better future than this."

However, their efforts to tap higher-end markets specially from China and Europe are bringing fruitful results according to the Ministry of Tourism and Sports, which announced that in 2018 the increase of tourism arrivals had been 8.8%, i.e. 35.38 m arrivals with the rise in revenue by 12% i.e. $ 56 b, noting that the high spending traveller base is expanding.

Nepal is another destination which is refocusing its efforts to approach the upmarket. They believe that unless they do so, revenue from Nepal's tourism industry will not see a meteoric rise with the recognition that the country had been obsessed with volumes which they are comparing to the metaphor 'how many people were invited to a wedding reception rather than how the quality of food served was'.

Sri Lanka Tourism is placed in a complex situation. The Tourism Master plan should spell out the development areas, ascertaining for instance maximum accommodation capacity in Colombo. Anything excessive would not only bring the prices down but also increase traffic, impacting movements of business.

Sri Lanka should not have a situation like Nepal where the average spending of tourists had hit a seven-year low at $ 44 per day, with a good number of tourists probably living on less than $ 10 a day. The analysts say this is a result of chasing numbers for 20 years to reach one million tourists which they finally achieved at the cost of value.

Notwithstanding, there are many prerequisites to position a destination for high-end tourism. Whether Sri Lanka is ready for that calls for a serious audit as many macro aspects are not within the tourism authorities.

Safety and security with political stability stand right on top of the list. This needs no further elaboration. The former appears to be under control while the latter is yet to come, after a new government is established. Raising the image of Sri Lanka on par with Singapore or Malaysia will take a while although Sri Lanka has a USP in diversity which has not been fully explored and exploited.

Uplifting the profile of Sri Lanka cannot solely be done through destination branding if the brand promise is not delivered. We have seen tourists themselves collecting garbage and incidents of harassment as well as lack of privacy.

On the part of the industry, there has to be assurance beyond regulations to provide a high level of professionalism in the tourism and hospitality services together with support services.

It has been mentioned over and again, despite heavy promotional activities, the contact points of the visitors are the chauffer guides, receptionists, waiting and housekeeping staff, wayside boutiques, shops and various other contact points during the tour. Many things that can go wrong from the time of arrival to departure of a tourist?

When the industry in Rwanda made a strategic shift to reach high-end visitors, they built a world-class convention centre at a cost of $ 400 million near west of Kigali International Airport linked to an Information Technology Park of over 32,200 square metres.

At the same time, a visit to the gorillas that was priced at $ 600 per person some years ago was raised to $ 750 and now it costs $ 1,500 to spend an hour with the gorillas. They issue only 80 permits a day for sustainable reasons. A perfect combination of business traffic with wildlife which Sri Lanka could contemplate.

The diversity of Sri Lanka has been projected in many ways, but the impact has been minimal. An integrated structured campaign is long overdue since 2011 and that calls for some guiding principles through consumer research.

No doubt Sri Lanka has benefitted from all ad hoc promotions but that is not sufficient as the industry claims. The procedural and regulatory reasons for that has been cited in my previous article.

The diversity itself can be a weakness if not promoted to relevant target audiences. I once proposed in an article 'multi-positioning in the quest of a tagline' way back in 2009 to deal with the issue of having to project diversity which is worth researching to check the feasibility.

Then the independent opinion making which some organisations have taken seriously. Ella became a destination on its own with not much of an attempt by authorities. If one carefully studies the influx of visitors to Ella, it is word of mouth.

That is said to be the cardinal principle in marcom that destinations should pursue vigorously. No messages emanating from paid advertisements will carry credibility as that of independent sources which places the importance of PR.

Therefore, the future campaigns should embrace adequate efforts to have versions of the reputed opinion makers. Authorities and industry have already done much wok such as bloggers' conferences and media FAM trips which must be commended.

With more clout in political and bureaucratic cooperation, they could go a long way in the country's effort to shift the focus on high spenders.


(The writer is a former diplomat and tourism official and currently an academic.)