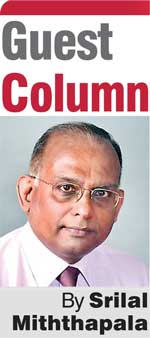 One of the most notable news stories in the past few days, (even overshadowing the ongoing election rhetoric) was the untimely death of a scholar monk, the most Venerable Professor Bellanwila Wimalarathana Thero, supposedly due to some form of altercation with the temple elephant. The facts are hazy, shrouded in many versions, ranging from an attack by the elephant, to an accidental fall, which led to the prelate's demise. Whatever the correct story may be, the bottom line is that we have lost an erudite scholar monk, and once again thrown into the limelight the issue of captive elephants.

Hence while different views, some quite radical, are circulating, it may be worthwhile to look at some of the issues in a balanced, pragmatic manner.
Tamed elephants
Elephants have been tamed from time immemorial and used for work, war, and religious ceremonies in Asia. However, one major fallacy that abounds is that these tamed elephants are domesticated and harmless. Nothing can be further from the truth. All elephants are fundamentally wild. Period. They have not been inbred over the years and 'domesticated' like our cats and dogs. They are taken from the wild, and tamed to be obedient and follow commands. Being highly intelligent animals (very high up on the animal intelligence scale) they learn to do many tasks and are seemingly docile. The taming process breaks the elephant's spirit. (More about that later.) But the fact of the matter is that, deep inside, its instincts are still wild, which may rarely manifest itself when triggered by some external event.
Elephants in temples
This, no doubt, is a very controversial topic. Elephants and Buddhism are closely interrelated, with elephants featuring in many of the Buddha's teachings, as well as playing a prominent role in the story of His birth. Buddhist temples have always had tamed elephants, which, although having no real religious significance, is more one of tradition. In fact historically, owning tamed elephants was a status symbol. Most of the Kandyan aristocracy owned elephants.

I will steer clear of the debate of whether some larger temples of today should have elephants or not (there are many who are more knowledgeable on that subject than me) and, focus instead, on the way in which tamed elephants are looked after.
The care of tamed elephants
Animal psychology and behavioral studies have developed a great deal over the years, and today animals such as elephants are found to have complex and intelligent behavioral patterns. They have been found to have exceptional emotional intelligence. Tests and studies have found that they can manifest a range of emotions from grief, happiness, remorse, frustration to anger, and social learning from one another. They have a tightly knit complex social life, with the mother and calf bond being one of the strongest in the animal kingdom, and a highly developed communication system with one another. (https://www.scientificamerican.com/article/the-science-is-in-elephants-are-even-smarter-than-we-realized-video/)

Therefore it is vital that if for any reason tamed elephants are to be kept, a high level of care and input is needed. The elephant cannot be kept tethered and tightly shackled, and it needs freedom to at least walk about, with regular baths where it can immerse, and move freely – not be 'watered down by a hose pipe' as is sometimes prevalent today. It also needs constant human kindness and bonding. In the absence of these inputs, the captive elephant will be under greater emotional stress. Sadly some of the temples do not provide this environment.
Could this elephant

have really attacked

the High Priest?
Possible. This was a relatively new elephant brought from Myanmar as Sri Lanka does not have such 'high caste' elephants that are suited for temple duties and to carry the relics. (There are 10 castes of elephants and the highest 'Saddantha' caste only is suitable.) Such special elephants are hard to come by and they have to be captured from the wild when they are relatively older, when the required characteristics can be seen better, rather than in the juvenile state. (In fact until about 15 years, one cannot tell if a young male will have good, long, well-formed tusks). In Sri Lanka, it is illegal to capture elephants from the wild, so the State has to rely on importing elephants from Thailand, India, and Myanmar to 'fill this demand'.

Now it is a well known fact that extremely cruel methods are used to tame elephants, especially older animals. The process is called 'crushing' which basically aims to 'break the spirit' of the elephant and subdue it. So especially these larger elephants, which are tamed in such a manner, carry deep rooted psychological stresses and trauma, and some may suffer from latent Post Traumatic Stress Disorder (PTSD), which can suddenly manifest itself, given some trigger situation, many years later. (http://hereandnow.legacy.wbur.org/2012/03/27/elephants-post-traumatic)

So given the fact that we do not know under what circumstances this elephant 'Myan Kumara' was caught and tamed, it is possible that the elephant may have suddenly attacked the priest for no obvious reason.

Captive elephants are known to have done this and there are adequate records of such instances. Most often after the incident the elephant feels great remorse and actually fells 'sad'. A famous story during the early days of the Udawalawe Wild Life Park is of a wild elephant who had smashed a tracker on a stone late one evening, when the tracker, who was on foot, had suddenly come across the elephant. The elephant had carefully laid the body on the rock, covered it with leaves and stood sentinel until morning when the search party arrived. To this day the rock is called 'alidutugala' – the 'rock on which the elephant was seen'.
Conclusion
There is no doubt that this is indeed a very unfortunate and sad incident – both from the perspective of the untimely death of a senior Buddhist monk, and at the same time from the perspective of an elephant, most probably wrenched out from the comfort of its family, shackled and brought to an alien country, to be kept as a prestigious exhibit.

Saner counsel must prevail, taking into consideration the rich cultural and religious traditions we have, and to uphold true Buddhism, as well as work out a reasonable compromise solution.

The writer, apart from being a senior tourism personality in Sri Lanka, is also an avid wildlife and elephant enthusiast. He has undertaken a short research program at the Udawalawe National Park (UWNP) on wild elephants, under the sponsorship of the US Fish & Wild Life Service, and also has published a book on the elephants of the UWNP entitled 'Tranquil Footsteps'.