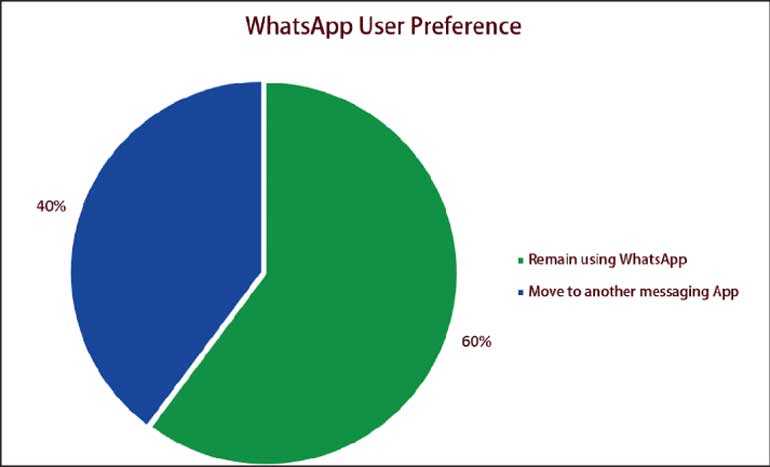 The dilemma in deciding to shift away or remain using WhatsApp highlights significant challenges for both individual users and business users
---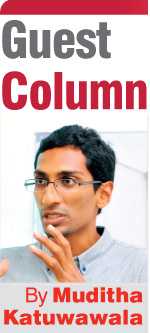 WhatsApp is considered to be the most popular messaging app globally and in Sri Lanka. WhatsApp was ranked the top application to be downloaded globally from 2016 to 2019 while more than two billion monthly active users are recorded globally.
Facebook acquired WhatsApp in 2014 for a staggering price of $ 21.8 billion or at approximately $ 55 per user. Founded in 2009 by two former employees at Yahoo!, WhatsApp messaging app quickly became popular with the increased use of iPhone devices. Initially, the method WhatsApp used to generate revenue was through a subscription model where it cost $ 1 to download and $ 1 each year going forward. This method was removed after Facebook acquired the messaging App. As of now, WhatsApp has its largest use population in India with an estimated 350 million users while Brazil and United States respectively follow behind with 100 million and 70 million users.

The most popular messaging app was known to be easy to manage, fast, free and can handle document transfers of up to 100 megabytes while being able to cater towards voice and video calls making it more convenient in communications. The application also gives additional convenience through the desktop WhatsApp which is connected through the smartphone. WhatsApp has also invested towards maintaining safety and security both on an individual and community level. The end-to-end encryption which was introduced in 2016 meant that it ensured only two individuals communicating can read or listen to what is sent and received, this encryption made it impossible for even WhatsApp to read the communicated message.

End-to-End encryption functions automatically where encrypted messages are secured with a lock, and only the recipients have the ability to unlock and read them. WhatsApp also has taken several steps in Sri Lanka to mitigate the spread of false information by limiting the sharing capabilities to only five senders at a time. This restriction was placed after the Sri Lankan Government temporarily blocked the use of WhatsApp in 2018 and 2019 after communal unrest. With 32 million mobile connections in Sri Lanka, WhatsApp has become the most preferred messaging app for majority of the Sri Lankans.
The new privacy policy
Since early 2021, WhatsApp started alerting its users that a new privacy policy is in place and that users will have to accept the new policy by 8 February 2021, if to continue using services provided by WhatsApp. This sudden announcement has led to an outcry amongst tech experts, public administrations, entrepreneurs and privacy advocates. This outcry has created a tsunami in calls to switch to alternative messaging applications.

WhatsApp has said these new privacy policies are intended towards integrating better with other Facebook products by integrating data collected through WhatsApp with other Facebook led platforms such as Instagram and Facebook itself. In a recent statement, WhatsApp has mentioned, "We may use the information we receive from them, and they may use the information we share with them, to help operate." Even though WhatsApp is unable to read any messages, this new policy can provide space for Facebook to integrate your contacts list, financial information, location, usage data, as well as the smartphones unique identifier.

This information may be linked to your identity, and it's this data and information the new privacy policy stipulates must now be accepted by the user to be shared with Facebook. Many advocates believe this is against the privacy of the individual who uses this application and furthermore, this privacy policy sets a negative precedent for other tech companies to set privacy policies that infringe on user data and information.

By 8 February, anyone who is using WhatsApp will have to choose which path they must take. As Sri Lanka is heavily depended on the use of WhatsApp communication, this sudden decision by Facebook will have a negative impact on individuals as well as businesses and administrative sector.

Alternative messaging applications such as Signal, Telegram, Hangouts, Viber, WeChat have received increased demand from current WhatsApp uses in switching. In a recent statement, Elon Musk has openly asked everyone to join the Signal App which has caused its market value rise by 438%. These emerging messaging applications have similar functionalities of WhatsApp and even has elevated themselves to provide similar video conferencing capabilities like of WhatsApp. The strategy used by Facebook to suddenly announce this privacy policy while giving less than a month to accept its new terms has surprised many users and its rival application platforms.

A sample survey was done to determine if a given WhatsApp user would be switching to any alternative messaging application or would accept the new WhatsApp privacy policies and continue using WhatsApp. 93 individuals were polled on social media using rudimentary polling tools. The results reflected 56 of the polled would remain using WhatsApp as the primary messaging tool while 37 of the polled would switch to an alternative messaging application. As of 13 January 2021, the majority of the users have had polled to remain using WhatsApp. The views by the polled showed various reasons as to why to remain or exit using WhatsApp.


Reasons to remain using WhatsApp by user are as follows:
Convenience; to avoid the hassle of checking for the next best messaging application, installing and start using
Connectivity; since most Sri Lankans are using WhatsApp, it remains to be the go-to messaging app
Services; WhatsApp provides free services to both text and video messaging in a user-friendly manner
Maintaining connections; lack of will to create and manage individual and group communications on a platform elsewhere.
Synchronisation; WhatsApp has effectively synchronised to the smartphone, desktop and the users unique phone number.
Archives; the messaging app not only has been a mode of communication but also a storage for important data, document transfers, past activity log, etc..
Non-concerned; since many other social media applications already have similar policies, the user is less concerned WhatsApp messaging application adapting similar privacy policy.
Many alternatives; since a messaging tool needs a common platform to communicate on, multiple alternative options limit the users from effectively being able to communicate with contacts as users get dispersed to other smaller platforms. As there is no availability in communicating between different messaging platforms, users opt to remain using the platform which already which has all contacts.
Reasons to shift to another messaging application:
Privacy protection; though WhatsApp has stated than they are incapable of reading or storing messages, it hasn't defined what metadata and other user data it can collect. This can lead to the conclusion that the data collected can be of the user's personality, traits, behaviours and habits through communication which potentially can be collected by a third party which the user is not aware of. The same concern can be applied to businesses, entrepreneurs, decision makers and administrators.
Precedent; collecting user data by a mainstream communication application such as WhatsApp can set a precedent for other messaging applications to adapt similar policies to increase revenue. Eventually in the long term, making tech companies dictate the privacy limitations of the users.
Fear; the strategy used by WhatsApp to give only a months' notice to accept the new privacy policies and not allowing users to continue using WhatsApp from 8 February onwards has effectively instilled fear in users as how aggressive the company requires users to accept to its terms.
Trend and Hype; as the new privacy policy has become a trending topic globally while many influential persons have protested against the new WhatsApp policies, users have opted to go with the trend in switching to new messaging applications, installing and experimenting.
Support startups; since WhatsApp is already a large company, in supporting smaller startup messaging applications, some users have made the switch.
The dilemma in deciding to shift away or remain using WhatsApp highlights significant challenges for both individual users and business users. In Sri Lanka where WhatsApp remains to be the predominant messaging application other than Viber and Telegram, this new development will see creating increase confusion and urgency in the coming days.
Messaging application vs. Social media application
Any messaging application to be functioning in an optimal level requires monopolistic traits. As messaging application platforms are not integrated to function with each other, the predominant factor users would require any messaging application is where the application should have all contacts utilising the given application. A monopolistic company and its product offerings dominate one sector or industry. Monopolies are considered to have total or near-total control of a market with higher degree of market power. It can be argued that, with the new privacy policies by WhatsApp, the company intends to capitalise on the already increased market power while undermining the standards of privacy of its users.

Since Facebook is not offering any other option other than for users to accept the new policies, this is snubbing its already active users for personal gains. The argument can be taken even further by distinguishing the difference between social media and WhatsApp and the ethical dilemma in subjugating social media privacy policies of dedicated messaging applications. A social media application can be defined by a user where he/she has control over what to be shared and uploaded. Where else a messaging application is between two or more parties which is used for communication and sharing personal views. Extracting data from such communications can be detrimental towards a user's freedom of expression and can set negative precedent in the long run.
Best solution
After 8 February, there will be only one of three outcomes. First is where all two billion users remain with WhatsApp where it is a win for the Facebook company and a loss for the user. Second is if half or a considerable number of the users switch to other alternative applications and the others remain with WhatsApp. In this instance, it will be a loss for the company as the user population will decrease and the data collected will not be effective as having all two billion users, this is a loss for the users as no user will be on one given messaging platform making communication ineffective. Third is where all users or majority of the users leave the app to another alternative messaging application. This can be a win for the user as the privacy status will remain unchanged while a severe loss for the company. This outcome can effectively make WhatsApp redraft its privacy policies to accommodate towards respecting the user data and increase the user retention.

If possible, the best solution by WhatsApp can be to provide variety options to users if the user is not willing to accept the privacy policies. If WhatsApp company's intention is to satisfy its user base while creating revenue, the past option of paying $ 1 annually can be introduced where if a user declines to accept the charges, WhatsApp can then dictate the privacy statement. Both these options must deliver the same application services.

Though this is a worse off option from the current functioning of the given messaging app, it is evident that a larger monopolistic company in a market which has to be monopolistic to function will find ways and means to increase its benefits. In conclusion, the most probable and expected outcome on this dilemma would be that many users will do nothing till 8 February on which date the users will accept the new policies and withdraw using WhatsApp in a long-term and a timely manner or/while limiting the communication through the application.
---
(Poll conducted and article written by Muditha Katuwawala; he can be reached through dmkatuwawala@gmail.com.)
---