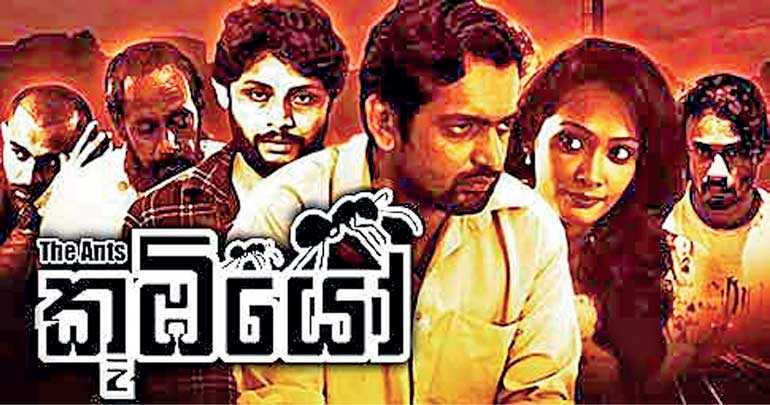 I hardly watch teledramas, not only because I value my time but also because of their questionable value. I must confess that I watched all the episodes of 'Koombiyo' (The Ants) on the internet with enthusiasm. Today's column is about this recently concluded 'disruptive' teledrama, which became a talking point among the masses, especially on social media platforms.

Overview

Koombiyo has drawn its title from a popular nursery rhyme in Sinhala (Payana Kaledi Re Daval Mahansi Vee, Kanna De Reskaray Koombio). Like ants striving hard during the summer to

gather food, the way the central characters of this teledrama exploit the loopholes in the existing system to make money is brilliantly depicted.

The Koombiyo series, telecast on the Independent Television Network (ITN), secured the top spot in terms of ratings in the crime series category of the Internet Movie Database (IMDb).

According to IMDb sources, this is the first time that a Sri Lankan teledrama has clinched a top international rating. A large number of people have watched the teledrama online and it has a whopping 9.9 point rating, pushing the TV series 'Breaking Bad' and 'The Wire' into second and third places respectively.

In perusing the more than 100 reviews posted on IMDb, it can be seen that the majority echo that Koombiyo is the best teledrama that they have ever watched.

Disruption by Koombiyo

Koombiyo, directed by Lakmal Darmarathna and produced by Asanka Dodantenne with its script written by Lakmal Darmarathna and Damitha Chandrasiri, is a fitting example of a 'disruption' in the Sinhala teledrama scene.

Prof. Clayton Christensen of the Harvard Business School, who is widely regarded as the initiator of the concept of disruption, says that disruption displaces an existing market, industry or technology and produces something new and more efficient and worthwhile. Whilst being disruptive on one hand, it is creative on the other.

Why do I call Koombiyo disruptive in the local teledrama scene? It clinched the highest rating among viewers by being creative. It also appealed to a wider audience which saw many parallels with existing social and political realities. It attracted many new non-traditional viewers. It also showed a clear breakaway from the so-called 'family' or 'teenage' teledramas where the making or breaking of affairs with fantasy and fanfare is a hacked theme.

It also raised the standards of quality and coherence, moving far beyond the low-quality 'imported' teledramas dubbed in Sinhala that exploit the appeal for variety among viewers.

Key 'ants' in the Ants

Jayalath Aarachchilage Don Susantha Sagara Chandrasiri alias Jehan Fernando is the teledrama's key character, the mastermind in crafting 'creative disruptions', superbly portrayed by Thumindu Dodantenna, who won the Most Popular Actor award at the recent Raigam Tele Awards.

His companion, Priyantha Mahaulpathagama, who went through a rapid transition from a rural youth to a rapturous politician, was masterfully played by Kalana Gunasekara.

Among the other 'ants' who have done justice to their roles are Yureni Noshika as Hiruni, Jagath Manuwarna Kodithuwakku as Jude, the late Senaka Titus Anthony as Austin, Andrew Pulle as Tiran and Peter De Almeida as Mr. Dudley Maldeniya.

Susantha Chandrasiri, the rural youth equipped with a degree in mass communication, decided to change his name to Jehan Fernando, to appear more urban and "uppish" according to him, which helped him achieve his crafty goals.

In a corrupt political system where 'deals within deals' are rampant, and crime is often sought after by saintly-clad politicians to achieve their ulterior motives, Jehans are in high demand. The fascinating feature of Koombiyo is the way Jehan uses his brain over his brawn in planning, organising, leading and controlling things, with regard to the management of an undertaken 'assignment'. He is sought after by a high-end politician to "craft and execute" a strategy to clinch power. In this macro project, many micro provocations are masterminded in disrupting the existing sociopolitical system.

Minor stealing within a system of mega stealing

Jehan Fernando, who says he is free of any family attachments, selects an abandoned building complex in Colombo as the headquarters of his 'online' buying company, Purchase Lanka. He, together with Priyantha, his newly-found companion, deliver items bought from the local flea markets as "stuff from supermarkets" still bearing an attractive price tag to customers. Jehan often claims: "Yes, I am a thief, but a decent and small one, inside a highly corrupt system with big thieves."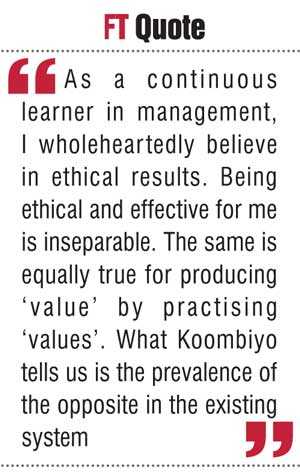 Once they get caught and narrowly escape, they begin their second business of publishing a motivational magazine with grossly copied material. It is sold by the selected and trained unemployed youth who could have changed from being gangsters to group sellers. The attempt fails after they still show their knack for fighting when selling gets affected.

The story reveals a connection between Jehan (then Susantha) as an undergraduate and a well-connected underworld thug named Austin and his henchman Tiran. Austin comes with 'high-end' requirements where Jehan's brain is tapped in designing master plans for elite client requirements involving crime. Skillfully trapping a journalist, who was exposing top politicians through his column, to make him silent is one such plan. Jehan enjoys the thrill of working against the establishment in exploring loopholes and exposing vulnerabilities.

Being ethical vs. effective

"When rich villains have need of poor ones, poor ones may make what price they will." So said William Shakespeare. Jehan was assigned a lucrative contract by a top politician for a significantly long-term project. This was revealed only at the end, keeping the viewers in suspense by connecting the dots.

Union leaders from a left-wing political party giving a contract to Jehan, and the way he creatively disrupts a well-managed factory by pushing them towards industrial action through remote means are all minor parts of this mega project.

Many lessons for Human Resource Managers are shown, such as how a small grievance can make a shocking industrial dispute because of remotely controlled actions executed by skillfully planted agents within an establishment.

Jehan went to the extent of making a plan to kill Austin, the crime kingpin, bluntly stating that he would demolish all obstacles in reaching his goals. He carefully deals with the Criminal Investigating Department (CID), both by avoiding and assisting them when necessary.

The thrilling episodes of gansterism where Barrel Sunil overpowers Austin, Tiran as the self-proclaimed successor to Austin bounces back to no avail leads to the revelation of the shocking truth that Jehan has actually "created" Barrel Sunil as a counter force to Austin (whilst enjoying his hospitality) with political patronage. It is no wonder that ethicality getting suppressed in the search for effectiveness becomes the ultimate result.

Jehan's liking towards Hiruni, whom he met on a bus, exposes his softer side to some extent. Though the story could have progressed as Jehan and Hiruni being like Robin Hood and Maid Marian or any typical hero and heroine, it takes a different direction.

Hiruni, being a young executive from a rich family background, paves the way for Jehan to reach out to high-end business heads for his shady deals. Though she yearns for Jehan's love, his brain overpowers his heart and he strategically exploits her rather than loving her as a fiancée. Creating software, with the help of a computer hacker, which predicts the future needs of current employees was one such attempt.

Jehan as a rational robber

The way I see it, Jehan in Koombiyo asks a very pertinent question: "Am I the only robber in a world where everyone robs one way or the other for a living?"

He symbolises a sought-after role in a sociopolitical system where "big or small, we rob them all" could be the fitting norm. The interesting element here is the way Jehan justifies his rationale of resorting to robbing, openly stating that he is neither a killer nor a rapist, but is only using his brain to challenge the system. Ethics are increasingly getting challenged when results are achieved either by hook or by crook.

There are many other inter-connected themes that can be seen in the script, such as economic disparity, class differences, the rural-urban divide and corrupt politics. Priyantha, the rural youth who became a Provincial Councilor thanks to Jehan, portrays a mix of all of the above.

It is not difficult to find many Priyanthas in the existing political arena, who from nowhere came to the scene, immersed in political ideology, saw the opportunities to rob, and ended up moving away from ideology to get involved in corrupt practices and yearning for foreign trips by curry-favouring their way to the top of the same camp.

"When the seniors do it in a big way, why can't I do it in a small way?" Sadly but surely, this has become the justification for jarawa (bribes).

What Jehan together with Priyantha show us is the extent to which society has become corrupt and the enormous power of the undercurrents that shake and shatter existing systems. As Koombiyo shows us, maneuvering a left-wing party to support a right-wing politician to become a Prime Minister was the culmination of the mega deal.

Way forward

As a continuous learner in management, I wholeheartedly believe in ethical results. Being ethical and effective for me is inseparable. The same is equally true for producing 'value' by practising 'values'. What Koombiyo tells us is the prevalence of the opposite in the existing system.

The fact that this teledrama was rejected by many channels for not having enough appeal speaks volumes for our preferences. For a 'rational robber' to become a social media hero and to be liked by a wide cross-section of our society is a vital sign of the social and political trends that we experience. This offers much food for thought of course.
(Prof. Ajantha S. Dharmasiri can be reached through director@pim.sjp.ac.lk,

president@ipmlk.org, ajantha@ou.edu or www.ajanthadharmasiri.info)