The question is, how did this outfit manage to procure and amass these military grade explosives? They do not have the wherewithal or resources or the necessary means or the permission or accessibility to import them. So it must have been provided locally by those who have had the means, permission and ability to import and have stored them for military purposes and/or supplied by some foreign embassy, who may have brought these materials under cover of their diplomatic bags – Pic by Chamila Karunarathna
---
Incompetent people, the researchers found, are not only poor performers, they are also unable to accurately assess and recognise the quality of their own work. These low performers are also unable to recognise the skill and competence levels of other people, which is part of the reason why they consistently view themselves as better, more capable, and more knowledgeable than others.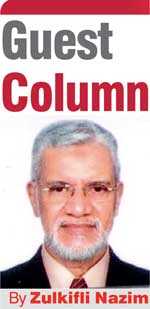 "In many cases, incompetence does not leave people disoriented, perplexed, or cautious." Instead, the incompetent are often blessed with an inappropriate confidence, buoyed by something that feels to them like knowledge. The very trouble with ignorance is that it can feel just like expertise, they overestimate their own knowledge and ability.

Let's take a good hard look at our elected politicians as a group with an eye as to what might be wrong with them and our political system. It must be borne in mind, honesty and candour in politicians are central to the proper functioning of a democracy. Politicians are entrusted with a great, noble and the most significant jobs in the country. They have the power and the privilege that transcends their native gifts. Yet the number of dreary, desolate and glum performers in political office suggests that the acceptable standard must be extremely low.

Politicians today enjoy countless privileges – for example – their words spoken in Parliament cannot be used against them in legal proceedings of any sort, allowing them to vilify people or defame them without the inconvenience of being sued for defamation. Moreover, their misuse of power is such that they are not liable if they mislead or deceive the public, whose interests they are supposed to serve. The usual response to this is that the way to discipline politicians whose standards fall below what is acceptable is to vote them out.

Considering what is happening today is the understanding that power as authentic leadership is governed by legitimate authority, and violence as a sign of a breakdown of power, leadership, and legitimacy. When there is a breakdown in political leadership, authentic leadership is more likely to formulate other choices to violence and its attendant terror. There can be no question that terrorism and violence and the state's reaction to them play an overwhelming role in politics today – in terms of who gets elected, on what platform, and how that is driven currently by terrorism and the actions of contenders and using terrorists and terrorist oriented organisations to grab power by 'hook or by crook'.

An examination of political and criminal violence leads to questions about deliberate and purposeful violence, indirect and structural violence that has political consequences, and their relationship to terrorism. This, in turn, also means politicising other forms of violence, such as capital punishment, and their indirect and structural forms – which we have seen happening in the sudden introduction of capital punishment for drug offenders.

When a group resorts to terror against its own citizens with the support and backing of power hungry politicians, it shows that whoever manipulates to achieve their aim, does not have power or strength to challenge the legitimacy of the state other than degenerate horrendous means causing fear, dread and terror.

The recent bifurcated attacks on churches and luxury hotels, targeting the tourist industry, creating ethnic conflicts and ethnic disharmony accompanied by heinous gross human rights violations, such as genocide and crimes against humanity and causing severe economic decline is clearly understood by all, to have a vicious political hand or hands behind it.

And these aggressive power-hungry politicians are suspected of having made use of a radical local outfit identified as the National Thowheed Jamath which is responsible for the deadly blasts and explosions that killed over 300 people and wounded over 500 others in the worst terror attack in the country's history.

The sudden incursion and eruption of attacks and the deadly blasts of such magnitude which caused unprecedented devastation including high-intensity back-pack bombs and vehicle bombs, show the use of military grade high-explosives.

The question is, how did this outfit manage to procure and amass these military grade explosives? They do not have the wherewithal or resources or the necessary means or the permission or accessibility to import them. So it must have been provided locally by those who have had the means, permission and ability to import and have stored them for military purposes and/or supplied by some foreign embassy, who may have brought these materials under cover of their diplomatic bags. Organised crime, terrorism and democracy work according to guiding principles that are in direct conflict with one another. A democratic State upholds the sovereignty of the nation and ensures the protection of the rights of all individuals, regardless of wealth, social status, age or gender. Organised crime as traditionally defined, on the other hand, is built around patron-age, carrying on a tradition of feudalism, does not hesitate to commit human rights abuses.

How do we tackle a situation when heinous and deplorable, reprehensible and criminal acts flourish under the cover of a political system? Let us see how the unfortunate and heartbreaking, tragic, traumatic, agonising, harrowing event of Easter Sunday was tackled by those who are supposed to protect the people:

Chronologically, this fiasco begins from the 26 October 2018 conspiracy of President Maithripala Sirisena:

1. He had never called the Prime Minister or the deputy defence minister to any of the Security Council meetings, whereas he had summoned good-for-nothing opposition Members of Parliament – Thilanga Sumathipala, Mahinda Amaraweera and Lasantha Alagiyawanna to the meeting. Worthless, useless undesirables who do not even know how to spell 'Security'.

And the Prime Minister on the other hand had remained silent all the while, which does not augur well for his political future.

2. On 4 April State Intelligence Service (SIS) had given a report to the President and a copy of the same report to the IGP on the impending attack on Catholic churches and the Indian High Commission, by the Leader of the National Thowheed Jamath. This was doubly confirmed by the warning letter, by DIG Priyalal Dissanayake, mentioning this intelligence report. It should be noted that the head of the National Intelligence Service (SIS) is legally obliged to report intelligence not to anyone, but only to the President. This is urging towards disaster.

3. Then comes the slimy Attorney General who always comes to the aid of the President, stating that the letter was fake but DIG Priyalal Dassanayake subsequently, confirmed the authenticity of the letter removing all doubts.

4. India had issued an alert to Sri Lanka in early April on possible bomb attacks at different spots in the island. This further corroborates that President Maithripala was fully aware about the imminent suicide attack.

What did the head of state do? – He took the opportunity and got out of the country without convening the Security Council and discuss about the impendent calamity. He secured himself and his family and visited Thiruppathy in India and surreptitiously went to Singapore, without following any protocols and without officially handing over the responsibilities to the defence ministry or to the deputy defence minister. This resulted in the Government facing unprecedented crises when having to take emergency decisions following the explosions.

5. Immediately following the series of explosions when Prime Minister Ranil and Deputy Defence Minister Ruwan Wijewardana summoned a meeting of the Security Council at the temple trees, it is indeed distressing to note that the heads of the armed forces and the defence minister did not attend the meeting. They informed that the President had called the heads of the command forces and asserted not to participate in Security Council meetings convened by the Prime Minister Ranil Wickremesinghe.

6. In addition it has come to light that Former President Mahinda Rajapaksa had also received information on the attack and neither he nor his wife attended Easter Mass.

7. Minister Harin Fernando also tweeted that his father who had been hospitalised for a while knew of the attack and requested him not to attend church.

8. And finally, a statement by Minister Rajitha Senaratne that the International Intelligence has brought this to the notice of the Defence Ministry 10 minutes before the explosion. Cutting it too fine to take any preventive action, of course.

And so many unconfirmed sources having had prior knowledge of this approaching imminent disaster, failed to communicate this valuable information to the Head of the Catholic Church Cardinal Malcolm Ranjith. This is a very serious lapse on all those who were and are responsible – unforgiveable lapses of judgment by politicians and security personnel.

If somebody, who had some feelings, would have communicated this to him, this senseless loss of lives, needless violence and havoc could have been avoided. The Catholic Church has a reasonable communication network and they would have taken sufficient precautions to protect their congregations.

In the wake of these attacks, I give you some points for reflection and severe action wherever there is credible evidence of anyone having a false notion that they are the law into:

1. We hear that Thowheed Jamath operating under three different names – National Tawhid Jama'at, All-Ceylon Tawhid Jama'at, Jama'at al Tawhid Al-Wattania and God knows what else.

The Government should take action to ban all the Thowheed movements – they may be operating in circles – one to stage military attacks, another one to humiliate and use verbal abuse, and the other one steps in to deny all these are the work of others and not theirs. Be alert and ban all of them.

2. With regard to the banning of the burka – face cover, the Government is planning to discuss with the mosque authorities. There is no necessity to discuss with ACJU or consult any mosque authority, as this face cover (mask) has nothing to do with religion, it is some rotten tribal rubbish. Ban this without any hesitation. All Sri Lankan Muslims will support this. The security of the country is more important than this rotten stinking innovation of covering one's face.

3. Approval was given by the Rajapaksa Government for a Shariah University in the Eastern Province. We are not aware whether this is a separate entity or merged with any of the existing Eastern universities. Ask any rational Muslim and they will ask "Why on earth do we need one?" Whatever it is, if it is functioning it has to be discontinued with immediate effect.

4. There are hundreds of mushroom unregistered study classes under the guise of 'madrasas'. All these should be shut down without any delay. This is the place where the innocent young minds are abused. However, there are a few traditional valuable respectable and decent madrasas in Sri Lanka, they are more than sufficient for a community like ours.

Winding up with a few words of wisdom:

"What separates us from the animals, what separates us from the chaos, is our ability to mourn people we've never met" ― David Levithan in 'Love Is the Higher Law'.