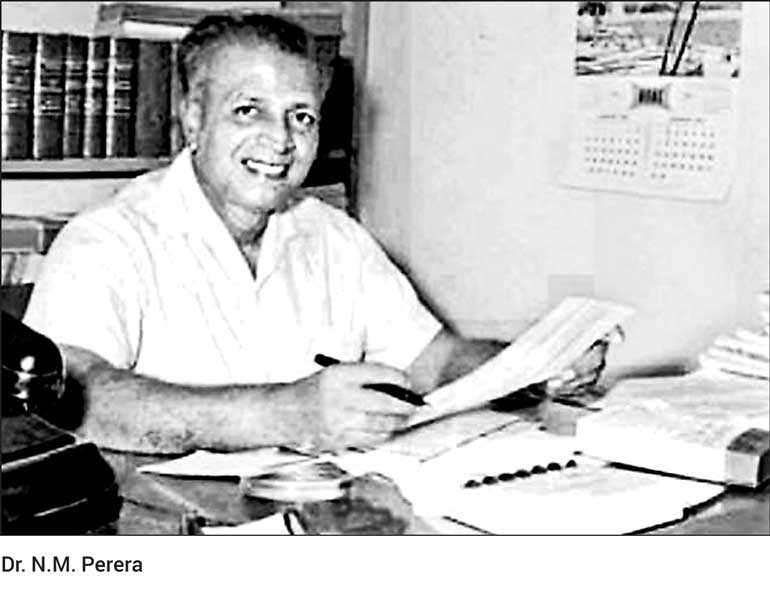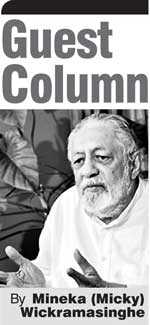 One of my most treasured memories is that of NM, better known as Dr. N.M. Perera.

It was when I was a student in the UK that I first met him. NM was already a formidable left leader in Sri Lanka, an accomplished parliamentarian, a larger-than-life figure among the Sri Lankan student population. I had no interest in ideologies or politics, although very many of my close friends in the UK were deeply involved in such pursuits then.

One day when we heard that Dr. N.M. Perera was on a visit to the UK, several of us decided to call on him. If I remember right he was staying at a small hotel in the Marble Arch area that time. I think one of the students connected to the youth league made the appointment. The politically-inclined students were very excited to meet the great NM. As for me I was just going along with them, moved by their enthusiasm.

NM met us in the small foyer of the hotel. There was not enough room for all to sit. But it did not seem to matter. This strikingly handsome man, pleasant, so gentlemanly, made it worthwhile. I felt that I was in the presence of an unusual man. We were all well aware of his stature, his learning, and his large following while we were just penniless students in a foreign country. But he never let that matter. NM talked to us one to one, as equals, as friends.

On another day, just before his return to Sri Lanka we met at a tea room near his hotel. Now I was very eager to meet him at every opportunity. While enjoying buttered buns washed down with hot cups of tea we talked of many things, politics, economics, life in London, cricket; his interests were wide-ranging.

NM, although much older and in another league altogether, never attempted to impose his opinions on us or pretend to know all. He would listen to the students, and if he could not agree with their opinions just remained quiet or countered them with a polite chortle.

Then on, I made every effort to meet him both in Sri Lanka and whenever he was in the UK. In Sri Lanka NM was obviously very busy and time was hard to find. So we looked forward to his occasional visits to the UK. (He had been a student about 30 years before, at the London School of Economics)

But even in London NM was unbelievably popular. Many famous Sri Lankan residents there vied with each other for the pleasure of his company. On one occasion I remember two Sri Lankan ladies competing to get him into their respective taxis to take him to a cricket match at the Lords. Finally, NM, Preeni Molemure and I got into one taxi, upon NM promising the other lady that he would come in her taxi the next day! He was truly a magnetic personality.

On my return home, NM became a friend, adviser and guide. There were no airs about him, his friendship was genuine and he was truly concerned about us. Today we do not come across that kind of depth of character or broad mindedness easily. We also had a common passion – the card game Bridge. Whenever there was free time we would meet at various homes for an evening of Bridge. Occasionally we met at his home down Cotta Road, spartan, but neat. It was in deed a case of high thinking and simple living.

One April NM invited us to join him in Nuwara Eliya. He wanted to play Bridge in the evenings. At the time he was the Minister of Finance and we stayed at the General's Lodge. One day Felix Dias Bandaranayake, a fellow Cabinet Minister also holidaying in Nuwara Eliya walked in to the General's Lodge for a chat and said to NM, "You know NM; the only two men with brains in the present Cabinet are yourself and me!" Of course NM didn't rise to the bait and just laughed loudly.

Looking at the sorry scene around us now, it is hard to imagine that one time we had politicians of that calibre in this country. Not only in financial matters, but in everything he did, there was integrity. He will not tell you one thing and say another to the next person. Even in a routine matter he was always punctual.

When Romayne and I got married, we had a small party at the then Hotel Inter-Continental. NM signed the register. While proposing the toast, NM light-heartedly quipped, remembering his presence at my previous wedding, cautioning me not to repeat these ceremonies!

A few weeks before he passed away NM came to my home straight from hospital, with Vivian Gunawardena. We played a little Bridge, had some string hopper biriyani, which he loved. This was our last meeting. I miss him even today.

I would say without any hesitation that NM was a thorough gentleman, a man I was privileged to have known.