Elevated U-turning bridge

Car parking management is the simplest way to counter the recurring congestion in Sri Lankan roads and cities; it is also a lucrative transportation business
Car parking is a demanding and important component in all the cities. Cities are congested mainly due to the haphazard planning of car parking. This is mainly due to concept of car parking for sideways trading places on roads in Sri Lanka, which was common and accepted in the 19th century due to a lower vehicle population.
Introduction of mall systems, commercial areas and clearing of main roads for the traffic to distant cities created the requirement of systematic planning for car parks in cities. All major cities in the world are much concerned on this concept and avoided main cities and made bypass roads to distant cities which was against the conventional political thinking.

Cancelling of Ratnapura town bypass is an ideal example for the present negative situation in Ratnapura town. Heavy traffic congestion in Ratnapura town area which is a main road to distant cities like Bandarawela creates disturbances to distant travellers. Therefore, almost all the developed countries avoided the 19th century concept to a certain extent to curb congestion.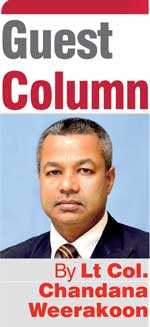 Requirement of making car parks in a limited space became the challenge of the next century. Therefore, multi-storey mechanised and non-mechanised car parks took the new turn of car parking. 'Autostadt' is the most famous multi-storey mechanised car park invented and constructed in Germany by the Volkswagen company. This was mainly due to the mass production of Volkswagen car brand and made for parking of newly-built Volkswagen vehicles.

The advantage spread around the world with the invention of multi-storey parking. Houses too are constructed with two-tiered mechanised or hydraulic parking in high rent value areas. Most planned cities constructed parks on the ground level, which is the most efficient and economical, because in a city, planners were given higher priority for the car parking which is the main factor behind the transportation economics.

There is famous 'Hempstead Model' in transportation which applied on land use systems. According to the Hempstead model, 19% of total area is segregated for ground level car parking and other areas were demarcated for housing, commercial areas, industrial areas and for roads. Hempstead City is in USA and at present the whole world is following this model in transportation and land use which is a linked subject.

Professionals in Sri Lankan industries have understood that car parks are extremely important to be closer to customers. It is witnessed that all supermarkets in Sri Lanka are relocating to have bigger and more convenient car parks for their clients. The key concept in business is "more parking is proportionate to more business". This analysis appeared because of the increase of car ownership due to the crossing of $ 2,000 per capita income in the country.

In other ways, some cities are losing sideway traders due to no parking space along the road and find that businesses are closing due to the difficulty of vehicle parking by customers to access the shops. Therefore, Sri Lanka too is witnessing the concept which is followed in 19th century that has no more value but create a heavy negative burden for the travellers. One can envisage this negative effect in Malabe, Pilimathalawa, Mawanella, Kegalle, etc., especially along the Kandy Road. This negative aspect can be easily averted by making car parking spaces away from the main roads mostly behind the sideway trading places especially in Sri Lankan geographical imprint. Due to the sideway venders, more congestion is taking place because the car parkers are taking that space of the road along the city in order to access the sideway venders. Ongoing traffic is restricted and creates congestion in cities and restricts the freedom of distant travellers due to the factor. Therefore, cities must be designed with U-turning overhead bridges and car park access roads to main roads without hindering long distance traffic.

Basically, car parks are constructed separately in the city and access way from park to road is created to enter the main road without disturbing or hindering the incoming vehicles like what we can observe in the service areas in Sri Lankan highways. U turning bridges are not common in Sri Lanka but considered as an extremely important overhead bridge elsewhere in the world. It supports U turning of a vehicle without disturbing the incoming traffic and creating access to common city car parks. Sri Lanka too is in a very urgent stage of implementing these two concepts.

All the cities have barren lands behind the line of trading place along the street which enhances the potential of converting these barren lands to car parks and reduce the road restrictions by sideway parking to access the shops in Sri Lanka. Also, car parking is a lucrative business in Sri Lanka, starting from Rs. 50 to Rs. 150 per hour.

Furthermore, there are many software-based parking systems. Software can identify empty parking lots, theft, parking timing, pricing management and also parking booking systems. Certain countries have implemented GPS parking and tracking system that can identify the parking lots to find own cars. There are very few companies doing the car parking business in a professional way in the country.Park and ride is another concept in which the driver can park his own vehicle and access the collective transportation; for this kind of operation, all terminals and halts have to be supported with massive car parks because the driver will park his vehicle at the car park and access the collective transportation, subsequently he will come back and take his vehicle in his own time. At present in Sri Lanka, the terminals are not equipped with car parks and drivers are reluctant to use the collective transportation through the park and ride concept. Good collective transportation is an indication of a rich country. Almost all Western countries have implemented the system, hence even high-income earners use collective transportation with the park and ride procedure.

By considering all above park and ride systems, ground level parking, multi-storey parking, and park to road access development, separate commercial entities can observe reduction of congestion and upgrade the lifestyle of its population. It can easily make disorganised cities beautiful and neat which is the mirror for tourism.

On the other hand, it is an untapped income generation for the car park operators and investment for land owners. The business can create thousands of job opportunities and develop the low level income groups. It is environmentally friendly and boosts the green footprint of the country while reducing unwanted accidents. In turn it's a boost for the sideway vendors or creates business for the segregated planned commercial entities. Therefore, administrators must think of the innovative practical base of developing transportation and lifestyles of the people.
(The author, Chartered Transporter, is a specialist in transportation geography. He presently conducts lectures on the subjects for transportation and logistics management in universities and professional institutions. He has published books and many articles on transportation, logistics and management. He can be reached via chandana_w@yahoo.com.)