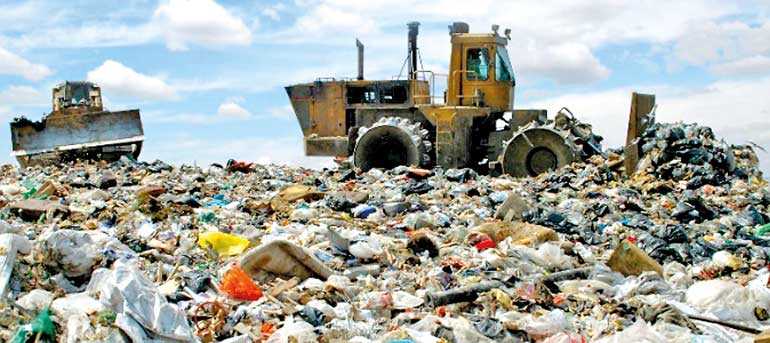 Sri Lanka is a small island in South Asia. In early times, it was named the Pearl of the Indian Ocean. But what is happening to the pearl now? As a result of urbanisation and increase of population, environmental issues related to solid waste are increasing. According to the World Bank estimation, the per capita solid waste generation of Local Authority Quantity by person (kg/day) in the Colombo Municipal Council is 0.80 kg. Other Municipal Councils records a rate of 0.75 kg, while Urban Councils record 0.60 kg and Pradeshiya Sabha 0.40 kg. Arithmetically, it works out to over 20,000 MT of solid waste produced per day. The Waste Management Authority as the main Government body of the relevant subject revealed that Sri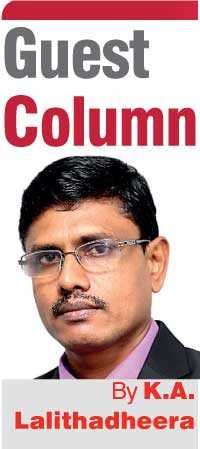 Lanka produces over 7000 MT of waste per day. Out of the total amount of waste generated, 60% is accounted for by the Western province. It is the common relationship that generation of waste is a positive function of the growth of population.
Current issues and status
Waste generation is becoming a severe issue in the country due to several reasons, such as dumping and accumulation of mountains of garbage in populated areas of Karadiyana, Bloemendhal, Meethotamulla, Kolonnawa, etc., and the degradation of wetlands, coastline, rivers and other water streams, which have become dumping sites for plastic and polythene waste and other mixed waste. The now-infamous unexpected disaster happened at the dawn of the New Year on 14 April 2017 when the Meethotamulla garbage mountain collapsed, killing 30 people and destroying more than 100 houses.

Other cases of environmental pollution affect humans in their day-to-day life. Burning polythene at houses is bad, and it affects both humans and animals negatively. Increasing dengue infections is affecting healthy lifestyles. Currently MSW and hazardous waste, biomedical/healthcare waste (mix waste) are disposed together creating huge health and environmental issues. There are no proper, environmentally sound waste disposal practices. Ultimately, this has a bad effect on the country's economy.
Institutions responsible for handling solid waste
There are numerous institutions involved in and bearing the responsibility to manage waste at different stages, including the Ministry of Local Government and Provincial Councils, Ministry of Mahaweli Development and Environment, Ministry of Megapolis and Western Province Development, National Solid Waste Management (SWM) Support Centre, Central Environmental Authority, Urban Development Authority, Western Province Waste Management Authority, and other local authorities.

Waste collection and disposal responsibilities are vested in the local authorities of each Divisional Secretariat, whether a Municipal Council, Urban Council or Local Council. Provisions related to waste management and disposal are made under the National Environmental Act No. 47 of 1981 and Public Nuisance Ordinance.
Present status of management of solid waste
For the last two-decades, Government institutions have attempted to find the best waste management strategy suitable for the country. While some policies and actions supported sanitary landfills, some initiatives were driven towards waste-to-energy projects. In 2008, CEA initiated a 10-year waste management program named "Pilisaru Program" with the goal of "A Waste-Free Sri Lanka by 2018". Unfortunately, the lack of a unified coherent strategy has led this program to be inconsistent and ineffective.

According to the World Bank analysis, the composition of waste collection in Sri Lanka is presented by Graph 1. The largest component, biodegradable, makes up 66.51%. The rest is recyclable waste such as paper, wood, polythene/plastic and glass, which amounts to about 24%. These details are presented in Graph 1 shown below.
Solid waste management issues
The management of solid waste and wastewater services is a serious environmental problem in most countries. What are the management problems in this sector? First, it has no proper waste management and whatever available is weakly planned and implemented. Secondly, the unavailability of suitable lands for waste disposal, as people always act against the use of land in the vicinity of homes. Financial assistance is the third important problem. Even though the country has achieved an upper-middle income status, people have not practiced the habit of collecting and sorting waste by categories such as recyclable plastic, glass, paper and biodegradables, due to lack of public awareness and the chore of separating waste. This has led to a difficulty in managing solid waste. Thus it becomes really difficult to manage burgeoning waste without the active participation of the people. No proper collection system of recyclable waste and non-recyclable waste, paying no attention to solid waste problems, and conflicts in local politics are some other major problems.

It can be identified that the main issues of solid waste management are associated with weak management of solid waste, such as disorganised dumping of solid waste at improper locations e.g. wetlands, flood retention areas, water courses, roadsides, and wildlife protected areas. Health issues related to breeding grounds for mosquitoes and flies, the loss of aesthetic value and scenic beauty, and water pollution are the concerning issues related to solid waste.

On the other hand, e-waste is a growing issue, not only in the country, but also in the world. Absence of a special framework and infrastructure for recycling or appropriate management of electronic waste and lack of export/import regulations are factors affecting electronic waste management (Osibanjo and Nnorom, 2007).
Remedial measures
Even though solid waste is a burning problem in the country, it is a good resource if it is used for power generation, producing compost, or used in the business of recycling and up-cycling. It can create more jobs and add value to the country's economy, while solving many issues. The 3R principals of waste generation are Reduce, Re-use, and Recycle to the maximum extent with appropriate treatment.
Recycling and up-cycling
Recycling is the production of material using solid waste to produce a different product. Up-cycling is the production of higher-value products using solid waste as direct materials.

Recycling continues to grow, and more workers will be needed to collect, sort, and process recyclables. Recycling jobs require different levels of skills. For example, sorters have few specific skill requirements, but mechanics and technicians in the recycling industry are highly skilled. Route managers usually have at least a bachelor's degree. But whether driving heavy vehicles or operating an MRF, prior work experience—particularly in other areas of waste management—is helpful for those seeking to make a career in the recycling industry.
Power generation
Sri Lanka should have sufficient energy, produced in an efficient manner. Biogas technologies can play a vital role as a steady state renewable energy supply operating in a decentralised manner. It can serve as an efficient environmental management tool. With some individuals, it can play the role of improving their quality of life, while reducing the economic burden. But when compared to other sources of power generating alternatives, biogas production needs adequate land, processing units, and input materials. Therefore, unit cost of production is much higher than unit cost of the other energy-generating sources like solar, wind, hydro etc. (Anul Perera, 2018)
Composting
According to Graph 1 biodegradable waste is more than 50% of all solid waste in the country. People can produce more compost and use them in agricultural purposes. The end product of composting, having high nutrient value, is humus (compost). Composting could be either labour-intensive or mechanical. It is more economically efficient as well as environmentally friendly. But it has some problems; e.g., it takes a long time to finish the process and get a final output, it needs a large area of land for production, and it emanates a noxious smell. An innovative method to increase time efficiency of the production of compost has been developed, named Delta-D Technology (Anul Perera 2017). Within two to three hours, compost can be produced by using all kinds of biodegradable items/kitchen waste, and this was demonstrated at the conference organised by the NHRDC. Even though timely and efficient, the cost of production is a little bit higher. Further, a production plant/machinery to apply to large scale compost production has not been developed; it is still in an experimental stage. Compost can be produced at a household level and commercial level, and can be used for organic farming, and will eventually reduce the use of chemical fertilisers. This is the real meaning of the "Clean Country –Green Environment" concept.
Government policies, social and stakeholders' interventions
Ensure environmental accountability and social responsibility of all stakeholders. We know that if individuals or a group of people act in an anti-environmental protection manner it will definitely hurt many people and animals, as well as the ecosystem of the country. Therefore, policy objective of environmental accountability and social responsibility will be most important.
Encourage efficient and cost-effective collection, transportation, storage, and treatment of solid waste and reduce disposal
Maximise resource recovery to minimise the amount of waste disposal. People can manage resource recovery to minimise the amount of waste disposal. Use minimum resources instead of over-consumption.
Minimise adverse environmental and health impact. This policy objective is most important for the human capital in the country. Adverse environmental impact affects human beings and health.
Institutional strengthening and capacity building are needed for stakeholders.
Application of market base instruments with polluter payee principals and public safety to be ensured with appropriate compensation mechanisms
Provision of infrastructure facilities and suitable lands are the main requirements of LAs for integrated solid waste management practices
Landfilling must be limited to non-recyclable, non-compostable waste
Development and implementation of sub-sect oral policies in line with the national policy
Hazardous biomedical/healthcare waste to be treated to prevent environmental contamination
Capacity building, awareness, education, and training on integrated waste management
R&D will be encouraged and the best available technologies and best environmental practices transferred to all sectors
Efficient law enforcement for efficient WM and National Environmental Act. Section 33 of the NEA defines the term waste in a wider sense as follows: "Waste" includes any matter prescribed to be waste and any matter, whether liquid, solid, gaseous, or radioactive, which is discharged, emitted, or deposited in the environment in such volume, constituency or manner as to cause an alteration of the environment.
Individual and household responsibility. Some Government policies are not implemented smoothly on the ground. If individuals manage their waste, it will be a solution for this national problem. Individual attention to reduce waste and control in developed countries is very successful; some good examples are Singapore, Japan, and the countries of Northern Europe. Solid waste segregation habit should be inculcated among the society. It can be supported through the school system and mass media as well as employer engagement.
Taxation policy will be more effective to control the waste. Thus taxation has already been imposed in many countries, including Kenya, Ireland and Cambodia. In Ireland alone, the taxation of plastic saw a 90% decrease in plastic use. "A tax on plastic will discourage its usage on an industrial level, and that is huge, because industrial waste is the bulk of the problem," (De Silva)
Governmental/political leadership. Government attention and leadership are very urgent factors to achieve the "Clean Country – Green Environment" vision. Fortunately, the current President has focused more attention and responsibility on mitigating this problem. This intervention needs some considerable time until society is familiar with it as a natural habit to reduce, control and manage solid waste.
PPPs and income generation through entrepreneurship
By taking international experiences Sri Lanka will be able to identify many entrepreneurial potentials in solid waste business. The traditional waste management system is to recycle, compost, landfilling, and waste-to-energy creation. Collection, handling and separation, storage and processing at the source, separation and processing and transformation, transfer and transport and energy generation are the primary steps.

The process of entrepreneurship starts from the generation of a business idea, through implementation to the realisation of output and profit. The public sector faces problems of budget constraints to provide waste management services. This helps municipalities to improve service delivery to the people. Moreover, entrepreneurship can bring in new ideas, technologies and skills which help to improve the business in this sector. Sometimes they try out technologies from other countries. The private sector can manage to invest in technologies, new ideas etc.

The entrepreneurial activities involve inverts on the passive business opportunity that produce needed products or improve the services and make profits. Even though skilled labourers are needed to carry on business, unfortunately many unskilled labourers are engaged in solid waste management in developing countries. Furthermore, private sector participation in solid waste management can create employment opportunities (Schübeler, 1996).

In the Sri Lankan context, small business entrepreneurs are involved in the different kinds of solid waste management activities mentioned above. But they lack business competencies to expand their businesses. It is the Government's responsibility to fill the gap, which the National Human Resource Development Council has taken to strengthen the capacity of entrepreneurs, covering the Municipal Councils, Urban Councils and Regional Councils in collaboration with the Solid Waste Management Unit of the Ministry of Local Government and Provincial Councils and University of Sri Jayewardenepura as a pilot project. The Government should promote this as a PPP, program because it is difficult for the Government to handle all these dynamic issues. If the Government could develop entrepreneurs for every step of waste collecting, processing, recycling, up-cycling, composting and landfilling, it will be a most efficient method to solve this solid waste problem (NHRDC discussion forum, 2018) as the Government can monitor and supervise the system. Dumping and piling of waste mountains (kunu kandu) is not the solution. It should be effectively managed with the support of private entrepreneurs and the general public, and then it can be named as a PPP program.
Way forward
Solid waste is an unsolved problem and needs an effective involvement of all the parties in different levels such as individuals, households, Government agencies, entrepreneurs, politicians, non-governmental organisations as well as researchers and research institutes. The PPP concept will be most applicable to continually control and manage the solid waste. Government funds are inadequate to solve this continuous problem, and entrepreneurship development in the solid waste business will be most effective mitigation measure. A highly recognised and implementable legislation system is the most viable solution. The "Clean City – Green Country" concept needs to be given priority as a long-term environment-friendly solution. Awareness and capacity building programs should be made compulsory in the education and vocational training organisations in the country, and solid waste management habits can be inculcated through the school system. Relevant Government authorities need to focus attention on conducting research on this area, and should have annual research conventions on this subject. Cost-effective new technologies which are practiced by foreign countries will be important in improving efficiency of solid waste management. The introduction of an integrated solid waste management mechanism covering all the relevant organisations headed by the relevant Ministries is a timely and important solution. Appointing a National Waste Management Committee and the preparation of a master plan for municipal solid waste management are urgent and necessary actions to mitigate this burning issue.


(The writer is the Director, National Human Resources Development Council of Sri Lanka, Ministry of National Policies and Economic Affairs.)