Latha Walpola, the greatest living legend of playback singing behind the Sinhala silver screen, the golden voice ever created with the Deshamanya title, the second highest National Award, completes 70 years this year 2017 in her career in singing. This is a remarkable milestone in her life arguably as the longest living legend. The most appropriate time to publish this article is her 83rd birthday which falls today, 11 November.

Latha was born on 11 November, 1934 in Colombo to a family of seven members. Her father was Joseph Leenus Fernando, an employee of Cargills Ltd. and her mother was Elizabeth Muriel, a teacher who always encouraged Latha to singing. She began her schooling at St. Anthony College, Mount Lavinia. She became a member of the church choir leading as a small girl by display of her innate skills in vocals. Latha has won accolades after accolades repeatedly with her high-scale singing voice that captured the hearts of music fans of the world.

Latha was born and bred in Mount Lavinia, where she was fortunate to have associated with leading artists at the time residing in Mount who most willingly helped Latha showcase her talents through Radio Ceylon. Among them were C.A. Fonseka, Susil Premaratna, Vincent de Alwis, Kalidasa Kurukulasuriya and C.T. Fernando.

C.A Fonseka, the popular radio dramatist who introduced many artists like Rukmani Devi, Susil and Fredy Silva to Kala Lokaya, was a very close family friend of Latha's family. Latha lived at Peiris Road, Mount Lavinia, and CA Fonseka lived on Siripala Road between Odeon Cinema and Mount Lavinia Cemetery which was walking distance from Latha's residence.

Early days

Known by childhood name Rita Jenevi Fernando, she was first introduced to then Radio Ceylon (now Sri Lanka Broadcasting Corporation) at the age of 12 by C.A. Fonseka. At the beginning she took part in chorus singing in C.A. Fonseka's Sarala Gee programs with his sons Ervin and C.D. Fonseka.

1947 was the unforgettable year of Latha's singing career when this future nightingale of Sri Lanka then known as Rita Jenevi Fernando by birth sang her first song at the age of 12. Exactly 70 years ago, Vincent de Alwis, the versatile violinist at Radio Ceylon who was a close family friend of Latha, extended the golden opportunity to sing a duet with him in his Sarala Gee program. The song was 'Kandulu Denethe Vehena Kima Mata Pitu Pala Vedana Hada Vedana,' written by Sarath Wimalaweera and music composed by Vincent de Alwis himself.

In recognition of her congenital talents and skills, Vincent de Alwis introduced her to Susil Premaratne who lived on St. Rita's Road, Mount Lavinia, and C.T. Fernando residing on Priyadharshanarama Road, Dehiwala. Latha became the female partner in singing with Susil and C.T. She has spoken in high esteem of Susil, considered as her Guru.

'Lo Ada Ninde,' 'Salalihini Kowul,' 'Mal Bara Himidiriye,' 'Jesu Rajanani' and 'Nisala Rae' sung with C.T. and 'Mihiri Suwada,' 'Nanwanu Sri Lanka Ran Wan Karalin,' 'Kalu Kelani Nadee,' 'Ru Raese Adina Lese' and many other songs sung with Susil in the latter part of 1940 and early 1950s are a few highly popular songs in every household even today.

The legendary cinema Sakvithi Gamini Fonseka recalled the memories of Latha at her 50th anniversary of becoming the leading female voice celebrated in 1997. Gamini was an art student of Susil Premaratna in the '50s. While he was drawing practicals at Susil's home, Latha was rehearsing a song in the next room. Gamini became inquisitive to know where that melodious lovely voice was resonating. Gamini peeped into the room quietly as directed by Susil and saw a lovely teenage girl singing. This was how Gamini and Latha first met each other.

In recognition of her miraculous voice on par with Latha Mangeshkar, queen of music in India, deep voice playback singer Susil Premaratne named this future nightingale of Sri Lanka as one and only Latha of the island of Sri Lanka in 1949 or 1950. Not Jenevi, it was Susil and Latha coupled singers as published in all posters of musical shows in 1950, '51 and '52.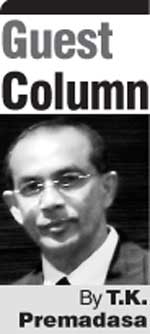 'Namo Mariyanee' recorded in 1948 became a household favourite in Sri Lanka showered upon with outstanding success. Talented with a high-scale voice she was in high demand for church carols. 'Seethala Duruthu Mahe,' 'Nunwa Jaya Handa Pem,' 'Soka Nege Mae Den,' 'Oba Prema Raja Mage' and many other songs recorded in 1948, 1949 and 1950s became highly popular together with carol songs composed by Fr. Mercelyn Jayakody. She was fortunate to have recorded a few songs like 'Sukomala Banda Lelawa,' 'Dunhinda Helena' and 'Diyaluma Helena' originally sung by Chitra Somapala. By 1950 she became a shining spectacle invading the living rooms of each and every household in Sri Lanka with her beaming golden voice. Mohamed Ghouse, P.L.A. Somapala and B.S. Perera, famous musicians at the time, brilliantly utilised her harmonious voice of high-pitched tone into their musical creations. All these musicians invited her to participate in all the musical shows organised throughout the island in the early '50s.

Playback singing

In 1953 Latha made her debut in playback singing behind the screen in 'Eda Rae'. Three duets were recorded as 'Hari Hari,' 'Hebeta Mage Luck Kale' and 'Prithi Prithi Darling' with famous actor Herby Seneviratne and music composed by legendary Music Director Mohamed Ghouse. All these songs were comedy songs.

But her second film 'Prema Tharagaya' screened in 1953 became the milestone in Latha's life. It was the starting point of Latha to become a playback singer to leading charters of movies. The duet 'Honda Hondama Weya Lowa Kisima Thenaka Neha' in 'Prema Tharagaya' was recorded by Latha and Dharmadasa Walpola who later became the silver voice behind the Sinhala silver screen and paved the way not only to become the most demanding playback singers for main roles at the time, but also to be a lovely couple who after five years tied the nuptial knot on 12 April 1958.

From 'Eda Rae' screened in 1953 to 'Lantin Singaco' in 2016, Latha rose to the apex of high reputation recording over 600 films including movies like 'Jeevithaya' and 'Puran Appu,' never screened.

A special feature is that Latha has recorded playback singing for almost every actress in Sinhala cinema except Rukmani Devi. During her musical career, she not only sang for actresses Rohini Jayakody, Thalatha Gunasekara and Girley Gunawardana in the '50s and '60s but also fortunately held the rare opportunity of singing behind the screen for their three daughters, Veena Jayakody, Nadeeka Gunasekara and Sabita Perera, who later became popular on the silver screen. As far back as 1960s it became largely a profitable business to dub Sinhala dialogue into Hindi and Tamil movies running popular in Sri Lanka. Latha Walpola was adjudged the best for her outstanding performance in singing before original playback singers in India. She was did playback singing for popular Indian actresses such as Vyjayanthimala, Nimmi, Nadira, et al.

It is hard to reminisce the exact number of songs that she has recorded over the last 70 years. Basically it is presumed that the total number of songs would be over 6,750 songs from her first song 'Kandulu Denethe Wehena,' a duet with Vincent de Alwis in 1947, to 'Sansara Mawathe,' a duet with Dr. Nimal Senanayake in 2017.

A successful artist

She is not only the leading playback singer, but also indisputably a successful artist. She sang for famous Gee Malu such as 'Barisil,' 'Kele Mal' and 'Navarella' of Premasiri Kemadasa, 'Daskon' drama of Herbert M. Senaviratna, and 'Kumara Kassapa,' an opera of Dayarthna Ranthunaga. In addition she has played a few mini roles in three Sinhala films. Latha dubbed her pristine voice for Nimmi in 'Angulimala' and Anjali Devi in 'Pathiwatha'. 'Pushpa Sungara,' an opera (geetha natakaya), was produced by Sesha Palihakkara for presentation in front of Queen Elizabeth II during her visit to Sri Lanka in 1952 dominated by Latha with W.D. Amaradeva, the main playback singer. She won various awards including presidential awards.

Latha is a gifted artist by birth with no educational background in music who surprised the entire country. Latha is one of the rare singers who could sing in three octaves on a high-scale voice maintaining the voice unchanged. Most singers sing in two octaves. She has been at the apex of her talented skills in high degree during the last 70 years. As a tribute to her outstanding presentation of musical brilliance, the Government of Sri Lanka has quite appropriately honoured her with Kala Suri Award in 1991 and the Deshamanya title, the second highest national award in 2016, distinctively awarded to the rare and remarkable greatness of inestimable contribution made to arts and culture. May she be well and happy in good health. Latha Walpola, the indisputable nightingale of Sri Lanka, is a national treasure worthy of emulation.
(The writer is the retired former Head of Corporate Affairs and Communications- Sri Lanka Export Development Board and ex-Director of Sri Lanka Trade Centre in Maldives. He can be reached at t.k.premadasa@gmail.com.)