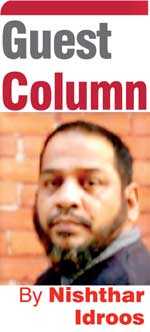 It's that kind of time once again in Sri Lanka. Its elections, elections, hoorah! The much-awaited Presidential Election is here. The list of candidates confirmed, deposits paid and nominations accepted; 35 contestants vying for the hot seat from the original 41 who expressed interest. Another dubious record to the numerous already held by the country.

"The large number of candidates means higher costs. We will need ballot sheets twice the length of last time, we may have to import ballot boxes, and we may need more officials for election processes," Mahinda Deshapriya, Head of the Election Commission said after the nomination process closed.

It seems the people of Sri Lanka have been given a tremendous if not an unprecedented choice in terms of the sheer number of candidates. What a fortunate bunch of people? Larger ballot boxes and longer ballot sheets wow! Democracy seems to be thriving in little old Sri Lanka. Uncle Sam will be quite thrilled to hear all of these new developments. If President Donald J. Trump is in a good mood we should soon hear him via Twitter.

The good, bad and the ugly holding their head strong are already articulating from their prepared speeches and disseminating their messages to their constituencies.

This idyllic island perched like a pendent just under India has mesmerised travellers from time immemorial. Persistent turmoil and growing poverty has failed to wipe the smile from its faces. A beautiful land very much in the news for all the wrong reasons. A country of incredible beauty.

Its stunning beaches and breathtaking tea plantations picture perfect. If you have not visited this country already you should be quite certain of what you have missed. The hill country remains the district in which it is most palpable. Nuwara Eliya, at nearly 6,000ft, Sri Lanka's highest settlement, popularly known as little England. An indulgent poets' inspired idle fancy, of course, but still an attractive one.

Sri Lanka's documented history spans over 2,000 years. A country with a rich cultural heritage. The 13th-century Venetian traveller Marco Polo described Sri Lanka, then known as Ceylon, as being "for its size, better circumstanced than any island in the world".

Its present-day politics and politicians quite a contrast, a nasty juxtaposition. One could even define it as an incomprehensible mismatch. Corruption has coalesced to unimaginable proportions. 'Panama Papers' and currency stashed in safe havens were unheard of yet today many are its members. Also many international proxies extending gratuitous succour for the supposed indefatigable and patriotic legislators. The country no doubt has fallen to a dark abyss and finding itself difficult to extricate. The unsuspecting people are paying dearly.

The people witness debts being negotiated both domestically and internationally for supposed development but never see its fruits. Funds just seem to evaporate. Its master class magic.

People only realise the enormity of the debt situation when taxes are loaded on them one after the other by the next government elected to power. This game of musical chairs continues unabated and so does the depletion of the coffers of the exchequer sans any visible socio-economic development. The upcoming Presidential Election has attracted the sagacious, sanctimonious, shady, shameful and the scandalous wannabe. Colourful lithographs of candidates already bedazzling walls of every accessible street in the island. Projecting their best smiles, posters soon to become nutritious fodder for stray animals.

It's a time during which not a single space in walls whether public or private is spared. A simple warning message 'sticks no bills' in whatever language flouted with ridicule. The one doing it cannot be held responsible because he is not educated, more importantly he is neither vertical nor horizontal. Usually such are the people entrusted to carry out these tasks. They just have a simple quota, a timeframe and strict instructions. Also it's a nocturnal exercise executed sans supervision. A future peon prospect in some government department has no reason to be discreet.

Elections bring with it for Sri Lanka a kind of bizarre potential. Potential for high earnings for some key industries in the manufacturing sector. Listed companies in the Colombo Stock Exchange dealing in the inebriating stuff affectionately penetrating the human lever and stamina stick manufacturers lovingly filling the lungs will reap big and show strong third quarter results. Prognostications accurate historically. All a part of the cheery mood that envelopes the nation during election. "Win or lose we hit the booze."

The distilled alcoholic drink popularly known as arrack made from fermented sap of coconut flowers much in demand and consumed heavily during elections is an integral part of a typical Sri Lankan celebration. Supporters in the field and those in the comfort of their own homes will allow the alcohol to flow during such national events, they usually drink to fall.

Copious quantities of the inebriating brew, timely meals and some cash for those gifted with deep vocal chords are guaranteed. Those participating in the mammoth scheme are entitled for much more depending on hard work and loyalty. Supporters need to be energized and motivated. They have to work day and night for their candidates. Call it a wage or bribe supporters no doubt need to be "wetted" without an interruption.

The tragic-comedy that ensues from the four distinct stages of inebriation is a distinct pleasure to watch. Jocose, bellicose, lachrymose and comatose. The affectionate kissing, penchant to start a fight, inconsolable crying and recuperating in a hospital after a mini coma are special moments and idiomatically Sri Lankan.