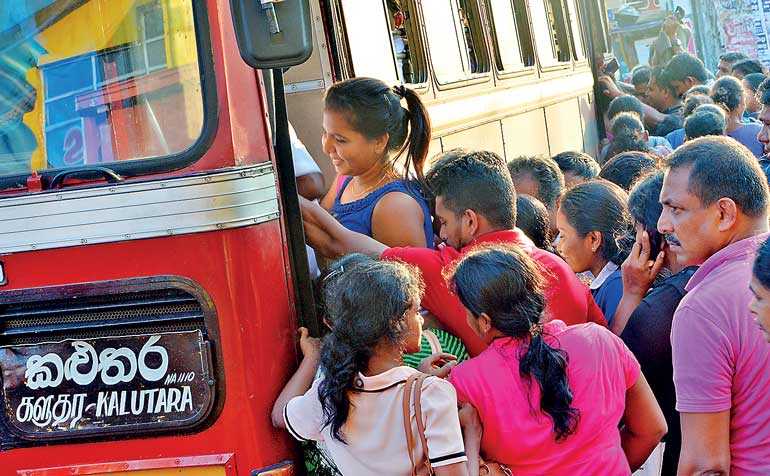 According to a study commissioned by UNFPA in 2015, 90% of women in Sri Lanka have experienced sexual harassment while using public transport. These numbers are worrying as women are the main users of public transport – Pic by Shehan Gunasekara
---
Recently I was invited to do the keynote speech by Oxfam to speak at their launch of 'Not on my Bus' campaign as part of the global 'Enough' campaign. The objective was to drive a national campaign to address social norms that justify violence against women and girls and gender-based violence on public transport in Sri Lanka, which I thought, was quite timely.

This is an important initiative which expects to counter an unfortunate situation that women in our country has experienced for quite some time and I dare say impact the economy too as a consequence.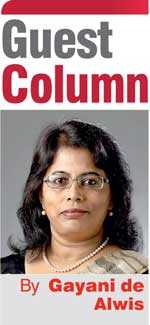 According to a study commissioned by UNFPA in 2015, 90% of women in Sri Lanka have experienced sexual harassment while using public transport. These numbers are worrying as women are the main users of public transport.

We need not split hairs over the figure 90%. As a country we should be ashamed not because 90% is a significant figure but the value is not zero! It is simple decency to understand the impact of degrading a fellow human being and in this day and age we should rise up to ensure that decent behaviours do become the norm. How we should ensure that is the challenge, that we all must think and act with resolve.

Sexual harassment violates fundamental human rights and freedom – as protected under the Sri Lankan legal framework. Although section 345 of the Penal Code of 1995 states that sexual harassment is a crime and a punishable offence, this serious problem goes unnoticed. Public transport, being a key aspect of a productive economy, is seen to be unsafe for women.

The uncertainty and risk involved in using public buses and trains prevent women and girls from engaging in vital activities including work and education. These barriers pose a threat to gender parity, the physical and mental wellbeing of women, as well as female labour force participation, which is currently at only 36.4%, which is significantly lower than the global average of 48.6% and many other countries in the region.

The national taskforce appointed by NHRDC under the direction of PM's office, where I too had the opportunity to contribute, to increase female labour force participation in public and private sector to 40% by 2020 identified as one of the main issues – the need to have safer transport to get more women to participate in work and in education.

There is no one magic bullet to tackle this issue but believe in multiple interventions with one goal in mind to eliminate this menace from our society. One of the main points is the by-stander intervention, as our society's apparent indifference towards the victim and victimisation.

Through social sensitisation we must make by-stander intervention normal so that the victim will have the courage to come forward and report such incidences as opposed to the current 4% who complain to the authorities. The stakeholders involved must be held accountable and victims must be made aware of their rights and the need to take action. The media has a big role to play in fostering social change through sustained public campaigns using role models not only on women's day but right throughout the year.

Keeping the issue top of mind through social media and other media channels with continuous public awareness is key to all this, and to shed light on other nuances of the issue including its negative implications on the Sri Lanka's national productivity and economy is vital. Perhaps civics as a subject must come in again at a very early stage to ensure that children is taught the importance of respecting one another.

The law must be effectively implemented where perpetrators of these offences are punished and procedural interventions to make complaints easier and more empathetic towards the victim.

While the Minister for Transport and Civil Aviation could be commended for introducing female only carriages recently, knowing the resource constraints in our country, we really must work at the root causes and make structural changes to eliminate this issue.

Mobility is one of the key factors for women's empowerment. When women and girls can use public transport without fear of sexual harassment, they could have more opportunities to fulfil their potential. This is part of the 2030 SDG Agenda; no country can progress by leaving half of the population behind.

Travelling in public transport – be it trains or buses – without fear of abuse or discrimination should be a priority for the authorities during transport planning.

Oxfam too should be commended for this initiative and hope other would join in putting their weight behind this important cause. Being the premier professional body in transport and logistics, Chartered Institute of Logistics and Transport (CILT) is willing to partner with Oxfam in this important initiative through our women's forum Women in Logistics and transport (WiLAT) to make our public transport safer for women.

The need of the hour is a call to action for collective conscience to change the mindset. Let's join hands to eradicate this menace from our country.

Enough is enough. Let's demonstrate zero tolerance!
(The writer, CMILT, is Chairperson Chartered Institute of Logistics and Transport, Global Vice Chairperson, WiLAT and Founding Chairperson, WiLAT.)