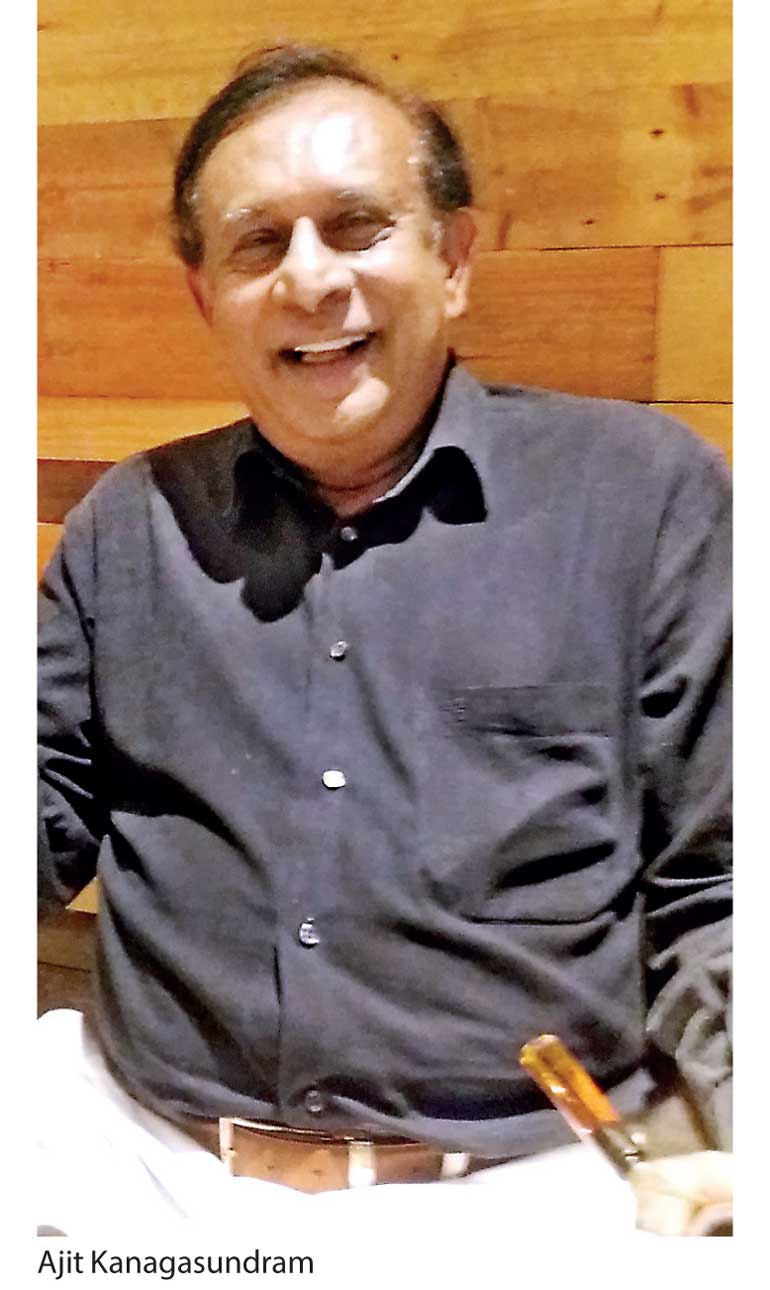 1983 riots were bad for the country but good for the Tamils who were forced to emigrate despite the suffering and painful adjustments
Singapore is truly a multi-racial and multi-cultural nation
Tamils are not being discriminated against now, compared to decades ago
Politicians are still leading
Tamils astray as their issues go beyond giving a new constitutionIn Sri Lanka, the Government sector has deteriorated over the years
Sri Lanka needs a steady Government policy and a currency which is freely exchanged to attract international
investments in banking
The Sri Lankan Government needs to be more serious on reconciliation like the Singaporean Government, which has a serious political commitment to recognise the rights of the minority – Malays and Tamils in Singapore, the former Head of the Automation and Technology Division of Citibank and DBS Bank in Singapore, Kanagasundram said.

"The Singaporean Government goes out of the way to give a chance to the minority. Malays and Indian Tamils historically were a little backward and they therefore get help, especially in education – this has resulted in closing the gap between their performances compared to the Chinese. They make sure the languages of minorities are always being used," he told Daily FT. Living in Singapore for 34 years, Kanagasundram said that Sri Lankan politicians, including the Tamil politicians, are not sufficiently supporting the reconciliation process as they also need to ensure integration and a sense of common identity and future together as a nation

"But the ordinary Sinhalese and Tamils are already gradually becoming reconciled and they are living peacefully after ending the 30 years of suffering," he noted.

Following are the excerpts of the interview:
Q: What made you to migrate to Singapore?
A: After completing my education at the University of Cambridge I had opportunities to be employed abroad. But I returned to Sri Lanka as I love this country very much. I started working at the Central Bank in 1969 and lived a comfortable life with my wife and three little boys. I had a dairy farm in a beautiful estate that I had inherited from my uncle. This farm at Hokandara, which was close to Parliament, had most of the known fruit trees. Finally, I had the best dairy farm in Colombo with imported Freisen cows from Australia and Mura buffaloes from India to make curd. But during the 1983 communal riots, they burnt my farm and slaughtered my cattle. This hurt me more than anything.

I am a victim of the 1983 Black July riots and it shattered my life there. Then I moved to Singapore with my young family. They employed me considering my qualifications and I am doing well. I think the '83 riots were bad for the country but good for the Tamils who were forced to emigrate, as most of them sought asylum in developed countries and are doing extremely well now. This is not to understate the dislocation, suffering, loss of life and the sad plight of those who were not able to leave. This also represents a significant loss of talent to the country like that of the Burghers who chose to leave a generation earlier.
Q: What are the lessons we can learn from Singapore?
A: Singapore is truly a multi-racial and multi-cultural nation. It is easier for me to work here than in Sri Lanka, where I always felt that as I was a Tamil with an education abroad it was viewed as a disadvantage. In Singapore, it is an advantage and it opened doors for me. In Sri Lanka my staff were a mixed bag, some were good (intelligent and motivated) and some were not. But as the head of the department I had limited freedom to punish and give extra incentives to those who were working hard. I couldn't motivate my staff. But in Singapore I could hire, fire, promote and use my power to motivate and encourage for better performance.

It is very sad to note that in Sri Lanka, the Government sector has deteriorated over the years. Here, it is easy to work and one's qualifications are recognised rather than political influences.
Q: Where does Sri Lanka's failure lie and what is Singapore's secret to reach success within 50 years?
A: The secret of Singapore has been mainly due to honest politicians who have been able to tell the people that they have to work hard and make sacrifices to give a future for their children, lack of corruption and the resulting commitment of people to work – these are the secrets of its marvellous journey from Third World to First World. We lack many of these. If you read my book 'Tale of Two Cities,' which will be published later in this year, I will compare Singapore and Sri Lanka. There I have described what Singapore has done to develop the country.
Q: How does Singaporean law shape the country into a more disciplined nation?
A: Law is fundamental to everything. In a nutshell, you need a society which will respect law and order, where people can go about safely and where people who are corrupt are punished despite their affiliations to political attachments.
Q: Do you think Tamils are being discriminated against in Sri Lanka?
A: I can say yes in the past but not as much these days. This is for two reasons – first there are so few left in the professions that they are no longer considered a competitive threat and second there is genuine remorse about the events of 1983. It was also a significant loss of talent for the country like the Burghers a generation earlier

My father was an outstanding civil servant and at the height of his career he was discriminated against mainly because he was a Tamil. He was removed from the post as the Chairman of the Gal Oya project as he was a Tamil. It was one of the first instances of a senior Tamil civil servant being discriminated against. However I must say that during my time at the Central Bank I never came across any discrimination in my work.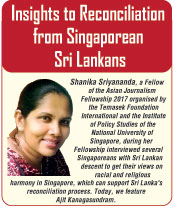 Q: Sri Lanka urgently needs reconciliation between all communities. What do you think we can learn from Singapore with regard to reconciliation?
A: In Singapore, nation building is the most important factor under any regime but in Sri Lanka it is just a talk show for politicians. In Sri Lanka when the National Anthem was sung in Tamil, it led to a massive protest, with even some members of the clergy voicing strong opposition against it. In Singapore, the National Anthem is always sung in Malay but no one protests against it. They go out of the way to give a chance to the minority.

Malays and Indian Tamils are a little backward academically and they get help, especially in education. They make sure the languages of minorities are always being used. There is a parliamentary system, where some of the seats, which are called multi-member, are always given to a representative from a minority. They have changed the Constitution to rotate the presidency to give all the ethnic groups a chance. The Singapore Government is serious about reconciliation but we have not shown the same commitment. This is why so many members of the minority choose to emigrate.
Q: Are you against the Sinhalese?
A: No. The Sinhalese people are always a part of my family. When my father was the Government Agent in Kegalle, he learnt the Sinhala language from a prominent Buddhist priest. Once former Prime Minister Dudley Senanayake came to Dedigama electorate and he requested my father to address the public saying that my father can speak well in Hela Sinhala better than him and the people would understand better.

When he was Government Agent in Kegalle, he met a village woman while on circuit whose husband had died while cutting a jack tree. She had two young boys and was struggling to feed them as she was doing odd jobs. My father got custody of the eldest boy, Sumanaweera, who was five years old, and brought him home. I grew up with Sumana and he became like my brother.

The only difference between us was I was sent to S. Thomas' College and he was sent to a local Sinhala school. He was fluent in three languages as my grandmother taught him Tamil.

When he was young he went to his village to be with his family. He became a tourist guide and did well as he was fluent in three languages. Unfortunately he died when he was young but still we are in touch with his family. Each time we are in Sri Lanka, his wife brings us kavum and kokis. I was shocked when his younger brother, who was an employee of the Central Bank, died in the LTTE bomb blast. We always get Sinhalese maids as they are very pleasant and trustworthy. Many if not most of my friends from work and college are Sinhalese and many members of my family have married Sinhalese people. I think this is normal and healthy and I am glad to see that this is a growing trend
Q: What do you think Sri Lanka is lacking in the reconciliation process?
A: As I said before, the main thing Sri Lanka lacks is a serious political commitment. Ordinary Sinhalese and Tamils are already becoming reconciled and they are living peacefully after 30 years of suffering. But the politicians in opposition are opposing any good moves that are going to be implemented to further reconcile the two ethnic groups. I strongly believe, for whatever the reason, the majority of politicians need to join the reconciliation process effectively.
Q: Do you level the same accusation at Tamil politicians?
A: Why not? They have also led us astray. Why don't they encourage the Tamils to inter-marry and learn the Sinhala language? It is a very good move for reconciliation. Therefore why not ask for integration as well as devolution? Just like Sinhala politicians, if there is a true integration and reconciliation, Tamil politicians will lose part of their appeal – this has to be a two-way process. This is why they should also get the blame for creating more issues to delay the reconciliation process.
Q: How do you see the investment opportunities in Sri Lanka?
A: Fifty years ago Sri Lanka could be compared to Singapore as we were in the same stage of development. But for the last 50 years Singapore has moved from a Third World nation to a First World nation as a highly-industrialised state, with excellent transport and communication systems, a highly-educated workforce, and a world class education system. Therefore, the types of investment opportunities in Singapore today are very different from the type of investment that Sri Lanka can hope for.

We can hope for investment in processing our natural resources like rubber and in garments where we have established a niche but not in high tech on a significant scale (although we have a few companies like MillenniumIT and Virtusa which are world class) because we do not have infrastructure or sufficient skilled work force for it. Singapore has also moved from being a recipient of Foreign Direct Investments (FDIs) and also doing FDIs. They are moving many of their industries to Malaysia or Indonesia and Vietnam where labour is cheaper. The State and private companies here have billions of dollars to invest. They will invest in countries where they think that they have stability, good infrastructure and also where they think that they can get good returns. Sri Lanka can expect Singapore to invest in infrastructure but comparing to Singapore today, it is not possible.
Q: What are the barricades that Sri Lanka faces in getting FDIs today?
A: There are number of barricades. Firstly, Government policy has to be consistent even when there is a change in the party in power – investors have a long time horizon. This will take some time for us to demonstrate as a nation. Secondly, they also look for a judicial system in which they can get responses quickly and fairly when there is a dispute. Thirdly, they look for infrastructure, especially in communication and electricity. Sri Lanka's electricity prices are much higher than the prices in Singapore.

The only resource we have in Sri Lanka is cheap labour but this alone is insufficient as there are places like Bangladesh where labour is even cheaper. Unless we educate our labour force by upgrading our education system (mere literacy is no longer enough) and build world class infrastructure, we will not get FDI in sufficient volume to make a significant contribution to paying off external debt or create employment opportunities. In fact, during the last two years the Government has not yet received significant FDI at all despite the fact that they are opening up to the world.
Q: Is Sri Lanka capable of attracting international banking and finance?
A: Singapore attracts lots of offshore funds from Indonesia, Thailand, Malaysia and even faraway from Europe, China, the Middle East, Russia and Iran. That is more difficult for Sri Lanka now as we need a demonstrated track record of a steady Government policy, an ecosystem of complementary services like legal, and accounting, and a currency which is freely exchanged. The Singapore dollar can be freely exchanged for any currency in the world. In addition, we need an English educated workforce in the banking and finance sectors. Considering all these factors, I think it will be difficult for Sri Lanka to become an international banking centre although the Government intends to do it with the new port city that is being built.

It is not sufficient to say 'we will give you tax free status,' there should be other conditions for them to have an international centre. Today, the major international banking centres are in London, New York, Frankfurt and Singapore. They also have smaller centres in Tokyo and Hong Kong. There needs to be a compelling reason for banks to move to another banking centre. As a former banker in Singapore, I can foresee that it will be challenge to have an international banking centre in Sri Lanka. However, I hope they succeed.
Q: As a banker, what are your future hopes for Sri Lanka?
A: I think the banking sector should concentrate more on the domestic market and serve the underserved target groups like agriculture and small business, make sure that the entrepreneurs get loans and capital for their investments. They also need to ensure that our traditional industries like tea and garments have sufficient funding. It is also essential to ensure that the middle-class can buy houses. These are the areas on which they should focus more.
Q: As a member of the Tamil diaspora, how can you contribute to develop the Northern Province?
A: Jaffna's future is agriculture. I want to invest firstly in the dairy industry in Jaffna. The Jaffna man knows how to look after cattle but at the moment cattle yield a very little milk. Each family has two or three cows. I do not know why each family cannot have six to eight high milk yielding cows. We need to ensure that fodder is being distributed and collect the milk. Cargills Bank has some innovative programmes in this area.

My second project is to invest in software development in Jaffna. At the moment I am looking for an investor. Jaffna youth are very good at mathematics and education. It doesn't need any industrial infrastructure but only requires brain power. I strongly believe that software development from Jaffna will cater to the international market if we can attract investors in this sector. One only has to see how software development has transformed India.

I am investing in the area of renewable energy. The third thing I am looking at is a relatively new technology which is called Ocean Thermal Energy Conversion – this is a method to use the temperature differences in the ocean to create a cycle based on liquefied ammonia to drive a turbine. This is fairly new and Sri Lanka has the ideal location for it off Trincomalee, where there is a deep ocean trench. I am very confident this will be an area in which Sri Lanka can lead the world.
Q: There are over 12,500 ex-cadres, the majority of them are unemployed. Will they get any opportunity in these projects?
A: My target group is not ex-cadres but fresh graduates. What the rehabilitated cadres need are lands to cultivate. The Jaffna farmers know how to make the land fertile. They only need land. There are two means to get land – one is for the military to handover lands that they acquired and secondly there are over 10,000 acres of land which we can recover if the Elephant Pass lagoon can be turned into fresh water.

This is something that Singapore has done with the lagoon at the Marina Bay front. We need to block the exit from the sea and after two or three monsoons the water becomes fresh water. The project is called 'A River for Jaffna', which I am trying to push through. It was first recommended by a very distinguished hydraulic engineer called S. Arumugam in the 1960s but no one has taken it up. The cost would be $ 10 million. If the Government of Sri Lanka, provincial councils and the diaspora can help, I am willing to manage the project.
Q: As you said, the northern part of the country needs the help of the Tamil diaspora. As a Tamil diaspora member, what is your message?
A: The Sri Lankan Tamil diaspora number over one million. The combined income of this one million is significant compared to the gross national product of Sri Lanka. If they can invest 10% of their funds in Sri Lanka, which will bring huge development to the north and the east and this will augment the funds from the Central Government or provincial councils. My message to diaspora is come back and see what you can do, set up a small fund in your ancestral village to help some families in dairy or fruit farming.

If the Government wants foreign investment, it should invite Tamil diaspora to come and invest. If you are living in Germany or Sweden, it is very cold and better for them to come back to their hometowns during their retirement.

I believe that the future for Jaffna and also the country is agriculture. There are enough lands which are not utilised in Mahaweli areas. Take Thailand for example, their fruits and vegetables for exports is $ 3 billion a year. This is much more than our tea exports, which we have been doing for over 150 years. This shows it is high time for us to be innovative in agriculture, where our future lies.